Reginald Kenneth Dwight famed as Elton John is an English singer, songwriter, as well as musician. He has worked with lyricist Bernie Taupin since 1967; they have collaborated on more than 30 albums. John has sold more than 300 million records, making him one of the world's best-selling music artists. He has more than fifty Top 40 hits. He has received five Grammy Awards, five Brit Awards, an Academy Award, a Golden Globe Award, a Tony Award, a Disney Legends Award and the Kennedy Center Honors. He has also had success in musical films and theatre, composing for The Lion King and its stage adaptation, Aida and Billy Elliot the Musical. Overall, he is a very talented person. Elton John is donating $1 million to the fundraising effort for those affected by the Australian bushfire disaster. The singer, who was performing in Sydney, made the announcement during his concert. "We should all be in the awe of the work the firefighters are doing," he told the crowd. "There are people out there who have lost their lives trying to save homes, there are people who have lost their lives and their homes." He continued: "And lastly, there's the plight of the animals, a loss of their habitat that frankly is on a biblical scale and it's heartbreaking. Therefore tonight, I will be pledging $1 million dollars to support the bushfire relief fund."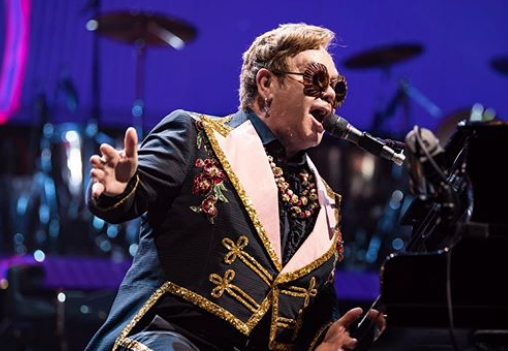 Source: @eltonjohn
Famous For
Being a famous Singer.
For his albums and singles such as "Candle In The Wind 1997" released in 1997, etc.
What is the birthplace of Elton John?
On 25th March 1947, Elton John was born as Reginald Kenneth Dwight in Pinner, Middlesex, England. His father's name is Stanley Dwight who served as a flight lieutenant and his mother's name is Sheila Eileen Dwight. He was raised by his maternal grandparents in a council house. He got an education in Pinner Wood Junior School, Reddiford School, and Pinner County Grammar School. He also had a great interest in playing the piano. He started playing piano at the age of three and at the age of seven he took up formal piano lessons. His nationality is English and his ethnicity is White. He is Christian by religion.
How was the Career of Elton John?
In the year 1962, John and some of his friends formed a band called Bluesology.
Bluesology was the backing touring American soul and R&B musicians by the mid-1963s.
The band played 16 times at the Marquee club in the year 1966.
By the time 1967, he wrote music for the lyrics which was posted to Taupin with who he started his partnership.
On 7th January his name was officially changed to Elton Hercules John.
In the year 1968, the team joined DJM Records as staff songwriters.
He also wrote easy listening songs, composed music and was also a session musician.
After that, John and Taupin started writing complex songs to John to record in DJM.
He then released 'Elton John' in April 1970.
The album became his first album to reach at number four on the US Billboard 200 and number five on the UK Albums Chart.
In August 1970, his first concert took place at Los Angeles.
In October 1970 album "Tumbleweed Connection" was released.
The team wrote soundtracks to the film and the album.
Their another album "Honky Chateau" was released and it became the top of the Billboard 200.
The pop album "Don't Shoot Me I'm Only the Piano Player" was released in the year 1973.
In October 1973 "Goodbye Yellow Brick Road" was released.
He then formed his own label named "The Rocket Record Company" which was distributed in the US by MCA and Island in the UK.
In the year 1974, MCA released his album named as "Greatest Hits".
In the same year, they released Caribou.
After a year, he received a star on the Hollywood Walk of Fame.
He was also named as the outstanding rock personality of the year in the year 1975.
He released his live album named "Here And There" in May 1976.
He also made the guest appearance on the BBC.
He became one of the first Western artists to tour the Soviet Union.
His album "The Fox" was recorded in the year 1981.
He was one of the performers in Live Aid held at Wembley Stadium in 1985.
In the year 1985, he recorded material with Millie Jackson and in 1986 he also played piano on two tracks.
He received his first solo UK number one hits single in 1990.
He earned the Best British Male Award in 1991 Brit Awards held in London.
He released many solo and duet songs featuring many artists.
He also wrote the songs for the 1994 Disney animated film.
He was inducted in the Rock and Roll Hall of Fame by Gun's and Roses in 1994.
He also received an award as Outstanding Contribution to Music at 1995 Brit awards.
In 1996 the album named "Love Songs" was released.
His song was also certified Diamond in the United States.
He also won the Grammy Award for Best Male Pop Vocal Performance in 1998.
He received the Tony Award for Best Original Score in 1999 and Grammy Award for Best Musical Show Album.
He and Tim Rice teamed up and wrote songs for the animated film in 2000.
In October 2001 he released his 27th album as" Songs from the West Coast".
He signed the exclusive agreement to perform 75 shows over three years in 2003.
He was named a Disney Legend for his contribution to Disney films in 2006.
He performed his 200th show in Caesars Palace on 21 June 2008.
He accepted the collaboration with Alice in Chains in 2009.
He then performed the piano duet with Lady Gaga at the 52nd Annual Grammy Awards.
On 19th October 2010, he released The Union.
He performed at the Queen's Diamond Jubilee concert at Buckingham Palace.
He also collaborated with rock band Queens of the Stone Age on their sixth studio album.
He also received his first Brits Icon Award for a lasting impact on UK Culture.
In September 2013 he released his thirty-first album "The Driving Board".
In June 2017 he appeared in the award-winning documentary.
It was also announced that John would be retiring from touring on 24 January 2018.
In September 2018, John reportedly signed an agreement with Universal Music Group (UMG) to represent his new music "for the rest of his career" in addition to his work from the last 50 years.
A biopic about John's life from his childhood to the 1980s, Rocketman, was produced by Paramount Pictures and released in May 2019.
John and Egerton performed a new song written for Rocketman, "(I'm Gonna) Love Me Again", which premiered on BBC Radio 2 in 2019.
In October 2019, John released what he described as his "first and only autobiography," Me.
The audiobook of Me was narrated by Egerton, with John reading the Prologue and Epilogue.
On 25 June 2019, The New York Times Magazine listed John as one of the hundreds of artists whose material was reportedly destroyed in the 2008 Universal Studios fire.
Is John Elton Gay?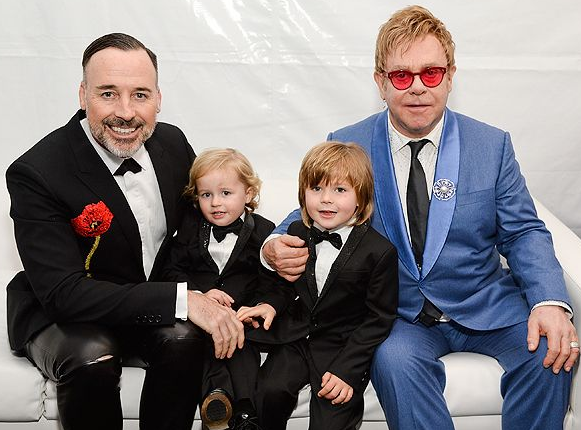 Source: @pinterest.com
John Elton was a married person. Firstly, he was engaged to his lover, secretary Linda Woodrow in the late 1960s. He then married Renate Blauel who is a recording engineer on 14th February 1984 which lasted for only around three years. In the year 1976, he came out as bisexual. In 1988 he declared that it was comfortable being gay. He began a relationship with David Furnish who is a former advertising executive in 1993. They married each other on 21 December 2014 after gay marriage began legally in England in March 2014. They have two sons named Elijah Joseph Daniel Furnish and Zachary Jackson Levon Furnish. At present, the couple is living a happy life.
What is the Net Worth of Elton John?
Elton John is a very talented singer and with his singing career, he has earned a huge amount of money. His net worth is estimated to be around $500 million as of 2020. He is one of the wealthiest people in Britain. But his exact salary is still to get revealed yet but it will be added once we get information about it. His major source of earning is from his acting career and he is satisfied with his earnings.
How tall is Elton John?
Elton John is a very handsome and charming person attracting a lot of people towards him. He maintains his body a lot by doing frequent exercise. His height is 1.72 m and his weight is 87 kg. His eye color is blue and hair color is Red. He has a balanced and healthy body. His other body measurements will be added soon once we get information about it.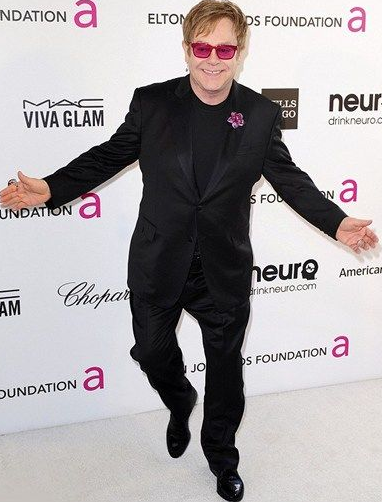 Source: @ar.pinterest.com