Emilia Clarke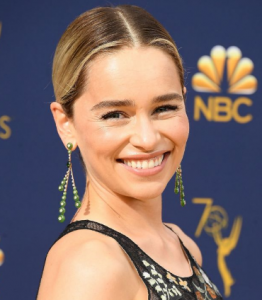 Full Name
Emilia Clarke
Age
33 Years Old
Nick Name
Milly
Gender
Female
Famous As
Actress
Birth Date
October 23, 1986
Birth Place
London, UK
Emilia Weighs In on Daenerys's Fate in "Game of Thrones" Final Episode
The stars of Game of Thrones have been keeping secrets for two years. Emilia Clarke told that meeting Beyonce was tainted in part by knowing that Bey's favorite Khaleesi was going to do some pretty awful stuff.
"All I wanted to scream was 'Please, please still like me even though my character turns into a mass-killing dictator!'" she said. "'Please still think that I'm representing women in a really fabulous way.'"
Despite possibly earning the scorn of Beyonce, she felt her character's arc was inevitable in a way.
Dany had been through so much trauma, been betrayed by almost everyone she'd ever known, that when Varys and Jon turned on her, she couldn't recover.
She thought her genocidal dragon-riding moment was deeply human: "We all have that thing, whether it's binging on chocolate or drinking seventeen bottles of wine or having an affair."
In this case, Dany's "thing" was destroying a city, but go off, sis. Her only regret is that we didn't see more tenderness before she broke. "I would've loved some more scenes with me and Missandei. I would've loved some more scenes with me and Cersei," she said. "I would've loved some more scenes between Grey Worm and Missandei. I would've loved to see a bit more between Cersei... I feel like there was... The genocide was there. That was always going to happen. And I just think more dissection and those beautifully written scenes that the boys have between characters -that we are more than happy to contently sit there and watch ten minutes of two people talking because it's beautiful. I just wanted to see a bit more of that."
As for the successor shows, Clarke is in no hurry for more GOT content: "I just think that it would be lovely to just let this lie for a minute before doing anything else. But then it'll be something completely different, and it won't be Game of Thrones. It won't be called Game of Thrones. It will be inspired by Game of Thrones characters, a fantastical series, set in a similar time... I can't speak because I don't know the script. But I would just like a bit more time between Game of Thrones being cold in the ground before something else comes along. Because isn't everyone already up to their eyeballs with Game of Thrones?"
What is the age of Emilia now?
As of 2018, her age is 32 but her age will be turning to 33 on her upcoming birthday in 23rd October as of 2019.
Where does Emilia live?
Emilis is currently residing in Venice, Los Angeles, the USA.
What is the nationality of Emilia?
Emilia Clarke was born on 23rd October 1986 in London, England. She is of English ethnicity and has British nationality. Her full name is Emilia Isabelle Euphemia Rose Clarke. She was born to a sound engineer father and a businesswoman mother. She grew up together with her brother. Since childhood, she has built up a strong interest towards entertainment field. As per her education, she studied at Rye St Antony School and at St Edward's School, Oxford. She also joined Drama Centre London and graduated in 2009. Her religion is Christian and her horoscope sign is Scorpio.
How old is Daenerys at the beginning of Game of Thrones?
Daenerys is 13 years old at the beginning of A Game of Thrones (book one).
How was the career of Emilia?
Emilia's interest in acting was sparked at the age of three after seeing the musical "Show Boat", on which her father was working.
She began professional acting with a guest-starring role on 'Doctors".
From that point forward, she has shown up in different plugs and such film extends as "Triassic Attack", "Spike Island", and "Dom Hemingway".
She has also given voice-over work to the toon, "Futurama", and featured on Broadway as Holly Golightly in "Breakfast at Tiffany's".
She is broadly perceived for her Emmy-designated fill in as Daenerys on the hit show, "Game of Thrones".
She has also won a 2011 EWwy Award for Best Supporting Actress in a Drama.
She played Holly Golightly in a Broadway production of "Breakfast at Tiffany's" from March to April in 2013.
She played Sarah Connor in Terminator Genisys in 2015.
She starred as the female lead, opposite Sam Claflin, in the movie adaption of the best selling book (of the same name), Me Before You in 2016.
She also played the lead as Nurse Verena, in the film Voice from the Stone.
She was cast as the female lead in "Solo: A Star Wars Story", released worldwide on 25th May 2018.
She was cast as the lead in the upcoming English language adaptation of the 2015 Korean romantic comedy, The Beauty Inside in January 2017.
Is Emilia Clarke married?
Moving towards the personal life of Emilia Clarke, she is single as of now. She is enjoying her present life happily without any disturbances.
Previously, she was in a relationship with Seth MacFarlane in the year 2012 which soon end in the year 2013. She was rumored to have hooked up with James Franco in 2013 and Jared Leto in 2014. She was in a relationship with Cory Michael Smith in 2014 and Jai Courtney in 2015. There isn't any solid proof which leads towards her married life and children.
Her sexual orientation is Straight.
How much is Emilia's worth?
Emilia is a very successful actress and she has a net worth of $3 million as of 2019 but her exact salary has not revealed yet. There is no doubt that she is earning a considerable amount of salary from her present work. She is satisfied with her earnings. Her source of income is from her acting career.
How tall is Emilia?
Emilia Clarke is a very beautiful woman with a charming smile. She has a height of 5 feet 2 inches. Her body weight consists of 58 kg. She has dark brown hair and green eyes. Her body figure measures the size of 35-26-37 inches. Her bra size is 32C, dress size is 6 US and shoe size is 8 US.
Is Emilia is active on social media?
Yes, Emilia Clarke is active on social media such as Facebook, Instagram, and Twitter. She has more than 250.1k followers on Facebook, 22.3 million followers on Instagram and 1.05 million followers on Twitter.