About Faith Hill
Faith Hill is an American singer, record producer, as well as an actress who is regarded as one of the most successful country music artists of all time and has released a number of successful albums and tracks like "Take Me as I Am", "Breathe", "Faith", "It Matters to Me", "Joy to the World", "Cry", "There You'll Be", "This Kiss", "Love Ain't Like That", "If My Heart Had Wings", and "Fireflies". Before making it big in the entertainment world, she did several jobs which included serving as a gofer for Reba McEntire. Her first album was released in the year 1993 which was titled "Take Me As I Am". The song "Wild One" held position #1 on the US Billboard for 4 consecutive weeks. As an actor, she appeared in her first movie, which was director Frank Oz's remake of "The Stepford Wives" in 2004. She had a minor role as Sarah Sunderson (or Stepford wife). She appeared as a performer in the 1994 movie Maverick in the song "Amazing Grace". In the year 1997, she guest-starred in an episode of "Touched by an Angel" and played Karen Lamar in the episode titled "The Road Home: Part 1". She has also appeared in one episode of the TV series "Tatort" in the year 2000 as a performer, but her role was uncredited. She also launched her line of fragrances titled "Faith Hill Parfums" in the year 2009. The fragrance was a mix of Southern Magnolia, Jasmine, and Peach Pears. Another fragrance line "True" was launched in the year 2010. In the year 2019, she received a star on the Hollywood Walk of Fame.
Faith Hill is famous for being an American singer and record producer who is also recognized for being the most successful country music artist of all time, having sold more than 40 million albums worldwide. She is best known for her two albums "Faith" (1998) and "Breathe" (1999) whose songs went viral in many countries and became multi-platinum sellers. The two songs "Breathe" and "The Way You Love Me" have earned her 3 Grammy Awards as well.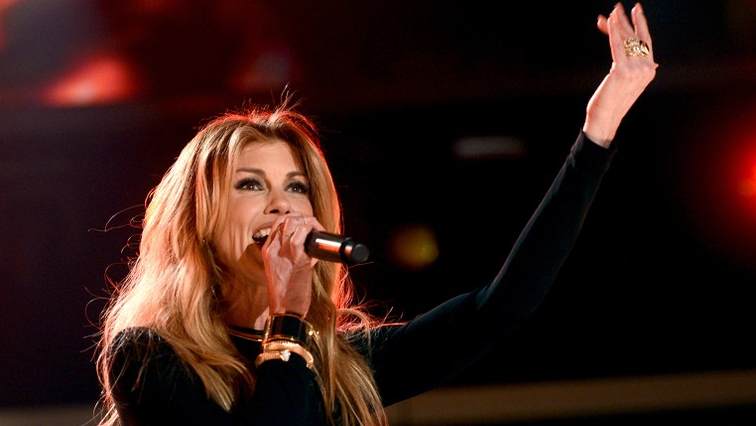 Source: @billboard
Faith Hill was born on 21st September 1967, in Ridgeland, Mississippi, the USA. She was adopted by Ted (adoptive father) and Edna Perry (adoptive mother) as an infant, who named her Audrey Faith Perry (real name). She was raised in the nearby town of Star, 20 miles outside of Jackson. She also has two brothers who are adopted named, Wesley Perry and Steve Perry. She holds an American nationality and her ethnicity is American-White. His race is White. She is Christin by religion and her Zodiac sign is Virgo. She was very interested in her childhood. She made her first public performance at the age of 7 at a youth program. She started singing in church choirs. At the age of 17, she formed her own band that played at local events. She then performed in a number of churches and even sang for the prisoners at the county jail. She graduated from "McLaurin Attendance Center" in the year 1986 and joined the "Hinds Junior College" in Raymond, Mississippi. However, she soon dropped out of college to pursue her dream of becoming a country singer. She auditioned for the job of singer Reba McEntire's backing vocalist but failed. After a stint selling T-shirts, she became a secretary at a music publishing firm. She also landed a job at a local McDonald's restaurant franchise, which she disliked intensely. Her life took a turn after her marriage to music publisher Daniel Hill. She then became a backing vocalist for Gary Burr and began the process of signing her to a recording contract. After releasing her album, she and Daniel divorced in the year 1994. As of 2020, she celebrated her 53rd birthday.
With the slim body build, Faith Hill stands tall at the height of 5 ft 9 in or 175 cm. Her balanced bodyweight consists of 55 Kg or 121 Pounds. Her hair color is blonde and her eye color is dark brown. She has got a strong vocal performance with a beautiful face. Her body measurement is 34-24-34 in or 86-61-86 cm. Her dress size is 2 US and her shoe size s 9 US.
Faith Hill's Singing Career
Her debut album was released in the year 1993 entitled "Take Me as I Am".
Her version of the country number "Wild One", from her debut album was successful in the "Billboard" charts, holding on to the first position for four consecutive weeks and creating a record at that time.
Her version of "Piece of My Heart", also went to the top of the country charts in the year 1994.
Her second album, "It Matters to Me", was released in the year 1995 which became successful. The album's title track became her third number-one country single.
The fifth single from the album, "I Can't Do That Anymore", was written by Alan Jackson. Whereas other singles from the album include "You Can't Lose Me", "Someone Else's Dream", and "Let's Go to Vegas".
She also appeared on the "Public Broadcasting Service" (PBS) music show "Austin City Limits".
In the year 1996, she began a tour with country singer Tim McGraw.
Her first duet with Tim, "It's Your Love", stayed at the first position of the country charts for six weeks.
Her third album, "Faith", showcased her progression toward a more mainstream, pop-oriented sound, although it retained a distinct country sound. The album also delivered several other hits including another duet with McGraw, "Just To Hear You Say That You Love Me", "Let Me Let Go" and "The Secret of Life".
She released her next album "Breathe", in November 1999. The title track, "Breathe", reached number two on the Billboard Hot 100 chart.
She was featured in a CBS television special, VH1's Behind the Music, "VH1 Divas 2000", and the Lifetime cable channel's TV shows "Intimate Portrait".
She then sang the American national anthem at the "Super Bowl" of the 'National Football League' and was regarded as one of the 10 best-dressed women by fashion critic Richard Blackwell.
She recorded a song for the movie Dr. Seuss' How the Grinch Stole Christmas, entitled "Where Are You Christmas" in the year 2000.
She recorded a song for the Pearl Harbor soundtrack in 2001. The track, also titled "There You'll Be", which was originally offered to Celine Dion, has since become one of her most critically acclaimed songs.
Because of the single's international success, a compilation album "There You'll Be: The Best of Faith Hill", was released to international markets. The album featured dance mixes of "Breathe" and "The Way You Love Me" along with alternate versions of "Piece of My Heart" and "Let Me Let Go."
She released her fifth studio album, "Cry" in the year 2002 and then released her next country album, "Fireflies", in the year 2005. The debut single, "Mississippi Girl", became Hill's highest-debuting single.
In the year 2006, she made a successful world tour, the "Soul2Soul II Tour", with her husband.
She started work on her first domestic greatest hits package, titled "The Hits" in the year 2007 which contains two new tracks, "Lost" and "Red Umbrella", as well as 13 additional tracks.
She is also featured on her husband's 2007 album Let It Go where she sings two duets with him, "I Need You" and "Shotgun Rider."
She issued her first Christmas album, titled "Joy to the World" in September 2008.
During the Super Bowl XLIII pregame show On 1st February 2009, she performed "America the Beautiful".
She also performed a rendition of "The Long & Winding Road" as part of a tribute to Sir Paul McCartney which was held at the White House on 28th July 2010.
She contributed a song titled 'Give in to Me' which appears on the Country Strong soundtrack which was released in October 2010.
She also recorded a duet with George Strait on the song "A Showman's Life" in mid-2011.
She debuted the songs "Illusion" and "Overrated" during her set at the CMA Music Festival in June 2012.
She was one of 30 artists selected to perform on "Forever Country", a mash-up track of the songs "Take Me Home, Country Roads", "On the Road Again" and "I Will Always Love You".
After then, the album, titled "Deep Tracks" is Hill's last record to be released via Warner Bros. Records, was released 18th November 2016.
She signed a contract with "Sony Music" for a duet album with her husband, Tim.
The new record label signing also preceded the release of "Speak to a Girl", the lead single from Hill and McGraw's upcoming joint album, "The Rest of Our Life" released on 17th November 2017.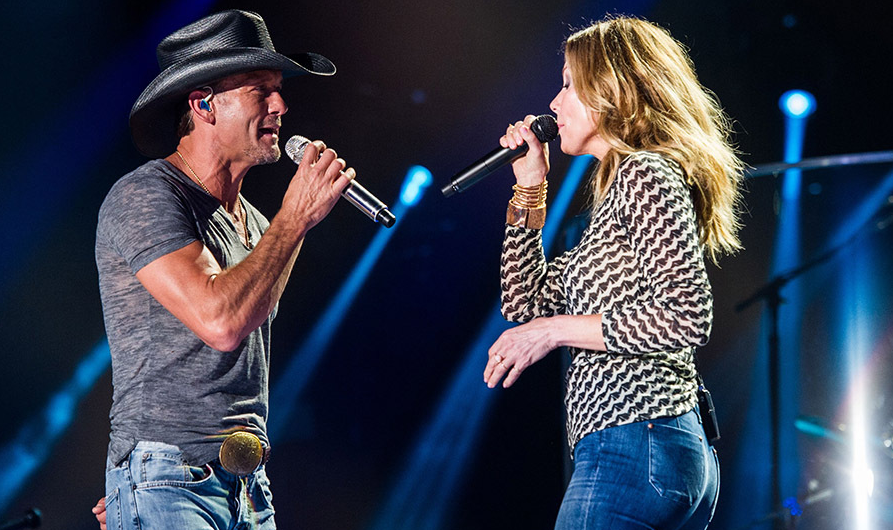 Source: @variety
Beside this,
She also guest-starred in a three-episode arc of popular television series "Touched by an Angel" and its subsequent spin-off series, "Promised Land", which marked her acting debut in the year 1997.
Her film debut was in the summer of 2004 when she co-starred with Nicole Kidman, Matthew Broderick, and Glenn Close in director Frank Oz's remake of the 1975 thriller "The Stepford Wives".
She then appeared in the more critically acclaimed independent crime drama film "Dixieland" in the year 2015. The film was released in a limited release and through video on demand on 11th December 2015, by IFC Films.
She released her first fragrance titled "Faith Hill Parfums" in October 2009.
She released her second fragrance, titled "True".
Faith Hill's Awards and Achievements
Faith Hill has won 3 Country Music Association Awards from 22 nominations. She won Vocal Event of the Year for "It's Your Love" (with Tim McGraw) in the year 1997, Video of the Year for "This Kiss" in 1998, and Female Vocalist of the Year in 2000. She has won 5 grammy awards from 17 nominations. She won Best Female Country Vocal Performance for "Breathe" in 2000, Best Country Collaboration with Vocals for "Let's Make Love" (feat. Tim McGraw) in 2001, Best Country Album for "Breathe" in 2001, Best Female Country Vocal Performance for "Cry" in 2003, and Best Country Collaboration with Vocals for "Like We Never Loved at All" (feat. Tim McGraw) in the year 2006. In addition to her five Grammy Awards, Hill has also won 15 Academy of Country Music Awards, six American Music Awards, and four People's Choice Awards among others. She also received the Samuel S. Beard Award for Greatest Public Service by an Individual 35 Years or Under in 2000, an award is given out annually by Jefferson Awards.
Faith Hill's Husband, Tim McGraw
Faith Hill is a married woman. Firstly, she married a music publishing executive, Daniel Hill during her job with a music publishing company. The duo married on 23rd July 1988 after a year of dating. After her first album was released and she hit it big, her marriage started to fall apart. The couple divorced in 1994. After then, Faith Hill started dating Music producer Scott Hendricks in the year 1995. After knowing each other, the couple engaged. During their engaged time, Faith Hill met her present husband, Tim McGraw. Her attraction towards him grew and she broke the relationship with Scott in April 1996. Later, the singer and actor, Tim McGraw met Faith Hill during the Spontaneous Combustion Tour in 1996. They were quickly attracted to each other, though Hill was in a relationship with Scott Hendricks at that time. She became pregnant with McGraw's first child and they decided to get married. The couple got married on 6th October 1996. They have three daughters-Gracie Katherine McGraw (b. May 5, 1997), Maggie McGraw (aka Maggie Elizabeth McGraw) (b. August 12, 1998), and Audrey Caroline McGraw (b. December 6, 2001). Currently, the duo is enjoying their life a lot without any disturbances. Her sexual orientation is straight.
Everything You Should Know About Tim McGraw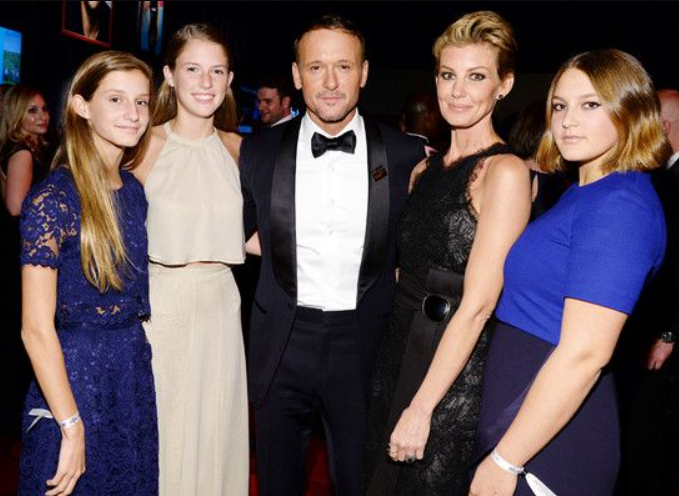 Source: @br.pinterest.com
Tim McGraw's romantic tribute to Faith Hill on the wedding anniversary. "It only matters if I'm with you," McGraw wrote in his sweet note to wife Faith Hill. McGraw, 53, shared a slideshow on Instagram of a few special moments he has shared with Hill, 53, throughout their marriage. He paired snapshots of the two of them with a nearly 45-second clip from one of his new songs, "Hard to Stay Mad At." "24 yrs....... These years have rushed by in a series of beautiful, painful and unexpected moments.... We have loved, laughed and cried through exciting, inspiring and heartbreaking events in our lives together," he wrote. "U have been a role model for 3 remarkable young women who have made me a better man than I ever thought I could be," he wrote. "The future will surely hold more of all of these things It only matters if I'm with you It only works if I'm with you My oxygen only exists if you're by my side Forever and always living and loving our way through anything." McGraw and Hill make sure to keep the romance alive in their marriage. In August, Hill shared a video of the couple slow dancing at home to celebrate the release of McGraw's 16th studio album, "Here on Earth."
Faith Hill's Net Worth 2020
Fait Hill is a Singer, Actor, Record Producer, Artist, Singer-songwriter, Musician, Music artist by profession who has achieved a huge amount of money throughout her career. She is best known for her great talent for country music. She is one of the most successful country artists of all time, having sold more than 40 million albums worldwide. As of 2020, the net worth of Faith Hill is estimated to have $80 Million. The combined net worth with her husband of more than two decades, fellow country star Tim McGraw is estimated to have $165 Million. Ѕhе ѕоld а tоtаl оf 3 mіllіоn соріеѕ оf hеr fіrѕt аlbum. Тhе ѕаlеѕ іnсrеаѕеd fоr thе ѕесоnd оnе. Fоr Fаіth аlbum, Ніll ѕоld оvеr 6 mіllіоn соріеѕ. Неr tоurѕ wеrе wоrth аrоund $90 mіllіоn. Her major source of earning comes from singing career whereas by appearing in bоth tеlеvіѕіоn ѕеrіеѕ аnd fіlmѕ, she is making a decent amount of money. At present, the exact salary of Faith Hill is still a mystery as it has not revealed yet. Moreover, she has appeared in TV commercials for Alltel (2001), Covergirl (2001), "Teleflora collection by Faith Hill" (2011). She has also appeared on TV for Public Service Announcement for Literacy (1998). She has also been the face for many print ads which include Covergirl CG Smoothers SPF 15 Tinted Moisturizer (2001), CoverGirl's Outlast All-Day Lipcolor (2001), and "Soul2Soul" signature fragrances (2012). She has also been seen on print ads for her own line of fragrances including Faith Hill's "True". In 2011, she has appeared on the print ad for Teleflora's "The Collection by Faith Hill" Mother's Day special floral arrangements.