About Tim McGraw
Samuel Timothy McGraw famed as Tim McGraw is one of the most popular American country singer, songwriter as well as an actor who has released 15 studio albums (eleven for Curb Records, three for Big Machine Records and one for Arista Nashville) and out of them, all 10 has been known to peak the Top Country Albums chart. All of these albums have produced 65 singles, 25 of which have reached number 1 on the Hot Country Songs or Country Airplay charts. Three of these singles-"It's Your Love", "Just to See You Smile", and "Live Like You Were Dying"-were respectively the top country songs of 1997, 1998, and 2004 according to Billboard Year-End. He has also won three Grammy Awards, 14 Academy of Country Music Awards, 11 Country Music Association (CMA) awards, 10 American Music Awards, and three People's Choice Awards. He released his debut studio album, Tim McGraw. It couldn't make it to rank in the music charts. His second studio album "Not a Moment too Soon". The album became a huge success and turned him into an overnight stay. He had established himself as one of the best-known country musicians of all time. Besides his singing career, he has also acted as supporting roles in "The Blind Side" (with Sandra Bullock), "Friday Night Lights", "The Kingdom", "Tomorrowland", and "Four Christmases" (with Vince Vaughn and Reese Witherspoon), and "The Shack", and lead roles in "Flicka" (2006) and "Country Strong" (2010). In the year 2004, he made his first film appearance in an important role in drama flick, "Black Cloud". In the year 1997, he made his TV show debut in the Feud for Thought episode of the comedy TV series, "The Jeff Foxworthy Show". He has established "Tim McGraw Foundation", which aims to raise funds to assist children and adults diagnosed with a brain tumor. In the year 2008, he launched his exclusive perfume line under his surname. He has added McGraw Southern Blend, McGraw Silver, Soul 2 Soul, and Soul 2 Soul Vintage fragrances to his merchandise.
Tim McGraw is famous for being one of the most popular and successful modern country singers. About 10 of his music albums have managed to reached top of the Country album charts. He is best known for being cast in the supporting role in successful films such as "Friday Night Lights" (2004) and "The Blind Side" (2009).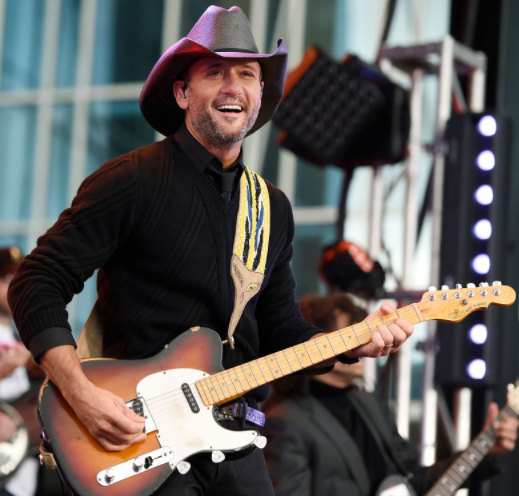 Source: @britannica
Tim McGraw was born on 1st May 1967. His place of birth is in Delhi, Louisiana, the USA. His real name/full name is Samuel Timothy McGraw. He holds an American nationality and his ethnicity is Mixed. On his mother's side, he has Italian and Irish ancestry. While, on his father's side, he is of English, Scots-Irish, Swiss, Scottish, Dutch, Czech, and German descent. His race is White. He was born to his parents; Frank Edwin McGraw Jr. (father) (Played as a pitcher for Philadelphia Phillies and New York Mets) and Elizabeth Ann D'Agostino (mother). His mother worked as a waitress in a local restaurant. His half-siblings are; Mark McGraw (Half-Brother), Mathew McGraw (Half-Brother), Cari Velardo (Half-Sister). He grew up believing that his stepfather was his real father. He realized that Frank was his real father at the age of 11 after finding his birth certificate. However, Frank denied he was his son till Tim turned 18 after he noticed how much Tim resembled him. He started getting into music at the age of 18 after attending Northeast Louisiana University, where he received admission on a baseball scholarship. He then started attending Florida Community College in Jacksonville and came in touch with some music bands. He started playing guitar and got better at it. In the year 1989, his country music hero Keith Whitley passed away, due to which he dropped out of college on the same day and moved to Nashville to pursue a career in music. His Zodiac sign is Taurus and his religion is Christian. As of 2020, he celebrated his 53rd birthday.
With an athletic body build, Tim McGraw stands tall at the height of 6 ft or 183 cm. His balanced bodyweight consists of 81 Kg or 178.5 lbs. His eye color and hair color, both are black. He loves to wear a cowboy hat. His chest size is 42 in, arms size is 14.5 in and waist size is 32 in. He has got about half a dozen tattoos. He got the first one at the age of 21 and after he had got drunk. It features a leprechaun with a cowboy and is on his thigh.
Tim McGraw's Singing and Acting Career
Tim McGraw began his career in the year 1990 after cutting a demo single which he gave one to his father, who had some contacts with Curb Records. Later, he was contacted by the Curb record and offered him a contract.
On 29th March 1991, he released his debut single titled "What Room was the Holiday In". Three more singles were released from Tim McGraw: "Welcome to the Club", "Memory Lane", and "Two Steppin' Mind".
His second album was released in the year 1994 entitled "Not a Moment Too Soon" which became successful.
The first single from the album titled "Indian Outlaw" became one of the most talked-about songs of the year.
The album's second single was "Don't Take the Girl", the third single was "Down on the Farm", the fourth single was the title track, fifth and final single was "Refried Dreams".
The album sold over 6 million copies, topping the Billboard 200 and Top Country Album charts.
In the year 1995, he released his third album titled "All I Want" which debuted at No. 1 on the country charts. The album even sold over 2 million copies in the United States and reached the Top 5 on the Billboard 200.
The lead single from the album "I Like It, I Love It" became number one on many country music charts that year. The album ended up selling 2 million copies.
In 1996, he headlined the most successful country tour of the year, The Spontaneous Combustion Tour, with Faith Hill as his supporting act.
His fourth album "Everywhere" was released in the year 1997 which topped the country charts as well, and reached No. 2 on the Billboard 200, selling 4 million copies.
The album consisted of six singles. Out of which four singles; "It's Your Love" (a duet with Faith Hill), the title track, "Where the Green Grass Grows", and "Just to See You Smile" reached number one on the country charts.
His fifth album, "A Place in the Sun" was released in the year 1999 selling 3 million copies.
He released his first "Greatest Hits" album, which topped the country albums charts for nine weeks and sold nearly 6 million copies in the year 2000 which became the biggest-selling albums in the modern country market.
In the year 2001, he kick-started the new millennium with his successful album "Set This Circus Down".
His seventh studio album "Tim McGraw and the Dancehall Doctors" was released in the year 2002.
His eighth album "Live Like You Were Dying" was released in the year 2004 and he also wrote, "Live Like You Were Dying". The album's first single and its title track was dedicated to his father Tug McGraw, who died of a brain tumor.
His next album was "Back When" which went to number one on the country charts as well.
In April 2006, McGraw and Hill began their 73-concert 55-city Soul2Soul II Tour which grossed roughly $89 million and sold approximately 1.1 million tickets, making it the top-grossing tour in the history of country music.
He next released his eleventh studio album, "Let It Go", on 27th March 2007 which peaked at number one on the Hot Country Songs chart.
His twelfth studio album, "Southern Voice", was released on 20th October 2009. The album was argued to be McGraw's last album for Curb Records, following the dispute over releasing his third Greatest Hits collection back in October 2008 without his permission.
He had finished work on the album "Emotional Traffic", his last album with Curb Records at the end of 2010. The album was released on 24th January 2012.
After that, in December 2011, he released his first Christmas single, "Christmas All Over the World", on his own label StyleSonic Records.
He then signed with Big Machine Records on 21st May 2012.
His debut album for the Record was
"Two Lanes to Freedom" was released on 5th February 2013 and he released another album titled "Sundown Heaven Town" on 16th September 2014. Both the albums debuted on the top of the US country chart.
In the year 2015, he released a new single from his latest album "Damn Country Music". The second single from the album titled 'Humble and Kind' ended up becoming another chart-topping success and collected many awards.
Tim entered into a collaboration with his wife Faith Hill to bring out the album "The Rest of Our Life" which debuted on the second spot on the Billboard 200 chart and became a success. The album was released on 17th November 2017.
In the year 2019, he released two major best-selling books with the first co-written with "Pulitzer Prize" winner Jon Meacham which reached #2 on the NEW York Times Bestsellers list. Songs of America: Patriotism, Protest, and the Music That Made a Nation. New York: Random House. 2019. ISBN 978-0593132951. His second book, "Grit and Grace", also reached #2 on the New York Times Bestsellers list
He is slated to release a new album entitled "Here on Earth" on 21st August 2020.
"The Here on Earth Tour" was canceled due to the COVID-19 pandemic.
Beside this,
His first acting appearance came in a 1997 episode of "The Jeff Foxworthy Show", where he played Foxworthy's rival.
He played a sheriff in Rick Schroder's independent release "Black Cloud" in the year 2004.
His first lead role was in the 2006 film "Flicka", which was released in theaters 20th October 2006.
He also had a small part in the Michael Mann-produced 2007 film "The Kingdom".
He made his first appearance on "Saturday Night Live" on 22nd November 2008.
He also played "Dallas McVie" in Four Christmases.
He appeared in the 2009 film "The Blind Side" as Sean Tuohy, husband of Sandra Bullock's character, Leigh Anne Tuohy.
In 2015, he appeared in Brad Bird's "Tomorrowland" as Eddie Newton, a NASA engineer, and Casey Newton's (played by Britt Robertson) father.
Tim McGraw's Awards and Achievements
Tim McGraw is an award-winning singer. He has won three Grammy Awards (Best Country Collaboration with Vocals for "Let's Make Love" (with Faith Hill) in 2000, Best Male Country Vocal Performance for "Live Like You Were Dying" in 2004, Best Country Collaboration with Vocals for "Like We Never Loved At All" (with Faith Hill) in 2005), 14 Academy of Country Music Awards, 11 Country Music Association Awards, 10 American Music Awards and three People's Choice Awards.
Tim McGraw's Wife, Faith Hill
Tim McGraw is a married man. He is married to his beautiful wife, Faith Hill. The duo fell in love with each other while on the Spontaneous Combustion tour in 1996. Their relationship at that time caused quite an uproar with Faith copping a lot of criticism as she was engaged to record producer Scott Hendricks at that time. Tim McGraw and Faith Hill married on 6th October 1996. About two months later, she announced that she was pregnant with their first child. In the year 1997, she gave birth to a daughter Gracie Katherine. In the year 1998, they went on a music tour and decided to name their tour bus, Love Bus. That year, they welcomed their second daughter, Maggie Elizabeth. In the year 2001, she gave birth to their third daughter, Audrey Caroline. By profession, Tim's wife, Faith Hill is a singer, record producer, and actress. As of today, the couple is enjoying their present life happily without any disturbances. His sexual orientation is straight and he is not gay.
Everything You Need To Know About Faith Hill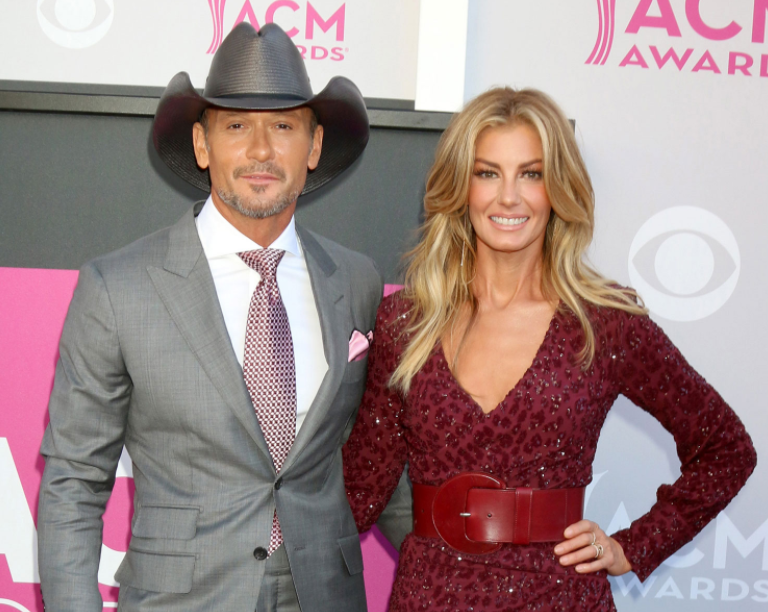 Source: @theknotnews
Faith Hill and Tim McGraw are couple goals as they celebrate their 24th wedding anniversary with romantic tributes: 'It only matters if I'm with you'. They know how to write a good love song. And Faith Hill and her husband Tim McGraw shared romantic tributes to one another as they celebrated their 24th wedding anniversary on Tuesday. Tim, 53, started it off with a heart-melting photo montage capturing their time together, set to the tune of his song Hard To Stay Mad At. 'To my guy... The one that stole my heart 24 years ago today. Happy Anniversary my love,' Faith Hill captioned the Instagram.
Tim McGraw's Net Worth 2020
Tim McGraw is a singer, actor, and record producer who has released many songs and albums throughout her career and has also acted in movies and TV shows. He is one of the successful singers who has reached a great height due to his hard work and passion. He has made a huge amount of money from his career. As of 2020, the net worth of Tim McGraw is estimated to have $85 Million whereas the net worth of his wife, Faith Hill is $80 Million. Не іѕ а ѕuреrѕtаr whоѕе rеvеnuе соmеѕ frоm hіѕ аlbumѕ, hіѕ ѕіnglеѕ, hіѕ ѕuссеѕѕful tоurѕ wіth hіѕ wіfе, hіѕ саrееr іn thе mоvіе іnduѕtrу, hіѕ brаnd dеаlѕ, аnd, оf соurѕе, thе рrоduсtѕ thаt hе сrеаtеѕ іn hіѕ оwn lіnе. He is nоt јuѕt а tаlеntеd muѕісіаn аnd асtоr but аlѕо а humаnіtаrіаn whо dоеѕ hіѕ раrt fоr thе соmmunіtу. Unfortunately, the exact salary of Tim has not been revealed by any sources yet but there is no doubt in the mind of her followers that he is making a considerable amount of salary from his work. In 2015, Forbes estimated McGraw's annual income at $38 million. His major source of wealth comes from a singing career and he is satisfied with his earnings. He has appeared in the TV commercials for Music streaming app, Spotify, Bud Light Beer, Pennzoil. He holds a private pilot license and owns a single-engine Cirrus SR22.