Fred Sirieix is a French maître d'hôtel and TV personality. He is also a professional and renowned Actor in French. Fred is the founder of National Waiters Day, the training tool the Art of Service as well as Galvin Cup and Galvin's Chance Charities. He also took the initiative to start The Right Course which teaches prisoners about the service industry. He also released a book called First Dates: The Art of Love and a music track La Vie Continue. He has been featured in an ITV show, with Gordon Ramsay and Gino D'Acampo, entitled Gordon, Gino, and Fred: Road Trip (2019), and Remarkable Places to Eat on BBC Two (2019). Scroll down to know more about his biography, birthday, wiki, facts, age, girlfriend, net worth, career and many more.
Famous For
He is best known for appearing on Channel 4's First Dates, and BBC Two's Million Pound Menu.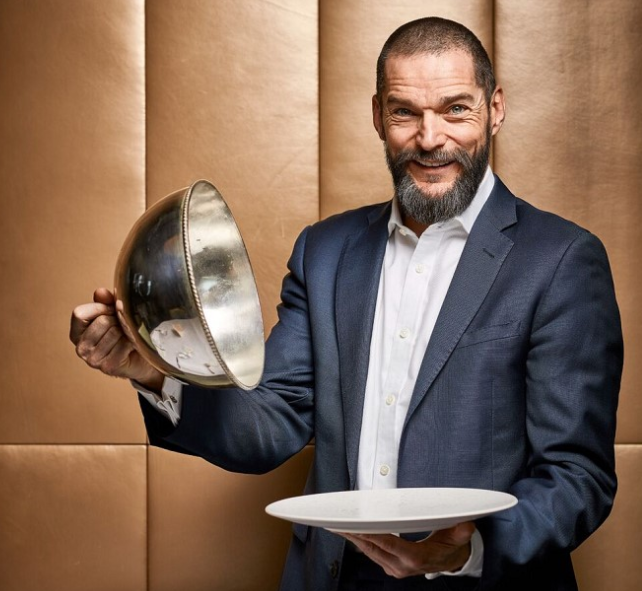 Source: @hospitalityandcateringnews.com
Early Life of Fred Sirieix
Fred Sirieix was born on 27 January 1972 in Limoges, France. He holds French nationality and belongs to White ethnicity. His birth sign is Aquarius. His birthday falls on 27th January of every year. Just a couple of months ago he celebrated his 48th birthday with his family and friends in his house. Information regarding her family, siblings, education will be added soon.
Career of Fred Sirieix
Sirieix began his career in the food industry at a catering college, receiving some training as a chef.
He also took training at a Michelin-starred restaurant in France, before moving to London restaurant La Tante Claire where he worked as Chef de Rang.
Following this, he worked at Le Gavroche, Sartoria and Brasserie Roux. He was for 14 years the general manager at restaurant Galvin at Windows, a Michelin-starred restaurant on the 28th floor of the London Hilton Hotel on Park Lane, which he left in December 2019. Sirieix is the Maître d' on Channel 4's First Dates.
He was also Maître d' on the First Dates spin-off show, First Dates Abroad.
In addition to First Dates, Sirieix, along with celebrity chef Michel Roux Jr, co-hosted BBC Two's Michel Roux's Service.
In 2012, he appeared on BBC One's The Apprentice whilst the program filmed at Galvin at Windows. In 2017, he appeared on Channel 4's Tried and Tasted: The Ultimate Shopping List.
In 2018, he presented Million Pound Menu, a new show for BBC Two. In December 2017, he appeared in ITV's Gordon, Gino and Fred's Great Christmas Roast, alongside Gordon Ramsay and Gino D'Acampo.
In 2019, he presented a series on BBC Two entitled Remarkable Places to Eat, in which he was taken by chefs to their favorite restaurants in different cities.
In 2015, Sirieix released a music track with Mark King from the band Level 42 and rapper XO MAN called "La Vie Continue" ("Life Goes On").
In 2016, He released a book called First Dates: The Art of Love.
Achievement and Awards of Fred Sirieix
In 2013, Fred Sirieix won the Cateys manager of the year award.
In October 2011, he won the National Restaurant Awards' Personality of the Year
In March 2014, he was awarded an honorary degree from the University of West London.
Personal Life of Fred Sirieix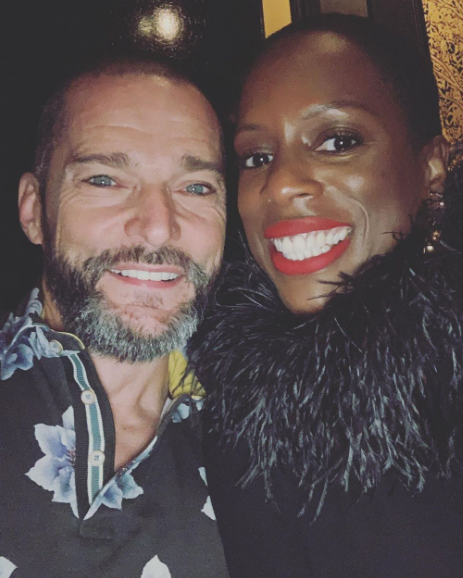 Source: @thescottishsun.co.uk
At the time of writing, Fred Sirieix is an unmarried man but is soon to be married. Fred's longest relationship was with a woman named Alex, who he was with for over 12 years. But they were never married but only remain as a partner. They have two children together. Their children are 15-year-old Andrea and 10-year-old Lucien. His daughter is a diving enthusiast and he often takes to Instagram to share her diving success. They separated in early 2018. In January 2018, He went public with his new partner who has never been named but Fred lovingly calls "Fruitcake" to the public. On Wednesday, March 18th, 2020, he announced that he had proposed to Fruitcake and she had said yes! Fred Sirieix has revealed his wedding will take place in Jamaica, with close friend Gino D'Acampo handling his stag do and eclectic wedding menu.
Body Measurement of Fred Sirieix
Fred Sirieix is a man of high Personality Looks with a well-maintained body physique. He stands 5 feet 10 inches tall and weighs 78 kg. His other body measurement is under review. He has dark shading hair and dark black eyes.
Net worth of Fred Sirieix
As of 2020, The net worth of Fred Sirieix is estimated to be $62 million. His monthly salary is 10,000 USD To 500,000 USD. His source of wealth is from his profession from being a professional Actor, maître d'hôtel, and TV personality. He currently lives in Peckham, London.