Jeffrey Lynn Steininger Jr., famed as Jeffree Star is an American Internet celebrity, beauty YouTuber, makeup artist, model, entrepreneur, as well as a singer-songwriter. He is the founder of Jeffree Star Cosmetics. He has released his only studio album, Beauty Killer in 2009 being a singer. He left the music industry in the year 2013. His YouTube channel, jeffreestar has over 15 million subscribers. He has over 13.3 million followers on his Instagram. In 2018, Star earned $18 million from his YouTube endeavors alone, according to Forbes. He had become the most followed person on MySpace by 2006.
First Kylie Jenner Now Jeffree Star Feuds With Lady Gaga's Little Monsters
Jeffree Star has been embroiled in yet another online feud. This time it's with Lady Gaga's loyal fanbase, the Little Monsters, over Gaga's newly launched make-up line Haus Laboratories. The feud started earlier this week when Star tweeted, "Everyone keeps asking me to review Lady Gaga's @haudlabs makeup!! It went on sale last night but they're not shipping until September... Ummmm". Gaga fans, who are a dangerous bunch to cross, didn't take kindly to what they thought was the blogger throwing shade at their idol and let him know. "It's called PRE-order darling. We love you so much so don't try it," replied one fan, while another wrote, "it was pre-order actually, clearly stated many times." "Jeffree, in order to get you to stop questioning Gaga and her new beauty brand, here's the reason she had pre-order on 7/15," added another with screenshots of Gaga at Amazon's Prime Day. "Come for Gaga and ur Sub count gonna look like James after Tati," threatened one fan, referring to the feud between James Charles and Tati that occurred earlier this year which saw Charles's following drop by nearly three million over the course of a few days. In response to the backlash, Star defended himself, tweeting that his comments were not indicative of his feelings towards Lady Gaga. "I know what a PRE-ORDER is.. I just don't like launches where we customers have to wait several months, the product should be available immediately when you're at that level of success but that's just my opinion. Doesn't mean I don't love Gaga, take a deep breath!!!"
Early Life of Jeffree Star
Jeffree Star was born on 15th November 1985 as Jeffrey Lynn Steininger Jr in Orange County, California in the United States. He holds American nationality and his ethnicity is White. He was born to a father, Jeffrey L. Steininger Sr., and a mother Marra Shubyann Lindstrom Steininger. His father committed suicide when Jeffree was 6 years old. His mother raised him. After graduating from high school, he moved to Los Angeles. His religion is Christian. There is no information regarding his education. As of 2018, he celebrated his 33rd birthday.
Body Measurements of Jeffree Star
Jeffree Star is a very handsome person with an attractive personality. He has got a charming smile on his face attracting a lot of people towards him. He stands at a height of 1.85 m or 6 feet and 1 inch and he has a body weight of 161 lbs or 73 kg. He has a slim body build. He has numerous tattoos on his body. His other body measurements will be added soon.
Career of Jeffree Star
MySpace
Jeffree Star used MySpace for blogging about his life while making social commentary on "self-image and confidence," fame, beauty, and life.
He was the most followed person on MySpace by 2006.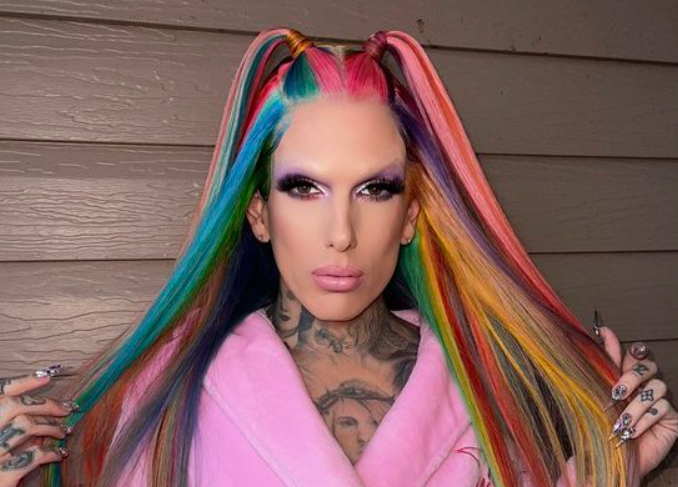 Source: @thesource
Music Career
Jeffree befriended Peachers' drummer Samantha Maloney, who encouraged Star to make music.
He was advertised as a part of the True Colors Tour 2007. They traveled to 15 cities in the US and Canada.
He released his first and only studio album, Beauty Killer in 2009.
He also embarked on several world tours to promote his music.
He signed to Akon's record label, Konvict Muzik.
Akon described him as "the next Lady Gaga".
He left the music industry in the year 2013.
He has appeared in the second version of Kesha's music video for her single "Take It Off" in 2010.
Jeffree Star Cosmetics
Jeffree founded his e-commerce makeup brand, Jeffree Star Cosmetics in the year 2014.
He also started his YouTube channel, jeffreestar, where he started promoting his brand.
As of July 2019, he has garnered over 15 million subscribers and 1.7 billion views.
He first released a collection of velour liquid lipsticks.
He later released highlighter palettes, lip scrubs, eyeshadow palettes, clothing, and accessories.
He also launched a new spring collection, Blue Blood in March 2019.
His eyeshadow pallet sold out in an hour and blue chrome mirrors in minutes from launch.
Theft
He announced in April 2019 that one of his stock and shipping facility warehouse was broken into and over $2.5 million of products was stolen.
Numerous Northern Light highlighter palettes, 5000 Platinum Ice highlighter palettes, lip liners, and an entire shade of unreleased Magic Star concealer were stolen.
The girl who leaked the presence of the concealer was arrested.
Marital Status (Unmarried), Sexual Orientation (Gay), Boyfriend, Dating
Jeffree Star is not married yet and he is still to get married. His sexual orientation is gay. He is dating Nathan Schwandt. They started dating in March 2015. They reportedly met through Instagram. As of today, the pair are enjoying their life happily without any disturbances.
Net Worth of Jeffree Stars
Jeffree Star is a very successful person and he has earned a lot from his business ventures in the fashion industry. His Jeffree Star Cosmetics is popular in the US. He also earns from his YouTube channel. He earned $18 million from his YouTube endeavors alone in 2018. He was the 5th highest-paid YouTube star as of December 2018. As of 2019, his net worth is estimated at $50 million. But his exact salary has not been revealed yet but it will be added soon once we got information regarding his salary.