About Jo Jorgensen
Joanne Marie Jorgensen famed as Jo Jorgensen is an American academic as well as a libertarian political activist. She is the Libertarian Party's nominee for president of the United States in the 2020 election. Prior to this, she was previously the party's nominee for vice president in the 1996 U.S. presidential election as the running mate of Harry Browne. Furthermore, she was also the Libertarian nominee for South Carolina's 4th congressional district in 1992, receiving 4,286 votes, for 2.2% of the popular vote. She filed for the Libertarian Presidential nomination for the 2020 election on 13th August 2019. Also, she formally launched her campaign on 2nd November 2019, Libertarian Party of South Carolina convention, before participating in the official South Carolina Libertarian presidential debate the same day. Additionally, she has appeared on a podcast associated with the anti-government "boogaloo" movement just days after an adherent of the movement was arrested for allegedly murdering two law enforcement officers.
Recent in the news, Jo Jorgensen would like America to be "one giant Switzerland," the Libertarian Party's nominee for president told the "Fox News Rundown" podcast Tuesday. "Switzerland is armed and neutral," Jorgensen explained to host Dave Anthony. "They're not pacifists. They're not isolationists. They are a banking center. They accept tourism. People go in and out freely and they trade with other people. That's what I want the United States to look like. On the other side, she recently delivered her speech to a crowd of hundreds in Westfield, just north of Indianapolis. She laid out her platform, one that often diverges from both the major party candidates. The South Carolina businesswoman supports decriminalizing marijuana and ending qualified immunity for police officers, privatizing health care and letting the private sector make their own COVID-19 restrictions.

Jo Jorgensen is famous for being an American academic and libertarian political activist. She is best known for being the Libertarian Party's nominee for president of the United States in the 2020 election. Her political party is Libertarian.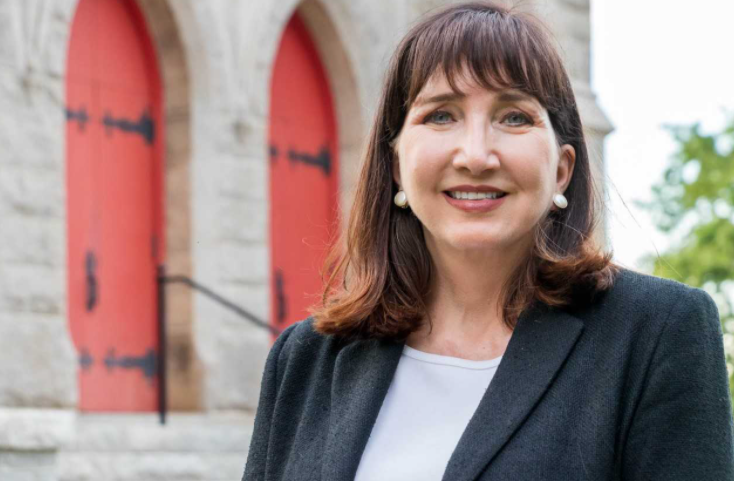 Source: @independent.co.uk
On 1st May 1957, Jo Jorgensen was born with the birth name/full name of Joanne Marie Jorgensen in Libertyville, Illinois, the USA. She was raised in neighboring Grayslake. She is American by nationality and her ethnicity is American-White. Her race is White. As of 2020, she celebrated her 63rd birthday. She is an alumna of Grayslake Central High School. Her grandparents were Danish immigrants. As per her education, she received a bachelor of science in Psychology at Baylor University in 1979, and then a master's degree in business administration from Southern Methodist University in 1980. She received a Ph.D. in Industrial and Organizational Psychology from Clemson University in 2002. She has taught full-time since 2006 as a Senior Lecturer in Psychology at Clemson University, a public, land-grant university in Clemson, South Carolina. Taurus is her Zodiac sign and her religion is Christian.
Jo Jorgensen is a very charming and attractive woman with beautiful blue eye color. Her hair color is dark brown. She has got an average body build with the perfect height matching with her body weight. Unfortunately, the details about her height, weight, body measurements have not been revealed yet. She maintains her body a lot and she has got a healthy body.
Jo Jorgensen's Political Career
Completing her education, Jorgensen started her career at IBM working with computer systems, leaving there to become part-owner and President of Digitech, Inc.
Later, she ran the 1992 United States House of Representatives election which was her very first office.
Furthermore, she also ran as a Libertarian to represent SC-4, in northwest South Carolina, against incumbent Democrat Liz J. Patterson and Republican Bob Inglis where she placed third with 2.2% of the total vote.
She was nominated by the Libertarian Party before the 1996 United States presidential election to be the vice-presidential running mate of author Harry Browne.
She was nominated on the first ballot with 92 percent of the vote and she also participated in a vice-presidential debate televised nationwide by C-SPAN on October 22, along with Herbert Titus of the Taxpayers Party and Mike Tompkins of the Natural Law Party.
They were on the ballot in all 50 states and D.C. and received 485,759 total votes, which placed them in fifth place with 0.5% of the popular vote.
Recently, on 13th August 2019, she filed with the FEC to run for the Libertarian presidential nomination in the 2020 election.
She also formally launched her campaign at the 2nd November 2019 Libertarian Party of South Carolina convention, before participating in the official South Carolina Libertarian presidential debate the same day.
She became second in the cumulative popular vote, winning two of the 12 primaries in the non-binding Libertarian primaries.
She also became the official Libertarian presidential nominee, making her the first woman to become the Libertarian nominee and the only female 2020 presidential candidate with ballot access to over 270 electoral votes on 23rd May 2020.
Moreover,
Jo Jorgensen supports a free-market healthcare system and opposes single-payer healthcare, calling it "disastrous."
She also supports replacing the Social Security system with individual retirement accounts. Under her plan, those who opt out would direct 6.2% of their future payroll taxes in individual retirement accounts and receive prorated Social Security benefits for existing contributions as zero-coupon bonds for retirement.
She opposes federal civil asset forfeiture and qualified immunity as well as she opposes the war on drugs and supports abolishing drug laws, promising to pardon all nonviolent drug offenders.
Not only this, but she also opposes embargoes, economic sanctions, and foreign aid; she supports non-interventionism, armed neutrality, and the withdrawal of U.S. troops from abroad. She supports cutting government spending to reduce taxes.
She supports the freedom of American citizens to travel and trade calls for the elimination of trade barriers and tariffs and supports the repeal of quotas on the number of people who can legally enter the United States to work, visit, or reside.
She has characterized the U.S. government's response to the COVID-19 pandemic as overly bureaucratic and authoritarian, calling restrictions on individual behavior (such as stay-at-home orders) and corporate bailouts "the biggest assault on our liberties in our lifetime".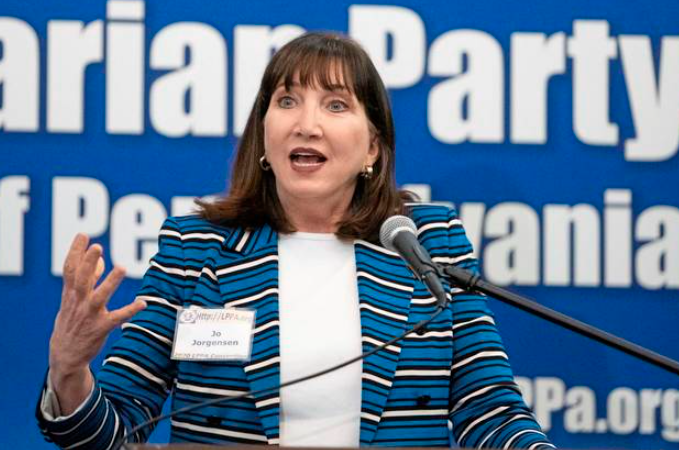 Source: @triblive
Jo Jorgensen's Personal Life
Jorgensen is a married woman. She was married to her husband, whose name has not been revealed by her. She likes to keep her personal life private. Only it is known that the married couple is blessed with two daughters. At present, she is enjoying her present life happily without any disturbances. Her sexual orientation is straight.
Jo Jorgensen's Net Worth 2020
Jo Jorgensen is an academic and libertarian political activist by profession who has made a huge amount of money throughout her career. As of 2020, the net worth of Jorgensen is estimated to have around $2 Million. Whereas the details regarding her salary are still to get unfold yet. Her major source of earning comes from political career and she is satisfied with her earnings. She is living a cool lifestyle as of today.