Joan Baez Biography
An American singer, songwriter, musician, activist who is being regarded as a folk singer is named for Joan Baez. Her music diversified since the counterculture era of the 1960s and encompasses genres such as folk-rock, pop, country, and gospel music. Beginning her recording career in 1960, Joan has successfully released more than thirty albums. Her first three albums, Joan Baez, Joan Baez, Vol. 2, and Joan Baez in Concert, all achieved gold record status. She was one of the first major artists to record the songs of Bob Dylan in the early 1960s. Being fluent in Spanish and English, she has recorded songs in six other languages as well. Her acclaimed songs include "Diamonds & Rust" and covers of Phil Ochs's "There but for Fortune", The Band's "The Night They Drove Old Dixie Down", "Farewell, Angelina", "Love Is Just a Four-Letter Word", "Forever Young", "Here's to You", "Joe Hill", "Sweet Sir Galahad" and "We Shall Overcome". On 7th April 2017, she was inducted into the Rock and Roll Hall of Fame. Being a social and political activist, she performed fourteen songs at the 1969 Woodstock Festival and has displayed a lifelong commitment to political and social activism in the fields of nonviolence, civil rights, human rights, and the environment. Scroll more to get more about Full Biography, Interesting Facts, Career Timeline, Personal Life & Affairs.
Recent in the news, Singer-songwriter activist Joan Baez turns 80 (as of 9th January 2021). After retiring from live performing in 2019, the musician whose 1975 hit, Diamonds & Rust, was written about former lover, Bob Dylan, has turned to painting full-time. Her new solo art exhibit features portraits of "people making the world a better place." Mischief Makers 2 is a follow-up to her first show that showcased portraits of people who changed the world through non-violence, like Malala Yousafzai, Aung San Suu Kyi, Ram Dass, John Lewis, and Martin Luther King, Jr-a friend with whom she marched arm-in-arm. During the lockdowns of 2020, she also started performing music from her gorgeous kitchen, and posting the songs on YouTube. Check out her performance of Dylan's Forever Young dedicated to all the Heroes of the 2020 pandemic…

Joan Baez is famous for being a singer, songwriter, musician, and activist. She is best known for releasing more than 30 albums during her career timeline.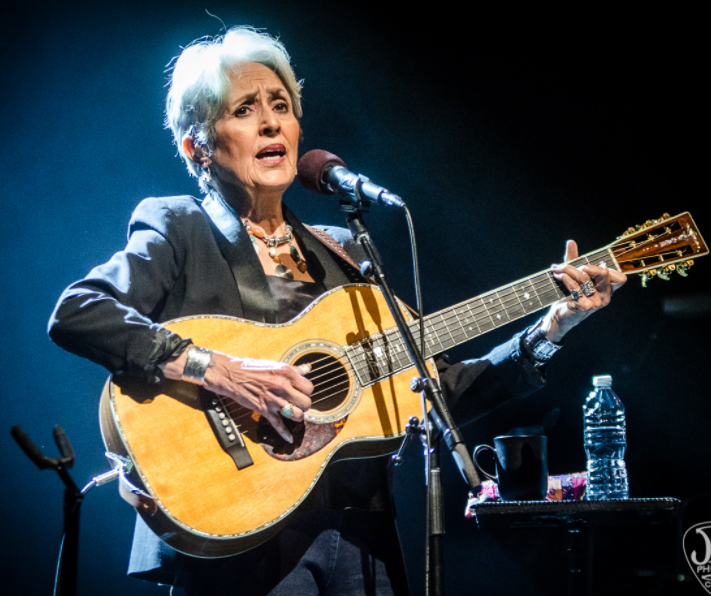 Source: @commons.wikimedia.org
Joan Baez was born on the 9th January 1941 in Staten Island, New York, the USA with the birth name/full name of Joan Chandos Baez. she holds an American nationality and her ethnic background is mixed and her race is White. She was born to his parents; Lt. Albert Baez (father), a physicist, and Lt. Hoan Chandos Baez (mother) descended of Dukes of Chandos. His father, Albert was one of the co-inventor of the X-ray Microscope. About his siblings, she has two sisters, named Lt. Pauline Marden and Lt. Mimi Farina. Both of them were singers and activists. As of 2021, she celebrated her 80th birthday. While growing up, she faced various discriminations due to her Mexican heritage. Due to this reason, she was involved in social causes as an activist. Concerning her educational background, she graduated from Palo Alto High School in the year 1958. She then joined Boston University and attended the University for six weeks only. Capricorn is her Zodiac sign and her religion is Christian.
Joan Baez is a pretty singer with a charming personality. She stands tall at the height of 5 ft 5 in. Her balanced bodyweight consists of 55 KG. She has a pair of brown eyes and her hair color is light brown. Her other body measurements have not been revealed yet. Overall, she has got a healthy body this year with a slim body build.
Joan Baez Career
Being interested since her early childhood, Joan professionally started singing during High School where she used to perform in clubs. Later, she gave her first concert in Club 47 in 1958.
In the year 1960, she released her self-titled debut album "Joan Baez" with 13 traditional tracks which peaked at the 15th position on the US Billboard also the album earned Gold certification by RIAA.
On 5th November 1960, she made her New York concert debut at the 92nd Street Y. She played her first major New York concert at a sold-out performance at Town Hall on 11th November 1961.
Her second release, Joan Baez, Vol. 2 (1961), went "gold", as did Joan Baez in Concert, Part 1 (1962) and Joan Baez in Concert, Part 2 (1963).
She then turned to Peter Schickele, a classical music composer, who provided classical orchestration for her next three albums: Noel (1966), Joan (1967), and Baptism: A Journey Through Our Time (1968).
Moving forward, she then released two albums; Any Day Now (1968) and David's Album (1969).
She published her first memoir, Daybreak (by Dial Press) in 1968.
She delivered Vanguard one last success with the gold-selling album Blessed Are... (1971).
After that, she moved to A&M Records where she stayed for four years and released six albums.
Her first album for A&M, Come from the Shadows, was recorded in Nashville. She then released her second album for the record entitled Where Are You Now, My Son? (1973).
The next year, her studio album Gracias a la Vida (1974) was released. Similarly, her other album Diamonds & Rust (1975) became the highest selling of Baez's career and included a second top-ten single in the form of the title track.
She then released albums which include Gulf Winds (1976), Blowin' Away (1977), and Honest Lullaby (1979).
She has toured on behalf of many other causes, including Amnesty International's 1986 A Conspiracy of Hope tour and a guest spot on their subsequent Human Rights Now! tour.
She found herself without an American label for the release of Live Europe 83 (1984). She did not have an American release until the album Recently (1987) on Gold Castle Records.
Her second autobiography, called And a Voice to Sing With was released in 1987.
She performed at a music festival in communist Czechoslovakia called Bratislavská lýra in May 1989.
She recorded two more albums with Gold Castle: Speaking of Dreams, (1989) and Brothers in Arms (1991). She then anded a contract with a major label, Virgin Records, recording Play Me Backwards (1992).
She then produced a live album, Ring Them Bells (1995), and a studio album, Gone from Danger (1997).
In 2003, her six A&M albums were reissued. Her album, Dark Chords on a Big Guitar was released in the year 2003. Her live album Bowery Songs was released in the year 2005.
Proper Records then reissued her live album Ring Them Bells (1995) in February 2007.
She then recorded a duet of "Jim Crow" with John Mellencamp which appears on his album Freedom's Road (2007).
Her next studio album Day After Tomorrow was released on 9th September 2008.
On 14th October 2009, PBS aired an episode of its documentary series "American Masters", entitled "Joan Baez: How Sweet the Sound" which was produced and directed by Mary Wharton.
She released on her Facebook page her first song in twenty-seven years, "Nasty Man" on 4th April 2017, a protest song against US President Donald Trump which became a viral hit.
She released a new studio album entitled Whistle Down the Wind on 2nd March 2018.
On 25th June 2019, The New York Times Magazine listed her among hundreds of artists whose material was reportedly destroyed in the 2008 Universal fire.
Social & Political Activist
Apart from being a singer, she is also a social and political activist.
She first heard Martin Luther King, Jr., speak about nonviolence, civil rights, and social change which brought tears to her eyes. It was in the year 1956.
She saw the Civil Rights Movement in the U.S. become a prominent issue. Her recording of the song "Birmingham Sunday" (1964), written by her brother-in-law, Richard Fariña, was used in the opening of 4 Little Girls (1997), Spike Lee's documentary film about the four young victims killed in the 1963 16th Street Baptist Church bombing.
In 1964, she founded the Institute for the Study of Nonviolence. Her autobiography, Daybreak, was released in the year 1966 which is the most detailed report of her life through 1966 and outlined her anti-war position, dedicating the book to men facing imprisonment for resisting the draft.
She was instrumental in founding the USA section of Amnesty International in the 1970s.
She has also been prominent in the struggle for gay and lesbian rights.
She always raised the voice for Civil rights, LGBT Rights, and Human Rights via her songs and active participation in the protests as well.
Joan Baez Awards and Achievements
American singer, Joan Baez is a life achievement award-winning singer and songwriter. She is renowned for Folk and County singing style. She was also inducted into the Rock and Roll Hall of Fame in 2017. Ѕhе hаѕ ѕеvеrаl аwаrdѕ аnd ассоlаdеѕ undеr hеr bеlt, а fеw оf whісh аrе ѕеvеn GRАММY nоmіnаtіоnѕ, twо NМЕ nоmіnаtіоnѕ, аn Іntеrnаtіоnаl Вluеgrаѕѕ Аwаrd, аnd thrее Ѕаn Frаnсіѕсо Вау Аrеа аwаrdѕ. Her activism leads her to grab awards such as thе Јеffеrѕоn Аwаrd (bу thе Аmеrісаn Іnѕtіtutе оf Рublіс Ѕеrvісе), thе Lеnnоn Реасе Тrіbutе Аwаrd, thе Јоѕерhіnе аnd Frаnk Duvеnесk Нumаnіtаrіаn Аwаrd, thе Dеаth Реnаltу Fосuѕ оf Саlіfоrnіа аwаrd аnd thе Еаrl Wаrrеn Сіvіl Lіbеrtіеѕ Аwаrd. Her other awards include:
Grammy Lifetime Achievement Awards (2007)
Ambassador of Conscience Award (2015)
Nominated for Grammy Awards (2019, 2009, 1972)
Joan Baez Dating History
Joan Baez is a married woman previously. Her current relationship status seems to be single as there is no rumors about her dating anyone neither she has revealed anything about her affairs to the media. Thus, she is enjoying her present life happily as of now. She is focusing on her career at present. Her sexual orientation is straight.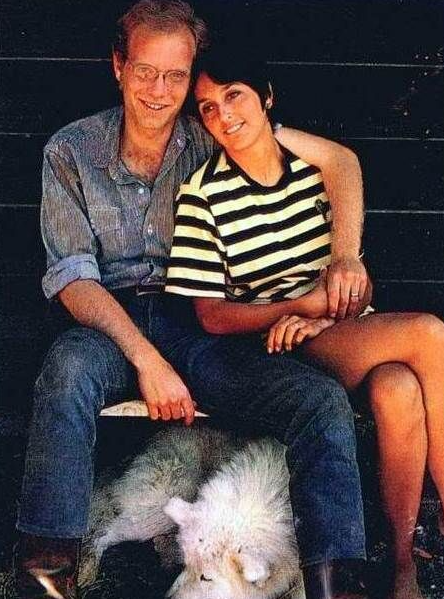 Source: @pinterest
Regarding her relationship history, she dated her first boyfriend, Michael New in the late 1950s. One night she saw him kissing another woman on a street corner due to which their relationship broke. After that, she dated Bob Dylan whom she met in April 1961. The two performed the Dylan composition "With God on Our Side". Later, she married David Harris who is a Journalist by profession. The wedding took place on the 26th of March 1968. Later, they parted their ways via divorce on the 15th of February 1973. Their son Gabriel was born on 2nd December 1969. Their son Gabriel is a drummer and occasionally tours with his mother. After then, she started her relationship with Steve Jobs. They first met in 1982 via her sister, Mimi. The accidentally met friends turned out to be passionate lovers with the time. They parted their ways as a lover, however, he always remained close as friends. Jobs even visited her before his death. At present, she is a resident of Woodside, California, where she lived with her mother until the latter's death in 2013. She remained close to her younger sister Mimi up until Mimi's death in 2001 and mentioned in the 2009 American Masters documentary about her life that she had grown closer to her older sister Pauline in later years.
Joan Baez Net Worth & Salary
Multi-talented Joan Baez is a singer, songwriter, musician, and activist. Her major source of wealth comes from her singing career. As per sources, the net worth of Joan Baez is estimated to have $15 Million as of 2021. Whereas her exact salary figure has not been revealed yet but there is no doubt in the mind of her followers that she is making a good amount of money from her career. She has released many albums and songs until now from which she has successfully earned a great amount of money. She also earns through the royalties of her albums too. As of today, she is living a luxurious lifestyle from her career earnings and she is satisfied with her earnings as of today.