John Roger Stephens famed as John Legend is an American singer, songwriter, record producer, activist, and actor who is famous for his albums, such as 'Once Again', and 'Darkness and Light'. From the age of seven, he started playing the piano. During his time at college, he served as the president and music director of a musical group named Counterparts. He is also an actor and has made an appearance in the movie 'La La Land'. He first became popular with the 2005 single "Ordinary People". He has collaborated with many different artists, such as Jay-Z and Kanye West. His debut album, 2004's Get Lifted, won three Grammy Awards. also appeared on the TV competition "Duets" as a coach before dropping his next album, 2013's Love in the Future. He was the first African American man to win all four major North American entertainment awards (EGOT: Emmy, Grammy, Oscar, and Tony).

A surprise proposal and bromance between John Legend and Blake Shelton: The Voice
Blind auditions was resumed Monday on the singing competition, but as the teams are filling up, it is becoming more difficult for contestants to get a coveted chair-turn from Kelly Clarkson, Blake Shelton, John Legend or Adam Levine. For Denton Arnell, the stakes were even higher because he had to not only get a "Yes" from one of the coaches, but also from his girlfriend, Tiffany. Arnell, a church youth director, put his own twist on Drake's "Hold On, We're Going Home." Legend took notice, commending Arnell for getting "creative with the melody and making it your own." The singer joined Team Legend. The romance was temporarily lost after the two bumped heads really hard, but after some laughter (mainly from Clarkson), Arnell regained his composure and got down on one knee. Shelton started a one-sided alliance with Legend, campaigning heavily for the "All of Me" crooner: "I'm not afraid to say I've been siding with John. It's his first season, he's having a tough time." However, there was no happy ending for Shelton and Legend.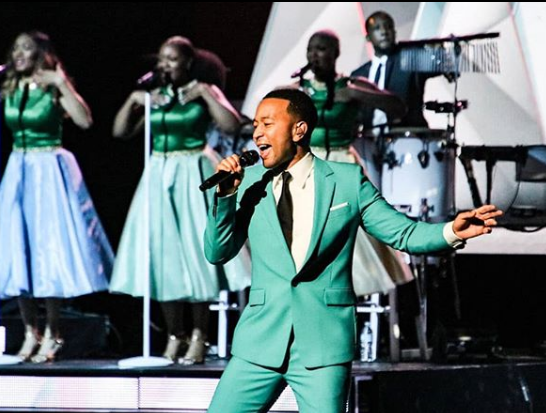 Source: @johnlegend
Know About Next Episode Of The Voice
The Voice next episode will appear on March 18, 2019, at 8:00 PM. The "Blind Auditions" come to an end as superstar coaches Kelly Clarkson, John Legend, Adam Levine and Blake Shelton all vie to discover and coach the next singing phenomenon in the "Blind Auditions." The remaining artists compete for one last chance to be selected to fill the final spots on the coaches' teams and fight for a chance to be named "The Voice." Carson Daly ("TODAY Show") hosts.
John Legend's Wife, Chrissy Teigen Buys Daughter Luna a Pet Hamster Named Peanut Butter
Chrissy Teigen and her daughter, Luna, purchased a pet hamster that they named Peanut Butter, but husband John Legend isn't a fan of the furry friend. "Luna and I bought a hamster today. Her name is peanut butter," Teigen, 33, tweeted on Sunday, March 10. "John is not thrilled, which makes me love her more." While Peanut Butter spent most of her first evening in the Teigen-Legend household hiding in her cage, she eventually came out to chew the metal bars. "Is this normal," Teigen captioned a quick video of the munching. She added in another tweet: "Please don't feel bad for her. We got her everything and more and a giant space to roam in. If I had a safe enclosure for a hamster farm, I would have that."
John Legend's Birthday, Place of Birth, Siblings, Horoscope, Parents, Wiki, And More
Before earning a famous reputation, John Legend was born on 28th December 1978 in Springfield, Ohio, USA. His birth name is John Roger Stephens. His parents are Phyllis Elaine, a seamstress and Ronald Lamar Stephens, a factory worker and former National Guardsman. He has three siblings named Vaughn Anthony Stephens(Brother), Ronald Stephens II (Brother) and Phyllis Stephens (Sister). His horoscope sign is Capricorn. He was born into a musically gifted working-class family. He began playing the piano at age seven. His grandmother taught him how to play the piano, and he grew up singing in the church choir. As of today, his age is 40 but on his upcoming birthday in December, his age will be 41 as of 2019.
Know About His Ethnicity And Nationality
John's nationality is American and he is of African-American ethnicity.
John Legend's Education And Graduation
Talking about his education, he was homeschooled by his mother. Later, he attended North High School at the age of 12. He then attended the University of Pennsylvania, where he studied English with an emphasis on African-American literature. While in college, Legend served as president and musical director of co-ed jazz and pop a cappella group called Counterparts. He graduated in 1999 and began his professional singing career in 2000.
Height, Weight, Hair Color, Body Measurement Of John Legend
John Legend is a very famous songwriter with cool body appearances. Talking about his body measurements, he has a height of 5 feet and 9 Inches (1.75 m). He has black hair color and his eyes are also dark brown. His body weight is 71 Kg. His shoe size is 11.5 (US). There is no information about dress size. He has a very charming smile as well as a dashing style.
Career Journey Of John Legend
John began his music career when he was in university. While in college, he was introduced to Lauryn Hill by a friend.
Hill then hired him to play piano on "Everything Is Everything", a song from her album, The Miseducation of Lauryn Hill.
He released his debut album, Get Lifted on GOOD Music in December 2004.
With hit singles, such as 'Ordinary People', 'Number One', and 'So High', the album performed brilliantly, peaking at number seven on the Billboard 200.
His album debuted at number 7 on the US Billboard 200 and sold 116,000 copies in its first week.
His album also won the 2006 Grammy Award for Best R&B Album and earned Legend another two nominal awards for Best New Artist and Best Male R&B Vocal Performance.
In October 2006, his second album "Once Again" was released.
At the 2007 Grammy Awards ceremony, the song "Heaven" was awarded the "Grammy Award for Best Male R&B Vocal Performance".
His next album 'Evolver,' released in 2008, was an even bigger success.
In 2013, he released his fourth album, 'Love in the Future'.
He has won ten Grammy Awards and a Golden Globe Award in his music career.
In 2015, he won an Oscar for the song 'Glory', which he had performed for the film 'Selma', along with rapper Lonnie Rashid Lynn, also known as Common.
He released his fifth album, Darkness and Light with the first single "Love Me Now" on December 2, 2016.
The same year, he also played a significant role in the Oscar-winning film 'La La Land'.
He is also part of the American television series the voice season 16 with Adam Levine, Blake Shelton, Alicia Keys, Gwen Stefani, Kelly Clarkson, and Jennifer Hudson.
NBC announced that Legend had been cast in the title role in the live concert production of Jesus Christ Superstar at the Marcy Avenue Armory in Williamsburg, Brooklyn on 19th December 2017.
On May 8, 2018, Google chose John Legend as one of the six new Google Assistant voices
Awards And Achievement Of John Legend
About his awards and achievements, he has been nominated for a total of forty-five awards out of which he has won thirty-one. In the year 2015, he won the Oscar for the 'Best Original Song' for his hit song 'Glory,' which was released the previous year. He has won a total of ten Grammy Awards, two NAACP Image Awards, five Soul Train Awards, and One Golden Globe Award.
Is John Legend Married Or Unmarried or In A Relationship?
John Legend is a married person for a long time. He is married to Chrissy Teigen. The couple first met on the set of his 2007 music video for "Stereo". They got married on September 14, 2013. Their marriage ceremony was held in Como, Italy. His song "All of Me" was dedicated to her. As of now, the couple is living a happy life without any disturbances. They are enjoying their life a lot in New York City as of today. His sexual orientation is straight and he is not gay.
Previously, John has been in a relationship with the famous American model Jessica White in 2005. He dated the famous American singer Wafah Dufour in 2006. He also dated a Brazilian engineer named Danielle Abreu in 2006.
Know About His Children
John Legend and Chrissy Teigen are the proud parents of their children named; Luna Simone Stephens (daughter) and Miles Theodore Stephens (son).
Short Description On Chrissy Teigen
Chrissy Teigen was born on November 30, 1985, in Delta, Utah, the USA as Christine Diane Teigen. She is an actress and producer, known for Hotel Transylvania 3: Summer Vacation (2018), Double Dutchess: Seeing Double (2017) and Inside Amy Schumer (2013).
How much John Legend's Net Worth and Salary?
John Legend is a very successful singer worldwide. He has accumulated a net worth of 40 Million Dollars throughout his successful career but his salary is still unknown. But there is no doubt in the mind of his follower that he is earning his salary in millions from his career. He is satisfied with his earnings.
Know About His Source Of Income
His source of income is from his record sales, tour proceeds, acting gigs, and commercial endorsements.
John Legend On Social Media
John Legend is very much active in social media like Facebook, Instagram, and Twitter. He has around 5M followers on Facebook. He has more than 7M followers on Instagram and he has more than 10M followers on Twitter. He is very much engaged in social media for the touch of his followers.
Keep Updated With Us For More Information About John Legend.