About Joe Manganiello
Joe Manganiello is a famous American actor whose professional film career began by playing Flash Thompson in Sam Raimi's "Spider-Man". He rose to fame after his role came in the form of werewolf Alcide Herveaux in five seasons of the HBO series "True Blood". In the year 1999, he appeared in the student film Out of Courage 2: Out for Vengeance for his role as Ruslan Zmeyev which was his debut film. Apart from acting, he also wrote and produced this film. In the year 2006, he guest appeared in the American comedy series Jake in Progress for his role as Rick Cavanaugh in the episode titled "Notting Hell" which was his debut TV show. This series also broadcasted from just 2005 to 2006 on ABC. He is also known for his roles in films such as Magic Mike, Magic Mike XXL, Pee-wee's Big Holiday, What to Expect When You're Expecting, and Sabotage, among others. In late 2013, he became a published author when his first book, "Evolution", was released by Simon & Schuster's Gallery Books. He was titled "Favorite Pop-Culture Werewolf of All Time" by Entertainment Weekly readers in the year 2011. In 2017 he won a Mid-Atlantic Emmy as the narrator of the documentary Pittsburgh Is Home: The Story of the Penguins, which documented the first 50 years of history of the Pittsburgh Penguins hockey team. His nickname is Joe, Alcide, Big Dick Richie.
Recent in the news, Joe Manganiello has been rocking a blue mohawk for several weeks, and wife Sofia Vergara had yet to weigh in on the new 'do…until now! Joe Manganiello joked about his wife Sofia Vergara's reaction to his new hairdo - a blue Mohawk he dyed on a whim during a break between movie roles. 'You know, she married an actor, so she had to think the weirdness would come out at some point,' said the Pittsburgh native, 43. Manganiello, who celebrated his fifth anniversary with the Modern Family beauty last month, explained to the outlet that the blue Mohawk comes during a time when he doesn't require a certain hairdo for a role. Manganiello stars in the upcoming film Archenemy as Max Fist, a man who claims he's a superhero in a different dimension who has lost his powers. "Everything generally that I do looks-wise has to do with some sort of role," he told the outlet. "This was one of the rare times when I had a couple of weeks to do something with my hair that I wanted to do." He debuted the blue mohawk (and showed off his massive biceps) in an Instagram gym selfie last month with the caption, "Time to go to work..."

Joe Manganiello is famous for being an actor. He is best known for working in the HBO television series "True Blood" for his role as werewolf Alcide Herveaux since 2010.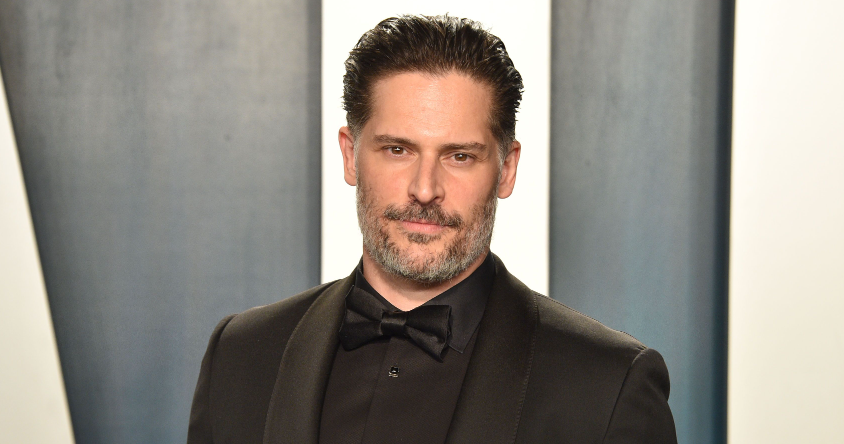 Source: @newsreaderboard
On 28th December 1976, Joe Manganiello was born with the birth name or full name of Joseph Michael Manganiello. His place of birth is in Pittsburgh, Pennsylvania, the USA. He was raised in Mt. Lebanon, Pennsylvania (hometown). American is his nationality and his ethnicity is mixed of Italian, Armenian, Austrian. His race is White. Capricorn is his Zodiac sign and he follows Roman Catholicism by religion. He was born to his parents; Charles John Manganiello (father) and Susan (nee Brachanow) (mother). He also has a sibling; a younger brother named Nicholas Manganiello. His great-grandmother was a survivor of the Armenian Genocide where her husband and seven of her children were murdered and her eighth child drowned during the escape. As of 2019, he celebrated his 43rd birthday.
Concerning his education, he attended St. Bernard School in Mt. Lebanon. He graduated from Mt. Lebanon High School in 1995 with honors. In 2011 (after 16 years), he also received the "Great Alumni Award". He then graduated with a Bachelor of Fine Arts in acting from Carnegie Mellon School of Drama in the year 2000. He enrolled at the University of Pittsburgh and worked at the theater. He graduated in 2000 with a BFA in acting. He traveled to New York and Los Angeles through his university to participate in group auditions, which provided him contacts in the entertainment business. During school times, he served as the captain of the football team, basketball team, and volleyball team of his school. When he was 16, he used to dress like Captain Morgan in the bars, and in return, he used to get some payment.
Handsome and Charming actor, Joe Manganiello's body build is a bodybuilder. He stands tall at the height of 6 ft 5 in or 196 cm. His balanced weight consists of 57 KG. His hair color is black and his eye color is dark brown. He has got a beautiful body with a towering height. His chest size is 47 in, his arms size is 18 in and his waist size is 34 in. He wears size 13 shoes. He shares the same shoe size and almost the same height as the True Blood costar Alexander Skarsgard. He does his exercises six days a week; two times a day. And, he does cardio daily. He is a workout lover. He has bad eyes and those can't be even corrected by laser surgery. In October 2020, Joe showed off his newly bleached-blonde mohawk hairstyle on Instagram which almost made him unrecognizable. Later, in November 2020, he changed the blonde hair color to blue.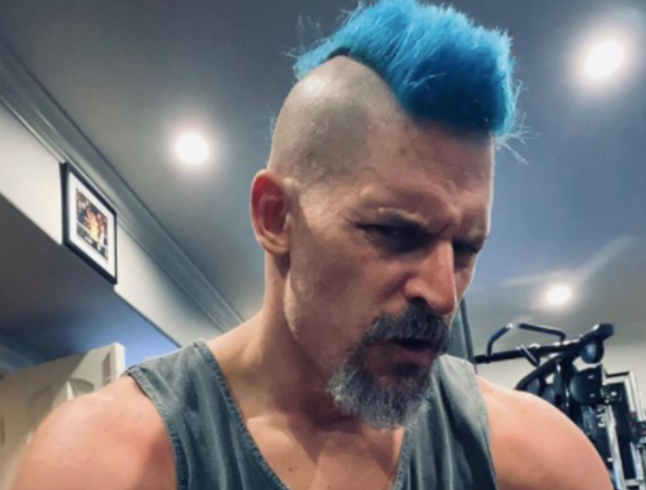 Source: @pinkvilla
Joe Manganiello's Acting Career
Joe made his appearance in numerous productions in Pittsburgh's theatre scene as a student at Carnegie Mellon University. His appearance includes Ulfheim in Henrik Ibsen's When We Dead Awaken, Lorenzo in Shakespeare's The Merchant of Venice for Quantum Theatre, and Joe in the Pittsburgh premiere of The Last Night of Ballyhoo.
He then signed with a talent agent, and three days later, he auditioned for the role of Peter Parker in the Sam Raimi-directed film Spider-Man (2002). Successfully, he landed the role of Eugene "Flash" Thompson.
Again, he reprised the role several years later, making a brief cameo at the end of Spider-Man 3 (2007).
He also started working in TV Shows; playing Tori Spelling's boyfriend on VH1's So Notorious in 2006, and guest-starred on Las Vegas, Jake in Progress, and Close to Home. He also played John Leguizamo's Alcoholics Anonymous sponsor in the CBS television pilot Edison.
He then appeared in the Scrubs episode "My No Good Reason" and in the MyNetwork TV nighttime soap opera American Heiress in the year 2007. He played Officer Litchman on NBC's "ER".
Likewise, he played Stanley Kowalski in A Streetcar Named Desire for the West Virginia Public Theatre in 2008. He played Brad on several seasons of the CBS comedy "How I Met Your Mother".
He later joined the cast of The CW drama One Tree Hill for its fifth season in the year 2008. He played Stu on the Fox sitcom 'Til Death for two episodes, and starred in the short film Wounded in the same year.
He starred in the direct-to-video war film Behind Enemy Lines: Colombia in 2009. He appeared in an episode of Medium in the year 2009 and guest-starred on all three series of CBS's CSI television franchise (CSI: Crime Scene Investigation, CSI: Miami, and CSI: NY).
He also landed the role in the independent film "Irene in Time". He then shot television pilots for "100 Questions" and the Pittsburgh-set sitcom "Livin' on a Prayer".
Additionally, he was cast as werewolf Alcide Herveaux in the third season of HBO's "True Blood" in the year 2009.
He was even asked to screen test for the title role of Superman in "Man of Steel" but he could not take the role due to scheduling problems with "True Blood".
Upon completion of filming for season four of True Blood, he shot an episode of USA's "White Collar". He also shot the film adaptation of the best-selling book "What To Expect When You're Expecting".
After that, he was cast as Big Dick Richie in Steven Soderbergh's "Magic Mike".
After some months, he would take his documentary film La Bare, which he financed, directed, and produced under his new production company banner 3:59 with his brother Nick, to Park City, Utah for the Slamdance Film Festival.
He won an Emmy as the narrator of the documentary Pittsburgh is Home: The Story of the Penguins in the year 2017. The documentary documented the first 50 years of history of the Pittsburgh Penguins hockey team.
His other recent notable movies include Sabotage (2014), Knight of Cups (2015), Tumbledown (2015), Magic Mike XXL (2015), Pee-wee's Big Holiday (2016), Smurfs: The Lost Village (voice) (2017),

Justice League (2017), Rampage (2018), Drunk Parents (2019), Botton of the 9th (2019), Jay and Silent Bob Reboot (2019), The Sleepover (2020), Archenemy (2020).
Awards and Achievements of Joe Manganiello
Joe Manganiello is an award-winning actor who has won NewNowNext Awards, Saturn Award, Scream Award for his role in True Blood in 2011. He also won at Maui Film Festival for "La Bare". He then won Mid-Atlantic Emmy Awards for "Pittsburgh is Home: The Story of the Penguins" in 2017.
Joe Manganiello's Wife, Sofia Vergara
Joe Manganiello is a married man. He married his beautiful wife, Sofia Vergara. He met Colombian Sofia Vergara in May 2014 at the White House Correspondents' Dinner Party and soon in June 2014, they were seen dating each other. By profession, Sofia is an actress. The couple got engaged on the occasion of Christmas in 2014 and married on 22nd November 2015 in Florida. His sexual orientation is straight and he is not gay.
Everything You Need To Know About Sofia Vergara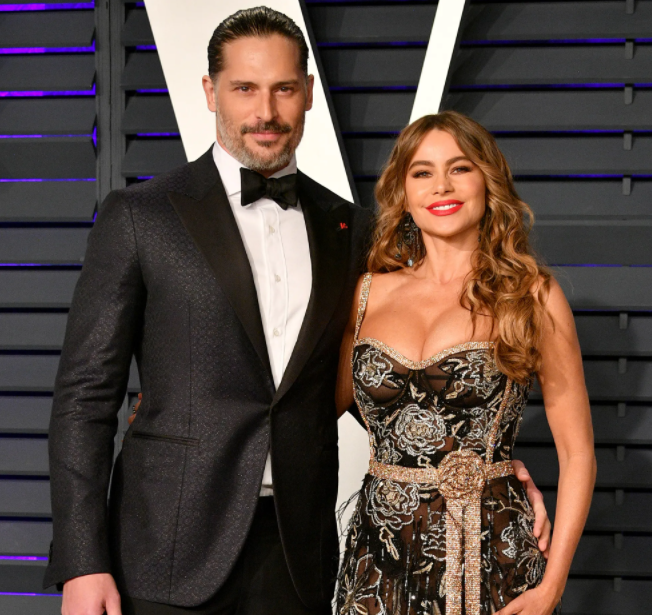 Source: @refinery29
Back then, he dated Audra Marie from the year 2009 until the year 2011. Between the year, they got engaged in October 2010. After that, he dated Bridget Peters from the year 2013 until 2014.
Joe is a big fan of the Pittsburgh Steelers and the Wests Tigers. He then directed and produced the 2007 short documentary "DieHardz" about Steelers fans who meet up at bars in Los Angeles, California. He is also a noted Pittsburgh Penguins fan and hosted the 2017 NHL Awards and the 2017 NHL Expansion Draft. He was once a roadie for the band Goldfinger and is friends with lead singer John Feldmann. He has also been a long-time Dungeons & Dragons fan and player, appearing on episodes of The Big Bang Theory, Nerd Poker, CelebriD&D, the web show Critical Role, and Force Grey playing the game. He has learned Transcendental Meditation as well.
Joe Manganiello's Net Worth 2020
Joe Manganiello is a very talented actor whose net worth is estimated to have $20 Million as of 2020. Whereas his exact salary has not been revealed yet but there is no doubt in the mind of his followers that he is making a good amount of money throughout his career. During his career span, he has acted in many movies and TV Shows. In the year 2010, he appeared in television commercials for Taco Bell, promoting its new product. His major source of income comes from his acting career. As of now, he is satisfied with his earnings and he is living a luxurious lifestyle.