About John Mulaney
An American stand-up comedian, actor, writer, and producer, John Mulaney is well recognized for his stand-up specials "The Comeback Kid" (2015) for which he was nominated for a Primetime Emmy Award in 2016 and "Kid Gorgeous at Radio City" (2018), that won him the Primetime Emmy Award in 2019 in the category of "Outstanding Writing for a Variety Special". He was the creator and star of the short-lived Fox sitcom "Mulaney", a semi-autobiographical series about his life. He has starred in a comedic duo with Nick Kroll, most recently in "Oh, Hello: the P'dcast" as a character called George St. Geegland which was released between 4th April and 24th May 2020. As well, he is well known for his voice acting work as Andrew Glouberman in the Netflix original animated show "Big Mouth". As a voice actor, he made his theatrical film debut by lending his voice to the character of Spider-Ham in the animated movie "Spider-Man: Into the Spider-Verse" in 2018. He made his TV show debut as Dory Van Hoorn in "Jump Cuts" in 2004.
Famous For

Being an American stand-up comedian, actor, writer, and producer.
For his stand-up specials "The Comeback Kid" (2015).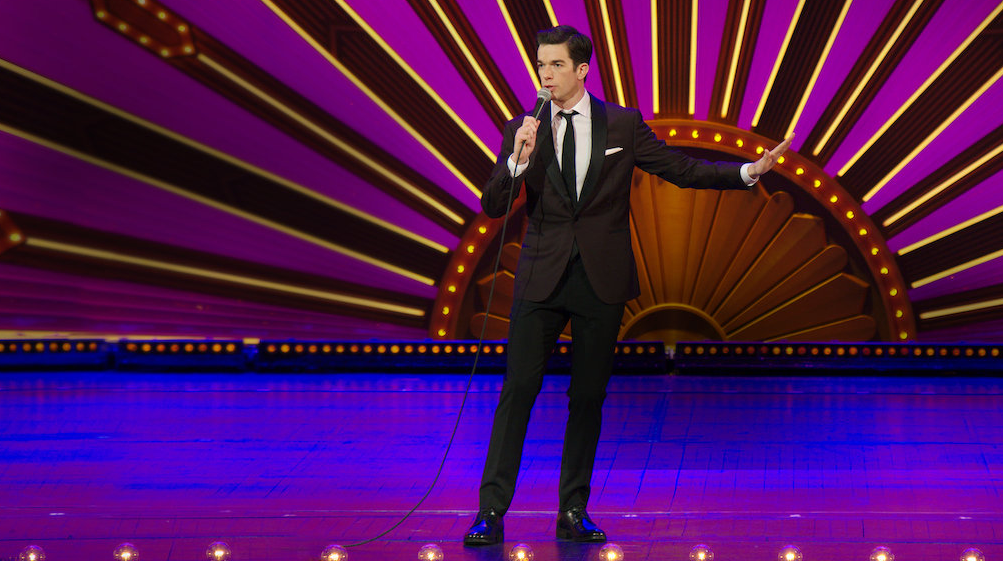 Source: @netflix
Early Life of John Mulaney

John Mulaney took birth on 26th August 1982 with the real name or full name of John Edmund Mulaney in Chicago, Illinois, U.S. He holds an American nationality and mixed ethnicity. He has Irish and 1/8th German ancestry. He was raised as a Catholic Christian and served as an altar boy for 4 years through his race is white. He happily celebrates his birthday on the 26th August of every year and he has celebrated his 38th birthday as of 2020 whereas as his birthdate, his star sign is Virgo. He is the son of Ellen M. Stanton (mother), a professor at Northwestern University Pritzker School of Law, and Charles "Chip" Mulaney, Jr. (father), an attorney and partner at Skadden Arps. His parents are both of Irish Catholic descent. His siblings are Carolyn Mulaney (Older Sister), Chip Mulaney (Older Brother), Peter Martin Mulaney (Younger Brother) (Deceased), Claire Mulaney (Younger Sister). John studied at St. Clement School in Lincoln Park, Chicago followed by St. Ignatius College Prep from where he graduated in 2000. He later got enrolled at Georgetown University for a Bachelor's Degree in English Literature and Religion and graduated in 2004. He joined Birbiglia on his stand-up tour, which improved his stage presence.
Career of John Mulaney
John Mulaney kicks of his career by pitching the idea for a parody of the "I Love the '80s" called "I Love the '30s" and he has been a long time collector of stand up albums like "Bring the Pain" (1996) and "Bigger & Blacker" (1999).
He was asked to audition for "Saturday Night Live" in August 2008 where he won a spot on the writing team and remained for four seasons though he also occasionally appeared on the show's "Weekend Update" segment.
Then, John and "SNL" actor Bill Hader co-created the recurring "SNL" character Stefon and returned to host "Saturday Night Live" four times: on 14th April 2018; 2nd March 2019; 29th February 2020; and 31st October 2020, respectively, making him the fourth "SNL" writer.
He contributed writing to other TV projects, such as "Maya & Marty"; "Documentary Now!"; "Oh, Hello on Broadway"; and the "Comedy Central Roast" of James Franco at "Saturday Night Live".
He currently provides the voice of a lead character on the animated Netflix series " Big Mouth" whereas he also provided the voice of Spider-Ham in the Academy Award-winning animated film "Spider-Man: Into the Spider-Verse" in 2018.
As well, he was seen in a Netflix and YouTube collaboration series "Dressing Funny", in June 2019 as "Late Night with Seth Meyers" producer Mike Shoemaker announced in November 2020 that Mulaney had joined the show as a staff writer though he returned to voice Spider-Ham in the mobile game "Marvel Contest of Champions", and the promotional animated short film "Back on the Air".
Besides, he has also worked for 18 years as a stand-up comedian on "Live at Gotham", "Conan", "Jimmy Kimmel Live", and many others whereas he also released a stand-up comedy album titled "The Top Part" in 2009 and a stand-up comedy special called "New in Town" in 2012.
Similarly, his third stand-up comedy special, titled "The Comeback Kid", was released on 13th November 2015, on Netflix though his fourth stand-up comedy tour, "Kid Gorgeous", kicked off its first leg in May 2017.
As well, he was invited to appear to do standup at Jon Stewart's charity event "Night of Too Many Stars" (2017) on HBO and also in "Hilarity for Charity" (2018) on Netflix.
NBC passed on picking up John's semi-autobiographical sitcom pilot, titled "Mulaney" in May 2013 whereas he was the creator, producer, and writer of his eponymous series until its cancellation in May 2015.
Also, he starred on host a prank show called "Too Much Tuna" as George St. Geegland as well as launched a children's musical comedy special titled "John Mulaney & the Sack Lunch Bunch" on Netflix in December 2019.
Additionally, he can be seen in "Back on the Air" in 2020 and in the romantic comedy-drama film "Cinderella" in 2021.
In 2020, Mulaney appeared the shows, "The Not-Too-Late Show with Elmo" and "Late Night with Seth Meyers".
Political views

Mulaney described the election as an "elderly man contest" in his opening monologue on Saturday Night Live the weekend before the 2020 United States presidential election, and said, "but just rest assured, no matter what happens, nothing much will change in the United States". This caused some controversy among audiences with The Daily Beast criticizing Mulaney saying that "for Mulaney to tell the millions of people watching SNL three days before the election that there is essentially no difference between Donald Trump and Joe Biden can only be described as deeply irresponsible." Mulaney reflected he "deserved the backlash" and said he "forgot to make the joke good" in a later appearance on "Jimmy Kimmel Live".
Awards and Achievements of John Mulaney
Primetime Emmy Awards for Outstanding Music and Lyrics
Writers Guild Awards for Best Comedy/Variety Series
Personal Life of John Mulaney

Reflecting on John Mulaney's personal life, he is a married guy. He married makeup artist and lampshade artisan Annamarie Tendler on 5th July 2014. The couple's relationship is outstanding till now and hopes it will remain as same as in the future too. Furthermore, talking about his sexual orientation, he is straight. As recent, Mulaney has checked into rehab for 60 days for alcohol and cocaine addiction. He has been open about his past struggles with sobriety, telling stories of his partying and prescription and illegal drug abuse from a young age. He first became sober at age 23. In an interview last year, Mulaney revealed he began drinking at age 13. "I drank for attention," he said. "I was really outgoing, and then at 12, I wasn't. I didn't know how to act. And then I was drinking, and I was hilarious again." "I wasn't a good athlete, so maybe it was some young male thing of 'This is the physical feat I can do. Three Vicodin and tequila and I'm still standing,'" he said. "Who's the athlete now?" "During quarantine, I was like, 'Why am I going totally crazy and why am I suddenly telling my own wife my accomplishments?'" Mulaney said on "Jimmy Kimmel Live!," while describing how a lack of routine can negatively affect a person's well-being. "I really needed a job." "One, I like having a boss and having assignments to do," he added to Kimmel. "When I'm in charge of something, not so much the best thing." "She said to me, 'Without external structure, I don't have any confidence in you thriving' … and she would know because I told her everything in my brain," he said.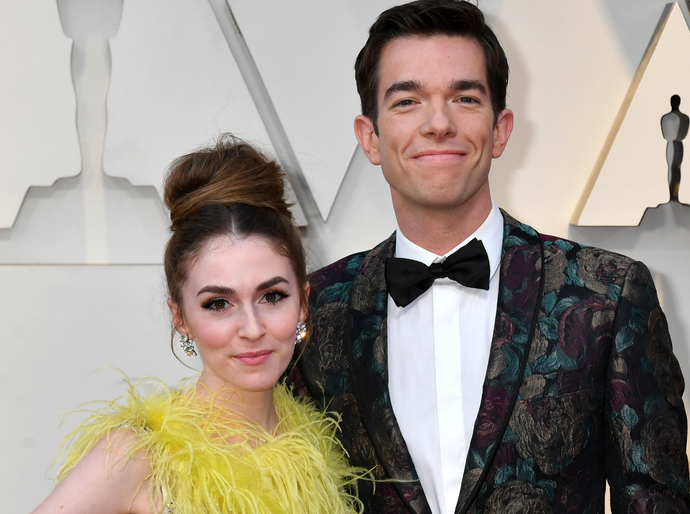 Source: @insider
Net Worth of John Mulaney

Moving towards John Mulaney's net worth, he has a worth of around $6 million as of 2020 whereas he ahs also a handsome amount of salary too which is also in millions of dollars per year. He has earned a fine amount of money from his career as his major source of income is from his stand-up comedian and acting career. He's doing great both at stand-up comedy and acting career. In 2017, he was cast in the "As Real as It Get" campaign of "Chipotle" with comedians Sam Richardson and Jillian Bell.
Body Measurement of John Mulaney

John Mulaney is a handsome and versatile stand-up comedian as well as actor, who stands at a perfect height of 6 ft or 183 cm with a balanced weight of 75 kg or 165.5 lbs. John told during an interview that the primary reason he hired a female trainer was that he was physically weak and was embarrassed to train in front of a man. His physique combined with his perfect height and masculine look takes him to the top of the desired list in the young gen women. Graceful guy John has dark brown hair color and blue eyes as his body build type is average.