About Joyce Carol Oates
Joyce Carol Oates is an acclaimed author of several literary genres as well as "The New York Times" bestselling author. She has authored over forty novels, numerous dramas, short stories, works of poetry and non-fiction. She published her first book named "By the North Gate" in 1963 and has since published 58 novels. She has won several awards for her writing, including the "National Book Award", "O. Henry Award", "National Humanities Medal and the Stone Award" for Lifetime Literary Achievement, and many more. As a teen, she also received early recognition for her writing by winning a Scholastic Art and Writing Award. From 1978 to 2014, she had taught at Princeton University and is the Roger S. Berlind '52 Professor Emerita in the Humanities with the Program in Creative Writing. She has gained 207.5k followers on her twitter. As recent news, she leaves internet reeling in horror at foot pic.
Famous For

Being an American writer.
For winning many awards for her writing.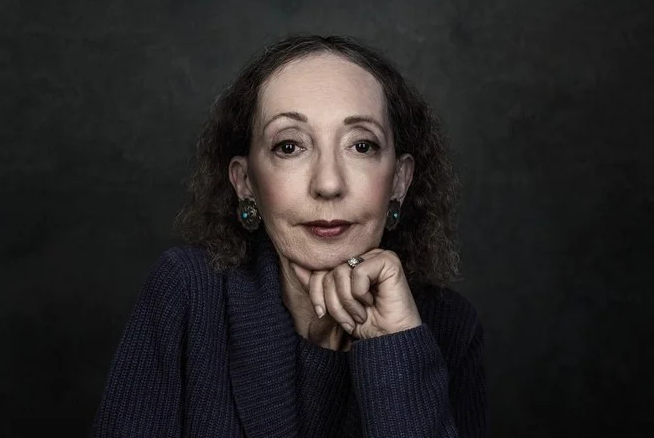 Source: @wired
Early Life of Joyce Carol Oates

Joyce was born on 16th June 1938 in Lockport, New York, U.S. Her full name or birth name is "Joyce Carol Oates ". She belongs to American nationality and American-White ethnicity. Likewise, her star sign is Gemini and race is white. She celebrates her birthday on 16th June of every year and she had celebrated her 82nd birthday as of 2020. She is the first child of Frederic James Oates (father), a tool and die designer, and Carolina (mother), a homemaker of Hungarian descent. She has a brother named Fred Jr. and a sister named Lynn Ann. She eventually drew on aspects of her grandmother's life in writing the novel "The Gravedigger's Daughter" (2007). Previously, she attended a one-room school and later transferred to several bigger, suburban schools and graduated from Williamsville South High School in 1956. She was the first in her family to complete high school. She graduated Phi Beta Kappa and valedictorian from Syracuse University with a B.A. summa cum laude in English in 1960, and in 1961 she received her M.A. from the University of Wisconsin-Madison.
Career of Joyce Carol Oates

Joyce Carol Oates jumps off her career by teaching in Texas, and in 1962, she started teaching at the University of Detroit. The following year, she came out with her first book, "By the North Gate", which was a collection of short stories.

When she was 26 years old, the Vanguard Press published her first novel, "With Shuddering Fall" (1964).
She published "Where Are You Going, Where Have You Been?", a short story dedicated to Bob Dylan and written after listening to his song "It's All Over Now, Baby Blue" in 1966 which has been asymmetrical many times and adapted as a film, Smooth Talk starring Laura Dern (1985).
She wrote another short story "In a Region of Ice" (The Atlantic Monthly, August 1966) which was inspired by a real-life incident (as were several of her works) and she had been acquainted with the model of her protagonist.
Joyce reexamines this subject in the title story of her collection "Last Days: Stories (1984)".
"A Garden of Earthly Delights (1967)", which was her second novel, was published by Vanguard 1967-1971. Similarly, her third novel was named "Them" (1969).
She discussed her novel, "Because It Is Bitter, and Because It Is My Heart," which also deals with themes of racial tension, and described "the experience of writing it," as "so intense it seemed almost electric," in 1990.
She started writing stories in the Gothic and horror genres; in her foray into these genres in the early 1980s.
She published "We Were the Mulvaneys", a novel following the disintegration of an American family in 1996, which became a best-seller in 2001 after being selected by "Oprah's Book Club".
She wrote many books, mostly suspense novels, under the pen names Rosamond Smith and Lauren Kelly in1990s and early 2000s.
Her story collection "The Wheel of Love" characterized her as an author "of considerable talent" but at that time "far from being a great writer" on one review of her 1970.
"Landfill", which was her 2006 short story, was criticized because it drew on the death, several months earlier, of John A. Fiocco Jr., a 19-year-old New Jersey college student.
Furthermore, she founded "The Ontario Review", a literary magazine, in 1974 in Canada, with Raymond J. Smith, her husband.
Joyce and Smith founded Ontario Review Books, an independent publishing house in 1980.
Similarly, regarding her teaching career, she taught in Beaumont, Texas, for a year, then moved to Detroit in 1962, where she began teaching at the University of Detroit but moved to Princeton, New Jersey, and began teaching at Princeton University in 1978.
And in November 2014, she retired from teaching at Princeton and was honored at a retirement party in the following year.
Moreover, she has published many novels, books, story, in her life likewise, in the 2003 article entitled "Joyce Carol Oates for dummies", The Rocky Mountain News and the novels A Garden of Earthly Delights (1967), them (1969), Wonderland (1971), Black Water (1992), and Blonde (2000). "The Times" listed them in 2006, On Boxing (in collaboration with photographer John Ranard) (1987), Black Water, and High Lonesome: New & Selected Stories, 1966-2006 (2006) as "The Pick of Joyce Carol Oates" and "The Entertainment Weekly" listed its Oates favorites as Wonderland, Black Water, Blonde, I'll Take You There (2002), and The Falls (2004) in 2007.
As a piece of fresh news, she tweeted out the picture under a misleadingly harmless caption, explaining that she had worn the wrong shoes on a hike. "So important to wear proper hiking shoes," the tweet reads. "Never/ever walk in the woods in sandals. The instep of my left foot this morning–poison ivy? Poison oak? must've stepped in something…" The caption belies the eldritch horror of the accompanying foot picture, which must be seen to be believed (but you're probably better off doing neither).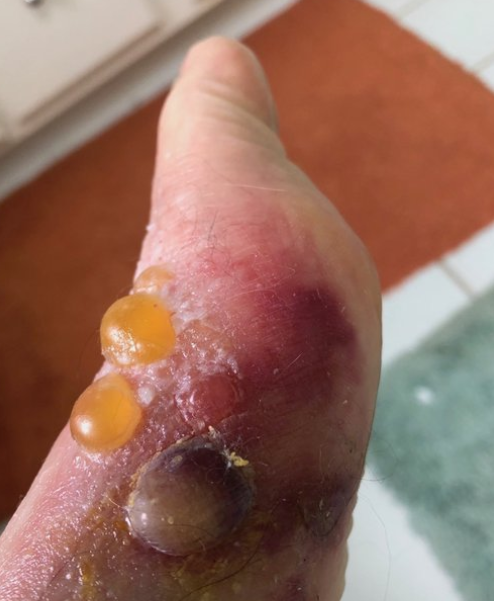 Source: @twitter
Later she thanked everyone for their "suggestions & sympathy" and explained that she is now taking antibiotics.
Besides this, Joyce Carol Oates was also a member of the Board of Trustees of the "John Simon Guggenheim Memorial Foundation".

Awards and Achievements of Joyce Carol Oates
O. Henry Award (1967)
National Book Award (1970)
O. Henry Award (1973)
National Humanities Medal (2010)
Stone Award for Lifetime Literary Achievement (2012)
Jerusalem Prize (2019)
Prix Mondial Cino Del Duca, work as a message of modern humanism (2020)
And many others.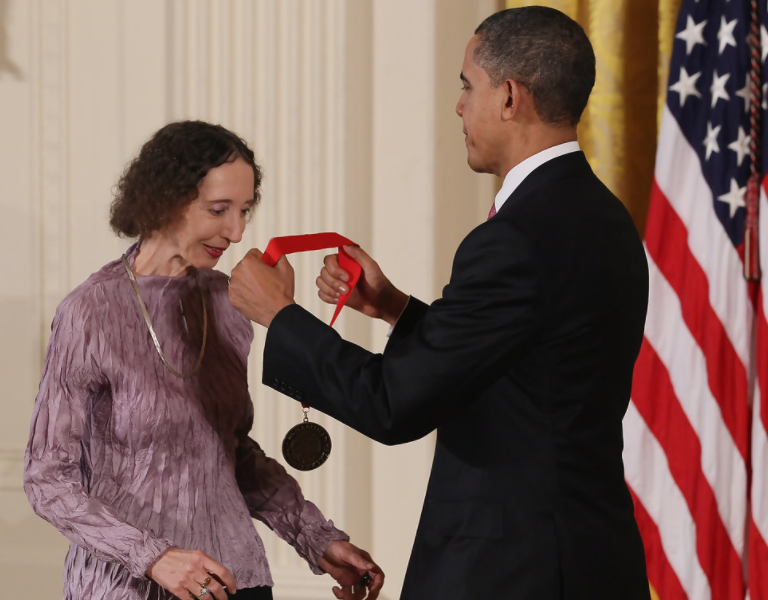 Source: @celestialtimepiece
Personal Life of Joyce Carol Oates

Reflecting on Joyce Carol Oates's personal life, she is a married woman. She tied a knot in 1961 with Raymond J. Smith, who became a professor of 18th-century literature and, later, an editor and publisher. But Smith died of complications from pneumonia on 18th February 2008. After six months of near-suicidal grieving for Smith, she met Charles Gross, a professor in the Psychology Department and Neuroscience Institute at Princeton, at a dinner party at her home and married in early 2009. The duo also married in early 2009. Later, she announced via Twitter on 13th April 2019, that Gross had died at the age of 83. From 1997 to 2016. She seems to be single as of today because there are no rumors about her dating anyone after the death of Gross. In addition, talking about her sexual orientation, she is straight.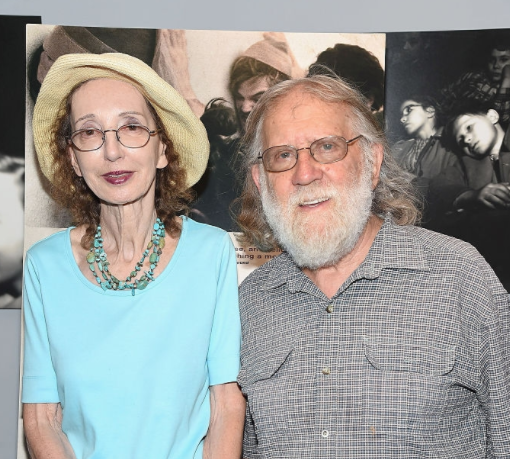 Source: @gettyimages.co.uk
Net Worth of Joyce Carol Oates

Moving towards her net worth, Joyce is a successful writer in America. She had earned a handsome amount of money from her career. Her net worth is around $19 million as of 2020, She earns $2,739.73 per day, $114.16 per hour, and $0.03 per second which so exceptional. Her primary source of income is from a writing career. She is an honorary member of the Simpson Literary Project, which annually awards the $50,000 "Simpson/Joyce Carol Oates Literary Prize" to a mid-career writer. She is satisfied with her earnings and enjoying it.
Body Measurement of Joyce Carol Oates

Regarding her body measurement, she is a beautiful woman with a slim body and a pretty smile. And similarly, talking about her height and weight, it is not exact or confirmed. She has brown hair with dark brown eyes. Her body build type is average. She has attracted a lot of people from her appearances. She is healthy, fit, and fine till now.