An American mixed martial artist, professional wrestler, as well as a former UFC Heavyweight Champion, is named for Kevin Randleman. He entered mixed martial arts in 1996 when Mark Coleman, one of Randleman's coaches at Ohio State, offered him a spot in the Universal Vale Tudo Fighting 4 in Brazil. He competed in the heavyweight and light heavyweight classes in MMA as well as in UFC. He also fought for other organizations such as PRIDE, WVR, and Strikeforce. He was previously associated with Mark Coleman's Team Hammer House, before training at Randy Couture's gym in Las Vegas, Nevada. The UFC announced that Randleman would be inducted into the pioneer wing of the UFC Hall of Fame on 16th May 2020. At the age of 44, Kevin Randleman died due to a heart attack. He was nicknamed "The Monster". Read on to know more about his full biography, family details, birthday, wiki, net worth, records, career stats, and many more.
Cause of Death of Kevin Randleman
Kevin Randleman died during a job interview trip on 11th February 2016, from a heart attack after being admitted to the hospital with pneumonia. He was 44 years old at the time of his death.
Famous For
Being a mixed martial artist, professional wrestler, and former UFC Heavyweight Champion.
For winning the NCAA tournament in his junior year.
For fighting in the UFC heavyweight and light heavyweight divisions at UFC 19, UFC 20, UFC 23, UFC 26, UFC 28, UFC 31, UFC 35.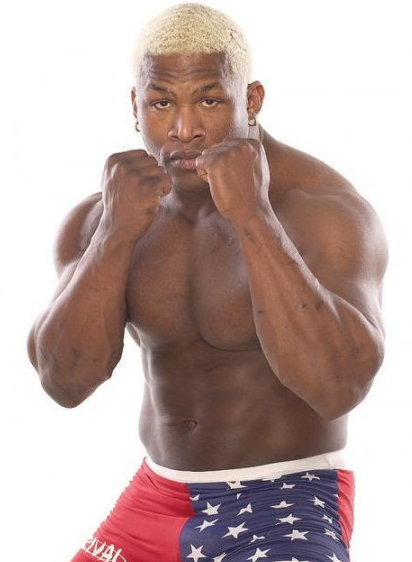 Source: @thetandd.com
Early Life of Kevin Randleman
Kevin Randleman was born on 10th August 1971 with the real name/birth name of Kevin Christopher Randleman. His birthplace/hometown was in Sandusky, Ohio, the USA. He held American nationality and his ethnicity was Mixed. He was black by race. He lastly celebrated his 44th birthday. He was born to his parents; John Franklin (father) and Claudia Jean (Farrar) Randleman (mother). Regarding his siblings, he was one of eleven children. He grew up without a lot of money and often got into street fights growing up. As per his education, he went to Sandusky High School, started all four years on the football team, ran track in which he qualified for the state finals, and had a 122-11 record while on the wrestling team, including winning the state championship in 1989. After that, he went to Ohio State University where he won the NCAA tournament in his junior year, despite having his jaw dislocated during the actual tournament. Even, he was nominated as the Ohio State University Wrestler of the Century. His horoscope was Leo and his religion was Christian.
Career of Kevin Randleman
In the year 1996, Kevin Randleman entered mixed martial arts when Mark Coleman, one of Randleman's coaches at Ohio State, offered him a spot in the Universal Vale Tudo Fighting 4 in Brazil.
He accepted the offer and joined Coleman in what would be known as Team Hammer House.
He made his debut on 22nd October 1996 in UVF 4 against Luiz Carlos Maciel, stopping him with punches in five minutes.
Again, he was defeated by Canadian fighter Geza Kalman.
He reached the finals, where he encountered Dan Severn's trainee Dan Bobish but the latter controlled the first minutes from the clinch, attempting neck cranks and landing several punches, but Randleman skillfully escaped and he scored a takedown and mounted him, from where he landed several strikes for the tournament win.
He returned to the promotion for UVF 6, in whose first-round founded a difficult opponent in luta livre veteran Ebenezer Fontes Braga in March 1997.
Braga scored several kicks and knees over a gradually fatigued him, but the wrestler was still able to control the fight, and later landed a striking combo that sent Braga out of the ring.
His next opponent was Brazilian jiu-jitsu player Mario "Sukata" Neto where Kevin defeated him.
He advanced the finals to meet Carlson Gracie's trainee Carlos "Carlao" Barreto, another famous BJJ fighter, and the fight started with a lengthy clinch battle, but Barreto pulled guard and attacked him with kicks and strikes.
His tenure in Brazil was at Brazil Open-'97 in June 1997.
e beat Gustavo Homem de Neve in under two minutes but he was then pitted against another decorated American wrestler, RAW team member Tom Erikson.
He claimed he had befriended Erikson before the match and it was difficult for him to fight him.
In the UFC, he fought in the UFC heavyweight and light heavyweight divisions at UFC 19, UFC 20, UFC 23, UFC 26, UFC 28, UFC 31, UFC 35.
He defeated Maurice Smith to become a top contender, and then he fought Bas Rutten for the Heavyweight Championship, previously vacated by Randy Couture.
Later, Randleman lost via a decision to Rutten.
He achieved his goal to become the UFC Heavyweight Champion on 19th November 1999 and defeated Pete Williams at UFC 23 for the title (which was vacated upon Rutten's retirement), and successfully defended it against Pedro Rizzo at UFC 26.
Later, he lost the title to Randy Couture at UFC 28 and moved to light heavyweight.
He lost to Chuck Liddell in his first fight at that weight before beating Renato "Babalu" Sobral by unanimous decision (30–26, 30–26, and 30–25) in his final fight with the UFC.
He made his debut in PRIDE FC, taking on Japanese wrestler Michiyoshi Ohara in September 2002. This match was panned by the audience and Randleman himself, who left the ring before being awarded his trophy, visibly angry.
He gained victories over Kenichi Yamamoto (TKO by vicious knee strikes from north-south position) and Murilo "Ninja" Rua (TKO by cutting Rua with a counter left hook) in 2002.
At Pride 25, he faced another Middleweight contender, fellow American wrestler Quinton "Rampage" Jackson.
His first loss in PRIDE, after an incredible knee-uppercut combination from Jackson, knocked Randleman down in the first round.
He then faced Kazushi Sakuraba for his first match in 2013 but lost the fight to Sakuraba via a late-round submission.
He became one of the sixteen participants in the PRIDE 2004 Heavyweight Tournament, alongside teammate Mark Coleman.
His first-round matchup at PRIDE Total Elimination 2004 was against former K-1 kickboxer Mirko Cro Cop, a participant heavily favored to win the entire tournament where he knocked out Cro Cop by ground and pound following a left hook that surprised and knocked him down.
At PRIDE Critical Countdown 2004, Randleman faced off against the reigning PRIDE Heavyweight Champion Fedor Emelianenko in the second round.
He went on to square off against a friend and fellow American wrestler Ron Waterman at PRIDE Final Conflict 2004.
At PRIDE Shockwave 2004 he offered a rematch to Mirko Cro Cop where Cro Cop submitted Randleman in the first round via guillotine choke, avenging his loss and adding another loss to Randleman's losing streak in the process.
In the Opening Round of PRIDE's 2005 Middleweight Grand Prix, he lost to Kazuhiro Nakamura via decision.
He appeared in Bushido Europe: Rotterdam Rumble, Europe's first Bushido event, and defeated Fatih Kocamis via decision, ending his losing streak, and giving him his first win in nearly a year in November 2005.
He was taken ill with a serious fungal lung infection after his Rotterdam bout that had unknowingly been present for some time and he underwent successful surgery to have the infection removed.
He then returned to PRIDE FC for their first show on American soil, Pride 32: The Real Deal on 21st October 2006 where he was quickly submitted by a kneebar in the first round by 2005 Middleweight Grand Prix Champion Mauricio "Shogun" Rua.
He came back after kidney problem with a unanimous decision over Ryo Kawamura on 18th May 2008, in Sengoku 2.
He fought Bulgarian prospect Stanislav Nedkov on 7th November 2009 where he started the fight with a good left leg kick and takedown.
At the Strikeforce: Shamrock vs. Diaz press conference it was announced that he had finalized the signing of a contract with Strikeforce.
His Strikeforce debut was on June 6 against journeyman and IFL standout Mike Whitehead at Strikeforce: Lawler vs. Shields.
Whitehead won the first two rounds using takedowns but he employed the use of reversals very competently to avoid significant damage. All three judges scored the bout 29–28 in favor of Whitehead.
He lost to Strikeforce newcomer Roger Gracie via a rear-naked choke in the second round of their light heavyweight bout on 15th May 2010, at Strikeforce: Heavy Artiller.
He lost 10 out of his last 13 fights.
He failed a drug test administered by the Nevada Athletic Commission after the bout with Rua.
He submitted a urine sample lacking any hormones to the Nevada State Athletic Commission.
In an interview with MMAWeekly, he stated he failed to submit a urine sample due to his use of painkillers and antibiotics after his previous surgeries that may have prevented him from being cleared to fight, and his health issues were a result of the cumulative effects of his surgeries, medication, and fighting on his body.
The Nevada Athletic Commission met on 16th February 2007, to discuss the fake sample and revoked Randleman's license to fight for a year.
Wrestling Career of Kevin Randleman
In the year 2002, he debuted in professional wrestling as part of All Japan Pro Wrestling's Wrestle-1 project, which brought several mixed martial artists and kickboxers to take part in wrestling matches.
He teamed up with Mark Coleman, and he wrestled against Hiroshi Hase and Satoshi Kojima in a losing effort.
They returned for the next Wrestle-1 event, defeating the masked tag team of Jan the Giant Convict and Singh the Giant Convict.
He started working for Pro Wrestling Zero-One, teaming up with The Predator to take part in the OH Tag Festival tournament in July 2003.
They performed well, eliminating Yoshiaki Fujiwara and Yuki Ishikawa at the first round and Emblem (Masato Tanaka and Shinjiro Otani) at the second, but they lost in the finals to Naoya Ogawa and Katsuhisa Fujii.
In 2004, he started appearing in Zero-One's partner promotion Hustle.
He had his first singles match against Wataru Sakata, but he lost despite Werner trying to intervene in his favor.
Due to the loss, he was expelled from the Monster Army, so he sought refuge in the babyface faction Hustle Army, led by Naoya Ogawa.
He then returned to Hustle in June 2007 after the gap of two years by adopting the masked superhero persona of "Randleman" and teaming up with fellow superheroes Kintamani and Kurodaman where his former partner Mark Coleman also joined the team, making it a quartet.
He made his last appearance in Hustle, defeating Kohei Sato and Piranha Monster alongside Coleman in September 2007.
He made a challenge to WWE pro-wrestler Kofi Kingston on a St. Louis FOX Sports MMA show called Absolute Wrestling Radio! in February 2009.
Records of Kevin Randleman
Regarding his professional MMA record breakdown, altogether he won 17 matches and lost 16 matches in the total match of 33. He won 7 matches by knockout, 0 by submission, and 8 by decision whereas he lost 4 matches by knockout, 8 by submission, and 4 by decision.
Championships and accomplishments of Kevin Randleman
Mixed martial arts
Ultimate Fighting Championship
UFC Hall of Fame (Pioneer wing, 2020 inductee)
UFC Heavyweight Championship (One time)
One successful title defense
UFC Road To The Heavyweight Title Tournament Runner-Up (1999)
Universal Vale Tudo Fighting
UVTF 4 Tournament Champion
UVTF 6 Tournament Finalist
Brazil Open
Brazil Open '97 Heavyweight Tournament Runner-Up
Fight Matrix
Knockout of the Year (2004) vs. Mirko Cro Cop on April 25
FIGHT! Magazine
Knockout of the Year (2004) vs. Mirko Cro Cop on April 25
MMA Fighting
Most Lopsided Upset of the Year (2004)
Personal Life of Kevin Randleman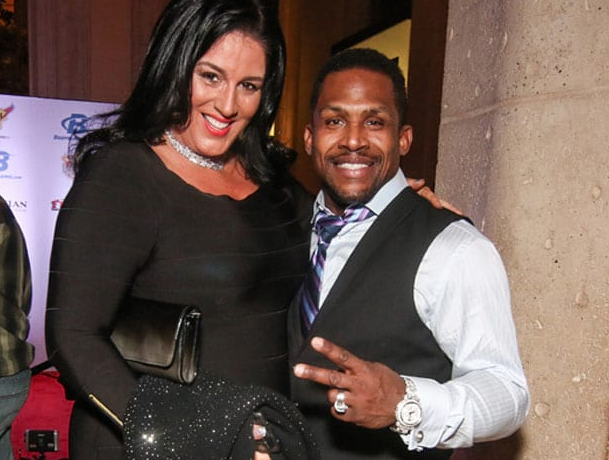 Source: @fightersonlymag.com
Kevin Randleman was a married person. He was married to his college girlfriend, Barbara on 28th August 2000. Later, due to some misunderstanding, the duo divorced on 26th May 2005 after five years of their married life. After that, he married his longtime girlfriend and publicist, Elizabeth Broglia on 25th April 2009. The duo was blessed with four children named Calvin, Jasmine, Madolyn, and Santino. Prior to his death, the duo was living a happy life without any disturbances. His sexual orientation was straight and he was not gay.
Net Worth of Kevin Randleman
Kevin Randleman was an American mixed martial artist, professional wrestler, and former UFC Heavyweight Champion. AS of 2020, his exact net worth is unknown. At the time of his death, his net worth was calculated in millions. He was living a lavish lifestyle prior to his death. His major source of earning was from his MMA career. There is no detailed information regarding his cars and house.
Body Measurements of Kevin Randleman
Kevin Randleman was a very cool and handsome person with a charming personality. He had got a tall height of 1.78 m with a bodyweight of 93 Kg. Whereas his other body measurements such as biceps size, waist size, hip size, dress size, shoe size, and more are unknown. His hair color was white and his eye color was dark brown. His body build was muscular and bodybuilder.