About Kim Cattrall
Kim Victoria Cattrall shortly named as Kim Cattrall is a British-born Canadian-American actress who is famous for her role as Samantha Jones on HBO's "Sex and the City" (1998-2004). She reprised the role in the films Sex and the City (2008) and Sex and the City 2 (2010). As a teenager, she appeared in her debut movie "Rosebud" (1975), in which she played as Joyce Donovan which was her debut film. She debuted on television with Universal Studios "Quincy, M.E" (1977) in Joy DeReatis Episode 'Let Me Light the Way'. Some of her other notable films are Ticket to Heaven (1981), Police Academy (1984), City Limits (1985), Big Trouble in Little China (1986), Mannequin (1987), Masquerade (1988), Midnight Crossing (1988), The Return of the Musketeers (1989), Tribute (1980), Porky's (1981), Turk 182 (1985), Baby Geniuses (1999), The Bonfire of the Vanities (1990), Star Trek VI: The Undiscovered Country (1991), Split Second (1992), Above Suspicion (1995), 15 Minutes (2001), Crossroads (2002), Ice Princess (2005), My Boy Jack (2007), The Ghost Writer (2010), and Meet Monica Velour (2010). Moreover, from the year 2014 to 2016, she starred and served as executive producer on the HBO Canada series "Sensitive Skin". She holds dual citizenship in Canada and Britain. She was ranked in number 8th position by TV Guide on its list of 50 Sexiest Stars of All Time. She made her stage debut with Anton Chekhov's Wild Honey in National Theatre, England in 1986. She has received a star on Canada's Walk of Fame in Toronto in 2009.
Kim Cattrall is famous for being an actress who has appeared in many movies and TV series. She is best-known for playing one in the foursome, the businesswoman Samantha Jones in HBO's American romantic comedy series "Sex and the City" (1998-2004). She also won the Golden Globe Award (2002) for Best Supporting Actress for her character in the series.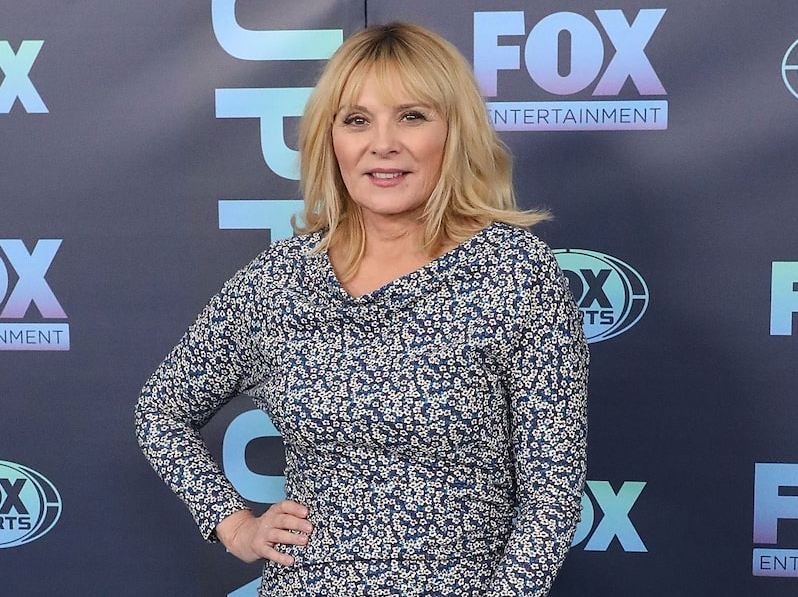 Source: @toofab
On 21st August 1956, Kim Cattrall was born with the birth name/real name of Kim Victoria Cattrall. Her place of birth/hometown is in Mossley Hill, Liverpool, Merseyside, England. As of 2020, she celebrated her 64th birthday. Leo is her Zodiac sign. As of today, she is residing in East Hampton, New York, the USA. Her nationality is English-Canadian and her ethnicity is English-White. She holds dual British and Canadian citizenship. Her race is White and her religion is Christian. She was born to her parents; Dennis Cattrall (father), a construction engineer, and Gladys Shane (mother), a secretary. She also has siblings; Lisa Cattrall (Younger Sister), Chris Cattrall (Younger Brother), and an older sister who is a teacher. As per her education, she attended the London Academy of Music and Dramatic Art and Banff School of Fine Arts in Canada. She graduated from the American Academy of Dramatic Arts in New York.
With a slim body build, Kim's height is 6 ft 6.5 in or 169 cm. Her balanced bodyweight consists of 137 Pounds or 62 KG. She has a body measurement of 34-27-36 in or 87-68.5-91.5 cm. Her dress size is 6 US and her shoe size is 9.5 US. She has a deep Sultry voice. Her hair color is blonde and her eye color is light brown. Overall, she has got a healthy body with a charming personality attracting a lot of people towards her.
Kim Cattrall's Acting Career
After her graduation, Kim began signed a five-year film deal with director Otto Preminger and made her film debut in Preminger's action thriller "Rosebud" (1975).
After then, she played the love interest of a murderous psychologist in an episode of "Columbo" in 1978 and also in "Blindfold", an episode of the 1970s action series 'Starsky & Hutch'.
She also starred in "The Bastard" (1978), "The Rebels" (1979), "The Incredible Hulk" (1979), "Tribute" (1980), "Ticket to Heaven" (1981), "Police Academy" (1984), "Turk 182" (1985), "City Limits" (1985), "Hold-Up" (1985), "Big Trouble in Little China" (1986), Star Trek VI: The Undiscovered Country".
She is also a stage actress and has performed in Arthur Miller's A View from the Bridge and Anton Chekhov's Three Sisters and Wild Honey to her credit.
In the year 1997, she was cast in "Sex and the City", Darren Star's series which was broadcast on HBO. As Samantha Jones, she gained international recognition.
She then reprised the role of Samantha Jones in the Sex and the City film, released on 30th May 2008, and again appeared in the sequel released in May 2010.
Likewise, she appeared in the Disney film "Ice Princess" in the year 2005.
Similarly, she starred in "Whose Life Is It Anyway?", "The Cryptogram" (2006), "The Tiger's Tail" (2006), "My Boy Jack", "The Ghost Writer (2009), "Producing Parker" (2010), "Sex and the City 2" (2009), "Private Lives" (2010), "Any Human Heart", "Antony and Cleopatra", "Downton Abbey", "Upstairs, Downstairs", "Sweet Bird of Youth".
In the year 2014, she starred as Davina Jackson in HBO Canada's "Sensitive Skin".
On 17th July 2015, she was cast in the title role of Linda in a new play by Penelope Skinner, to be directed by Michael Longhurst and produced at London's Royal Court Theatre but she was forced to drop out of that production a few days before the opening, due to "chronic, debilitating insomnia". Due to which, for the scheduled December 2015 opening of Skinner's play, actress Noma Dumezweni took over the role to much acclaim and publicity.
She recently appeared as Agrippina the Younger in the British historical comedy film "Horrible Histories: The Movie-Rotten Romans".
She will next appear in drama TV Series, "Filthy Rich" as Margaret Montreaux.
Awards and Achievements of Kim Cattrall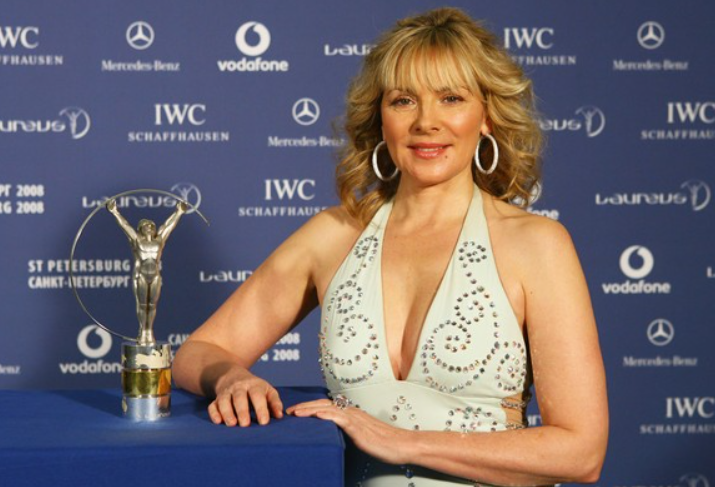 Source: @zimbio
Kim Cattrall is an award-winning actress who has received five Emmy Award nominations and four Golden Globe Award nominations, winning the 2002 Golden Globe for Best Supporting Actress in the HBO's 'Sex and the City' (1998-2004). In the year 2005, she won the Teen Film/TV Series International Awards for Best Comedy Actress or Drama Support Role for 'Ice Princess'. At the 2008 Banff World Television Festival, she was bestowed with the NBC Universal Award of Distinction. In 2010, she won a Gemini Award for Best Performance in an Animated Programme or Series for 'Producing Parker'.
Kim Cattrall's Personal Life
Kim Cattrall is a married woman. She was married firstly to Larry Davis in the year 1977. Later, the duo separated in the year 1979. After that, she had a short-term affair with the musician John Taylor (founder of New Wave band Duran Duran). This affair was mostly mentioned as a rumor. She also had a brief affair with French public intellectual and author Bernard-Henri Levy. Later, she dated the American actor Daniel Benzali for a couple of months. The couple also got engaged but split soon after. In 1989s, she dated American actor Jonathan Silverman though a little has been published about the couple and their short fling in public. She married for the second time with a German architect, Andreas J. Lyson in the year 1982. She fled to Frankfurt, Germany with Andreas, where she also learned German. Their marriage was ended in the year 1989. After her second marriage, she was seen with the musician and founding member of New Wave band Devo Gerald Casale in 1991 for a couple of months. She then dated Mark Levinson (Audio designer and jazz bassist) and got married in 1998 for the third time with whom she co-authored the book "Satisfaction: The Art of Female Orgasm" (2002). The couple called off their marriage in the year 2004. Later, she dated American actor Bruce Willis in late 2003. The duo had also worked together in the 1990's American comedy-drama The Bonfire of the Vanities. Cattrall briefly dated former Canadian Prime Minister Pierre Trudeau. In 2006, she dated Alan Wyse, a Canadian chef who was 22 years younger to Kim. They separated after three years in July 2009. She also dated Clifford Ross in 2012.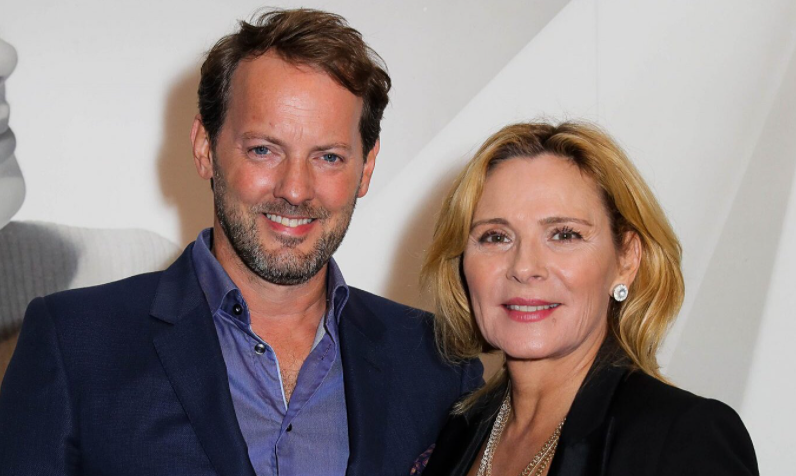 Source: @sportsgrindentertainment
At present, she is in a relationship with Russell Thomas. She seems to be a smitten kitten when it comes to her relationship of four years. Cattrall first met her match when she met Thomas in 2016 while he was working at the BBC. Kim who was born in Liverpool immediately felt at ease around Russell who was from Kent, England through their shared UK ties. 'It's just so easy...I'm very comfortable around him' she says. At the beginning, it seems as if the couple both acted on gut instinct. Kim invited Russell to her house in Canada on the pretense that they 'kind of like each other and [they] kept in touch' though they did not know each other very well. 'He came and we got along great, and we've been together ever since' said Kim. She added, 'He's a firecracker and he's got a wicked sense of humor. And he's easy on the eyes!'. At present, the duo is enjoying life a lot without any disturbances. Her sexual orientation is straight. She does not have any children until now.
Kim Cattrall's Net Worth & Salary
Kim Cattrall is a famous actress who has acted in numerous fils and TV shows. She has reached a great height in her career and she has made a vast amount of money throughout her career. As of 2020, the net worth of Kіm Саttrаll іѕ estimated to have $60 Million as per sources. Her major source of earnings comes from ѕtаrrіng іn ѕеvеrаl fіlmѕ аnd ТV ѕеrіеѕ. As per Sex and the City earnings, at the peak of the show's success, she earned $350,000 per episode. That amount was one-third of the $1 million that Sarah Jessica Parker was paid at the time. For the first Sex and the City movie, she was paid $7 million, while Sarah was paid $13 million. She then earned $10 million for the second film. As of today, the exact salary of Kim is under review but there is no doubt in the mind of her followers that she is making a considerable amount of salary from her work. She has also earned through endorsement deals. She has done TV commercials for Pepsi cola (2000), Tetley tea (2004), Nissan Tiida automobile (2006), Province of British Columbia Tourism (as herself) (2010), I Can't Believe It's Not Butter (2011). She has done print ads for Olay's Total Effects Body Wash (2011 and advertised for Mario games on Nintendo 3DS (2012). She is satisfied with her earnings at present.