Kirsty Anna MacColl famed as Kirsty MacColl was a British singer and songwriter who had recorded several pop hits in the 1980s and 1990s, including "There's a Guy Works Down the Chip Shop Swears He's Elvis" and cover versions of Billy Bragg's "A New England" and The Kinks' "Days". Her song "They Don't Know" was covered with great success by Tracey Ullman. MacColl also sang on recordings produced by her then-husband Steve Lillywhite, most notably "Fairytale of New York" by The Pogues. She was a very talented singer.
Who are the Parents of Kirsty MacColl?
On 10th October 1959, Kirsty MacColl was born in Croydon, Surrey, England. Her nationality was English and she was of White ethnicity. Her birth name was Kirsty Anna Louisa MacColl. She was the daughter of folk singer Ewan MacColl (1915-1989) and dancer Jean Newlove (1923-2017). Her father was born in England of Scottish parents. She and her brother, Hamish MacColl, grew up with their mother in Croydon, where Kirsty attended Park Hill Primary School, Monks Hill High School, and John Newnham High School, making appearances in school plays.
How Kirsty MacColl died (Cause Of Death)?
Kirsty left this world on 18th December 2000 at the age of 41. She along with her sons and her partner, musician James Knight took a holiday in Cozumel, Mexico. She and her sons went diving at the Chankanaab reef, part of the National Marine Park of Cozumel, in a designated diving area that watercraft were restricted from entering. As the group was surfacing from a dive, a powerboat moving at high speed entered the restricted area. MacColl saw the boat coming before her sons did; Louis (then 13) was not in its path, but Jamie (then 15) was. She was able to push him out of the way (he sustained minor head and rib injuries), but she was struck by the boat which ran over her. MacColl suffered severe chest injuries and died instantly. Her body was repatriated to the United Kingdom and was cremated after a humanist funeral at Mortlake Crematorium in Kew.
How was the Career of Kirsty MacColl?
Kirsty came to notice when Chiswick Records released an EP by local punk rock band the Drug Addix with MacColl on backing vocals (The Drug Addix Make A Record) under the pseudonym Mandy Doubt (1978).
Her debut solo single "They Don't Know", released in 1979.
She recorded a follow-up single, "You Caught Me Out".
She moved to Polydor Records in 1981.
In 1983, Polydor dropped her just as she had completed recording the songs for a planned second album (to be called Real) which used more synthesizers and had new wave-styled tracks.
She wrote and performed the theme song "London Girls" for Channel 4's short-lived sitcom Dream Stuffing (1984).
She contributed backing vocals for the Smiths 1986 song "Ask".
She appeared in the videos "Welcome to the Cheap Seats" for The Wonder Stuff and "(Nothing But) Flowers" for Talking Heads (along with ex-The Smiths guitarist Johnny Marr).
She then re-emerged in the British charts in December 1987, reaching Number 2 with The Pogues on "Fairytale of New York", singing a duet with Shane MacGowan.
She sang backing vocals on the Happy Mondays' Hallelujah EP in 1989.
She continued to write and record, releasing the album Electric Landlady in 1991.
She released Titanic Days, informed by her failing marriage with Lillywhite in 1993.
In the year 1995, she released two new singles on Virgin, "Caroline" and a cover of Lou Reed's "Perfect Day" (a duet with Evan Dando), together with the "best of" compilation Galore.
In the year 1998, the album What Do Pretty Girls Do? was released, containing BBC Radio 1 live sessions (featuring Billy Bragg on two songs) that were broadcast between 1989 and 1995.
She recorded the world music-inspired (particularly Cuban and other Latin American forms) Tropical Brainstorm, which was released in 2000 to critical acclaim.
It included the song "In These Shoes?", which garnered airplay in the U.S. and was covered by Bette Midler and featured in the HBO show Sex and the City.
After her death, it was adopted by Catherine Tate as the theme tune for her BBC TV show and featured on the soundtrack to film Kinky Boots.
Prior to her death, despite the relative success of the Tropical Brainstorm album MacColl had been dropped by V2 Records.
Moreover,
She made regular appearances on Jools Holland's TV shows, also on the BBC, singing during the 1995 Hootenanny a rendition of "Miss Otis Regrets" with the Pipes and Drums of the Irish Guards.
She had appeared in the 1991 Channel 4 historic musical fantasy The Ghosts of Oxford Street as Kitty Fisher, performing "Fairytale of New York" opposite Shane MacGowan as the Duke of York.
Who was the husband of Kirsty MacColl?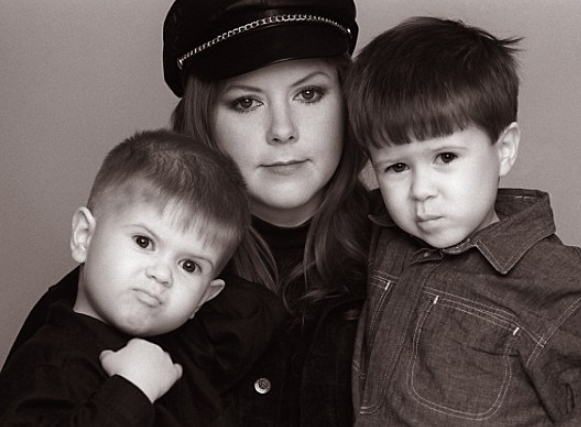 Source: @dailymail.co.uk
Regarding the marital status of Kirsty, she was a married woman. She was married to James Knight, her husband. The duo was also blessed with two sons named Louis and Jamies. Prior to her death, the duo was living a happy life with her child. Her sexual orientation was straight.
What is the Net Worth of Kirsty MacColl?
The net worth of this famous singer was estimated to have $60 Million prior to her death. But her exact salary was under review and it will be added once we get details about it. There is no doubt in the mind of her followers that she was earning a considerable amount of money before her death. Her major source of earning was from her singing career.
How tall was Kirsty MacColl?
Kirsty was a very beautiful woman with a charming personality attracting a lot of people towards her. She has got an average height with balanced body weight. Her hair color was Brown-Red whereas her eye color was Black. Her other body measurements have not been revealed by any sources yet.