Kurt Cobain Biography
Kurt Donald Cobain famed as Kurt Cobain was a famous American singer-songwriter and musician. He was best known worldwide for being the founder and the guitarist, primary songwriter, frontman of the rock band "Nirvana" which he formed in the year 1987 with Krist Novoselic and Aaron Burckhard. After signing with major label DGC Records, Nirvana found global success with "Smells Like Teen Spirit" from their critically acclaimed second album Nevermind (1991). He was often heralded as a spokesman of Generation X and is considered to be one of the most influential musicians in the history of alternative rock. During his career timeline, he wrote many notable songs for Nirvana, including "About a Girl", "In Bloom", "Come as You Are", "Lithium", "Polly", "Something in the Way", "All Apologies", and "Heart-Shaped Box". He posthumously inducted into the Rock and Roll Hall of Fame. He was ranked 7th by MTV in the "22 Greatest Voices in Music". His exemplary songwriting skills helped "Nirvana" sell over 25 million copies in the U.S. and over 75 million records all over the world, making him an iconic personality in the field of rock music. On 8th April 1984, he was found dead at his home in Seattle at the age of 27; police concluded he had died on April 5 from a self-inflicted shotgun wound to the head. Scroll more to know about his Full Biography, Real Name, Birthday, Family Life, Untold Story, Personal Life, Age, Interesting Faces, Wiki, and Career.
Kurt Cobain Cause of Death/Death Cause
Kurt Cobain left this world on 5th April 1994 in Seattle, Washington, the USA at the age of 27. Following a tour stop at Terminal Eins in Munich, Germany, on 1st March 1994, he was diagnosed with bronchitis and severe laryngitis. Later, Cobain's wife, Courtney Love found that Cobain had overdosed on a combination of champagne and Rohypnol. He was then immediately rushed to the hospital and was unconscious for the rest of the day. After five days in the hospital, Cobain was released and returned to Seattle. Love later stated that the incident was Cobain's first suicide attempt. On 18th March 1994, Courtney phoned the Seattle police informing them that Cobain was suicidal and had locked himself in a room with a gun. Later, it was revealed that he was not suiciding but he locked himself in the room to hide from Love. He later arrived at the Exodus Recovery Center in LA on 30th March 1994. He spent the day talking to counselors about his drug abuse and personal problems, happily playing with his daughter Frances. These interactions were the last time Cobain saw his daughter. On 2nd and 3rd April, he was spotted in numerous locations around Seattle. On 3rd April, Love contacted private investigator Tom Grant and hired him to find Cobain. He was not seen the next day. On 7th April amid rumors of Nirvana breaking up, the band pulled out of the 1994 Lollapalooza Music Festival. On 8th April, his body was discovered at his Lake Washington Boulevard home by electrician Gary Smith. A suicide note was found, addressed to Cobain's childhood imaginary friend Boddah, that stated that Cobain had not "felt the excitement of listening to as well as creating music, along with really writing ... for too many years now". A high concentration of heroin and traces of diazepam were also found in his body. The coroner's report estimated Cobain to have died on 5th April 1994 at the age of 27. A final ceremony was arranged for Cobain, by his mother, on 31st May 1999, and was attended by both Love and Tracy Marander. As a Buddhist monk chanted, daughter Frances Bean scattered Cobain's ashes into McLane Creek in Olympia, the city where he "had found his true artistic muse."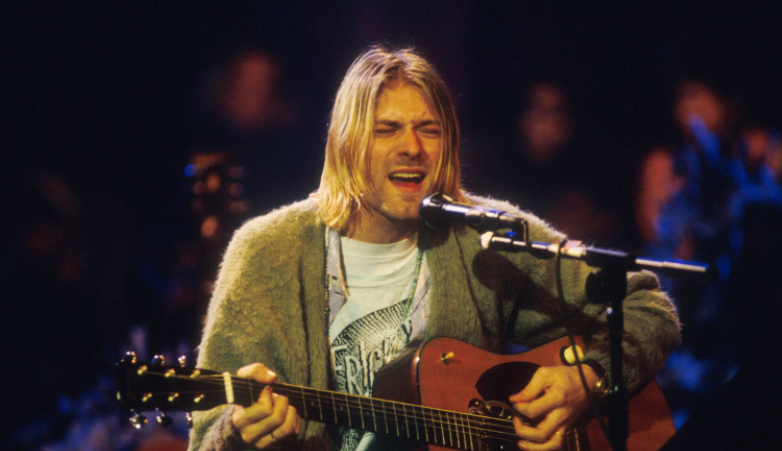 Source: @news.sky.com
Kurt Cobain was famous for being an American singer-songwriter and musician. He was best known for being the frontman of the popular alternative band, Nirvana, which is considered to be one of the most important and influential alternatives and grunge bands in the music industry. He was also recognized for being a famous pop and cultural icon. He was known for his well-documented drug addiction, mental issues such as depression, and fatal suicide, which has spawned several conspiracy theories.
Kurt Cobain was born on 20th February 1967 in Aberdeen, Washington, the USA with the birth name/real name of Kurt Donald Cobain. He held American nationality and his ethnic background was Mixed as his ancestry included Dutch, English, French, German, Irish, and Scottish. His race was White. About her family members, he was born to her parents; Wendy Elizabeth (mother), a waitress, and Donald Leland Cobain (father), an automotive mechanic. His parents were married on 31st July 1965, in Coeur d'Alene, Idaho. He lastly celebrated his 27th birthday on 20th February 1994. Pisces was his Zodiac sing. He didn't have clear religious views. At one time, he identified as a born-again Christian. Then, he would go on to say that he hated Christianity. He also showed some interest in Jainism and Buddhism. Concerning his educational background, he went to Aberdeen High School. However, he dropped out about two weeks before graduation as he didn't have enough credits to pass out of high school. He also had a sibling; a younger sister named Kimberly Cobain. His family was a musical background as his maternal uncle, Chuck Fradenburg, played in a band called The Beachcombers; his aunt, Mari Earle, played guitar and performed in bands throughout Grays Harbor County; and his great-uncle, Delbert, had a career as an Irish tenor, making an appearance in the 1930 film King of Jazz. As a childhood, he was an introvert and at times rebellious. He began developing an interest in music at a young age.
Kurt Cobain was a handsome singer with a slim body build. He stood tall at the height of 5 ft 9 in or 175 cm. His balanced bodyweight consisted of 63 KG or 139 lbs. He had a dark brown and he often dyed his hair different colors. His eye color was blue. He had a lanky body frame with a raw and agonizing voice. His other body measurements have not been publicized yet.
Kurt Cobain Singing Career and Life Story
Initially, Kurt Cobain began his career by forming a rock band 'Fecal Matter' in the year 1985 after dropping out of high school. They spent several months rehearsing original material and covers, including songs by The Ramones, Led Zeppelin, and Jimi Hendrix.
'Fecal Matter' was disbanded in the year 1986. Then, he formed the band named "Nirvana" which was taken from the Buddhist concept, which Cobain described as "freedom from pain, suffering and the external world," a concept that he aligned with the punk rock ethos and ideology. The band had Cobain as the lead vocalist and guitarist, Krist Novoselic as the bass guitarist, and Aaron Burckhard on the drums.
Nirvana recorded the album "Bleach", released on Sub Pop Records in the year 1989. The band then hired Dave Grohl who helped the band record their 1991 major-label debut, "Nevermind".
Nevermind's lead single, "Smells Like Teen Spirit" made Nirvana quickly entered the mainstream, popularizing a subgenre of alternative rock called "grunge". The success of Nevermind provided numerous Seattle bands, such as Alice in Chains, Pearl Jam, and Soundgarden, access to wider audiences.
A vocal opponent of sexism, racism, and homophobia, he was publicly proud that Nirvana had played at a gay rights benefit, supporting No-on-Nine, in Oregon in the year 1992. The show was held in opposition to Ballot Measure Nine, a ballot measure, that if passed, would have directed schools to teach that homosexuality was "abnormal, wrong, unnatural and perverse".
At that time, he received death threats from a small number of anti-abortion activities for participating in the pro-choice campaign, with one activist threatening to shoot Cobain as soon as he stepped on a stage.
Then, members of Nirvana and fellow American alternative rock band Screaming Trees formed a side project known as the Jury in the year 1989. The band featured Cobain on vocals and guitar, Mark Lanegan on vocals, Krist Novoselic on bass, and Mark Pickerel on drums.
The band recorded four songs also performed by Lead Belly; "Where Did You Sleep Last Night?", an instrumental version of "Grey Goose", "Ain't It a Shame" and "They Hung Him on a Cross".
He then contacted William S. Burroughs about a possible collaboration in the year 1992. Later, William S. Burroughs responded by sending him a recording of "The Junky's Christmas" (which he recorded in his studio in Lawrence, Kansas).
The two would meet shortly later in Lawrence, Kansas, and produce "The "Priest" They Called Him", a spoken word version of "The Junky's Christmas".
Beside this,
Kurt Cobain was a fan of 1970s hard rock and heavy metal bands, including Led Zeppelin, AC/DC, Black Sabbath, Aerosmith, Queen, and Kiss. He was also a fan of protopunk acts like the Stooges, whose 1973 album Raw Power he listed as his favorite of all time in his journals, and The Velvet Underground, whose 1968 song "Here She Comes Now" the band covered both live and in the studio.
His first punk rock album was "Sandinista!" by The Clash. He became a bigger fan of fellow 1970s British punk band the Sex Pistols, describing them as "one million times more important than the Clash" in his journals.
The Meat Puppets appeared onstage during Nirvana's 1993 MTV Unplugged appearance to perform three songs from their second album, Meat Puppets II. Nirvana's Unplugged set also included renditions of "The Man Who Sold the World," by British rock musician David Bowie, and the American folk song, "Where Did You Sleep Last Night".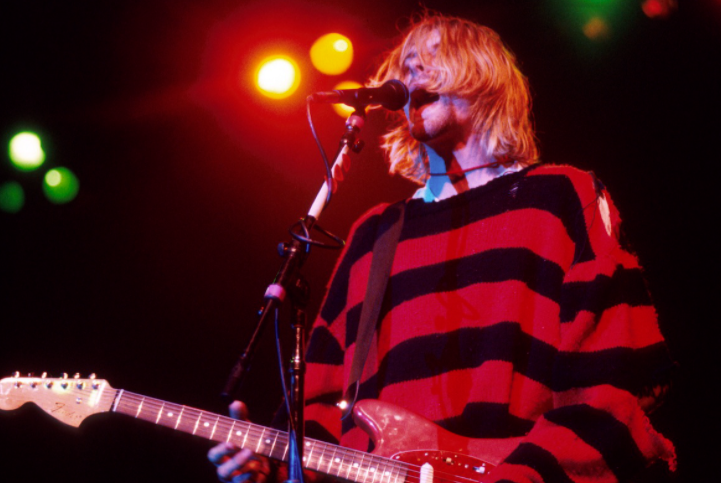 Source: @time
Kurt Cobain Married Life With Courtney Love
Kurt Cobain was a married man. Talking about his love life, he started his relationship and affair with Tracy Marander in the year 1985 but they separated in the year 1988 after dating for four years. After his split with Tracy, he started going out with Tobi Vail, who was a drummer with the punk band, Bikini Kill. Later, they separated in the year 1990. He then met Courtney Love in the year 1989 and started dating in the year 1990. They got married in a low-key ceremony on Waikiki Beach in Hawaii in February 1992. The ceremony was witnessed by eight individuals, including his Nirvana bandmate Dave Grohl. In an interview with Vanity Fair, she revealed that she had taken drugs during her pregnancy as she wasn't aware of being pregnant initially. The Los Angeles County Department of Children's Services would later drag them to court alleging that their drug abuse made them unfit parents. They were very much together until his suicide in 1994. The duo was also blessed with a daughter named Frances Bean. Regarding his sexual orientation, he was straight. However, in an interview given to The Advocate in 1993, he had said that he was "gay in spirit" and "probably could be bisexual". But, he had also revealed that "I am not gay, although I wish I were, just to p**s off homophobes".
Source: @mirror.co.uk
Kurt Cobain Net Worth & Salary
Kurt Cobain was a very talented singer-songwriter and musician, best known as the guitarist, primary songwriter, and frontman of the rock band Nirvana. As of 2021, the net worth of Kurt Cobain is estimated to have $50 Million. He had made a vast amount of money throughout his career which he made through various projects of music, album sales, tours, concerts, tickets, and more. During his life, he hadn't done endorsement work for any brand. Back then, he was receiving a cool amount of salary and he lived a luxurious lifestyle from the earnings he made. His major source of wealth was from the music industry.