About Kurt Russell
An American actor, Kurt Vogel Russell is professionally known as Kurt Russell. He is perhaps the most engaging actor in the entertainment industry today who made the first major appearance in the made-for-television biographical movie "Elvis", which is considered one of the finest performances of his career. One of his most underrated performances was in the film Breakdown, which also starred Kathleen Quinlan. He began acting on television at the age of 12 in the western series "The Travels of Jaimie McPheeters" (1963-1964). Some of his other powerful performances were in movies like, "Silkwood", "Backdraft", "Big Trouble In Little China", "Stargate", "Grindhouse" and his most outstanding role as "R.J. MacReady" in Carpenter's gory cult movie, "The Thing". "The Guardian" also named him one of the best actors never to have received an Academy Award nomination though he has gained several awards in his acting careers such as Blockbuster Entertainment Awards, Disney Legends, Hollywood Film Awards, and many others. As recent news, Russell maintains that Hollywood stars should not wade into politics publicly, as doing so only hurts their craft.
Famous For

Being an American actor.
For his appearance in the television biographical movie "Elvis".
Source: @gq.com
Early Life of Kurt Russell

Kurt Russell opened his eyes first on 17th March 1951 with the real name or full name of Kurt Vogel Russell in Springfield, Massachusetts, U.S. He holds an American nationality and American-white ethnicity. Analogously, he is from Christianity religion and his race is white. He happily celebrates his birthday on 17th March of every year and he had celebrated his 69th birthday as of 2020 whereas as his birthdate, his star sign is Pisces. Russell is the son of actor Bing Russell (1926-2003) and dancer Louise Julia (nee Crone) Russell. He has three sisters, Jill, Jamie, and Jody. He graduated from Thousand Oaks High School in California in 1969. He served in the California Air National Guard, and belonged to the 146th Tactical Airlift Wing, then based in Van Nuys from 1969 to 1975.
Career of Kurt Russell

Kurt Russell kicks off his acting career with an uncredited part in Elvis Presley's "It Happened at the World's Fair" whereas he also guest-starred in the ABC series "Our Man Higgins" on 24th April 1963.
Then, he starred in the ABC western series "The Travels of Jaimie McPheeters" (1963-1964), also played the mistaken orphan NBC's "The Virginian".
After that, he was seen in the 1964 episode "Blue Heaven" for the western series "Gunsmoke" as a kid named Packy Kerlin as well as starred in the role of Jungle Boy on an episode of CBS's "Gilligan's Island" at the age of 13.
Later, he was signed to a ten-year contract with The Walt Disney Company, where he became, according to Robert Osborne, the "studio's top star of the '70s" in 1966 where his first movie for Disney was "Follow Me, Boys!" (1966).
Similarly, he has appeared in numerous movies and series for Disney star-like, "Walt Disney's Wonderful World of Color", "Mosby's Marauders" (1967), "Lost in Space" and many others though he made "The Horse in the Gray Flannel Suit" (1969) and "Guns in the Heather" (1969) for it.
Later, Disney promoted him to star roles with "The Computer Wore Tennis Shoes" (1970) which was a big hit he followed it with "The Barefoot Executive" (1971), another success, however, the bulk of his film work was for Disney: "Now You See Him, Now You Don't" (1971), "Charley and the Angel" (1973), and "Superdad" (1973).
He appeared in the ABC series "The New Land", inspired by the 1972 Swedish film of the same name in the autumn of 1974, and returned to Disney for "The Strongest Man in the World" (1975).
Later, he provides the voice for "The Fox and the Hound "(1981) then reunited with Carpenter for "The Thing" (1982) and appeared in "Silkwood" in 1983.
He starred in the 2004 film "Miracle" as well as ghost-directed the hit 1993 western film "Tombstone" in 2006.
He played the villainous Stuntman Mike in Quentin Tarantino's segment Death Proof of the film "Grindhouse" in 2007 also appeared in "The Battered Bastards of Baseball", a documentary about his father and the Portland Mavericks, which debuted at the Sundance Film Festival in 2014.
In addition, he can also be seen in the upcoming American Christmas comedy film, "The Christmas Chronicles 2" in 2020.
As a piece of fresh news, Russell maintains that Hollywood stars should not wade into politics publicly, as doing so only hurts their craft.
"As far as I'm concerned, you should step away from saying anything so that you can still be seen by the audience in any character," says the actor.
"I've always been someone who felt we are court jesters," said Russell, who stars alongside Hawn in Netflix's Christmas Chronicles 2. "That's what we do. As far as I'm concerned, you should step away from saying anything so that you can still be seen by the audience in any character."
"There's no reason entertainers can't learn just as much as anybody else about a subject, whatever it is," he said. "But I think that what's sad about it is that they lose their status as a court jester. And I'm a court jester. That's what I was born to do." He continued, "A court jester is the only one who can walk into the castle and put the king down as long as he doesn't hit too close to home. I think that's been a big, important part of all cultures throughout history, and I'd like to see it stay in ours."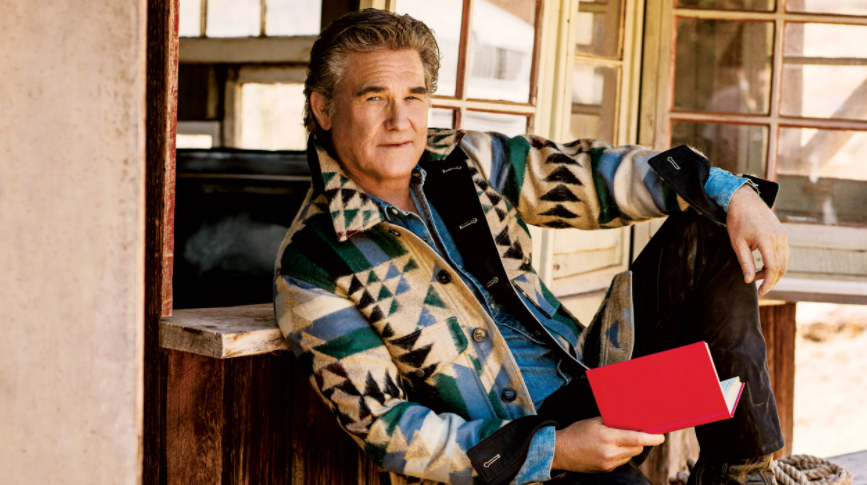 Source: @gq.com
Baseball career
Russell was a switch-hitting second baseman for the California Angels minor league affiliates, the Bend Rainbows (1971) and Walla Walla Islanders (1972) in the short-season Class A-Short Season Northwest League, and then moved up to Class AA in 1973 with the El Paso Sun Kings of the Texas League.
The incoming runner at second base collided with him and tore the rotator cuff in Russell's right (throwing) shoulder while in the field turning the pivot of a double play early in the season which forced his retirement from baseball in 1973 and led to his return to acting.
Awards and Achievements of Kurt Russell

Golden Globe Awards for Best Supporting Actor in a Motion Picture
Blockbuster Entertainment Awards for Favorite Actor - Adventure/Drama
Saturn Awards
Hollywood Film Awards for Ensemble of the Year
Fangoria Chainsaw Awards for Fangoria Horror Hall of Fame induction
Hollywood Walk of Fame for Star for Motion Pictures
Personal Life of Kurt Russell

Reflecting on Kurt Russell's personal life, he is a married guy. He was married to actress Season Hubley, whom he met while filming Elvis, in 1979, and had a son, Boston (born on 16th February 1980). But their relationship was not long-lasting, the couple divorced in 1983. After his divorce, began his relationship with Goldie Hawn. The couple has a son, Wyatt Russell (born on 10th July 1986). Their relationship status is exceptional till now and hopes it will remain as same in the future too. Furthermore, regarding his sexual orientation, he is straight.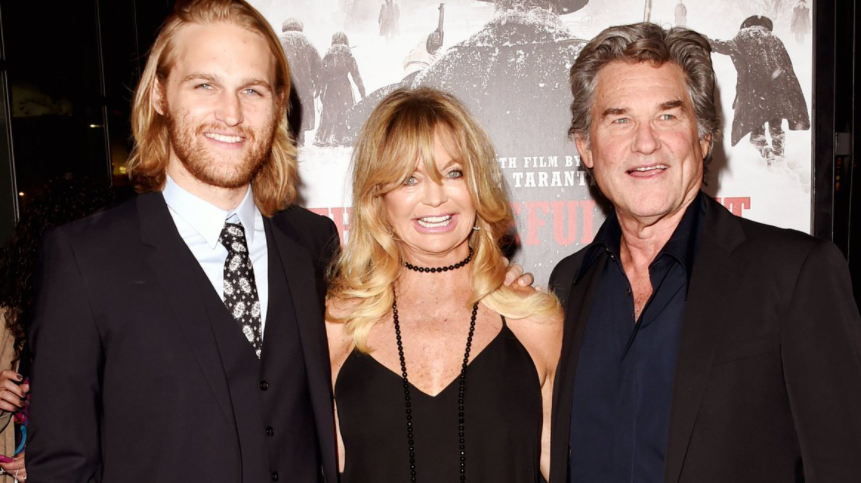 Source: @twitter
Everything You Need To Know About Goldie Hawn
Net Worth of Kurt Russell

Kurt Russell is an American actor who has a net worth of $100 million dollars as of 2020. Starting off as a successful child actor, Kurt Russell has subsequently experienced a long and impressive career as a film actor, taking roles as action heroes, villains, and everything in between. Kurt Russell and Goldie Hawn have been called one of the richest couples in Hollywood, with a cumulative net worth close to $200 million. He is in love with luxurious cars and houses as he possesses BMW, Porsche, and many houses where he throws lavish parties. In addition, his main source of income is from his acting career and he is happy and satisfied with his profession.
Body Measurement of Kurt Russell
Kurt Russell with a height of 1.8 m even at the age of sixty-nine looks amazingly fit and handsome whereas his body weight is around 165.35 lbs. He has maintained his shape over the years with regular exercise it seems. Blessed with great height and physique, he still carries the aura to rock the shirtless avatar. He has made some loyal fans and admirers over the years. He is a graceful actor with light brown hair and dark brown eyes color though his body build type is average and his body measurement is 32-26-32 inches.