About London Breed, Mayor of San Francisco
Born on 11th August 1974 with the real name/birth name of London Nicole Breed who is shortly named London Breed is a famous American politician from California. London Breed is famous for being a politician and she is best known for being the 45th mayor of the City and County of San Francisco. Moreover, she served as supervisor for District 5 and was president of the Board of Supervisors from 2015 to 2018. She began working in government after college and she was elected to the Board of Supervisors in 2012 (taking office in January 2013) and elected its president in 2015. She became the acting mayor of San Francisco following the death of Mayor Ed Lee and served in this role from 12th December 2017, to 23rd January 2018. In addition to this, she has also won the San Francisco mayoral special election held on 5th June 2018. She is the first black woman, second black person, and the second woman to be elected mayor of San Francisco. She was born to her parents in San Francisco, California, the USA. She celebrated her 45th birthday as of 2019. She holds an American nationality and her ethnicity is American-African. Her race is Black. She is Christian by religion and her zodiac sign is Leo. As per her education, she graduated with honors from Galileo High School. She earned a bachelor's degree in political science from the University of California, Davis in 1997 and a master's degree in public administration from the University of San Francisco in 2012. She was raised in the Western Addition neighborhood of San Francisco by her grandmother in Plaza East public housing in the Western. She also has a sibling; a younger sister who died of a drug overdose in 2006 and her brother is in prison serving a 44-year sentence for a 2000 manslaughter and armed robbery conviction, for which Breed has repeatedly asked for clemency from the governor's office. Recently, Breed announced that she has directed the San Francisco Police Department to establish an "explicit" policy to ban the use of military-grade weapons against unarmed civilians. The department would not be allowed to use chemical weapons, such as tear gas, bayonets, or tanks, and would have to get rid of such weapons by the end of 2021. Scroll more to know about her full biography including her career, net worth, boyfriend, dating, salary, facts, birthday, wiki, age, height, partner, and more.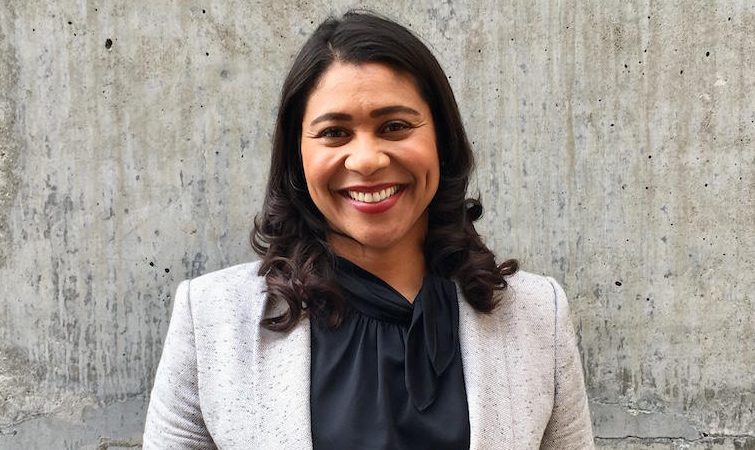 Source: @kalw.org
London Breed's Political Career (Beginning-Present)
London Breed began her career by working as an intern in the Office of Housing and Neighborhood Services for Mayor Willie Brown.
She became the executive director of the African American Art & Culture Complex in 2002 where she raised over $2.5 million to renovate the complex's 34,000 square foot space, including an art gallery, theater space, and a recording studio.
She was named to the San Francisco Redevelopment Agency Commission in the year 2004.
In the year 2010, Mayor Gavin Newsom appointed her to the San Francisco Fire Commission.
She was elected to the District 5 supervisor seat, defeating incumbent Christina Olague, who had been appointed to the seat that year by Mayor Ed Lee after Supervisor Ross Mirkarimi was elected sheriff in November 2012.
Following five rounds of ranked-choice voting allocations, she won by over 12 points, marking the first time in San Francisco history that a challenger unseated a district supervisor.
She was inaugurated as District 5 supervisor on January 8, 2013, with then-California Attorney General Kamala Harris administering the oath of office.
She was elected President of the San Francisco Board of Supervisors first by a vote of 8 to 3 and then unanimously on 8th January 2015.
She defeated supervisor David Campos, who was also nominated for the position.
In February 2016, she announced her reelection bid to represent District 5.
The top issues she identified in her announcement were building and protecting affordable housing, increasing public safety, improving environmental health, and modernizing public transportation.
She won reelection 52% to 48% on November 8, 2016, beating Preston in 46 of the district's 68 precincts.
She was unanimously re-elected to another two-year term as Board President on 9th January 2017 where no other supervisors were nominated for the position.
Following the death of Mayor Ed Lee on 12th December 2017, she became the city's Acting Mayor by virtue of her position as President of the Board of Supervisors.
She served in this position until 23rd January 2018, when the Board of Supervisors selected Mark Farrell to serve as interim mayor until a special election on June 5.
Supervisors Aaron Peskin, Jane Kim (herself a candidate for Mayor), and others considered the progressive members of the board, sought to deny Breed the benefits of incumbency going into the election.
After that, she ran in the mayoral special election held on June 5 where she led in the initial count's first-place votes with 35.6 percent, with Mark Leno in second with 25.9 percent, and Kim with 22.8 percent.
She resigned as president of the Board of Supervisors on 26th June 2018 and was succeeded by Malia Cohen in a unanimous vote by the Board.
On 11th June, she retained her position as District 5 supervisor until assuming the mayoralty.
Furthermore, she was elected to a full term in the 2019 mayoral election against five relatively unknown candidates.
She took several unannounced walks through different neighborhoods of the city, created a task force of members of the San Francisco Department of Public Works to clean up feces from city sidewalks, known as a Poop Patrol, made homelessness an early focus of her administration, announced plans to build 1,000 shelter beds by 2020, worked to expand mental health and substance abuse recovery beds, introduced legislation to fund housing and homelessness programs with the discretionary portion of the funding, and authored legislation with Supervisor Rafael Mandelman to expand San Francisco's conservatorship laws, based on California Senate Bill 1045, authored by State Senator Scott Wiener.
In March 2019, she awarded a posthumous certificate of honor to Sinn Fein politician and former IRA member Martin McGuinness for his "courageous service in the military."
The nomination had been made by the United Irish Societies, who had appointed him honorary marshal in the St. Patrick's Day parade.
On 23rd January 2020, she endorsed Mike Bloomberg for president.
She published an article on Medium on 14th February 2020, acknowledging a longtime friendship and a brief relationship with Nuru.
The post also reported that Nuru gave him $5,600 for car repairs, which Breed argued she did not have to disclose since her and Nuru's relationship preceded her mayoralty but was doing in "the spirit of transparency." Supervisors Hillary Ronen and Matt Haney have criticized Breed's actions, saying that according to the city's ethics laws it is illegal for a supervisor to accept gifts from a subordinate.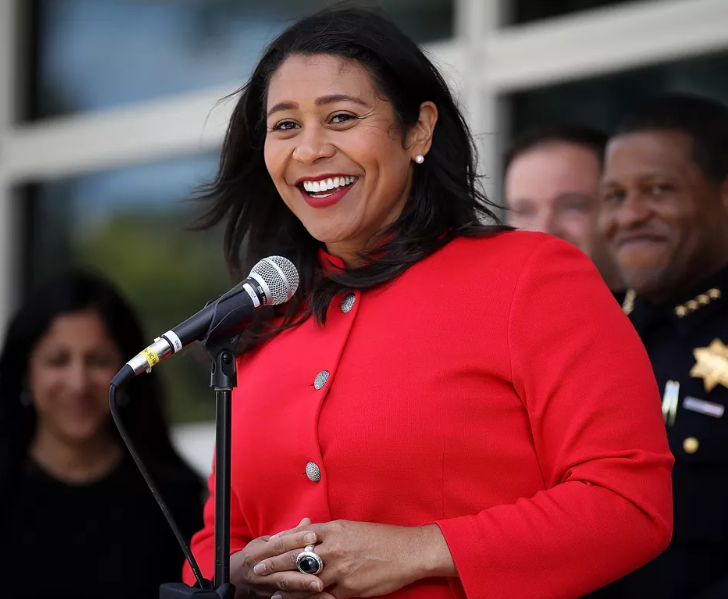 Source: @vox.com
Moreover,
She authored legislation in 2014 to allow the San Francisco City Attorney to pursue civil damages against graffiti taggers, instead of solely relying on criminal prosecutions to punish taggers.
In 2015, she worked with then-Mayor Ed Lee to help add 400 new police officers to the San Francisco Police Department and outfit every officer with body cameras.
In 2015, she led the effort to stop a proposed $380 million new jail for San Francisco, saying: "I've seen way too many people from my community, friends, even family members, end up on the wrong side of these iron bars," and calling the jail proposal "a return to an era of mass incarceration, an era San Francisco is trying to leave behind."
She also worked with then-Mayor Lee to pass a $350 million Public Health and Safety Bond in 2016, which funded $272 million in improvements for fire and healthcare facilities, $58 million for a new ambulance center, and $20 million for homeless shelters.
She worked with the San Francisco Municipal Transportation Agency and Bay Area Rapid Transit and carried the legislation to add cellular service for riders on Muni's underground trains.
She issued a state of emergency because of Covid-19 in February 2020, before the federal government suggested doing so, and San Francisco became one of the first American cities to go into lockdown.
On 24th April 2020, she reported that her city's orders for PPE had been diverted to other cities and countries. She said, "We've had issues of our orders being relocated by our suppliers in China. For example, we had isolation gowns on their way to San Francisco and they were diverted to France. We've had situations when things we've ordered that have gone through Customs were confiscated by FEMA to be diverted to other locations."
London Breed's Personal Life
London Breed is not married yet and she seems to be single as of now as there are no rumors about her dating/relationship with anyone previously as well as in the current time. She is focusing on her career as of now rather than spending her valuable time making her boyfriend/husband. Her sexual orientation is straight and she is not lesbian.
London Breed's Net Worth 2020
London Breed is an American politician. She has accumulated a huge amount of money from political careers which is her major source of earnings. Besides this, she is also earning a decent amount of money from endorsement deals, sponsorship, and more. As of 2020, the net worth of London Breed is believed to have $400 thousand and her annual salary is estimated to have $335 Thousand as per sources. She is living a cool lifestyle from her earnings.