Matt Turner is a renowned American professional footballer. He is famous for his playing position as a goalkeeper. He is best known for playing with Premier League club, Nottingham Forest, donning the coveted shirt number #1. Before his tenure at Nottingham Forest, he showcased his skills at Arsenal and the New England Revolution. However, Turner truly made his mark on the international stage with the United States national team, securing triumphs in the 2021 CONCACAF Gold Cup and the 2023 CONCACAF Nations League. His remarkable performances in these tournaments earned him the prestigious "Best Goalkeeper" award on both occasions.
Matt Turner Family Background
Matt Turner was born on June 24, 1994, in Park Ridge, New Jersey, United States. He is the youngest of three siblings, having two sisters named Kelly and Michelle, with whom he shared his early upbringing. His parents, Stuart Turner and Cindy Turner, come from a background that traces its roots back to Lithuania, with his father's family originally bearing the surname Turnovski before it was changed to Turner during immigration. In 2020, both Matt and his father obtained Lithuanian passports, reflecting their heritage. Holding dual American and Lithuanian citizenship, he embodies a mixed ethnicity. He celebrated his 29th birthday in 2023.
Matt pursued his education at Saint Joseph Regional High School before attending Fairfield University, where he dedicated his entire collegiate career.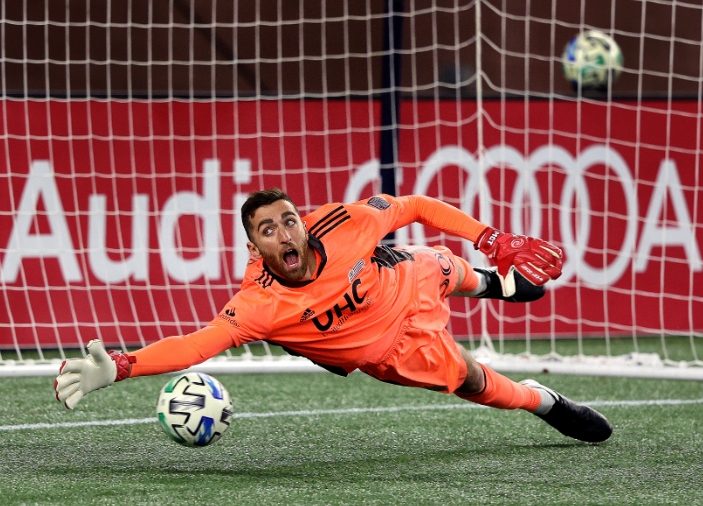 Matt Turner Football Career
New England Revolution
In 2016, Matt Turner wasn't selected in the MLS SuperDraft, but on March 3, 2016, he signed a professional contract with MLS club New England Revolution after a successful preseason trial.
During the 2016-17 seasons, he joined the United Soccer League club Richmond Kickers on loan, recording seven shutouts in 27 starts.
Turner earned the starting goalkeeper position for the Revolution in the 2018 season, marking his MLS debut on March 3, 2018.
In the 2019 season, after a challenging start, he emerged as the starter, leading the Revolution to its first playoff match and finishing as an MLS Goalkeeper of the Year finalist.
In 2020, he had a standout season, earning a finalist spot for the MLS Goalkeeper of the Year Award and ranking among the top MLS goalkeepers.
In 2021, Turner continued his stellar performance, winning the 2021 MLS Goalkeeper of the Year award and being named the 2021 MLS All-Star Game MVP.
Arsenal
On February 11, 2022, it was announced that Matt Turner and Premier League club Arsenal had reached an agreement for his transfer to the London club in the upcoming summer, making him Arsenal's first signing of the season.
Arsenal reportedly paid a transfer fee of $6 million, with potential increments up to $10 million.
On June 27, 2022, Arsenal officially introduced Turner as a new player on a long-term contract, assigning him the number 30 shirt.
His Arsenal journey commenced with a friendly against 1. FC Nürnberg on July 8, 2022, which Arsenal won 5-3.
He then made notable contributions in the 2022-23 UEFA Europa League group stage, starting against FC Zürich on September 8 in a 2-1 victory, and securing his first clean sheet in a 3-0 win against Bodø/Glimt on October 6.
He continued his impressive form with back-to-back clean sheets against Bodø/Glimt and PSV Eindhoven.
His performances earned praise from Arsenal manager Mikel Arteta.
He concluded his Arsenal tenure with seven appearances across all competitions and four clean sheets.
Nottingham Forest
Nottingham Forest revealed on August 9, 2023, that they had secured Turner's services from Arsenal, sealing a four-year contract for a rumored sum of £10 million ($12.75 million).
Just three days after his transfer, he marked his Premier League debut for Forest in an away match against Arsenal, which ended in a 2-1 defeat.
International Career
Since his international debut on January 31, 2021, for the United States men's national team, Matt Turner has been a standout performer.
In the 2021 CONCACAF Gold Cup, he started all six games and recorded five clean sheets, including a crucial one in the 1–0 victory against Mexico in the final, earning him the title of "Best Goalkeeper" of the tournament.
In November 2022, Turner was a key player for the USMNT in the 2022 FIFA World Cup in Qatar, playing every minute of the tournament and achieving two clean sheets, a feat not seen from a US goalkeeper since 1930.
He continued his stellar form at the 2023 CONCACAF Nations League Finals, keeping clean sheets in both games against Mexico and Canada as the United States emerged as champions.
Turner's heroics extended to the 2023 CONCACAF Gold Cup, where he saved a penalty against Jamaica and delivered a sensational shootout performance against Canada, earning him man of the match honors.
Matt Turner Awards and Achievements
New England Revolution
United States
CONCACAF Gold Cup: 2021
CONCACAF Nations League: 2022–23
Arsenal
FA Community Shield: 2023
Individual
CONCACAF Gold Cup Golden Glove: 2021
CONCACAF Gold Cup Best XI: 2021
CONCACAF Nations League Golden Glove: 2022–23
CONCACAF Nations League Finals Best XI: 2023
MLS All-Star: 2021
MLS All-Star Game MVP: 2021
MLS Goalkeeper of the Year: 2021
MLS Best XI: 2021
Matt Turner Wife
Matt Turner is happily married to his longtime girlfriend-turned-wife, Ashley Herron. After two years of dating, they exchanged vows on May 1, 2022, in an intimate ceremony at the Boston Seaport, just before their relocation to London. Their wedding was a private affair, and notably, Ashley was expecting their first child on that joyous day. She joyfully shared their marital bliss on Instagram, and the couple welcomed their son, Easton Atwood Turner, into the world on June 29, 2022. With a shared background in sports, as Ashley is a former NFL cheerleader, the Turners are leading a content and harmonious family life, free from disruptions. In March 2023, the couple announced they were expecting a daughter.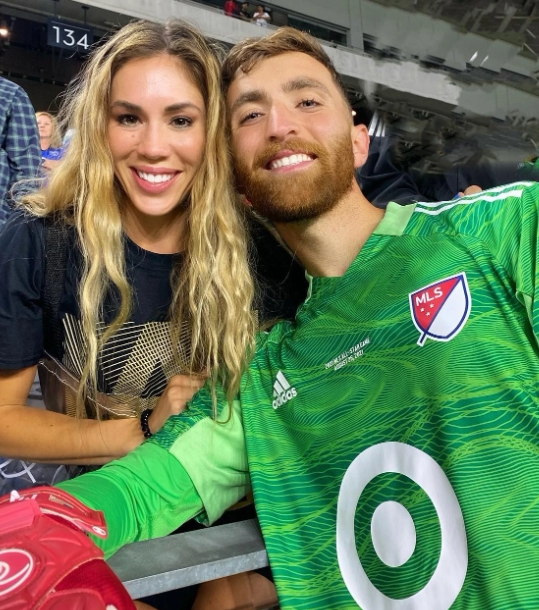 Matt Turner Salary
Matt Turner is a highly accomplished footballer with an estimated net worth of approximately $1.5 million in 2023. His primary source of wealth comes from his lucrative professional football career encompassing contract deals, generous salaries, bonuses, and endorsement agreements.
Notably, for the 2022-2023 season, he is earning an annual salary of £1,560,000. Arsenal secured his talents for a reported transfer fee of $6 million, potentially increasing to $10 million. On August 9, 2023, Nottingham Forest announced the acquisition of Turner from Arsenal, finalizing a four-year deal for an estimated £10 million ($12.75 million). As of June 20, 2023, Turner's market value stands at an impressive €8 million. He is leading a lavish lifestyle befitting his success in the football world.
Matt Turner Eyes Color
Matt Turner is a handsome soccer player with a standing height of 1.91 meters, equivalent to 6 feet and 3 inches. He maintains a healthy body weight of 79 kilograms, showcasing an athletic body type. With striking blue eyes and brown hair, his appearance complements his overall vitality, reflecting a robust and fit individual.