Milena Markovna "Mila" Kunis famed as Mila Kunis is a famous actress who has appeared in several television series and commercials, before landing her first significant role at age 14, playing Jackie Burkhart on the television series That '70s Show (1998-2006). Her breakout film role came in 2008 in the romantic comedy "Forgetting Sarah Marshall". She rose to fame after her performance in the psychological thriller Black Swan (2010), for which she received the Marcello Mastroianni Award for Best Young Actor or Actress, and nominations for the SAG Award and the Golden Globe Award for Best Supporting Actress. Her other major films include the action films Max Payne (2008) and The Book of Eli (2010), the romantic comedy Friends with Benefits (2011), the fantasy film Oz the Great and Powerful (2013) as the Wicked Witch of the West, and the comedies Ted (2012), Bad Moms (2016) and its sequel (2017) and many more. Moreover, she has voiced Meg Griffin on the animated series Family Guy. Scroll down to know more about her full biography including birthday, wiki, family details, net worth, movies, awards, siblings, career, and many more secrets.
Famous For
For her role as Jackie Burkhart in a TV show That '70s Show (1998-2006).
Giving voice to a character Meg Griffin for a 2005 movie called "Stewie Griffin: The Untold Story", a TV show called "Family Guy" (2000-Present) and 2006 Video Game called Family Guy Video Game!
Early Life of Mila Kunis
Mila Kunis was born on 14th August 1983 with the birth name/real name of Milena Markovna Kunis. Her birthplace/hometown is in Chernivtsi, Ukrainian SSR, Soviet Union. She was born to a Jewish family. She is daughter to the parents Elvira (mother) and Mark Kunis (father). Her parents moved to LA when she was seven years old in 1991. Her nationality is Ukrainian and her ethnicity/race is White. As per her education, she received her education from Hubert Howe Bancroft Middle School in Los Angles. She is graduate of Fairfax High School in 2001. She was also the student of UCLA and Loyola Marymount University for a small period in Los Angles. Seeing her acting skill, her father enrolled her at Beverly Hills Studios for acting classes. It was the same place where she met her future manager Susan Curtis. She was seen in the commercial of Lisa Frank's product before landing her first television venture as Days Of Our Lives in 1994. After that, she was seen in the cameo role on the 7th Heaven and as well as supporting cast for the Santa with Muscles, We Shrunk Ourselves, Honey, and also in Gia as the young Angelina Jolie. As of 2019, she celebrated her 36th birthday. Her horoscope sign is Leo and her religion is Judaism. She also has an older brother named Michael Kunis.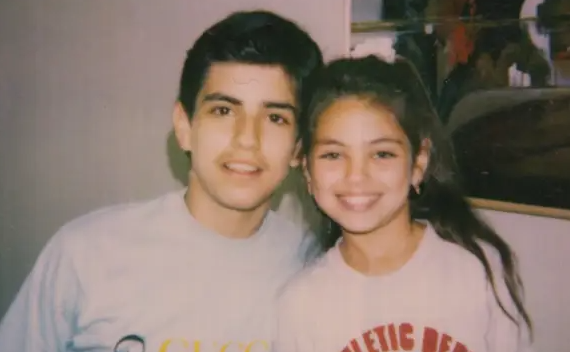 Source: @insider.com
Career of Mila Kunis
Mila Kunis's career began when she was cast to the comedy sitcom of FOX as Jackie Burkhart in "That '70s Show" which earned her the young Star Award in the category of Best Young Actress in the comedy television series for two consecutive years 1999 and 2000.
She replaced Lacey Chabert in the role of Meg Griffin on the animated sitcom "Family Guy" in the year 1999 and voiced Meg in the Family Guy Video Game!.
In the year 2001, she was seen alongside Kristen Dunst in "Get Over".
It was followed by the 2002 "American Psycho 2" opposite William Shatner.
In 2004, Kunis starred in the film adaptation "Tony n' Tina's Wedding".
In 2005, Kunis co-starred with Jon Heder in "Moving McAllister".
She followed up with "After Sex" starring alongside Zoe Saldana, who had also appeared in "Get Over It".
She then appeared in the 2008 comedy movie "Forgetting Sarah Marshall" and the movie earned positive response and was commercially hit earning over $ 105 million across the globe.
Her performance was well-received; Joe Morgenstern of The Wall Street Journal praised her "fresh beauty and focused energy" and was nominated for a Teen Choice Award.
In the year 2008, she landed another commercial hit film "Max Payne" which led her towards another Teen Choice Award nomination.
In 2009, she appeared in the comedy film "Extract".
In 2010, she starred alongside Denzel Washington in the action film The Book of Eli.
She was also cast in a minor role in the 2010 comedy film Date Night, starring Tina Fey and Steve Carell.
She was nominated for multiple awards, including her first Golden Globe, for the 2010 film "Black Swan". Black Swan received widespread acclaim from critics and was nominated for five Academy Awards, including Best Picture. The film grossed over $106.9 million in the United States and Canada while grossing over $329 million worldwide. Her performance won her the Marcello Mastroianni Award for Best Young Actor or Actress at the 67th Venice International Film Festival and earned her Golden Globe Award and Screen Actors Guild Award nominations for Best Supporting Actress.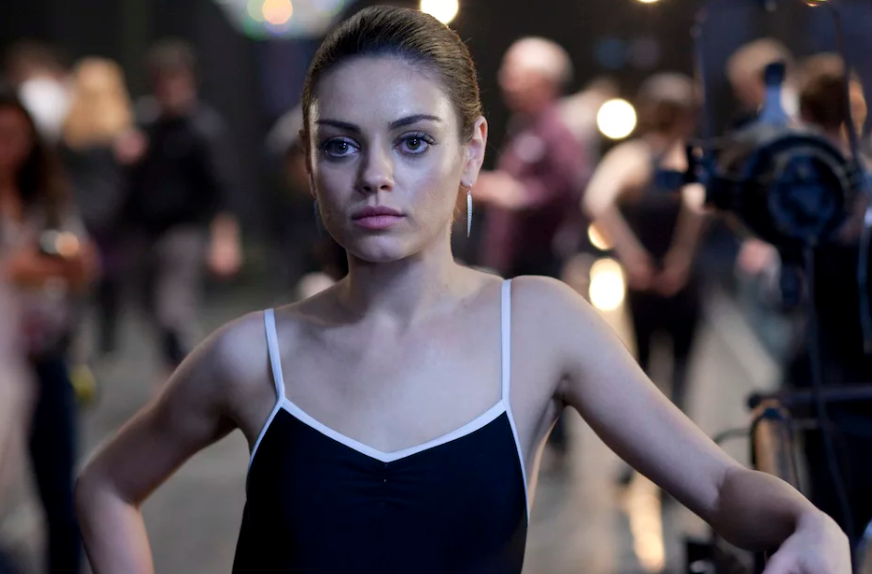 Source: @hellogiggles.com
She was cast alongside Justin Timberlake in the 2011 romantic comedy "Friends with Benefits".
She co-starred with Mark Wahlberg in "Ted: in the year 2012.
In 2013, Kunis played Theodora, the youngest of three witches, opposite James Franco, in the Walt Disney Pictures' prequel, "Oz the Great and Powerful".
In 2013 Kunis co-starred in the crime thriller "Blood Ties" with Clive Owen, Billy Crudup, and Marion Cotillard.
She was also cast in the comedy "The Angriest Man in Brooklyn", alongside Robin Williams and Peter Dinklage.
In 2015, Kunis co-starred with Channing Tatum in the science fiction film Jupiter Ascending.
She then co-starred with Kristen Bell and Christina Applegate in the comedy "Bad Moms".
She made her role for a sequel, A Bad Moms Christmas, which was released on November 1, 2017.
In 2018, she co-starred with Kate McKinnon in the comedy "The Spy Who Dumped Me".
She joined the cast on a couple of new projects and one is co-starring with Glenn Close in the film "Four Good Days".
The other film titled, Breaking News in Yuba County also co-stars Allison Janney and Regina Hall and was filmed in Mississippi.
Moreover,
In 2010, she was featured in the "Women We Love" segment in Esquire with an accompanying video.
During the summer of 2010, Kunis served with Randy Jackson as the Master of Ceremonies for the 9th Annual Chrysalis Foundation Benefit.
GQ magazine named Kunis the Knockout of the Year for 2011 with Men's Health naming her one of the "100 Hottest Women of All-Time".
FHM magazine ranked her number 9 on its 2012 Hot 100 list but she reached number 1 on their 2013 "100 Sexiest Women in the World" list.
In the year 2013, Mila Kunis appeared in Forbes list of 100 powerful celebrities, ranking #89 on the basis of five criteria (Money, TV/Radio, Press, Social, and Marketability), with her highest ranking as #14 in marketability. She earned $11 million for the year ending in June 2013.
In the year 2014, she appeared in a range of global advertising for Beam, Inc. (makers of Jim Beam bourbon).
Achievement and Awards of Mila Kunis
Mila Kunis is an award-winning actress. She has won several awards in her lifetime. She began after landing the role of Rachel Jansen in the film "Forgetting Sarah Marshall" in 2008 which was followed by the Mona Sax in Max Payne, as Solara in The Book of Eli, Lori in the comedy film Ted, Jamie in the Friends with Benefits. As Lily in "Black Swan", she has garnered her world recognition and led her towards the nomination of several prestigious awards and honors. Her work in Black swan was awarded the Premio Marcello Mastroianni in the category of Best Young Actor and Actress at the 67th Venice International Film Festival. She was nominated for multiple awards, including her first Golden Globe, for the 2010 film Black Swan. She also received Screen Actors Guild Award for Outstanding Performance by a Female Actor in a supporting role.
Personal Life of Mila Kunis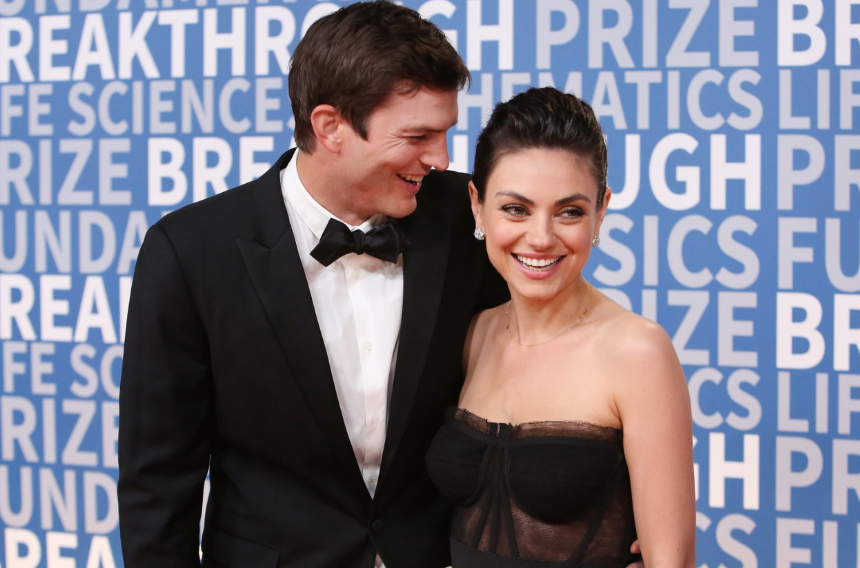 Source: @thejakartapost.com
Mila Kunis is a married woman. In the year 2002, she began dating Macaulay Culkin, an actor. During their relationship, there were rumors of the couple getting married, but she denied them. On 3rd January 2011, she publicist confirmed reports that Kunis and Culkin had ended their relationship, saying, "The split was amicable, and they remain close friends." After that, she began dating That '70s Show co-star Ashton Kutcher in April 2012 and got engaged in February 2014 and married during the first weekend of July 2015 in Oak Glen, California. The duo welcomed two children: a daughter born in October 2014 and a son born in November 2016. The married couple is living a happy life as of now.
Net Worth of Mila Kunis
Mila Kunis is a famous and successful American actress with her role in the movies such as Black Swan, Forgetting Sarah Marshall. The Book of Eli, Ted, and many more. With her movies and TV Shows, she has accumulated a huge amount of money. Her net worth will be surely in millions. Mila Kunis has collected her net worth of $65 million as of 2020. Max Payne was relatively successful at the box office, grossing $85 million worldwide. Her role in the film Extract grossed $10.8 million at the box office. The Book of Eli performed well at the box office, grossing over $157 million worldwide. Friends with Benefits achieved success at the box office, grossing over $149 million worldwide. According to The Hollywood Reporter, the four-voice actors who make up the "Family Guy" cast-Alex Borstein, Mila Kunis, Seth Green, and Mike Henry have collectively negotiated a new salary between $175,000 and $225,000 per episode. As of now, her exact salary is unknown yet. Her major source of earning is from her acting career and she is satisfied with her earnings. She has also the collection of cars; Lexus SC 430, Range Rover Overfinch. She is currently residing in Los Angeles, California.
Body Features of Mila Kunis
Source: @reedsector.com
Mila Kunis is a very beautiful actress and her natural beauty and charm have won the heart of many people. With the slim body build, she has a height of 5 ft 4 inches with a tight body figure. She has never been through the plastic surgery but she has done an eye surgery. She has suffered and struggled for Heterochromia that gives her two different eye colors that are she has one brown and another green eye. She has inked her body with tattoos. The issue on her tattoos started after the release of After Sex and Boot Camp, American Psyco, and Black Swan. Her balanced weight consists of 52 Kg or 115 pounds. Her hair color is dark brown. Her body measures 34-25-32 in (breast-waist-hips). She loves wearing gorgeous accessories and one of those includes the Kara Ackerman Talulah Diamond Earrings. She loves wearing these Elie Saab open-toe sandals. They are from the Fall/Winter 2011 collection. The upper, inner, and the soles are made from 100% leather. She is often seen wearing the Pilot Shades aka Ray-Ban Aviator Sunglasses. These sunglasses have the characteristic dark, reflective lenses that have metal frames with paddles or wire temples that hook behind the ears. She is often spotted with a Christian Dior Miss Dior Bag. Christian Dior is a French clothing giant and is the holding company for leading fashion brands like Kenzo, Givenchy, Christian Lacroix, and Louis Vuitton.