Milos Raonic Biography
A Canadian professional tennis player Milos Raonic reached a career-high Association of Tennis Professionals (ATP) world No. 3 singles ranking on 21st November 2016. He started playing tennis at Ontario's Blackmore Tennis Club when he was eight years old as he turned pro in 2008 and with a top ten ranking in 2013, he became Canada's highest ATP-ranked male singles player since computer tracking began in 1973. Previously, he worked for Rogers Sportsnet as an analyst while recovering from injury for their broadcast of the 2011 Canadian Open. He reached the finals of the 2016 Wimbledon tournament. He earned his first ATP victory at the 2011 SAP Open. He is recognized as one of the most talented tennis players in the world with amazing athletic potential and great height. He is also known for participating in two Grand Slam events at Wimbledon 2014 and Australian Open 2016 reaching the semifinals in both events. Raonic first gained international acclaim by reaching the fourth round of the 2011 Australian Open as a qualifier, where he was said to be the future of pro tennis. Coupled with his first ATP World Tour title three weeks later, his world ranking rose from No. 152 to No. 37 in one month. Raonic is the first player born in the 1990s to win an ATP World Tour title, to be ranked in the top 10, and to qualify for the ATP World Tour Finals. Novak Djokovic recently beats Milos Raonic to continue title defense and reach quarter-finals. Know more about Milos's Full Biography, Interesting Facts, Wiki, Age, Net Worth, Family, Wiki, & more.
Famous For
Being a Canadian professional tennis player.
For his amazing athletic potential and great height.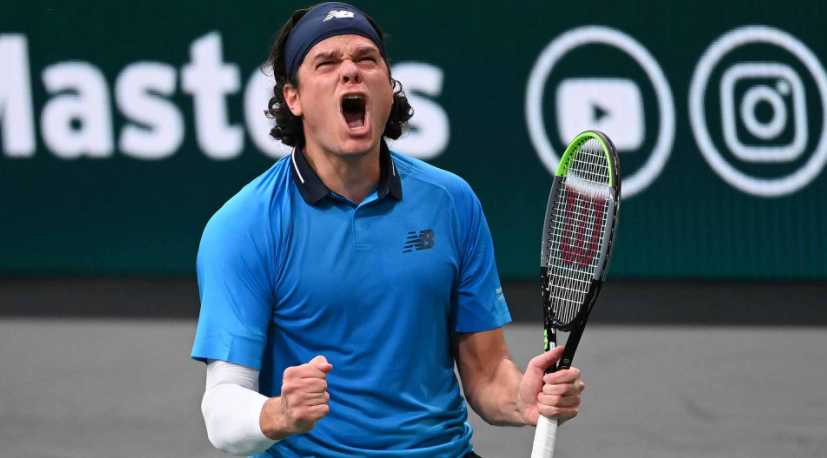 Source: @atptour
Milos Raonic Early Life

On 27th December 1990, Milos Raonic took birth in Titograd, SR Montenegro, SFR Yugoslavia, however, his family moved to Canada in 1994 when he was three, settling in Brampton, Ontario, a northwest suburb of Toronto. He is of Canadian nationality and he belongs to mixed ethnicity. Raonic is fluent in Serbian and English. Similarly, his religion is Christian and his race is white. Raonic celebrates his every birthday on 27th December and he has celebrated his 30th birthday as of 2020. Capricorn is his horoscope. His parents are both engineers; his father, Dusan Raonic, holds a Ph.D. in electrical engineering, while his mother, Vesna Raonic, has degrees in mechanical and computer engineering, including a master's. He has two siblings, both significantly older: his sister, Jelena, has a master's degree in international trade and finance and is eleven years older, while his brother, Momir, has a degree in information technology and business and is nine years older. Raonic's uncle, Branimir Gvozdenovic, is a politician in the Government of Montenegro, where he has served as Deputy Prime Minister. He attended Thornhill Secondary School and accelerated his course load achieving an 82 percent average so that he could graduate a year early.
Milos Raonic Career

Amateur career
Milos Raonic kicked of his tennis career competing at a junior event sanctioned by the International Tennis Federation (ITF) in October 2003 at the age of 12 after which he picked up his first singles match victory at age 14 in October 2005 whereas his first juniors titles in both singles and doubles came at the same Grade 4 tournament in October 2006.
He compiled a 53-30 win-loss record in singles, and a 56-24 record in doubles on the ITF Junior Circuit as well as he played in fourteen professional tournaments against adults in North America while an amateur.
He played his first professional circuit match in the qualifying draw of an ITF Futures tournament in Toronto in October 2005 at the age of 14; he won his first professional circuit main draw match at an ITF Futures tournament in Gatineau, Quebec, in March 2007 against Fabrice Martin.
He lost his first ATP Challenger Tour match in Granby, Quebec, in July 2007 against Gary Lugassy and won his first ITF Futures doubles title in Gatineau, Quebec in March 2008, and reached his first ITF Futures singles final two weeks later in Sherbrooke, Quebec.
He won his first ITF Futures singles title in March 2009 in Montreal but he was less successful at the ATP Challenger level, tallying only one title however Raonic again received a wildcard for the qualifying tournament of the Canadian Open in 2009.
Raonic and Pospisil were given a doubles wildcard to the main draw, marking Raonic's first-ever ATP World Tour doubles match at 2010 Canadian Open and they won their first-round match against Rafael Nadal and Novak Djokovic.
He then gained entry into a Grand Slam tournament for the first time at the 2010 US Open as Raonic's first ATP main draw singles victory came in September 2010 at the Malaysian Open against No. 105 Igor Kunitsyn.
2011: Top 25 and first ATP Tour title

Raonic started this climb by qualifying for the Australian Open main draw whereas his first-round victory over Bjorn Phau marked his first victory in the main draw Grand Slam match.
As well, he became the first qualifier to make the fourth round of a major since Marcelo Filippini at the 1999 French Open with his career-first victory over a top 10 player (Mikhail Youzhny) in the third round.
He won his first ATP title at the Pacific Coast Championships, with victories over No. 45 Xavier Malisse, No. 170 James Blake, No. 74 Ricardas Berankis, and No. 9 Fernando Verdasco and he became the first player born in the 1990s to win an ATP title, and the youngest winner since Marin Cilic won the 2008 Connecticut Open at age 19.
He was seeded for the first time at a Grand Slam event at the French Open but lost in the first round to Michael Berrer as well as Raonic reached his first ATP World Tour doubles final, partnered with Robin Haase at the Halle Open.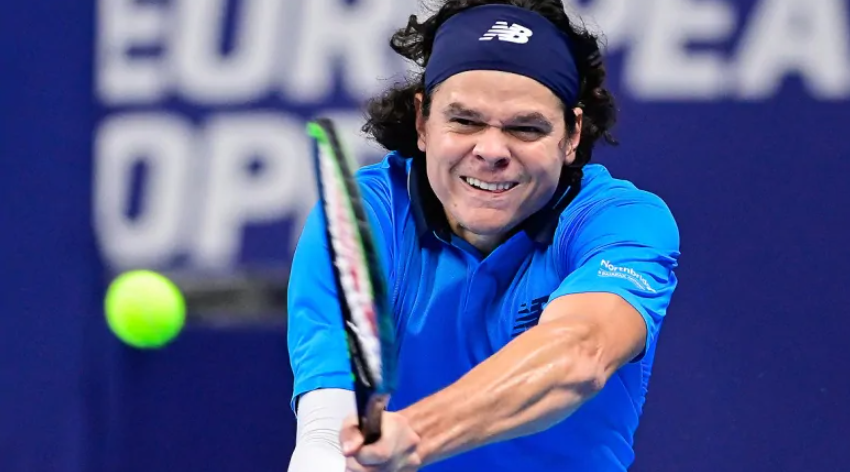 Source: @cbc.ca
2012: Continued rise and first title defense

Milos commenced 2012 with titles in two of his first three tournaments, starting with his second ATP title at the Chennai Open in India but he lost in the third round of the Australian Open to Lleyton Hewitt whereas he defended his title at the Pacific Coast Championships, defeating Denis Istomin in the final for his third ATP title in February. He reached the final of the U.S. National Indoor Tennis Championships for the second straight year in the following week but lost to Melzer.
After that, he played his first three matches against No. 3 Federer on three different surfaces: a hard court in the third round of the Indian Wells Masters; the clay in the second round at the Madrid Open; and grass in the quarterfinals at the Halle Open.
He reached his first ATP 1000 quarterfinals at back-to-back events in August, losing to John Isner at the Canadian Open and Stan Wawrinka at the Cincinnati Masters. On 13th August, his world ranking was No. 19, marking his first time in the top 20.
He also reached his third ATP 500 final in October at the Japan Open, defeating Radek Stepanek, Viktor Troicki, Tipsarevic, and Murray, before dropping the final to Japan's Kei Nishikori in three sets.
Milos led the ATP in points won on 1st serve (82%) and in-service games won (93%) in 2012 and finished the year at a career-high singles ranking of No. 13.
2013: Top 10 ranking and first Masters 1000 final

Milos reached the fourth round of the Australian Open, falling to No. 2 Federer whereas he lost in the third round to Kevin Anderson at the French Open as he achieved a perfect 12-0 match record, and did not drop a single set over three years. He is the only man in the Open Era to win three consecutive singles titles at this event.
He again led the ATP in points won on a first serve (82%) and in-service games won (91%) in 2013 but Raonic split with his coach of two and half years, Blanco in May and he hired Riccardo Piatti as a co-coach with Ljubicic in December.
2014: First Grand Slam semifinal

Milos Raonic opened 2014 by reaching the third round of the Australian Open, losing to Grigor Dimitrov, however, he improved on his career-best performance at five consecutive ATP 1000 events.
He was seeded in the top eight for the first time at a Grand Slam tournament at the French Open and notched victories against Nick Kyrgios, Jiri Vesely, Gilles Simon, and Marcel Granollers to reach the quarterfinals of a major for the first time in his career.
He reached his first final of the year at the Washington Open, facing Pospisil in the first all-Canadian final in ATP history and won the title in straight sets.
He was again seeded fifth at the US Open and won his first three matches to face rival Nishikori in the fourth round.
He reached the final of the Japan Open for the third consecutive year but lost to Nishikori again in October.
Raonic ended the year at a career-high season-ending ranking of No. 8 and he was one of just three players to reach the quarterfinals or better at seven of the nine ATP 1000 tournaments. He finished with a career-high total of 1107 aces in 2014.
2015: Top 4 ranking and injury woes

Milos started 2015 by reaching the final at the Brisbane International after defeating No. 5 Nishikori in three sets, all decided in tiebreaks.
He won his quarterfinal match against No. 3 Nadal at the Indian Wells Masters which was Raonic's first career victory over Nadal after five defeats.
He opened the Monte-Carlo Masters with a victory over Joao Sousa in April as well as he won his seventh singles title and first in Europe with a three-set victory over Sousa in September, at the St. Petersburg Open.
Then, he joined the Philippine Mavericks of the exhibition International Premier Tennis League (IPTL) in December and he was also added to Federer's coaching team two weeks later.
2016: First Grand Slam final and top 3 ranking
Milos upset No. 4 Wawrinka in five sets, beating the 2014 champion for the first time in five meetings in the fourth round of the Australian Open.
He lost to No. 2 Murray in five sets in the semifinals, sustaining an adductor injury while leading two sets to one whereas the adductor injury kept Raonic out of competition for six weeks, during which he withdrew from the Delray Beach Open and the Mexican Open, and Canada's Davis Cup clash with France.
Later, he returned to action at the Indian Wells Masters, reaching the final against No. 1 Djokovic with a string of four victories over top 20 opponents: Bernard Tomic, Berdych, Monfils, and David Goffin.
He was the eighth seed at the French Open but fell in the fourth round in straight sets to No. 55 Albert Ramos Vinolas.
He began the grass-court season by advancing to his first grass-court final at the Queen's Club Championships without dropping serve in victories over Kyrgios, Vesely, Bautista Agut, and Tomic, but lost the final in three sets to Murray.
He was the fifth seed at the US Open but lost in the second round to Ryan Harrison, partly due to debilitating cramps.
Milos rose to a career-high No. 3, finishing the year behind only Murray and Djokovic as he ended his coaching relationship with Moya in December, and added former Wimbledon champion Richard Krajicek to his coaching staff alongside Piatti for the 2017 season.
2017: More injuries and out of top 20

Raonic reached the semifinals with wins over Diego Schwartzman and Rafael Nadal in the first two rounds at his first tournament of the season, the Brisbane International but he lost to Grigor Dimitrov in straight sets.
Also, he won his first two matches in straight sets respectively over Dustin Brown and Gilles Muller at the Australian Open as well as he defeated Viktor Troicki in his opening round but had to withdraw from his next match against qualifier Jared Donaldson after returning from injury at the Miami Open in March.
He made it to the quarterfinals but was defeated by Roger Federer in straight sets at Wimbledon and returned in October at the Japan Open but had to retire in his second-round match against Yuichi Sugita again with an injury. Although he reached two finals in 2017, it was the first time since 2011 that he failed to win at least one title.
2018: Return to top 20

Raonic began his season as the fourth seed at the Brisbane International but lost in the second round to Alex de Minaur in straight sets.
He reached his first Masters 1000 semifinal since November 2016 in Paris with wins over compatriot Felix Auger-Aliassime, Joao Sousa, Marcos Baghdatis by walkover, and Sam Querrey, respectively in the first rounds at Indian Wells.
He advanced to the quarterfinals but lost for the second week in a row to del Potro, this time in three close sets but he did not compete at the French Open because of a knee injury.
He advanced to his first final in over a year, but was defeated by world No. 2 Roger Federer in June at the Stuttgart Open.
2019
Milos was seeded 16th at 2019 Australian Open whereas he defeated Nick Kyrgios in the first round in straight sets and narrowly defeated 2014 champion Stan Wawrinka in four close tiebreak sets in the second round.
He began the match dominantly, winning 12 of the first 14 games to take a two-set lead but later he announced his split with coach Goran Ivanisevic, and will now be coached by French former ATP player Fabrice Santoro.
2020

Milos Raonic started his 2020 at Qatar open in Doha where he was seeded 4th but he lost to Corentin Moutet in straight sets only in his first match.
He participated in the 2020 Australian Open where he defeated Lorenzo Giustino, Cristian Garin, Stefanos Tsitsipas, and Marin Cilic before losing to Novak Djokovic at the quarter-final stage in straight sets.
Everything You Need To Know About Novak Djokovic
As well, he participated in New York Open where he was seeded second in February 2020, but he lost to Soonwoo Kwon in his first match at the tournament.
Raonic also found form at the 2020 Cincinnati Masters, where he defeated Sam Querrey, Daniel Evans, and a resurgent Andy Murray, all in straight sets as he defeated 4th seed Stefanos Tsitsipas in straight sets to reach his fourth Masters 1000 final. He lost to Novak Djokovic in 3 sets in the final.
2021

Milos opened his 2021 campaign at the 2021 ATP Cup representing team Canada alongside countrymen Denis Shapovalov, Steven Diez, and Peter Polansky whereas Canada was drawn into a round-robin group with teams Serbia and Germany, and Raonic was penciled in as the number 2 player.
He won his singles match in straight sets over Dusan Lajovic, 6-3, 6-4 in the first tie against team Serbia. Partnering with Shapovalov in the deciding doubles match, they were unable to get the win and thus lost the tie 2-1.
He lost his singles match against Jan-Lennard Struff in two tiebreaker sets, 6-7 (4-7), 6-7 (2-7) in the second tie, versus team Germany, and after Shapovalov lost his match against Djokovic, Canada was officially eliminated from the tournament.
Besides, Novak Djokovic recently beats Milos Raonic to continue title defense and reach the quarter-finals
Raonic resumed to promptly seal the first break of the match and remained resolute on serve to win just his fourth ever set against the tournament favorite.
He then showed good resolve to stave off two break points early in the fourth set but Djokovic sealed the crucial break of serve after a backhand error from his opponent to lead 5-4 and he closed out victory on his first match point.
Davis Cup

Milos made his Davis Cup debut in Bogota against Colombia in 2010 at the age of 19. Raonic lost both of his singles matches (against Santiago Giraldo and Juan Sebastian Cabal) but won his doubles match partnered with Nestor, who was then the top-ranked doubles player in the world.
He won singles rubbers over Ramos-Vinolas and Guillermo Garcia-Lopez to lead Canada over top-seeded Spain in the 2013 Davis Cup World Group first round.
Olympics
Raonic represented Canada at the London 2012 Olympics and competed in the singles competition as an unseeded player. He won his first-round match over Japan's Tatsuma Ito in straight sets but he lost to French player Tsonga 3-6, 6-3, 23-25, breaking three Olympic tennis records.
Later, he decided not to play in the 2016 Summer Olympics, citing health concerns and the Zika virus.
Hopman Cup

Milos partnered with Bouchard to represent Canada in the Hopman Cup in 2014. Raonic won two of three singles matches and paired with Bouchard to win two of three doubles matches. Canada finished in second place in their pool behind top-seeded Poland and was eliminated.
World TeamTennis
Milos Raonic will be making his World TeamTennis debut in 2020 and will be joining the Orange County Breakers when the WTT season begins on 12th July at The Greenbrier.
Philanthropy
It was announced in December 2020 that Raonic joined the High Impact Athletes, an organization based on the effective altruism movement where professional athletes pledge to donate at least 1% of their income to the most effective, evidence-based charities in the world.
Milos Raonic Awards and Achievements

2011 - ATP Newcomer of the Year
2011 - Tennis Canada male player of the year
2012 - QMI Agency Canadian Male Athlete of the Year
2012 - Tennis Canada male player of the year
2013 - Tennis Canada male player of the year
2013 - Lionel Conacher Award
2014 - Emirates ATP Top 10 Trophy
2014 - Tennis Canada male player of the year
2014 - Lionel Conacher Award
2014 - Canadian Club of Toronto's Canadian of the Year
2015 - Tennis Canada male player of the year
2016 - Toronto Sports Hall of Honour male athlete of the year
2016 - Tennis Canada male player of the year
Source: @tennis-tourtalk.com
Milos Raonic Personal Life

Milos Raonic is not married yet whereas regarding his relationship status, Canadian tennis star Milos split from model Danielle Knudson. But the 30-year-old appears to have mended his broken heart with the help of Belgian model Camille Ringoir, whom he is dating currently. He has not however spoken very daringly and openly about his relationship, but he definitely shows his affection whenever the two are together. He does not have a wife at present. Raonic is of straight sexual orientation and he is not gay.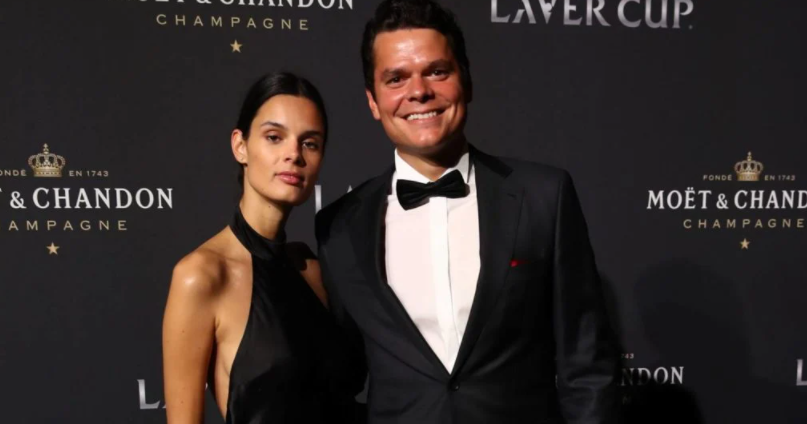 Source: @earnthenecklace
Milos Raonic Net Worth

Milos Raonic is a professional tennis player who has a net worth of $12 million as of 2021, however, his exact amount of salary has not been disclosed yet. He turned professional in 2008 and has earned nearly $6 million in prize money during his career as well as he was prized US$ 19,842,691. He has won six career singles titles and achieved his highest ranking in July of 2014 at #6. Milos's main source of income is from his tennis career. He has endorsed "Lacoste" clothing (2011-2012) and "New Balance" clothing and shoes (Contract signed until the end of his career). In June 2015, Raonic agreed to sign a contract with AVIVA to wear the logo of the company on his uniforms. Throughout his career, Milos has also signed sponsorship contracts with "Zepp", "Rolex", "SAP", "Commerce Court" and "Canada Goose".
Milos Raonic Body Measurement
The height of a professional tennis player, Milos Raonic is 6 ft 5 in or 196 cm whereas his body weight is around 216 lbs or 98 kg. He has an athletic body build with a body measurement of 41.5-15-34.5 inches. Raonic has dark brown hair and lights brown eyes color. He has suffered from many injuries during the game but he is healthy, fit, and fine as of now.