About Naomi Watts
Naomi Watts is a British actress who gained recognition through her film career. After her family relocated to Australia, she made her debut in the film For Love Alone (1986) and appeared in various television series and films. Her breakthrough came with David Lynch's Mulholland Drive (2001), which propelled her to international fame. Watts went on to star in notable films such as The Ring (2002), 21 Grams (2003), I Heart Huckabees (2004), King Kong (2005), Eastern Promises (2007), and The Impossible (2012), earning critical acclaim and award nominations, including an Academy Award nomination. She continued to impress in movies like Birdman (2014), The Glass Castle (2017), and Luce (2019), while also venturing into television with Twin Peaks (2017) and The Loudest Voice (2019). Known for her portrayal of complex and troubled characters, Watts has been recognized for her beauty by magazines like People and Maxim. She has also been involved in advocacy work for HIV/AIDS and Pantene's Beautiful Lengths.
Naomi Watts Early Life & Family
Naomi Watts, originally named Naomi Ellen Watts, was born on 28 September 1968 in Shoreham, Kent, England. Her parents are Myfanwy (Miv) Edwards (née Roberts) and Peter Watts. Her mother worked as an antiques dealer and costume/set designer, while her father was a road manager and sound engineer for Pink Floyd. Watts' maternal grandfather was Welsh, giving her mixed ethnicity. Her parents divorced when she was young, and she and her brother, Ben Watts, moved frequently with their mother across South East England. Tragically, Watts' father passed away in 1976 from a heroin overdose. Following his death, the family moved to Llangefni and Llanfairpwllgwyngyll in North Wales to live with Watts' maternal grandparents. During this time, she attended a Welsh medium school. In 1978, her mother remarried, and Watts and her brother relocated to Suffolk, where she attended Thomas Mills High School. Watts' interest in acting was sparked by her mother's performances on stage and the film Fame. At the age of 14, she moved with her family to Sydney, Australia, where her mother pursued a career in the film industry. Watts enrolled in acting lessons and began auditioning for television advertisements, eventually landing her first role in the 1986 film For Love Alone. She attended Mosman High School and North Sydney Girls High School but did not graduate. Instead, she worked various jobs before deciding to become a model. After a brief stint in Japan, she returned to Sydney and worked in advertising. However, a drama workshop inspired her to pursue acting full-time. Watts identifies as British, having spent her early years in England and Wales, but also feels connected to Australia, where she has strong memories and considers it home. She celebrated her 54th birthday in 2022. Her zodiac sign falls under Libra. Watts converted to Buddhism after having gained an interest in that religion during the shooting of The Painted Veil (2006) and became a strong proponent of Transcendental Meditation.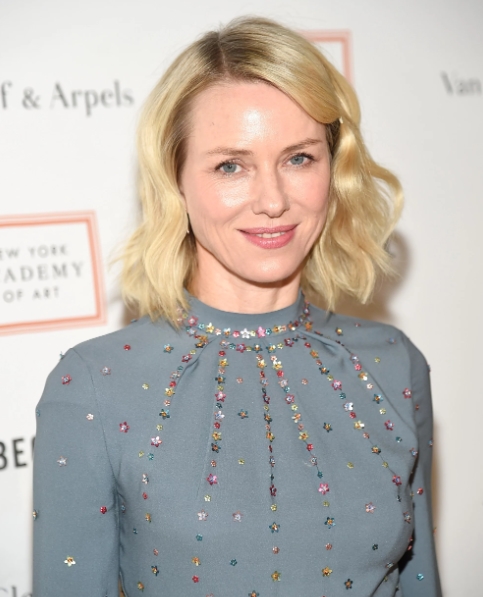 Naomi Watts Acting Career
Naomi Watts began her career in television, appearing in commercials before making her film debut in the 1986 movie For Love Alone.
She then appeared in two episodes of the fourth season of the Australian sitcom Hey Dad..! in 1990.
She gained recognition for her supporting role in the indie film Flirting in 1991 and received critical acclaim for her performance in the award-winning mini-series Brides of Christ.
She had a recurring role in the soap opera Home and Away as the handicapped Julie Gibson.
After taking a year off to travel and being introduced to agents in Los Angeles by Nicole Kidman, Naomi Watts decided to pursue her career in America.
In 1993, she had a small role in the film Matinee and temporarily returned to Australia to star in three Australian films: another of Duigan's pictures, Wide Sargasso Sea; the drama The Custodian; and had her first leading role in the film Gross Misconduct, as a student who accuses one of her teachers (played by Jimmy Smits) of raping her.
Following her auditions, Naomi Watts secured a supporting role as "Jet Girl" in the futuristic film Tank Girl released in 1995.
In 1996, she appeared in several projects including the action-thriller Persons Unknown alongside Joe Mantegna, Kelly Lynch, and J.T. Walsh, the period drama Timepiece alongside James Earl Jones, Kevin Kilner, and Ellen Burstyn, the TV pilot Bermuda Triangle where she portrayed a former documentary filmmaker who goes missing in the Bermuda Triangle, and as the lead in Children of the Corn IV: The Gathering, a horror film centered around possessed children in a small town.
In 1997, Watts starred in the Australian romantic drama Under the Lighthouse Dancing alongside Jack Thompson and Jacqueline McKenzie.
During the same year, she took on the lead role in the short-lived television series Sleepwalkers.
In 1998, she appeared in the TV film The Christmas Wish with Neil Patrick Harris and Debbie Reynolds, played the supporting role of Giulia De Lezze in Dangerous Beauty, and provided voice work for Babe: Pig in the City.
Watts jokingly mentioned in a 2012 interview that her voice work in Babe: Pig in the City should not be on her résumé as it involved helium and a little mouse voice.
In 1999, she portrayed Alice in the romantic comedy Strange Planet and Texan student Holly Maddux in The Hunt for the Unicorn Killer, based on a true story.
In 2000, she appeared in the BBC TV film The Wyvern Mystery alongside Derek Jacobi, Jack Davenport, and Iain Glen. Despite her talent, Watts experienced near misses in casting for significant roles in films like The Postman and The Devil's Advocate in 1997 and Meet the Parents in 2000, with feedback often focused on her not being "sexy enough."
In 1999, director David Lynch began casting for his psychological thriller Mulholland Drive. Mulholland Drive, also starring Laura Harring and Justin Theroux, received critical acclaim and became Watts's breakthrough role.
In 2001, Watts had a busy year with various film projects. She appeared in two short films, Never Date an Actress and Ellie Parker, showcasing her versatility.
Additionally, she starred in the horror film The Shaft, a remake of the 1983 film De Lift, directed by Dick Maas.
Watts's career soared further with her role in the highly successful film The Ring, directed by Gore Verbinski.
The English-language remake of the Japanese horror film Ring became one of the biggest box office hits of the year.
Playing the role of Rachel Keller, a journalist investigating mysterious deaths linked to a haunting videotape, Watts received acclaim for her performance.
In 2002, Watts also appeared in Rabbits, a series of short films directed by David Lynch, the black comedy Plots with a View alongside British actors, and the western film The Outsider, starring alongside Tim Daly.
In 2003, Naomi appeared in a diverse range of films. She played Julia Cook in the Australian film Ned Kelly, directed by Gregor Jordan and starring alongside Heath Ledger, Orlando Bloom, and Geoffrey Rush.
Additionally, she starred in the Merchant-Ivory film Le Divorce, where she portrayed Roxeanne de Persand, a pregnant poet abandoned by her husband, and engaged in a dispute over a painting with her sister Isabel (played by Kate Hudson). While Entertainment Weekly gave the film a mediocre rating and expressed disappointment in Watts's performance, her role in Alejandro González Iñárritu's drama 21 Grams received critical acclaim.
Her portrayal of Cristina Peck, a grief-stricken woman entangled in complex relationships after the tragic loss of her family, earned her an Academy Award nomination for Best Actress. The New York Times praised Watts for her ability to reinvent herself with each performance, while the San Francisco Chronicle acknowledged her riveting emotional scenes but suggested room for improvement in subtler moments.
She then starred alongside Mark Ruffalo in the independent film We Don't Live Here Anymore, which explored the marital crises of two couples.
She reunited with Sean Penn in The Assassination of Richard Nixon, playing the wife of the would-be presidential assassin.
Watts also joined Jude Law and Dustin Hoffman in David O. Russell's ensemble comedy I Heart Huckabees.
Additionally, she headlined and produced the semi-autobiographical drama Ellie Parker (2005), portraying the struggles of an Australian actress in Hollywood. Film critic Roger Ebert praised Watts's performance in the film, noting her courage, keen observation, and impeccable timing.
In the same year, she starred in the sequel to The Ring, The Ring Two, despite its negative critical reception, it achieved significant worldwide box office success.
Watts's most notable role in 2005 was as Ann Darrow in the remake of King Kong, directed by Peter Jackson. The film received high praise and became Watts's most commercially successful project to date, grossing over $550 million worldwide. Her performance in King Kong was acclaimed, with The Seattle Post-Intelligencer praising her portrayal as a tragic and passionate "Beauty and the Beast" archetype.
In addition to her film roles, Watts reprised her role as Ann Darrow in the video game adaptation of King Kong, earning praise for her vocal performance and receiving a nomination for a Spike Video Game Award for Best Performance by a Female.
She also appeared in Marc Forster's psychological thriller Stay alongside Ewan McGregor, Ryan Gosling, and Bob Hoskins.
In 2006, Watts starred in the romantic drama The Painted Veil alongside Edward Norton and Liev Schreiber. She portrayed the daughter of a lawyer who enters into a marriage for the reputation of her husband, a physician, and bacteriologist. Her performance was praised for bringing a unique interpretation to the role, with the San Francisco Chronicle noting her portrayal as more desperate, foolish, and driven than the original film's Greta Garbo.
Watts also lent her voice to the character Suzie Rabbit in David Lynch's psychological thriller Inland Empire.
During the same year, she became the new face of jewelers David Yurman and was featured in the 2007 Pirelli Calendar.
In 2007, Watts portrayed a Russian-British midwife in David Cronenberg's Eastern Promises, delivering the baby of a drug-addicted teenage prostitute. Her performance was described as radiantly wounded, showcasing her expertise in portraying flustered moral aggrievement. Eastern Promises grossed $56 million worldwide.
Watts also produced and starred in Michael Haneke's Funny Games, a remake of his own 1997 film. While the film went unnoticed by many, critics praised Watts for her physically demanding role, with Newsweek commending her heroic conviction.
In 2009, she returned to acting after a brief break following the birth of her children.
She starred opposite Clive Owen in the political action thriller The International, playing a Manhattan assistant district attorney who teams up with an Interpol agent to expose a corrupt merchant bank. The film was moderately successful commercially, grossing over $60 million worldwide.
Watts then took on the role of a lawyer who never knew her biological mother in the drama Mother and Child, delivering a powerful and unsympathetic performance that earned her nominations for the Best Actress award at the Australian Film Institute Awards and the Independent Spirit Award for Best Supporting Female.
She continued her streak with the Woody Allen dramedy You Will Meet a Tall Dark Stranger, portraying a woman in a troubled marriage, and Fair Game, in which she portrayed Valerie Plame, earning a Satellite Award nomination for Best Actress.
In 2011, she appeared in Dream House, a psychological horror film, and J. Edgar, a biographical drama, opposite Daniel Craig, Rachel Weisz, and Leonardo DiCaprio, with the latter receiving more favorable reviews.
In 2012, she delivered a powerful performance in the disaster drama The Impossible, based on the true story of María Belón and her family's survival during the 2004 Indian Ocean tsunami.
In 2013, she appeared in the controversial film Adore, where critics felt that Watts and Robin Wright couldn't make the implausible plot believable.
She also starred in the independent drama Sunlight Jr., receiving praise for her chemistry with Matt Dillon. However, her portrayal of Princess Diana in the biographical drama Diana was met with negative reviews.
Watts found success in Alejandro González Iñárritu's Birdman or (The Unexpected Virtue of Ignorance) in 2014, part of the critically acclaimed ensemble cast that won the Screen Actors Guild Award for Outstanding Cast in a Motion Picture.
Her performances in St. Vincent and While We're Young at the 2014 Toronto International Film Festival received mixed reactions but showcased her versatility and on-screen chemistry with her co-stars.
She portrayed rebel leader Evelyn Johnson-Eaton in Insurgent, the second installment of The Divergent Series, which achieved commercial success despite mixed reviews.
Watts reprised her role in Allegiant, the series' third film, which received negative reviews and underperformed at the box office.
In Gus Van Sant's The Sea of Trees, she played the wife of a man attempting suicide in Japan's "Suicide Forest," but the film was heavily criticized and failed to connect with audiences.
She starred in Demolition alongside Jake Gyllenhaal, delivering a solid performance as a customer service representative.
She also appeared in Three Generations as the mother of a young transgender man, receiving a limited release in 2017 after a delayed schedule.
In The Bleeder, she played the second wife of boxer, Chuck Wepner, earning praise for her spirited portrayal.
Additionally, Watts headlined the thriller Shut In as a psychologist trapped with her child during a winter storm, but the film received negative reviews.
In 2017, Watts had a notable television role in the limited event series Twin Peaks, which received critical acclaim upon its broadcast on Showtime.
She also starred in the Netflix drama series Gypsy as a therapist who develops dangerous and intimate relationships with her patients' loved ones. Watts served as an executive producer for the show, but despite mixed response, Gypsy was canceled after one season.
In the film The Book of Henry, she portrayed the mother of a young genius who plans to save their neighbor from abuse, receiving polarized reviews, but Rolling Stone praised Watts as excellent in her role.
She also appeared in The Glass Castle, based on Jeannette Walls's memoir, playing the nonconformist mother of the author.
In 2019, Watts portrayed Gretchen Carlson in the Showtime miniseries The Loudest Voice, focusing on Roger Ailes's sexual harassment scandal.
She continued her film work in 2019 with Penguin Bloom, Boss Level, and This Is The Night.
Moving to 2022, Watts took on a lead role in Netflix's The Watcher as Nora Brannock, alongside Bobby Cannavale as Dean Brannock.
Naomi Watts Net Worth
Naomi Watts, a talented British-Australian actress, has established a net worth of $35 million through her successful career in television and film spanning several decades. With an annual income exceeding $3 million, Watts has garnered recognition and acclaim for her remarkable performances. She gained significant fame for her role in the psychological thriller "Mulholland Drive" in 2001, which propelled her career to new heights. Notably, she is best known for her work in "The Ring" and has been honored with prestigious awards, including Academy Awards, Golden Globe Awards, and Screen Actors Guild Awards, among others. Watts continues to showcase her acting prowess in both television and film, currently captivating audiences as Nora Brannock in the mystery-thriller miniseries "The Watcher," available for streaming on Netflix. With her exceptional talent and contributions to the industry, she stands as one of the leading actresses in the film world, having graced popular shows and movies throughout her illustrious career.
In addition to her successful acting career, Naomi Watts has expanded her endeavors into various fields. She has ventured into the world of skincare and DIY interior design projects, showcasing her creative talents beyond the realm of entertainment. Recently, Watts has revealed her aspirations to spearhead a menopause revolution by collaborating with the wellness brand Stripes, highlighting her dedication to promoting women's health and well-being during this life stage. Alongside her professional pursuits, Watts has also been involved in several brand endorsements, further solidifying her influence and versatility. She has served as the European brand ambassador for Astalift, a renowned anti-aging skincare line by Fuji Film. Additionally, she has endorsed prominent brands such as David Yurman, Pantene, L'Oréal, and Fendi, showcasing her wide-ranging appeal and versatility as a brand ambassador. Notably, in 2008, Watts was honored to be the ambassador for Thierry Mugler's iconic Angel fragrance, further establishing her presence in the world of fashion and beauty.
Naomi Watts Wife & Children
Naomi Watts, a talented actress, is currently married to her husband, Billy Crudup. They began dating in July 2017 and made their relationship public in April 2018, attending the New York Academy of Art Tribeca Ball together. On June 9, 2023, the couple tied the knot in a low-key ceremony. Her sexual orientation is straight. Prior to her marriage to Crudup, Watts had been in relationships with notable individuals. She dated Jamaican director and producer Stephen Hopkins from 1999 to 2001, and then had a relationship with Australian actor Heath Ledger from August 2002 to May 2004, whom she met during the filming of the movie "Ned Kelly." In the spring of 2005, Watts started dating Liev Schreiber, whom she met at a Costume Ball in Manhattan. They got engaged in 2007 and have two sons together named Alexander "Sasha" Pete (born July 2007 in Los Angeles) and Samuel "Sammy" Kai (born December 2008 in NYC). Although Watts expressed a desire to have a third child, their relationship ended in September 2016.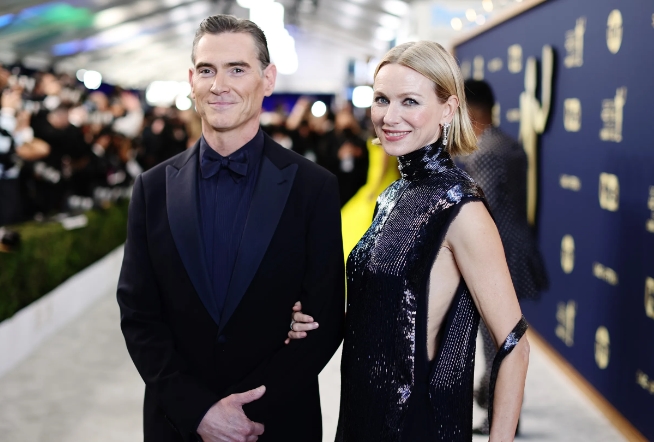 Naomi Watts Height & Weight
Naomi Watts, a stunning actress known for her remarkable talent, possesses an impressive set of body stats. With a slim build, she stands at 5 ft 5 in or 165 cm and maintains a weight of 57 kg or 125.6 pounds. Her beautiful blonde hair and captivating blue eyes add to her distinctive features. Notably, she is recognized for her unique front two teeth and often takes on roles in film remakes, portraying characters that endure suffering or loss. Her measurements are reported to be 34-25-34 in or 86-63.5-86 cm, and she comfortably wears a dress size of 2 (US) or 34 (EU) and a shoe size of 7 (US) or 37.5 (EU). To maintain her enviable shape, Watts follows a balanced approach to her diet and fitness regimen. She adheres to a diet consisting of 40% carbs, 30% fats, and 30% proteins. With the guidance of certified Pilates instructor Daniel Loigerot, she incorporates Pilates workouts into her routine. Additionally, Watts practices the Transcendental Meditation technique, a form of meditation performed twice a day in a seated position with closed eyes, to promote overall well-being. She has got a healthy body at present.