Nathan Fillion is a Canadian-American actor. He is famous for his iconic roles as Captain Malcolm "Mal" Reynolds in the TV series "Firefly" and its cinematic continuation "Serenity," as well as Richard Castle in the hit show "Castle." Since 2018, he has graced the screen as John Nolan in "The Rookie" and serves as an executive producer for both the series and its spin-off, "The Rookie: Feds." Beyond television, Nathan is set to bring the character Guy Gardner/Green Lantern to life in James Gunn's DC Universe, having previously lent his voice to Hal Jordan/Green Lantern in various animated DC Comics projects.
Nathan Fillion Family Details
Born on March 27, 1971, in Edmonton, Alberta, Canada, Nathan Fillion spent his early childhood in Mill Woods neighborhood of Edmonton. Holding dual Canadian-American nationality, he proudly represents a diverse mixed ethnicity, tracing his roots to French-Canadian, Norwegian, German, Finland-Swedish, and Finnish ancestry. Nathan is the younger of two sons born to his father, Robert "Bob" Fillion, and mother, June "Cookie" Early, both retired English teachers, and he shares his journey with his older brother, Jeff Fillion, who serves as the principal of St. Elizabeth Seton Roman Catholic Elementary/Junior High School in Edmonton. As of 2023, Nathan celebrated his 52nd birthday.
His educational path led him through Edmonton, where he completed his secondary and post-secondary education, including stints at Holy Trinity Catholic High School, Concordia University College of Alberta, and the University of Alberta, where he was a member of the Kappa Alpha Society. Notably, he became a U.S. citizen in 1997.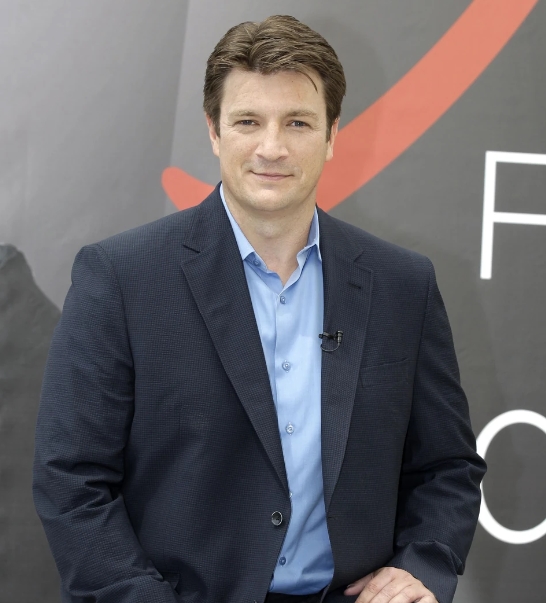 Nathan Fillion Acting Career
Nathan Fillion initially appeared in the soap opera role in "Die-Nasty".
He then moved to New York City in 1994, where he earned a Daytime Emmy Award nomination for his role as Joey Buchanan in the soap opera "One Life to Live."
Later, in Los Angeles, he took on supporting roles in the sitcom "Two Guys, a Girl, and a Pizza Place" and starred as James Frederick "The Minnesota" Ryan in Steven Spielberg's "Saving Private Ryan."
In 2002, Fillion gained significant recognition as Captain Malcolm Reynolds in Joss Whedon's "Firefly," winning the Cinescape Genre Face of the Future – Male award. He reprised this role in the film adaptation "Serenity" in 2005.
His career also includes voice acting roles in series like "King of the Hill" and the video game "Jade Empire," as well as portraying Green Lantern/Hal Jordan in various animated productions.
He then starred in "Slither" (2006) and "Waitress" (2007) and made appearances in shows like "Lost."
Fillion joined ABC's "Desperate Housewives" in 2007 and voiced characters in the "Halo" video game series.
In March 2009, he embarked on his iconic role as Richard Castle in the ABC television series "Castle".
Throughout his career, he garnered significant attention, ranking on BuddyTV's lists of TV's Sexiest Men and being recognized for his on-screen chemistry with co-stars.
He also ventured into web content, appearing in various web series and hosted the 2013 WGA West Coast Awards.
His involvement extended to video games, with Fillion voicing Cayde-6 in "Destiny" and its sequel "Destiny 2."
Additionally, he co-created and starred in the web series "Con Man" with Alan Tudyk and took on recurring roles in Netflix series like "Santa Clarita Diet" and "A Series of Unfortunate Events."
In 2018, he starred as John Nolan in the ABC series "The Rookie" and gained acclaim for his portrayal of T.D.K. in James Gunn's "The Suicide Squad."
His film career continued to flourish with roles in "Guardians of the Galaxy Vol. 3" and as Guy Gardner/Green Lantern in Gunn's DCU project.
Fillion's versatile career also includes an acclaimed live-action short film based on the "Uncharted" video game franchise and upcoming projects like "Skincare" alongside Elizabeth Banks.
Nathan Fillion Awards and Achievements
2003: Saturn Award for Cinescape Genre Face of the Future – Male for "Firefly."
2005: SFX Award for Best Actor for "Serenity."
2011: TV Guide Award for Favorite Couple Who Should Get Together (with Stana Katic) for "Castle."
2012: TV Guide Award for Favorite TV Couple (with Stana Katic) for "Castle."
2012: People's Choice Award for Favorite TV Drama Actor.
2013: TV Guide Award for Favorite TV Couple (with Stana Katic) for "Castle."
2013: People's Choice Award for Favorite Dramatic TV Actor.
2015: People's Choice Award for Favorite Crime Drama TV Actor.
2016: People's Choice Award for Favorite Crime Drama TV Actor.
Nathan Fillion Wife
Nathan Fillion is currently relishing his single life without any romantic entanglements. Thus, he has no wife. Over the years, he has had several noteworthy relationships. In the mid-90s, he was romantically involved with Vanessa Marcil from 1995 to 1996. Subsequently, he dated Stana Katic from 2009 to 2012 and Kate Luyben from 2010 to 2011. Nathan briefly got engaged to Christina Ochoa in 2013, and during the same period, he was also in a relationship with Mikaela Hoover. Later on, he had a significant relationship with Krista Allen that spanned from 2015 to 2020. However, as of now, Nathan Fillion is enjoying the bliss of singlehood.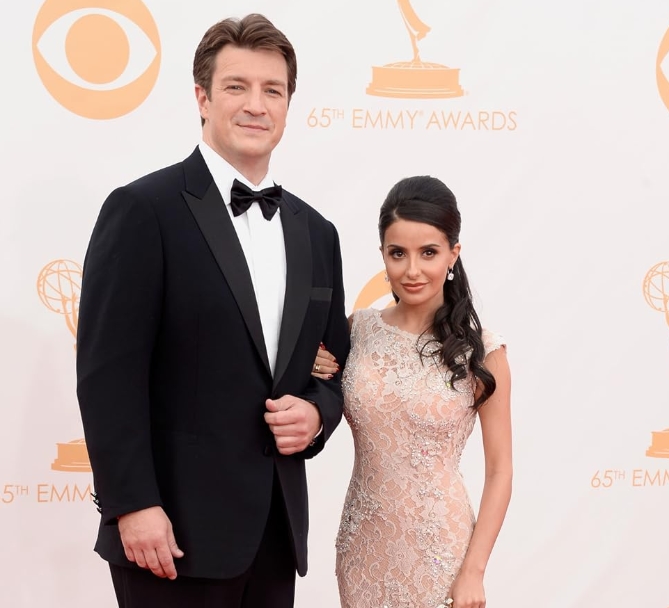 Nathan Fillion Net Worth
Nathan Fillion, a highly accomplished actor, has an estimated net worth of $25 million as of 2023. His primarily source of wealth comes from the entertainment industry. With an annual income exceeding $5 million, he has solidified his financial success. Renowned for his exceptional talent, he has left an indelible mark on television with iconic roles in series like Firefly, Castle, and The Rookie. His substantial earnings have afforded him a lavish lifestyle befitting his impressive career achievements.
Nathan Fillion Eyes
Nathan Fillion, the handsome actor known for his charismatic presence on screen, possesses an average build that stands at an impressive height of 6 feet 1½ inches (187 cm) and a solid weight of 96 kg (212 lbs). His light brown hair complements his striking blue eyes, which are one of his distinctive features, alongside his slightly heavyset body, creating a captivating and unforgettable presence in the world of entertainment. He has got a healthy body at present.