Neeraj Chopra is a junior commissioned officer (JCO) with the rank of Naib Subedar in the Indian Army from Panipat, Haryana, who is best known as an Indian track and field athlete in Javelin Throw. At the 2020 Summer Olympics, on 7th August 2021, he accomplished with a throw of 87.58 meters in his second attempt and won the first Olympics 2020 gold medal for India. With this, he became the 2nd person after Abhinav Bindra to win a gold in any Individual games for the country. Apart from the Olympics, he has won many Gold Medals such as in Asian Games (2018), Commonwealth Games (2018), Asian Championship (2017), South Asian games (2016), and World Junior Championships (2016).
Moreover, setting the world junior record of 86.48m in 2016, he is the first Indian athlete to win gold at the International Association of Athletics Federations (IAAF) U-20 World Championships in track and field. In 2018, he was also recommended by the AFI for the country's highest sports award, the Khel Ratna but was awarded the Arjuna Award in September of that year. He was also honored with Vishisth Seva Medal (VSM) at the 2020 Republic Day. He also received the Sportsman of the Decade (Track and Field) award at the 2021 Sportstar ACES Awards.

Besides his sports career, he is also active on social media platforms such as Instagram and Twitter. His official Instagram handle @neeraj_chopra boasts 2.7 million followers and he has more than 346.9k followers on his official Twitter handle @Neeraj_chopra1. Also, his official Facebook page has around 284k followers.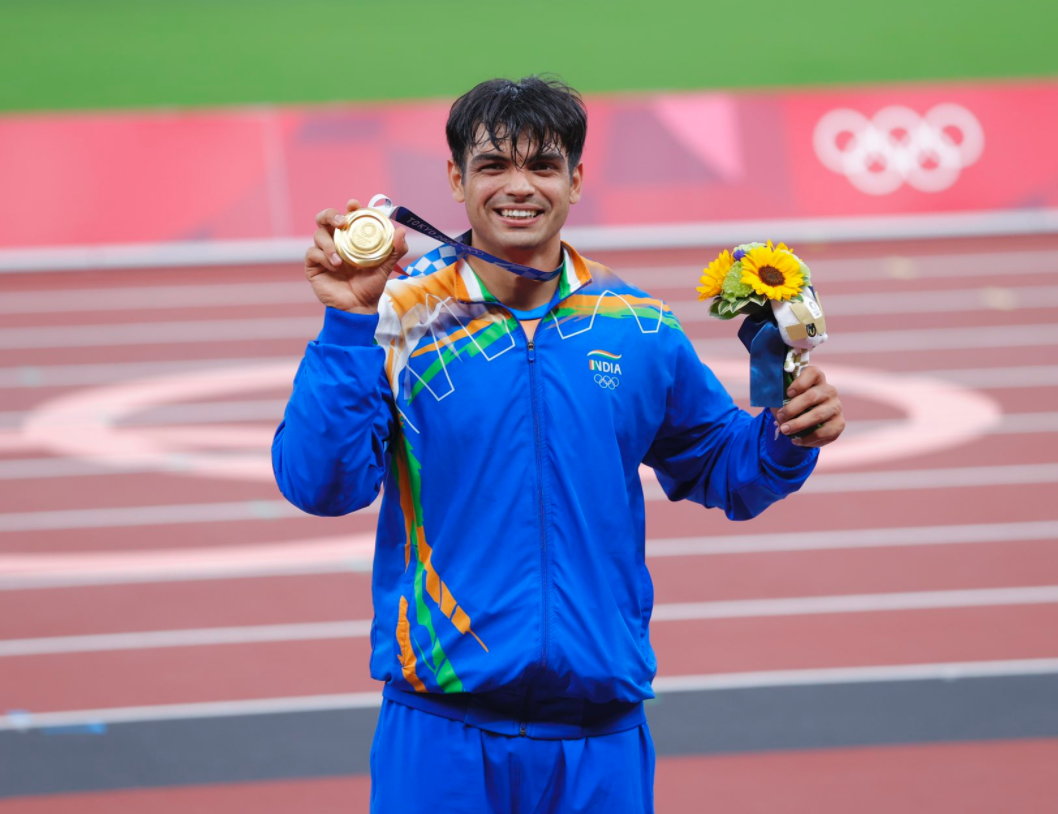 Neeraj Chopra Parents & Education
Neeraj Chopra was born on 24th December 1997 in Khandra village, Panipat district, Haryana, India to a large Haryanvi farming-based family. His father, Satish Kumar Chopra is a farmer, and his mother, Saroj Devi is a housewife. He has two sisters named Sangeeta and Sarita. He holds Indian nationality and belongs to an Asian ethnic background. He has an ancestral root of the Rod Maratha clan.
Regarding his educational background, he attended Dayanand Anglo-Vedic (DAV) College in Chandigarh. Currently, he is pursuing a Bachelor of arts degree from Lovely Professional University (LPU) in Jalandhar, Punjab.
Chopra was an obese child at an early age. His father was concerned about his son's weight and enrolled him in a gymnasium at Madlauda where he had to cycle to and from 24 kilometers each day but he didn't like the Madlauda gym and enrolled in a gym at Panipat. While he was at Panipat gym, Javelin thrower Jaiveer Choudhary recognized his talent, observing his ability to achieve a 40-meter throw without training. Jaiveer became the first coach of Neeraj Chopra and began coaching him. Later on, he was admitted to the Tau Devi Lal Sports Complex in Panchkula where he started training under coach Naseem Ahmad, who trained him in long-distance running along with the javelin throw. He is currently being coached by German retired track and field athlete Uwe Hohn.

Neeraj Chopra Personal Life
Neeraj Chopra is Unmarried and supposed to be single. Because he has not shared any information regarding his relationship status. Currently, he is enjoying his solitary life and focused on his Javelin career. However, he was rumored to be dating wrestler Vinesh Phogat previously. But, the news was never confirmed officially. Moreover, Vinesh got married to fellow wrestler Somvir Rathee on 13th December 2018.
Neeraj Chopra Net Worth, Salary & Prize Money
Indian Javelin Thrower, Neeraj Chopra has amassed good fortune from his sports career. He has an estimated net worth of around Rs. 30 crore INR as of 2021. His estimated annual Income is Rs. 7 crore INR at the same time. He also has an impressive salary as a Naib Subedar of the Indian Army. However, his exact salary is not known. In addition, he is sponsored by JSW Sports and Sports Authority of India. He has also appeared in several commercials of famous brands, including Mobil India Lubricants, Amstrad AC, Gillette India, Gatorade, MuscleBlaze, and Exxon Mobile.
Following his gold medal win at the 2020 Tokyo Olympics, the athlete has been honored by several state governments and private organizations for his remarkable achievement. As prize money, he will get 75 lakh INR (US $110,000) from the Government of India, 6 crores INR (US $840,000) from the Government of Haryana, 2crores INR (US $280,000) from Indian multinational educational technology company 'BYJU'S', 2 crores INR (US $280,000) from the Government of Punjab, 1 crore INR (US $140,000) from the Government of Manipur, 1 crore (the US $140,000) from the board of Control for Cricket in India, 1 crore (US $140,000) from Chennai Super Kings and a personalized jersey, 25 lakh (US $35,00) from the Elan realty group, Gurugram and 75 lakh (US $110,000) from the Indian Olympic Association.

Moreover, the Chairman of Mahindra and Mahindra, Anand Mahindra has announced to give a brand new XUV 700 (US $35,000) to Chopra when he returns to India, and an Indian airliner 'IndiGo' has offered him1-year free unlimited travel in IndiGo Flights. the offer is applicable from 8th August 2021 till 7th August 2022.
Neeraj Chopra Height & Weight
Indian track and field athlete, Neeraj Chopra has a muscular type athletic body Physique. He stands at 1.8m (5 feet and 11 inches) tall while his body weighs around 86kg (189 lbs.). He has a pair of black eyes and his hair color is also black. His sexual orientation is straight.

International Competitions
2013- World Youth Championships in Donetsk, Ukraine
2015- Asian Championships in Wuhan, China
2016- 2016 South Asian Games in Guwahati, India
2016- Asian Junior Championships in Ho Chi Minh City, Vietnam
2016- World U20 Championships in Bydgoszcz, Poland
2017- Asian Grand Prix Series in Jinhua, China
2017- Asian Grand Prix Series in Jiaxing, China
2017- Asian Grand Prix Series in Taipei, Taiwan
2017- Asian Championships in Bhubaneswar, India
2017- IAAF Diamond League in Paris, France
2017- IAAF Diamond League in Fontvieille, Monaco
2017- IAAF Diamond League in Zurich, Switzerland
2017- World Championships in London, United Kingdom
2018- Offenburg Speerwurf Meeting in Offenburg, Germany
2018- Commonwealth Games in Gold Coast, Australia
2018- IAAF Diamond League in Doha Qatar
2018- IAAF Diamond League in Eugene, Oregon, United States
2018- IAAF Diamond League in Rabat, Morocco
2018- IAAF Diamond League in Zurich, Switzerland
2018- Sotteville Athletics Meet in Sotteville-Les-Rouen, France
2018- Savo Games in Lapinlahti, Finland
2018- Asian Games in Jakarta and Palembang, Indonesia
2020- Kourtane Games in Finland
2021- Tokyo Olympics 2020 in Tokyo, Japan
Records

2018- National Record of 88.06-meter mark at the Asian games
2021- National record of 88.07-meter mark at the Indian Grand Prix
Medals
Gold
2016- South Asian Games in Guwahati, India
2016- World u20 Championships in Bydgoszcz, Poland
2017- Asian Championships in Bhubaneswar, India
2018- Commonwealth Games in Gold coast, Australia
2018- Sotteville Athletics meet Sotteville-Les-Rouen, France
2018- Savo Games in Lapinlahti, Finland
2018- Asian Games in Jakarta and Palembang, Indonesia
2021- Tokyo Olympics 2020 With a mark of 87.58m
Silver
2016- Asian Junior Championships in Ho Ci Minh City, Vietnam
2017- Asian Grand Prix Series in Jinhua, China
2017- Asian Grand Prix Series in Jiaxing, China
2018- Offenburg Speerwurf Meeting in Offenburg, Germany
Bronze
2017- Asian Prix Series in Taipei, Taiwan

Awards & Achievements
2017- Hindustan Times Top 30 Under 30
2018- Arjuna Award
2020- VIshist Seva Medal (VSM)- 2020 Republic Day honors)
2021-Sportstar ACES Award- Sportsman of the Decade (Track and Field)