Neil Percival Young famed as Neil Young is a Canadian American singer-songwriter, multi-instrumentalist, and activist. He is considered by some as one of the most influential and prolific songwriters of all time. In the 1960s, he moved to Los Angeles, where he formed Buffalo Springfield with Stephen Stills, Richie Furay, and others. He had released two solo albums and three as a member of Buffalo Springfield by the time he joined Crosby, Stills & Nash in 1969. He has received several Grammy and Juno awards. The Rock and Roll Hall of Fame inducted him twice: as a solo artist in 1995 and in 1997 as a member of Buffalo Springfield. He became a United States citizen, taking dual citizenship on 22nd January 2020. Overall, he is a very talented singer.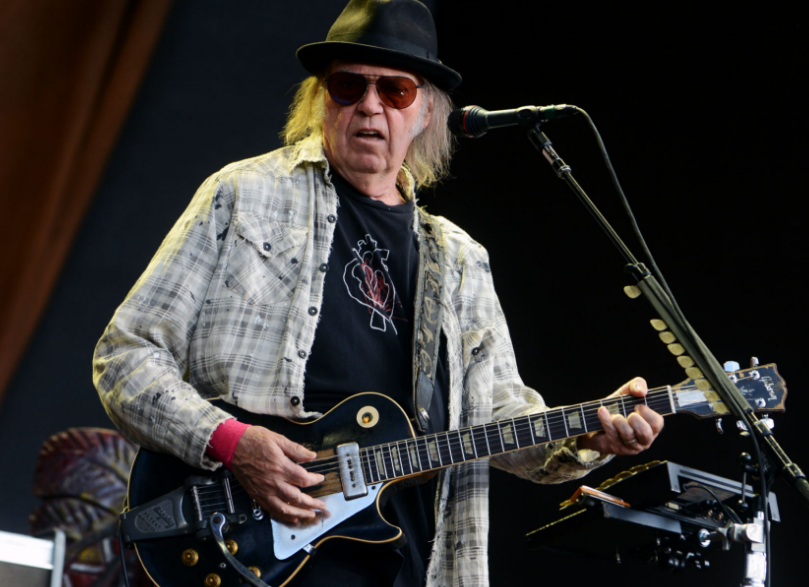 Source: @nme.com
Neil Young calls Trump 'disgrace to my country' in open letter
Neil Young is no fan of Donald Trump. In an open letter published on his website on Tuesday, the aging rocker told the president directly: "You are a disgrace to my country." Young, who is originally from Canada, revealed last month that he's now a citizen of the United States and plans to use his new status to vote Democrat. The 74-year-old singer used the letter to Trump to show his support for former President Barack Obama and Sen. Bernie Sanders, I-Vt. "Your mindless destruction of our shared natural resources, our environment and our relationships with friends around the world is unforgivable. Your policies, decisions and short term thinking continue to exacerbate the Climate Crisis. Our first black president was a better man than you are," he said in his letter to Trump. He also took issue in the letter with Trump playing his music at his rallies: "I hope you hear my voice. Remember it is the voice of a tax-paying US citizen who does not support you. Me."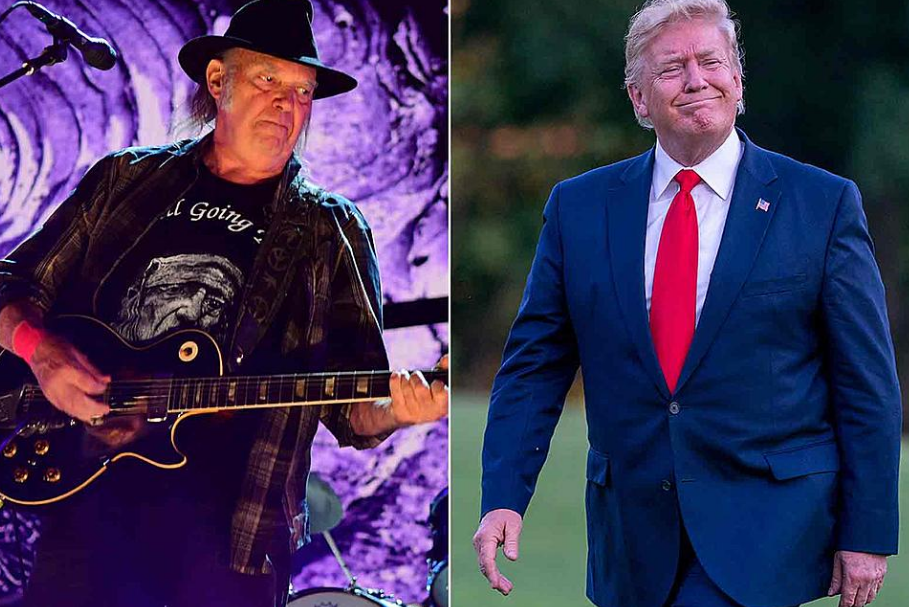 Source: @ultimateclassicrock.com
What is the Nationality of Neil Young?
Neil Young was born on November 12, 1945, as Neil Percival Young in Toronto, Ontario, Canada to Scott Alexander Young, a sports journalist and Edna Blow Ragland "Rassy" Young, member of the 'Daughters of the American Revolution'. He also has an elder brother, Robert 'Bob' Young. In his early childhood, he was diagnosed with type 1 diabetes and in 1951 suffered from a bout of polio. But he recovered from the diseases and the family settled in north Toronto after residing at various places. When he was 12 years old, his mother filed for divorce because of his father's extramarital affairs and they got divorced in 1960. After the divorce, he went to live with his mother at Winnipeg, Manitoba, Canada while his brother stayed with his father in Toronto. In Winnipeg, he was enrolled at the Earl Grey Junior High School. His nationality is Canadian and his ethnicity is White. As of 2019, he celebrated his 74th birthday. He is Christian by religion.
How Neil Young began his career?
At the age of 10, Neil Young was attracted to the music genres such as rock and roll, country and western pop.
He was also influenced by a number of musical bands.
He then began playing the ukulele; this was his first step towards becoming a musician.
In Winnipeg, he was enrolled at the Earl Grey Junior High School where he formed his first band, The Jades, with Ken Koblun, John Daniel, David Gregg, and Jim Atkin.
In the year 1963, he formed his first stable band in Kelvin High School, The Squires, with Ken Koblun, Jeff Wuckert, and Bill Edmondson.
He left his school and used to perform at Fort William with his band where he first met Stephen Stills, a member of a folk-rock band, with whom he collaborated in later years.
In the mid-1960s, he left his band, The Squires, and continued to work in folk clubs where he met Joni Mitchell, musician, and songwriter.
He then recorded his first hit song 'Flying on the Ground is Wrong' with a Winnipeg band, The Guess Who.
In the year 1966, he joined a band led by singer Rick James, The Mynah Birds, and the band sealed a deal with the Motown label.
But, when Rick was arrested and the band broke up, he went to Los Angeles along with the band's bass player, Bruce Palmer, to find work.
In Los Angeles, they met Stephen Stills and formed a band, called Buffalo Springfield along with guitarist Richie Furay and drummer Dewey Martin.
They released their first album, 'Buffalo Springfield' in the year 1966, which was a commercial success.
The band released two more albums before splitting up in the year 1968.
In 1969, he collaborated with a band 'Crazy Horse' and released his famous album, 'Everybody Knows This Is Nowhere'.
He left the band after some time but recorded some of his hits with them in the later years.
In late 1969, he reunited with Stephen Stills but in a different band called CSN&Y.
The band won the "Best New Artist" Grammy Award in 1969. Even though Young left the band in the early 1970s, the band continued to perform with the remaining three members and reunited several times with him for recording albums.
He has released numerous successful albums over the years such as 'On the Beach' (1974), 'Long May You Run' (1976), 'Rust Never Sleeps' (1979), 'Trans' (1982), 'American Dreams' (1988), 'Freedom' (1989) and the 2003 album 'Greendale'.
He also directed or co-directed several films such as 'Journey Through the Past' (1979), 'Human Highway' (1982) and 'CSNY Deja Vu' (2008) using the pseudonym Bernard Shakey and acted in various documentaries and concert films.
1992's Harvest Moon marked an abrupt return to the country and folk-rock stylings of Harvest (1972) and reunited him with some of the musicians from that album, including singers Linda Ronstadt and James Taylor.
He has over 30 studio albums till date, the latest one being 'A Letter Home' released in April 2014.
He has performed in various live albums, tours and concerts around the globe in his career.
He released his thirty-fifth studio album, Storytone on November 4, 2014.
In August 2019, The Guardian reported Young, among other environmental activists, was being spied on by the firm.
On 19th October 2018, he released a live version of his song "Campaigner".
On 25th June 2019, The New York Times Magazine listed Neil Young among hundreds of artists whose material was reportedly destroyed in the 2008 Universal fire.
On 19th August 2019, Neil Young and Crazy Horse announced the forthcoming release later in August 2019 of the new song "Rainbow of Colors", the first single from the forthcoming 10-track studio LP Colorado.
On 30th August 2019, he unveiled "Milky Way", the first song from Colorado, a love ballad Young had performed several times at concerts over the past few months – both solo acoustic and with Promise of the Real.
Who is the Wife of Neil Young?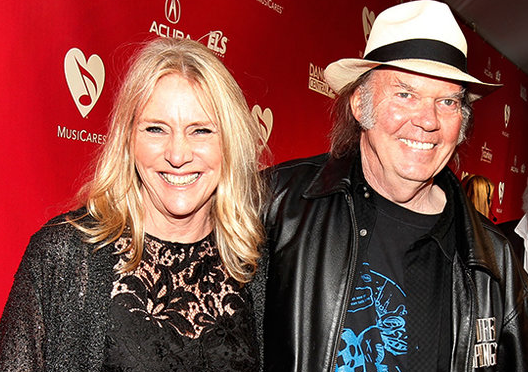 Source: @billboard.com
Neil Young is a married person. Firstly, he married Susan Acevedo in December 1969. Later the duo split in October 1970. From late 1970 to 1975, Young was in a relationship with actress Carrie Snodgress. After that, he was married to Pegi Young in August 1978. They spent 36 years together until he filed for divorce from her in July 2014. He has two children with his ex-wife (Pegi Young); a boy, Ben, who is also diagnosed with cerebral palsy and a daughter, Amber Jean, who is diagnosed with epilepsy, like him. Pegi died on January 1, 2019. He also has a boy from his relationship with the actress Carrie Snodgress, Zeke, diagnosed with cerebral palsy.
What is the Net Worth of Neil Young?
The net worth of this famous singer is estimated to have $65 Million as of 2020. He is earning a huge amount of money from his singing career. Whereas his exact salary is under review but it will be added once we get information about it. As of today, he is satisfied with his earnings.
How tall is Neil Young?
Neil Young, at the age of seventy-four, he still looks very handsome with a charming personality. He has a tall height of six feet one inches with a balanced bodyweight of 82 Kg. Unfortunately, his other body measurements have not been published by any sources yet but it will be added once we get information about it.