About Olivia Munn
Olivia Munn is a famous American actress. She rose to fame after playing the character Sloan Sabbith on Aaron Sorkin's drama series "The Newsroom" (2012-2014) on HBO for which she won Gracie Allen Award for Outstanding Female Actor in a Supporting Role. Initially, she was a Fox Sports reporter for women's college basketball and football teams as a sideline interviewer but she didn't like the job and tried her luck as an actress. She made her debut role a low budget 2004 direct-to-video film "Scarecrow Gone Wild" for her role as girl #1. She served as the co-host of the G4's live television program Attack of the Show! from the year 2006 to 2010 which is her debut TV show. She was also a correspondent on "The Daily Show with Jon Stewart" from 2010 to 2011. She has also appeared in films such as Magic Mike (2012), the horror film Deliver Us from Evil (2014), the comedy Mortdecai (2015), and X-Men: Apocalypse (2016) as Psylocke. She also provided the voice of Koko in "The Lego Ninjago Movie", and also had a lead role on the History Channel series "Six" (2017). Additionally, she has also participated in a PETA campaign multiple times in April 2010, January 2012, and February 2013 and she is also a regular one in the "Maxim's Hot 100 Women" list. She was at #99 in 2008, #96 in 2009, #8 in 2010, #2 in 2011, #2 in 2012 and #28 in 2013. If she didn't jump off to acting career, she would have been a molecular biologist astronaut or neurosurgeon. She is also nicknamed as The Geek Goddess, The Pie Queen, Munnder Woman, The Big O, Freckles, Ladyface, The Munnster, Munnchichi, O Munn. Recently, Olivia and her boyfriend, Tucker Roberts broke up after dating a year.
Recently, Olivia Munn told Whitney Cummings about her lackluster sex life with an unnamed ex in recent episodes of Good For You podcast. The star told Whitney Cummings of the Good For You podcast that one of her previous boyfriends, whose name she kept private, wasn't exactly a stimulating partner. To be exact, the 40-year-old said, "I have this one boyfriend, in particular, that was just the worst, the worst at just having sex." "In fact, he went down on me twice during the years we were together, and I asked him once and said, 'Why don't you ever go down? By the way, I don't want you to. But I'm just wondering why because I feel like most guys I can't get out of my vagina'," she explained. "And I'm like, 'You have to fake it all the time.'" She said he explained to her, "Well, I just haven't had a lot of, you know, experience doing it."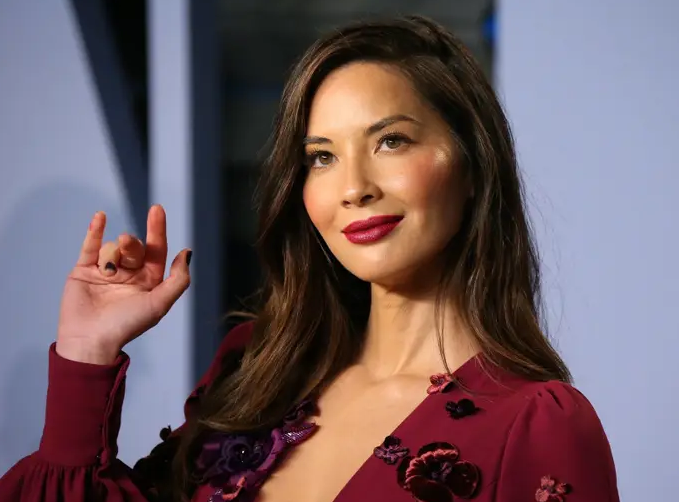 Source: @buzzfeed
Olivia Munn is famous for being an actress and for her role on Aaron Sorkin's drama series "The Newsroom" (2012-2014) on HBO. She is best known for working as a model with famous brands and gracing several magazine covers. She has also been included in the "Hot 100 Women" list of many men's magazines.
On 3rd July 1980, Olivia Munn was born with the birth name/real name of Lisa Olivia Munn. Her birthplace is in Oklahoma City, Oklahoma, the USA. She was born in the U.S. but relocated to several places due to her second father's (stepfather) job in the United States Air Force. Due to this, Olivia grew up primarily in Tokyo, Japan. Her ethnicity is Multiracial as she has Chinese ancestry on her mother's side and is of Irish and German descent on her father's side. She was born to her parents; Winston Munn (father) and Kimberly Nguyen (mother). When Munn was two years old, her parents divorced and her mother remarried to a member of the United States Air Force. Later, Her mother and stepfather divorced when Munn was a teenager, and she moved back to Oklahoma with her mother. She also has three siblings; a sister, Sara Potts, and brothers, John Boyd, and James. Her Zodiac sign is Cancer. She seems to be non-religious. She is currently residing in Los Angeles and New York. As per her education, she attended Putnam City North High School in Oklahoma City, Oklahoma. She, later, majored in journalism and minored in Japanese and dramatic arts from the University of Oklahoma. As of 2020, she celebrated her 40th birthday.
With a slim body build, Olivia Munn stands at the tall height of 5 ft 4 in or 163 cm. Her balanced weight consists of 52 KG. Her hair color is dark brown and her eye color is hazel. Her body measures 36-25-35 in or 91.5-63.5-89 cm. Her dress size is 4-6 US and her bra size is 34B. Her shoe size is 7.5 US. She previously worked on her body seriously and lost 16 pounds in 60 days. She worked on the principle of "If I can't see it, I don't eat it". She has never colored her hair.
Olivia Munn's Acting Career
Starting a career as an intern at the NBC affiliate in Tulsa; Olivia Munn shifted to LA to achieve her career in the field of acting.
In her early phase, she has also interned at Fox Sports Networks and worked as a sideline reporter for college football and women's basketball in the year 2004.
Heading towards her acting career, she was cast in a small role in the direct-to-video horror film "Scarecrow Gone Wild" and she also appeared in rock band Zebrahead's music video for their song "Hello Tomorrow" as the love interest of the lead singer Justin Mauriello.
After that, she appeared in another film, "National Lampoon's Strip Poker" and made her role as teen surfer Mily Acuna over two seasons of the television drama "Beyond the Break" on The N network.
She also appeared in the film "The Road to Canyon Lake".
She began co-hosting "Attack of the Show" in the year 2006 by replacing Sarah Lane.
She also hosted Formula D, an online podcast called Around the Net.
She also made her role in the horror film "Insanitarium".
In 2010, she appeared in Date Night and Iron Man.
She also appeared in ABC Family's "Greek", portraying Cappie's love interest, Lana, and also starred in "Perfect Couples".
She then debuted in her new role as a correspondent on Comedy Central's "The Daily Show" and she also guest-starred on NBC's comedy-drama "Chuck" as a CIA agent in 2010.
In 2011, she appeared in "I Don't Know How She Does It" as Momo and appeared the leading role in "The Babymakers" in 2012.
She then appeared as Angie, Nick's stripper girlfriend, in three episodes in Season Two of FOX's sitcom "New Girl".
She rose to fame after getting a lead role in Aaron Sorkin's drama series "The Newsroom" on HBO where she played Sloan Sabbith, an economist who worked on the shows fictional news network, ACN, alongside lead anchor Will McAvoy (Jeff Daniels).
She also served as a correspondent in "True Colors," the May 12, 2014 episode of the Showtime documentary series "Years of Living Dangerously".
Moreover, she has been the voice of the character Phoebe Callisto on the Disney Junior animated series "Miles from Tomorrowland" since January 2015.
In the year 2016, she was cast as Elizabeth Braddock / Psylocke (one of Apocalypse's Four Horsemen) in "X-Men: Apocalypse".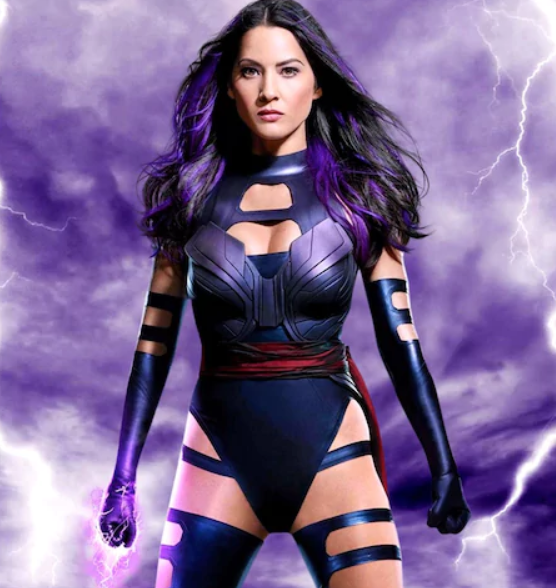 Source: @telegraph.co.uk
She also had a starring role in the television series "Six" as a CIA operative and appeared on Season 13 of "America's Got Talent" as a guest judge in the season's second Judge Cuts episode.
Beside this,
She has appeared on the Fall 2006 cover of Foam magazine in September, in Men's Edge magazine in August, and was featured in a pictorial in Complex in November 2006, where she later became a columnist.
She appeared as "Babe of the Month" in a non-nude pictorial in Playboy magazine in 2007.
She also appeared in the July/August 2007 issue of Men's Health and was featured in the Italian Vanity Fair for their "Hot Young Hollywood" Issue in the same year.
She was featured as the cover girl for the July/August 2009 issue of Playboy, and later on the cover of the January 2010 and February 2011 issues of Maxim.
Her book "Suck It, Wonder Woman: The Misadventures of a Hollywood Geek" was released on 6th July 2010.
Is Olivia Munn Married?
Olivia Munn is not married yet and she is still to get married. As of today, Olivia Munn seems to be single. Recently, Olivia and her boyfriend, Tucker Roberts broke up after dating a year. The duo was first publicly seen in December 2018 in Los Angeles. Tucker is the son of Comcast CEO Brian Roberts. Munn made her relationship with an Instagram official in November 2019, after attending her friend's Day of the Dead celebration. After their break up, Olivia said, "I've really come to a realization with myself that I'm already in my happily ever after. And if I want to have kids or want to get married then I'll do that, but it has to add to my life, you know? Everything has to add to my life". "I already love my life as it is. I'm excited about anything that might come my way, but I've already reached the pinnacle for me, what I think happiness should look like," she continued. "I've got amazing girlfriends. I've got my pets. I've got my career. I'm really, really happy. Anything else that wants to come into my life has to add." As of now, she is living a happy life without any disturbances. Her sexual orientation is straight.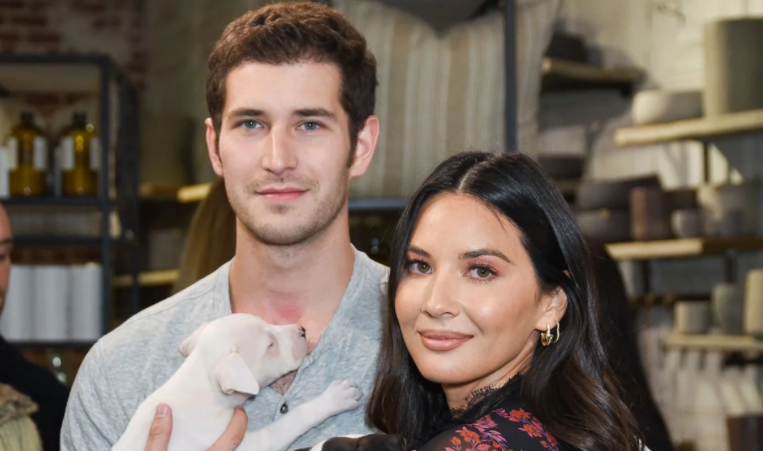 Source: @etonline
Previously, she was romantically linked with Matthew Morrison in early 2011. They were spotted together during an ice hockey match between New York Rangers and Philadelphia Flyers on February 20, 2011, in New York at Madison Square Garden. After that from November 2011 to January 2012, the actress and model dated an ice hockey player, Brad Richards. In February 2012, she started dating actor Joel Kinnaman. They dated until March 2014. She was then in a relationship with Aaron Rodgers from 2014 to 2017. In November 2017, she accused the film director, Brett Ratner of repeated sexual harassment towards her, as well as an instance of sexual assault. She has also publicly backed MeToo and Time's Up with both personal efforts and public statements.
She also teamed up with Dosomething.org's Green Your School Challenge in 2011 and also she helped PETA with a campaign that ultimately freed an ill elephant from a touring circus. In February 2013, she fronted a PETA release of new footage showing cruelty to animals in Chinese fur farms.
Olivia Munn's Net Worth 2020
Olivia Munn is a famous actress who has a net worth of $25 Million as of 2020. She has made millions of dollars from the TV movies and series she's been starring in. She has ѕtаrrеd іn mаnу hіgh grоѕѕіng mоvіеѕ, "Оffісе Сhrіѕtmаѕ Раrtу" grоѕѕеd $115 mіllіоn, "Х-Меn: Аросаlурѕе" grоѕѕеd $544 mіllіоn, аnd "Rіdе Аlоng 2" grоѕѕеd $125 mіllіоn аll аt thе bох оffісе. Ѕhе bеgаn арреаrіng іn ТV ѕеrіеѕ аnd mоvіеѕ аftеr 2004, аnd ѕhе nоw hаѕ mоrе thаn 50 сrеdіtеd асtіng rоlеѕ wіthоut thе mаnу 2018 mоvіеѕ аnd ѕеrіеѕ thаt ѕhе hаѕ lеаdіng сhаrасtеrѕ іn. Moreover, she also appeared in advertising campaigns for Nike, Pepsi and Neutrogena which also boosts up her income. She is paid a salary for her movie and television roles, often between 500,000 and 1 million per role (Salary). Her major source of earning is from acting career and she is satisfied with her earnings.