Pope Francis is the head of the Catholic Church and sovereign of the Vatican City State. He is the 266th pope of the Roman Catholic Church. Francis is the first Jesuit pope. He is also the first pope in more than a millennium who is not European. He is the first pope ever to come from the Americas and the first from the Southern Hemisphere. From 1998 until he was elected as the pope, Francis was the Archbishop of Buenos Aires. Following the resignation of Pope Benedict XVI on 28 February 2013, a papal conclave elected him as his successor on 13 March 2013 at the age of 76. He chose Francis as his papal name in honor of Saint Francis of Assisi. Scroll down to know more about his parents, facts, biography, personal life, net worth and more.
Famous For
He is well-known to the whole world as "Pope Francis" the Main leader and head of Roman Catholic Religion whose believers or followers all over the world are estimated to be 1.4 billion which is the world's highest religion composition.
He is the spiritual leader to more than one-sixth of the world's population.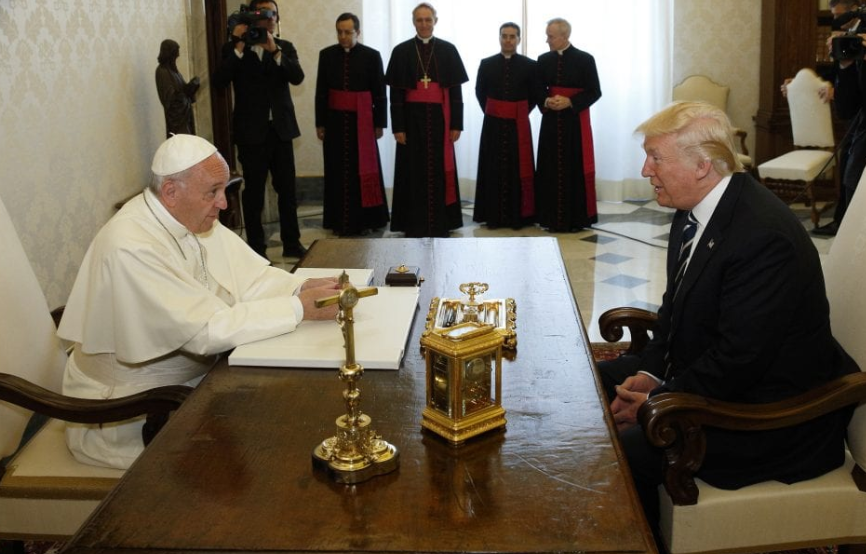 Source: @cruxnow.com
Early Life of Pope Francis
Pope Francis was born on 17 December 1936 in Flores, a neighborhood of Buenos Aires as Jorge Mario Bergoglio. He holds Argentine nationality. Although Francis was not born in Europe and he is ethnically European. He is of Italian descent. His birth sign is Sagittarius. His father's name is Mario José Bergoglio who was an Italian immigrant accountant and his mother's name is Regina María Sívori who was a housewife born in Buenos Aires to a family of northern Italian origin. He was born in Aa Middle-Class Family. His family left Italy in 1929 to escape the fascist rule of Benito Mussolini and settled in Argentina. He has got four younger siblings. Among them, two were brothers named Alberto Horacio (17 July 1942 – 15 June 2010) and Oscar Adrián (30 January 1938-deceased) and two sisters named Marta Regina (24 August 1940 – 11 July 2007) and María Elena Bergoglio who is the Pope's only living sibling. He attended Wilfrid Barón de Los Santos Ángeles, a school of the Salesians of Don Bosco, in Ramos Mejía, Buenos Aires. He attended the technical secondary school Escuela Técnica Industrial N° 27 Hipólito Yrigoyen and graduated with a Chemical Technician's Diploma. He is a Follower of Roman Catholic (Religion). His real name is Jorge Mario Bergoglio.
Career of Pope Francis
Initially, Pope Francis started his career as a Chemical technician and spent several years working in the foods section of Hickethier-Bachmann Laboratory in Buenos Aires. He also worked as a bar bouncer and as a janitor sweeping floors.
Later in the Mid of the 1950s, Pope Francis found his vocation to the priesthood while he was on his way to celebrate the Spring Day. He passed by a church to go to confession and was inspired by the priest. Then he studied at the archdiocesan seminary, Inmaculada Concepción Seminary, in Villa Devoto, Buenos Aires, and, after three years, entered the Society of Jesus as a novice on 11 March 1958. As a Jesuit novice, he studied humanities in Santiago, Chile. Bergoglio officially became a Jesuit on 12 March 1960 and in the same year, he obtained a licentiate in philosophy from the Colegio Máximo de San José in San Miguel, Buenos Aires Province.
He taught literature and psychology at the Colegio de la Inmaculada Concepción, a high school in Santa Fe, from 1964 to 1965. In 1966, he taught the same courses at the Colegio del Salvador in Buenos Aires.
In 1967, Bergoglio finished his theological studies and was ordained to the priesthood on 13 December 1969, by Archbishop Ramón José Castellano. He made a pilgrimage to Jerusalem in 1973. Bergoglio was named Auxiliary Bishop of Buenos Aires in 1992 and ordained on 27 June 1992 as titular bishop of Auca.
On 3 June 1997, Bergoglio was appointed coadjutor archbishop of Buenos Aires with right of automatic succession. Upon Quarracino's death on 28 February 1998, Bergoglio became a metropolitan archbishop of Buenos Aires.
On 6 November 1998, while remaining archbishop of Buenos Aires, he was named ordinary for those Eastern Catholics in Argentina who lacked a prelate of their own rite.
At the consistory of 21 February 2001, Archbishop Bergoglio has created a cardinal by Pope John Paul II with the title of cardinal-priest of San Roberto Bellarmino, a church served by Jesuits.
Bergoglio was elected pope at the age of 76 on 13 March 2013, the second day of the 2013 papal conclave, taking the papal name Francis. He held his papal inauguration on 19 March 2013 in St. Peter's Square in the Vatican. He celebrated Mass in the presence of various political and religious leaders from around the world.
On 16 March 2013, Pope Francis asked all those in senior positions of the Roman Curia to provisionally continue in office. He named Alfred Xuereb as his personal secretary. On 18 June 2015, he published his first own, original encyclical Laudato si' concerning care for the planet.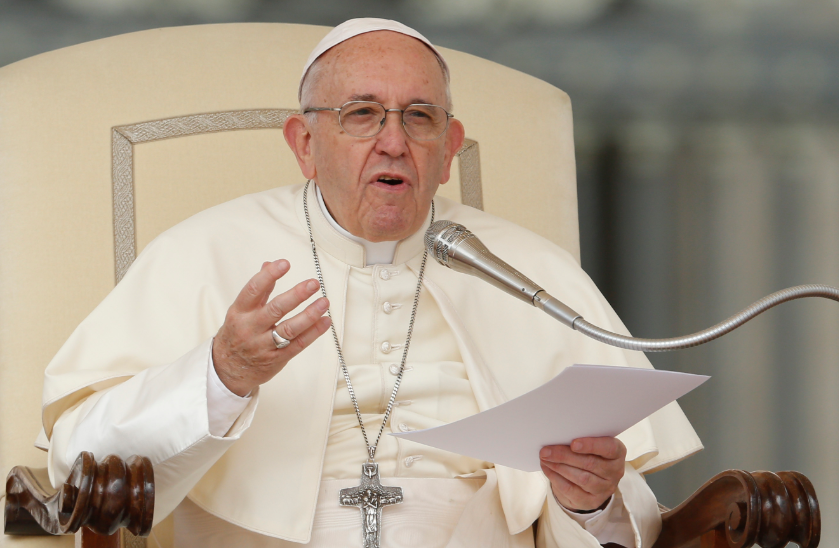 Source: @americamagazine.org
On 8 April 2016, Pope Francis published his second apostolic exhortation, Amoris Laetitia, remarking on love within the family.
On 8 December 2017, Pope Francis signed a new apostolic constitution on ecclesiastical universities and faculties Veritatis Gaudium, published 29 January 2018.
Francis has overseen synods on the family (2014), on youth (2018), and on the Church in the Amazon region (2019).
On 24 May 2017, Pope Francis met with U.S. President Donald Trump in Vatican City, where they discussed the contributions of Catholics to the United States and to the world.
In 2019 Francis' apostolic constitution Episcopalis Communio allowed that the final document of a synod may become magisterial teaching simply with papal approval.
During the 2019–20 coronavirus pandemic, Francis canceled his regular general audiences at St. Peter's Square to prevent crowds from gathering and spreading the virus, which seriously affected Italy. He encouraged priests to visit patients and health workers and pray for them.
Achievement and Awards of Pope Francis
Germany: International Charlemagne Prize of Aachen 2016
"Person of the Year" by People for the Ethical Treatment of Animals (2015) for his request that all Catholics be kind to animals
He Was made an honorary Harlem Globetrotter on 7 May 2015
Honorary Sommelier Diploma of the Italian Sommelier Association (2015)
Personal Life of Pope Francis
At the time of writing, Pope Francis is an unmarried man as he has devoted his life to live as Bachelor Life to continue the religious career as a church leader and Bishop. Now he has become a Pope and it is a principle doctrine of Roman Catholic that Pope should be a Bachelor man. However, as a young seminarian, he was said to have a crush on a girl he met while he was studying Seminary school in the Mid 1950s. But he kept it secret and didn't continue the relationship as he briefly doubted that it would be an obstacle for continuing his religious career.
Body Measurement of Pope Francis
Pope Francis is a man of high personality who looks with a slightly bulky body figure. He is 5 feet 9 inches tall and weighs 74 kg. His other body measurement will be updated soon. His hair color is Gray and Eye color is Dark Brown.
Net Worth of Pope Francis
As of 2020, the net worth of Pope Francis is estimated to be $80 million. He has amassed his current wealth as both a priest and a pope. However, while Pope Francis does not receive any money in the form of a monthly salary, he does have all travel expenses and living arrangements paid for by the Vatican. He never has to worry about food or shelter. He currently resides in The Domus Sanctae Marthae which is a building adjacent to St. Peter's Basilica in Vatican City and a residence for Pope(s). He owns a popemobile which is worth $30,500. A Popemobile is a specially designed motor vehicle used by the Pope of the Catholic Church during public appearances. It is usually considered as the successor of the antiquated sedia gestatoria and was designed to allow the pope to be more visible when greeting large crowds.