Queen Latifah Biography
Born with the real name of Dana Elaine Owens, Queen Latifah is an American singer, songwriter, rapper, actress, author as well as a producer by profession from Newark, New Jersey. Signing with Tommy Boy Records in the year 1989, she released her debut album "All Hail the Queen" on 28th November 1989 featuring her hit single "Ladies First". Likewise, her second and final album with the record was "Nature of a Sista'", released in the year 1991. Her third album, Black Reign (1993), spawned the single "U.N.I.T.Y.", which was influential in bringing awareness to women's rights and towards raising the perspective of women in communities worldwide. Her fourth album, "Order in the Court", was released on 16th June 1998, with Motown Records, and her fifth album "The Dana Owens Album" was released in the year 2004. She released two more studio albums; "Trav'lin' Light" and "Persona". As an actress, she has appeared in Bringing Down the House (2003), Taxi (2004), Barbershop 2: Back in Business (2005), Beauty Shop (2005), Last Holiday (2006), Hairspray (2007), Joyful Noise (2012), 22 Jump Street (2014) and Girls Trip (2017) and provided voice work in the Ice Age film series. Also, she portrayed Bessie Smith" in the HBO film "Bessie" in the year 2015 which she co-produced, winning the Primetime Emmy Award for Outstanding Television Movie. A year before in 2020, she portrayed Hattie McDaniel in the miniseries "Hollywood". Scroll more to know about her full biography, wiki, age, interesting facts, career, personal life, salary & more.
The most coveted time slot in television will be rewarded to a new scripted television series: Vigilante drama "The Equalizer," starring Queen Latifah in a remake of the 1980s TV series turned Denzel Washington film franchise, will debut after the Super Bowl on Sunday night. Latifah plays Robyn McCall, a former CIA operative who seeks justice for people who can't find it anywhere else. The show was created specifically for Latifah, executive producer Debra Martin Chase said, and producers knew they wanted her character, who is also the mother to a teenage daughter, to carve out her own identity as the first female equalizer. (Washington, and Edward Woodward before him, played Robert McCall.) Latifah is only the fourth Black woman to headline an hour-long network drama, after Teresa Graves in "Get Christie Love!," Kerry Washington in "Scandal" and Viola Davis in "How to Get Away With Murder." In the premiere, Latifah's character steps in early to rescue a young woman who witnessed a crime and can't afford missing school or work to go into protective custody-and she's all alone in the city because her mother has been deported. ("Who do you go to if you can't go to the cops?" the woman wonders.) The producers said the show will explore many different communities, particularly people who are overlooked by the justice system.

Queen Latifah is famous for being a singer, songwriter, rapper, actress, author, and producer. She is best known for her hit single U.N.I.T.Y. which bemoaned the marginalization and segregation of women in the rap community. She is known for her advocacy of women's rights which she boldly integrates into her song lyrics.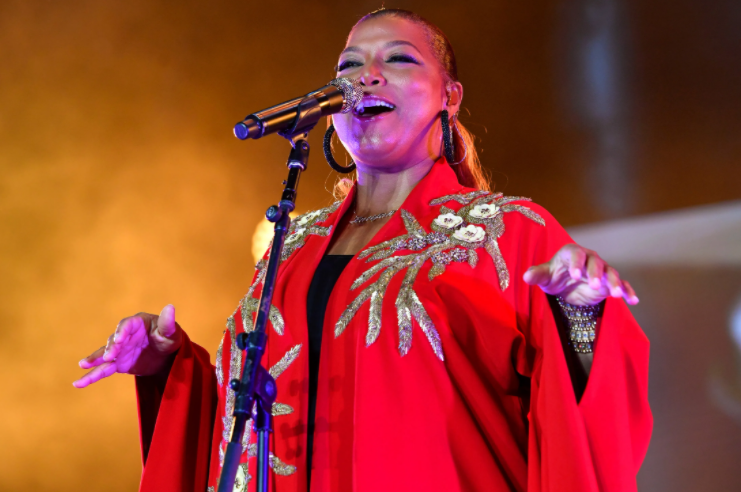 Source: @pagesix
Queen Latifah was born on 18th March 1970 in Newark, New Jersey, the USA with the birth name/real name of Dana Elaine Owens. Her stage name "Latifah" means "delicate" and "very kind" in Arabic, in a book of Arabic names when she was eight. She was born to her parents; Lancelot Owens Sr. (father), a police officer, and Rita (nee Bray) (mother), a teacher. When she was ten, her parents divorced. She also has a sibling; an older brother named Lancelot Owens Jr. (Police Officer, Expired in 1992 in a motorcycle accident). She holds an American nationality and her ethnicity is African-American. Her race is black. About her education, she attended Essex Catholic Girls High School and later graduated from Irvington high school. In her school, she used to power forward for her Basketball team. After high school, she attended classes at Borough of Manhattan Community College. By religion, she is Christian (Baptist Church) and her horoscope sign is Pisces.
Queen Latifah is a very beautiful woman with a charming smile and glowing face attracting a lot of people towards her. Her body build is large. She stands tall at a height of 5 ft 10 in and her body weight consist of 91 KG and her body measurement/body size is 45-43-45 in. Her bra size is 40DD and her shoe size is 10 US. Her dress size is 16 US. She has prominent cheekbones. She has a pair of dark brown eyes color and her hair color is light brown. She regularly does exercise to keep herself fit and fine. Overall, she has got a healthy body.
Queen Latifah Singing Career
Queen Latifah initially started beatboxing and became the original member of the Flavor Unit. Later, producer DJ King Gemini made the demo recording of her rap Princess of the Posse and gave the recording to Fab 5 Freddy, the host of Yo! MTV Raps. The song grabbed the attention of Tommy Boy Music employee Dante Ross, who signed her and in 1989 issued her first single, "Wrath of My Madness".
Signing with Tommy Boy Records, her first album "All Hail the Queen" was released when she was only nineteen.
She released her fourth hip-hop album "Order in the Court" which was released by Motown Records. What's more, she was also a member of the hip-hop collective Native Tongues. Her Grammy Award-winning song "U.N.I.T.Y." was very influential to women.
She also performed in the Super Bown XXXVII halftime show. She then shifted to sing soul music and jazz. She then released the soul/jazz standards "The Dana Owens Album" in the year 2004.
After that, she released an album entitled "Trav'lin'" in the year 2007.
She recorded the title track on the album "Oh, Happy Day: An All-Star Music Celebration" in the year 2009.
In the same year, she released her next album "Persona". The song "Cue the Rain" was released as the album's lead single.
On 25th June 2019, The New York Times Magazine listed her among hundreds of artists whose material was reportedly destroyed in the 2008 Universal fire.
Queen Latifah Acting Career
As an actress, Queen Latifah began acting in film in the 1991 and 1992 films "House Party 2", "Juice" and "Jungle Fever". She also guest-starred in two episodes during the second season (1991-1992) of the NBC hit "The Fresh Prince of Bel-Air" and had a guest role as herself on "Hangin' with Mr. Cooper" in the year 1993.
She later had a starring role in the FOX sitcom "Living Single" from the year 1993 until 1998 for five years.
She then appeared in the 1996 box-office hit, "Set It Off" and also had a supporting role in "Living Out Loud" in 1998.
Her performance brought her to act on different movies and TV shows like "The Bone Collector (1999)," "Brown Sugar", "Chicago", "Bringing Down the House" in 2003, "Scary Movie 3", "Barbershop 2: Back in Business", "Taxi", "Kung Faux", "Beauty Shop", and "Hairspray".
For three years, from 1999 to 2001, she hosted a daytime talk show 'The Queen Latifah Show'.
She then starred in a romantic comedy/drama film "Last Holiday" in the year 2006. She also voiced Ellie, a friendly mammoth, in the animated film, Ice Age: The Meltdown in the same year and then appeared in the drama Stranger Than Fiction.
In the year 2007, she appeared in the film "Life Support". As a producer, she produced the film "The Perfect Holiday" in the same year.
She then appeared in the crime comedy "Mad Money" in the year 2008 and played in "The Secret Life of Bees". She starred with Dolly Parton in "Joyful Noise" (2012). She appeared in the lead role as Bessie Smith in the HBO film "Bessie".
MTV announced that she will be an executive producer for the third season of the slasher television series "Scream" which was premiered on 8th July 2019 entitled "Scream: Resurrection".
Then, she played the role of the sea witch Ursula in "The Little Mermaid Live!".
CBS then announced a new active TV series, "The Equalizer", a reboot of the 1980s detective series "The Equalizer" starring Latifah in the lead role (renamed as Robyn for her version).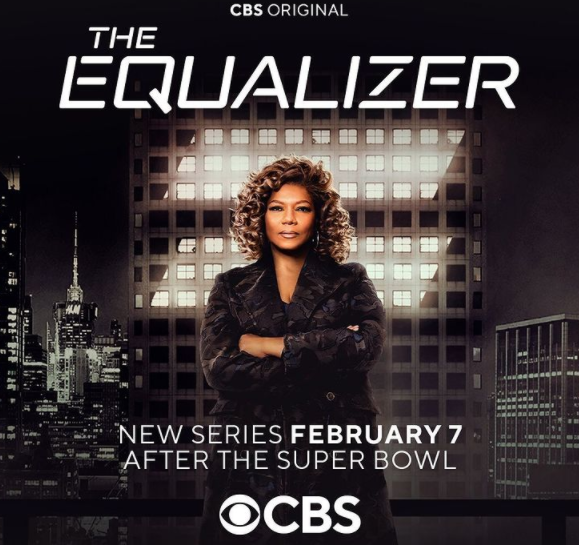 Source: @instagram.com/queenlatifah
Apart from acting and singing career, she is also an author, who released a book on confidence and self-respect called "Ladies First: Revelations of a Strong Woman".
Awards and Achievements of Queen Latifah
Queen Latifah is an award-winning actress who has achieved huge success during her career time. She has been nominated for different awards and won many of them. Her work in music, film, and television has earned her a Grammy Award, an Emmy Award, a Golden Globe Award, three Screen Actors Guild Awards, two NAACP Image Awards, an Academy Award nomination, and sales of over two million records. On 4th January 2006, she received a star on the Hollywood Walk of Fame. She also won the prestigious Grammy Award for the first time in 1995 for her single 'U.N.I.T.Y'. For the role in 'Life Support' movie, she achieved her first Golden Globe Award and Screen Actors Guild Award, and an Emmy Nomination. In June 2011, she received an honorary doctorate degree in 'Humane Letters' from 'Delaware State University' in Dover, Delaware. In 2015, Latifah received a Best Actress Emmy nomination for her lead role as Bessie Smith in "Bessie", an HBO film that received a total of twelve Emmy nominations. With her continuous hard work, she has reached this position and we wish her the best of luck for her upcoming awards and achievements.
Queen Latifah Personal Life and Affairs
Queen Latifah is not married yet and she is still to get married. As per her sexual orientation, she is bisexual. Thus, she is not gay. As of today, she is assumed to be single as there are no rumors about her dating anyone neither she herself revealed her love life to the media. At present, she is enjoying her single life happily. She also has a kid; a baby boy named Rebel with her ex-partner, Eboni Nichols.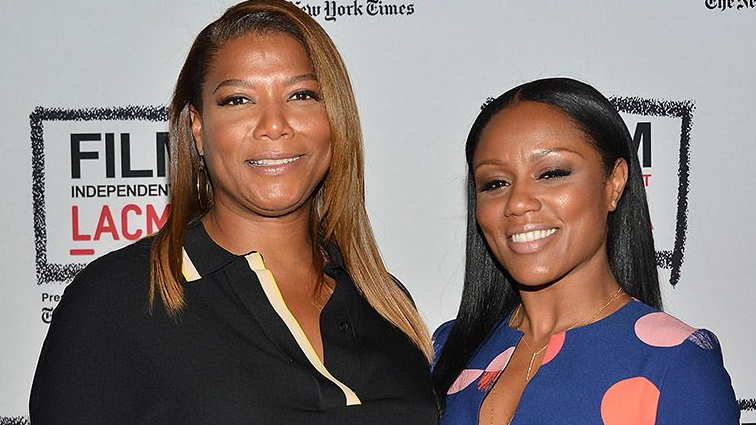 Source: @thesource
In her early 90s, Queen Latifah was rumored to be dating Debbie Allen (actress). Then in 1995, her then-boyfriend, Sean Moon was shot in the stomach by a couple of teenagers on the lookout to steal a car while Latifah awaited a group of friends with Sean Moon and another friend sitting inside her green BMW. As soon as the teens sped away leaving Latifah stranded with her bleeding boyfriend and friend, she got hold of the cab and managed to reach the nearest hospital in Harlem saving Sean's life. After that, she started having a relationship with Martin Kendu Isaacs in the year 1992. Their affairs lasted for nine years and they split in the year 2001. She then began her serious love relation with Jeanette Jenkins starting in the year 2002. Later, they separated and Jeanette claimed that she is not gay and started dating men. Their relationship ended in the year 2011. Then, she met dancer-choreographer, Eboni on the sets of Dancing with the Stars in the year 2009 and they started their friendship which grew up in the dating phase. She has been in a long-standing relationship with her partner Eboni Nichols. But they quit their relationship in the year 2015. It was reported that she and Eboni welcomed their first child, a baby boy named Rebel, back in 2019. Eboni was the chosen partner to carry and deliver their baby. In previous interviews, Latifah revealed that she was "ready" to start a family, as she's already done a lot of the things she wanted to do earlier in life. Now, it was time for her to settle down and enjoy family life.
Queen Latifah Net Worth & Salary
Queen Latifah is a successful and very talented singer, songwriter, rapper, actress, and producer who has achieved huge success throughout her career. She has accumulated a huge amount of money through different career fields. As of 2021, the net worth of Queen Latifah is estimated to have $70 Million and her salary is estimated to have $2 million at present. Her major source of wealth comes from singing career and her most of the part of her income comes from music industry through album sales, concert and more. Apart from this, she earned from acting and producing career. She is also fond of cars and her car collection includes Vanquish Volante. As an endorsement deal, she had done TV commercials for the following brands: US Milk Commission (Voice) (1996), Freedom Card - Gold Mastercard (2000), Cover Girl Make-up (2001), Cover Girl Smoothers Make-up (2002), Pizza-Hut (Voice) (2003), Mariott Courtyard Hotels (2003), Walmart (2005), Jenny Craig (2008), Macy's 'Believe' Campaign (2009), Cover Girl's 'Clean' Make-up (2010), Pantene Pro-V (2014). She also did shot print ads for the following: Reebok Classic Athletic Shoes (2000), and Curvation lingerie (2003). She is also the brand ambassador for Cover Girl, and she has endorsed their products through multiple channel marketing campaigns (both print & TV) from 2001 to 2011. She is living in New Jersey but now she has the plan to come back and build her home in Newark for 14 Million Dollars. She also represents her own line of cosmetics for women of color called the CoverGirl Queen Collection. She has also launched a perfume line called "Queen" and "Queen of Hearts". On 23rd May 2018, she was named the godmother of Carnival Cruise Lines' vessel Carnival Horizon.