Reginald Alfred Bush Jr. is famed as Reggie Bush is a former American football running back who earned consensus All-American honors twice and won the Heisman Trophy (later forfeited) as the most outstanding player in the nation during his college time at USC. He was drafted by the New Orleans Saints second overall in the 2006 NFL Draft. With the team, he has named an All-Pro punt returner in 2008 and won Super Bowl XLIV in 2010 over the Indianapolis Colts. He also played for the Buffalo Bills, Miami Dolphins, Detroit Lions, and San Francisco 49ers. After 10 years, former USC running back Reggie Bush's disassociation from the university has come to an end. "When I was hired to represent the Trojan Family as the Director of Athletics, I committed to listening and learning before leading. Throughout this process, one of the consistent themes that emerged from my discussions was how much Reggie Bush means to our former players, USC alumni, and fans everywhere," USC athletic director Mike Bohn said in a statement Wednesday. Scroll down to know about Reggie Bush's full biography, birthday, wiki, facts, stats, career start, college, high school, net worth, awards, wife, and more.
Famous For
Being a former American football running back.
Being considered a five-star recruit by Rivals.com, Bush was listed as the No. 1 running back in the nation in 2003.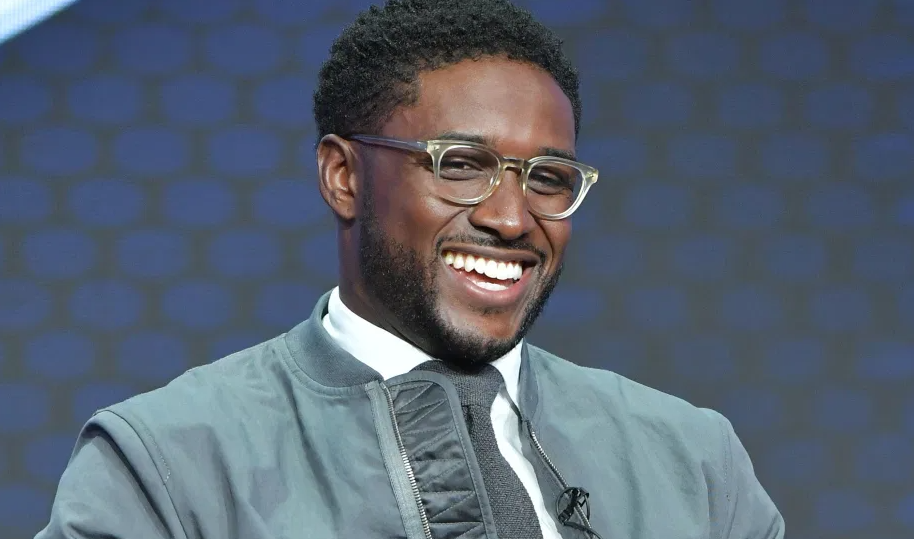 Source: @ftw.usatoday.com
Reggie Bush's Early Life (Childhood, Family Details, Education)
Reggie Bush was born with the birthname/real name of Reginald Alfred Bush Jr. He was born on 2nd March 1985. His birthplace/hometown is in Spring Valley, California, the USA. He was born to his parents; father Reggie Bush Sr. and mother Denise Griffin. He was named after his biological father, Reginald Alfred Bush, Sr. Bush Jr. has a stepfather named Lamar Griffin. As per his nationality, he is American and he belongs to an African-American ethnic group. His race is black. His Zodiac sign is Pisces and his religion is Chrisitan. He grew up along with his step-brother, Javon Griffin (siblings). As per his education, he attended Helix High School in La Mesa, California where he played for his high school American football team. He was listed as the No. 1 running back in the nation in 2003. After high school graduation, he received an athletic scholarship to attend the University of Southern California where he played for the Trojans. As of 2020, he celebrated his 35th birthday.
Football Career of Reggie Bush (Beginning-Retirement)
On 12th January 2006, he elected to forgo his senior season at USC and declared himself eligible for the NFL Draft.
He was selected by the New Orleans Saints with the second overall pick in the 2006 NFL Draft.
He was second to Peyton Manning in NFL endorsement deals, amounting to roughly US$5 million annually.
He also signed contracts with Pepsi, General Motors, Adidas, Pizza Hut, and the Subway restaurant chain.
On 15th May 2006, he donated US$50,000 to help keep Holy Rosary High School, a Catholic school for students with learning disabilities, from closing.
His rookie season had both ups and downs, although as the season wore on he became more productive and integral to the Saints' surprising success.
In the debut game of Bush's NFL career, he accumulated 141 total yards against the Cleveland Browns.
He was fined by the NFL after the game for US$5,000 for taunting: which consisted of wagging his finger at All-Pro linebacker Brian Urlacher and doing a somersault after the 88-yard reception score and later he apologized.
In the opening game of 2007 season, Bush and the Saints lost to the defending Super Bowl champion Indianapolis Colts 41-10.
At the end of the season, he finished with six total touchdowns and 581 yards rushing, averaging 3.6 yards per carrying.
Bush and the New Orleans Saints faced the Tampa Bay Buccaneers to open the 2008 season where he showed great improvement early in the season, particularly during Week 3 against the Denver Broncos, in which he had 18 carries for 73 yards and two touchdowns, one touchdown that included a run up the middle, cutting back to the outside for 23 yards.
He had surgery to repair a torn meniscus in his left knee next day right after the injury in the October 19 game against the Carolina Panthers and was expected to miss the next three to four games.
On December 11, he sprained his medial collateral ligament in his left knee in the Saints' 27–24 overtime loss on the road against the Chicago Bears.
He finished the season with 404 rushing yards on 106 carries, 440 yards receiving with 52 receptions and nine total touchdowns, playing in ten games.
On 7th January 2009, the New Orleans Saints confirmed that he had surgery on his left knee, and would require months of rehabilitation. However, he was expected to be ready for minicamp in June.
On 16th August 2009, he left practice due to continuing problems with his left knee, later to return with his knee wrapped in an icepack. Bush and the Saints said that he iced the knee as a precaution.
He missed the last three games of the 2009 preseason due to a calf injury and to rest his surgically repaired knee.
Bush, Drew Brees, and the team won his first Super Bowl on 7th February 2010, in a win over the Indianapolis Colts in Miami.
His 2010 season was overshadowed by the controversy over his Heisman Trophy, as well as other matters related to his years at USC.
During the second regular-season game, a Monday Night Football contest with the San Francisco 49ers, he was injured while returning a punt.
He finished the 2010 season with 150 rushing yards and 34 receptions for 208 yards and a receiving touchdown.
On 28th July 2011, he was traded to Miami Dolphins where he scored his first rushing touchdown since 2009 and also had his second career 100-yard game against the New York Giants with 103 yards on 15 carries.
In the 2011 season, he finished with 1,086 rushing yards, six rushing touchdowns, 43 receptions, 296 receiving yards, and one receiving touchdown.
In his 2012 season, he had 986 rushing yards, six rushing touchdowns, 35 receptions, 292 receiving yards, and two receiving touchdowns.
He also signed a 4-year deal, worth $16 million with $4 million guaranteed with the Detroit Lions on 13th March 2013.
On his debut for the Lions against the Minnesota Vikings, he recorded 191 yards from scrimmage and a receiving touchdown.
In the 2013 season, he had 1,006 rushing yards, four rushing touchdowns, 54 receptions, 506 receiving yards, and three receiving touchdowns.
He was released by the Lions on February 25, 2015.
On March 18, 2015, he was assigned by San Francisco 49ers.
His one-year contract was for $2.5 million, with $500,000 guaranteed, and a $500,000 signing bonus.
On 14th September 2015 in the 49ers season opener against the Minnesota Vikings, he left the game with a leg injury.
On 1st November 2015, during a game against the St. Louis Rams, he slipped on the concrete surrounding the field at the Edward Jones Dome and crashed into the wall.
In limited action, he had 28 rushing yards and 19 receiving yards on the 2015 season.
On 1st August 2016, he signed a one-year deal with the Buffalo Bills where he played along with NFL star Glenn Gronkowski.
He rushed for his first touchdown, and only rushing touchdown of the season, with the Bills on October 23, 2016, in a 28-25 loss to the Miami Dolphins.
He finished the season with seven catches for 90 yards, and 12 carries for -3 yards and a rushing touchdown, making him the first player in NFL history, other than quarterbacks, to carry the ball at least ten times and have negative yardage for a season.
After the end of the season, he announced his retirement from the NFL on 15th December 2017.
On 5th June 2019, he was inducted into the New Orleans Saints Hall of Fame.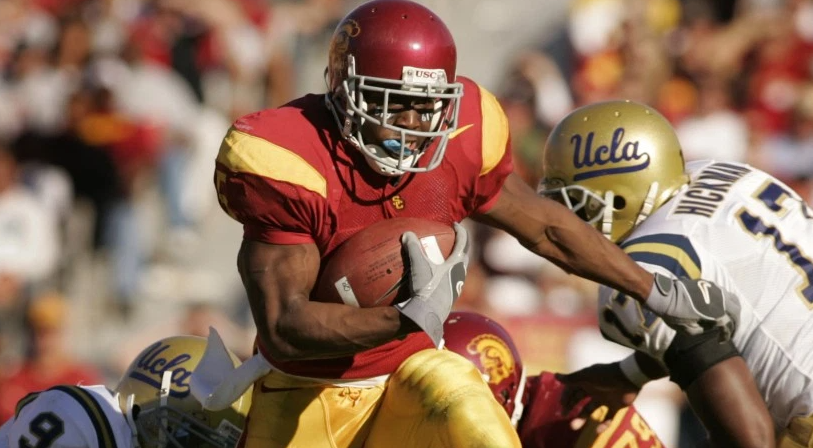 Source: @ktla.com
Moreover,
He signed a deal with Sirius Satellite Radio to be a weekly announcer for the 2007 season in August 2007.
He was nominated for Male Athlete of the Year at the 2007 and 2009 BET Awards.
He was featured almost shirtless on the February 2010 cover of Essence as part of an issue about "Black Men, Love & Relationships."
In March 2012, Bush became a partner and spokesperson for skincare company Barc, makers of BumpDown Razor Bump Relief.
Career highlights and awards/achievements of Reggie Bush
Saints Hall of Fame inductee (2019)
Super Bowl champion (XLIV)
NFL All-Rookie Team (2006)
First-team All-Pro (2008)
2x AP National Champion (2003, 2004)
Doak Walker Award (2005)
Walter Camp Award (2005)
AP Player of the Year (2005)
Sporting News Player of the Year (2005)
Heisman Trophy (2005) (vacated)
2× Pac-10 Offensive Player of the year (2004, 2005)
2× Consensus All-American (2004, 2005)
Career NFL statistics/stats of Reggie Bush
Rushing attempts:

1,286
Rushing yards:

5,490
Receptions:

477
Receiving yards:

3,598
Return yards:

929
Total touchdowns:

58
Reggie Bush's Net Worth and Salary
Reggie is a former American football running back. As of 2020, Reggie Bush has an estimated net worth of $40 million as per sources. Ніѕ соntrасt wіth thе Dеtrоіt Lіоnѕ іn 2013 wаѕ wоrth $16 mіllіоn. Аgаіn іn 2005, hе ѕіgnеd а соntrасt wоrth $2.5 mіllіоn wіth Ѕаn Frаnсіѕсо 49еrѕ. Не mаkеѕ $5 mіllіоn аnnuаllу frоm vаrіоuѕ еndоrѕеmеnt dеаlѕ. Не іѕ thе ѕроkеѕmаn fоr thе соmраnу Ваrс. His salary at the end of his career in 2016 was $1,500,000 from Buffalo Bills. His salary in 2012 was $4.5 million. He made earnings of $63,196,734 from his entire NFL career and is the third highest-earning running back after Adrian Peterson and Edgerrin James. He signed a contract with Buffalo Bills of worth 1 year, $1,500,000 which included $375,000 as a signing bonus and $375,000 as a guaranteed amount. Also, the contract assured him $1,500,000 as an annual salary. As of now, his salary is unknown. Не аlѕо оwnѕ nіnе luхurу саrѕ аnd mаnу рrореrtіеѕ. His personal assets include a mansion in Beverly Hills which he bought for $8.95 million in 2015. He owned a Birmingham home in Detroit which he sold for $1.9 million in 2016. Similarly, he owns another $757,000 (in 2005) house located in the Spring Valley area outside of San Diego which he received as a gift in 2006. Вuѕh аlѕо hаѕ арреаrеd іn thе mеdіа. Не wаѕ thе wееklу аnnоunсеr оf Ѕіrіuѕ Ѕаtеllіtе Rаdіо іn thе 2007 ѕеаѕоn. AS of now, he is satisfied with his earnings. His source of wealth is from basketball career, endorsements, and more.
Reggie Bush Married To Lilit Avagyan (Three Children)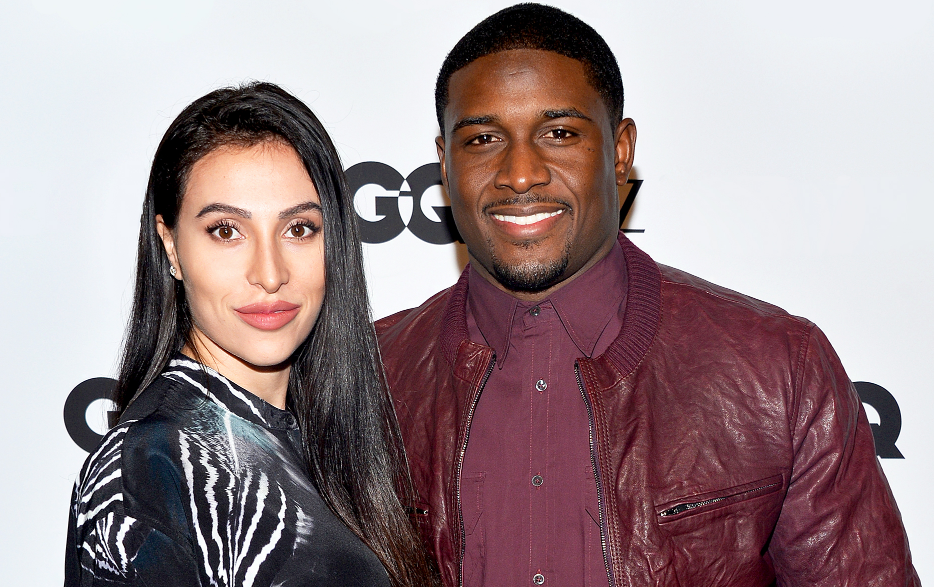 Source: @usmagazine.com
Reggie Bush is a married man. He was married to his wife, Lilit Avagyan, who is an Armenian Prestigious dancer and dance teacher. His wife, Avagyan gave birth to the first child, a daughter, Briseis Bush on May 6, 2013. After giving birth to a daughter whose age was just a year, the couple decided to get married and took a vow on 12th July 2014. They married in San Diego, California. The duo has two more sons, Uriah born on July 12, 2015, and Agyemang born on September 2, 2017. As of now, the duo is enjoying their life a lot. His sexual orientation is straight.
Previously, he dated WWE Diva Eve Torres while at USC. Bush then dated Kim Kardashian. Their relationship began after Matt Leinart introduced them at the 2007 ESPY Awards. They split on July 27, 2009, and got back together on September 28, 2009. Bush was romantically linked to country singer Jessie James in 2010.
Reggie Bush's Body Measurements (Height, Weight)
Reggie Bush is a very handsome and athletic body build man. He has got a tall height of 6 ft 0 in or 1.83 m with a bodyweight of 205 lb or 93 Kg. Whereas his other body measurements such as chest size, waist size, biceps size are unknown at present. Overall, he has got a healthy body with a charming personality.