About Tua Tagovailoa
An American football quarterback is named for Tua Tagovailoa who is playing for the current team, Miami Dolphins of the National Football League (NFL). He was drafted by the Dolphins fifth overall in the 2020 NFL Draft. He signed his four-year rookie contract worth $30 million on 11th May 2020. He is notably a left-handed quarterback despite being right-handed, a trait taught to him as a child by his father. In 2019, he suffered a dislocated hip during a game that prematurely ended his season. He won several other awards and honors for the 2018 season, including the Maxwell and Walter Camp Awards, as well as being named a finalist for the Heisman Trophy. In the year 2017, he was ranked as the number one high school player in the state of Hawaii of the Class of 2017 and attended Saint Louis School in Honolulu. Overall, he is a very talented American footballer.
The Miami Dolphins are naming rookie Tua Tagovailoa their starting quarterback, NFL Network's Tom Pelissero reported. Miami is currently on bye, giving Tagovailoa extra preparation time before the Dolphins meet the Los Angeles Rams on Nov. 1. "They felt as if now, with Tua Tagovailoa being that much further removed from that devastating hip injury that he suffered last year at Alabama, having shown what he can do in practice, having gotten the reps made up for what he lost when he did not have an offseason, did not have a preseason to get ready," Pelissero explained on NFL Network. "Then seeing his first game action, even on a limited basis this past weekend, they believe now is the right time for Tua time. They're also heading into a bye here, which gives them a little bit more time for Tua to get ready, mentally even more so than physically." He watched Joe Burrow go to Cincinnati with the No. 1 pick before he landed with Miami at No. 5. And instead of taking the field in Week 1, as Burrow did in Cincinnati, Tagovailoa was relegated to watching Fitzpatrick from the bench. Fitzpatrick excelled as the starter, completing 138 of 197 attempts (70.1 percent) for 1,535 yards and a 10-7 touchdown-to-interception ratio. He led Miami to three wins, including two in their last two games, with both coming by wide margins.
Tua Tagovailoa is famous for being an American footballer whose playing position is the quarterback. He is best known for being the player of Miami Dolphins of the NFL. He is also better known for winning awards and honors for the 2018 season, including the Maxwell and Walter Camp Awards, as well as being named a finalist for the Heisman Trophy.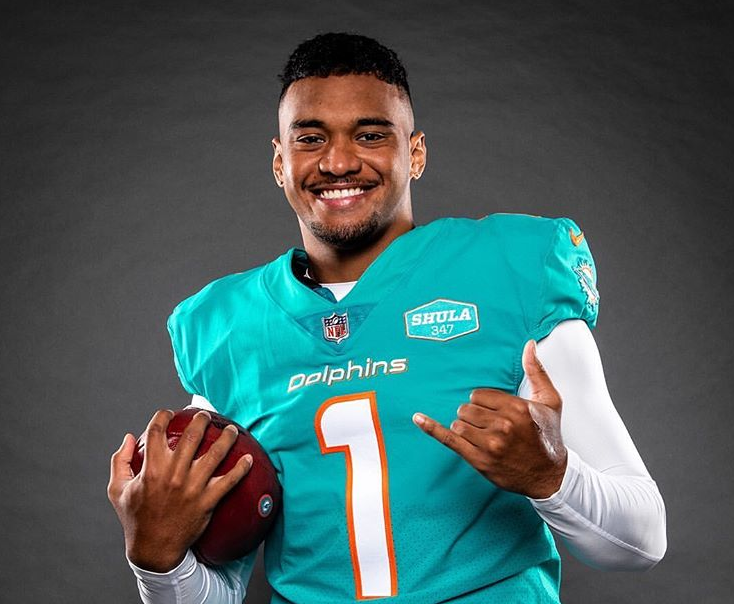 Source: @instagram.com/samoanprincetua
Tua Tagovailoa was born on 2nd March 1998 in Ewa Beach, Hawaii, the USA with the birth name of Tuanigamanuolepola Tagovailoa. He holds an American nationality and his ethnic background is American-Black. His race is black. As of 2020, he celebrated his 22nd birthday. He is Christian by religion and his Zodiac sign is Pisces. He was born to his parents Galu Tagovailoa (father) and Diane Tagovailoa (mother). He also has three siblings named Taulia (brother), Taysis (sister), and Taylor (sister). Tagovailoa's younger brother, Taulia, is a quarterback for the Maryland Terrapins. He transferred there in 2020 after spending a year at Alabama as Tua's backup in 2019. His cousins also play football. Myron Tagovailoa-Amosa plays a defensive line at Notre Dame and Adam Amosa-Tagovailoa plays an offensive line at the Navy. His father began training him at the age of two and forced Tagovailoa to begin throwing with his left hand instead of his right. As per his education, he went to attend Saint Louis School in Honolulu where he played as a quarterback there. He had 17 offers from colleges to play on a college football scholarship, including UCLA, Oregon, and Colorado, eventually enrolling in the University of Alabama in January 2017. He graduated with a bachelor's degree in communication studies in August 2020.
Tua Tagovailoa is a cool and handsome man with an attractive personality and bold attitude. He has got a very charming face with a glowing smile attracting a lot of people towards him. He stands tall at the height of six feet or 1.83 m with a bodyweight of consists of 98 KG or 217 lbs. His body build is athletic and he maintains his body by doing frequent exercises and workout. He is very conscious of his health as well as food intake. His other body measurements have not been revealed yet. His hair color and eye color are both blacks.
Tua Tagovailoa's Football Career
Tua began his football career since his high school where he threw for 33 passing touchdowns during his first season with three interceptions and 2,583 passing yards.
In 2016, he played in the All-American Bowl, and in his regular-season threw for 2,669 passing yards with 27 passing touchdowns and seven interceptions.
He was deemed a four-star recruit during the 2017 recruiting cycle and was ranked the top high school prospect in the state of Hawaii.
He was the backup to sophomore quarterback Jalen Hurts throughout the 2017 season as a true freshman.
He then made his collegiate debut against Fresno State in a home game at Bryant-Denny Stadium on 9th September.
He finished 6-of-9 for 64 yards and his first career passing touchdown, which was a 16-yard pass to wide receiver Henry Ruggs III in a 41-10 victory.
He got more playing time and recorded 103 passing yards and two passing touchdowns in a 59-0 victory against Vanderbilt on 23rd September 2017.
He recorded his first collegiate rushing touchdown in a 66-3 victory against SEC West rival Ole Miss.
He finished with 134 passing yards, one passing touchdown, one interception, and one rushing touchdown in the 45-7 victory against Tennessee.
He threw for three passing touchdowns in the 56-0 victory against Mercer.
He replaced Hurts in the second half of the 2018 College Football Playoff National Championship due to ineffective play by Hurts on 8th January 2018.
He was also named the Offensive MVP of the game.
He made his first career start at the season's opening game, against Louisville, in Orlando, Florida on 1st September 2018 where he finished 12-of-16, with 227 passing yards and two touchdowns in the 51-14 victory.
He finished second in the Heisman Trophy voting to Oklahoma QB Kyler Murray, but he won the Walter Camp Award and Maxwell Award for 2018, both awarded to the top player in college football.
He was then injured during SEC Championship against Georgia.
After being recovered, he put on a nearly flawless offensive performance against Oklahoma in the 2018 Orange Bowl (24-of-27 with 318 yards passing, 4 TDs, and 0 INTs) to lead the Tide to their 4th consecutive CFP National Championship appearance.
He went 22-of-34 loss (44-16) with 295 passing yards, 2 TDs, and 2 INTs against Clemson in the 2019 National Championship.
He also set a new NCAA FBS passer rating record of 199.4 for the season, surpassing the record 198.9 set by Baker Mayfield in 2017.
Tua began his junior season at the Chick-fil-A Kickoff Game with a victory against Duke in Atlanta where he finished 26-of-31 with 336 passing yards, 4 TDs, and no interceptions before sitting out the fourth quarter.
He finished the game 16-of-24 with 227 passing yards, 4 total TDs (1 rushing), and no interceptions before sitting out the fourth quarter against New Mexico State.
He left the Tide's sixth game against Tennessee early in the 2nd quarter after suffering a high ankle sprain.
Later, he underwent surgery to repair the ankle the following day and did not play in the next game against Arkansas (a 48-7 victory led by QB Mac Jones).
He returned three weeks post-surgery to play in the 46-41 loss to top-ranked LSU.
In the Tide's matchup against Mississippi State, he led the team to a 35-7 lead (14-of-18, 256 passing yards, 2 TDs, no interceptions) before leaving the game with a hip injury during the 2nd quarter.
He was carted off the field and flown to a Birmingham hospital before undergoing surgery in Houston two days later.
In January 2020, he announced that he would forgo his senior year and enter the 2020 NFL Draft.
He finished his collegiate career as the holder of numerous Alabama football records, as well as notable NCAA career records, including passing yards per attempt (10.9), adjusted passing yards per attempt (12.7), passing efficiency rating (199.4), and total yards per play (9.8).
Moving towards his professional career, he was invited to the NFL Combine but did not participate in any drills due to him not being medically cleared at the time, but stated that he had planned to participate at his pro day in April before it was canceled due to the COVID-19 pandemic.
Later, he was drafted by the Miami Dolphins with the fifth overall pick and he chose to wear shirt number 1.
He signed his four-year rookie contract worth $30 million on 11th May 2020.
He passed his physical with the team in July 2020 to begin training camp but was named the backup to Ryan Fitzpatrick to start the season.
Therefore, he made his debut appearance in a Week 6 game against the New York Jets, coming in relief of Fitzpatrick in the fourth quarter of a 24-0 blowout where he threw two passes for nine yards.
On 20th October 2020, Dolphins coach Brian Flores named Tagovailoa the starter for Week 8 following the team's bye week.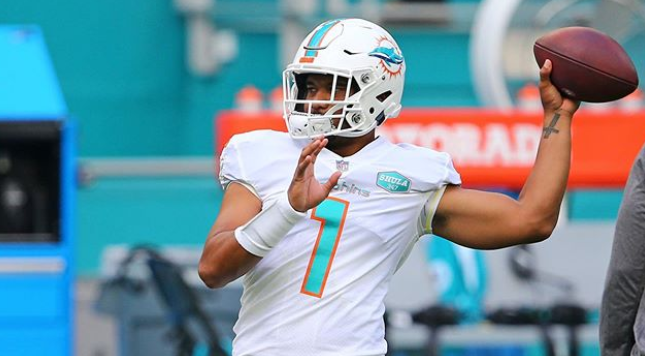 Source: @instagram.com/samoanprincetua
Awards and Achievements of Tua Tagovailoa
CFP National Champion (2017)
CFP National Championship offensive MVP (2017)
Second-team All-SEC (2019)
Sporting News College Football Player of the Year (2018)
Maxwell Award (2018)
Walter Camp Award (2018)
SEC Offensive Player of the Year (2018)
First-team All-SEC (2018)
All-American (2018)
NFL Career Stats as of Week 5, 2020
TD-INT:

0-0
Passing yards:

9
Completion percentage:

100%
Passer rating:

85.4
Tua Tagovailoa's RUMORED Girlfriend, Dinah Jane
Tua Tagovailoa is not married yet and he is still to get married. He was rumored to be dating Dinah Jane. Dinah Jane is a singer by profession. Dinah Jane of the girl band Fifth Harmony had once said that she loved seeing the athlete in action, there were no romantic ties between the two. There is not much about his personal relationship, affairs, and girlfriend as he always maintains a distance in his personal life and media. But we know he isn't married and has no wife. Since he is still unmarried and single there isn't any chance of him being through a divorce. More and additional information about him can be obtained from Wiki. He's in fact got a lot going on for him career-wise, so probably he does not have much time left for relationships and all. He is assumed to be single as of today. He is focusing on his career at present. His sexual orientation is straight and he is not gay.
Tua Tagovailoa's Net Worth 2020
Tua Tagovailoa is merely twenty-two years of age and already is on the way to making a big name in the football career. He is a famous football quarterback for Miami Dolphins. On 11th May 2020, he signed his four-year rookie contract worth $30 million. With the potential that's in store in him, he can go miles. Bit of dedication and luck, he would definitely be unstoppable. He has accomplished heights in his career that normally takes an individual a lifetime to achieve. He has earned a huge amount of money from his earnings. His major source of earning comes from a football career. He is satisfied with whatever he is receiving at present. As of 2020, the net worth of Tua is estimated to have $10 Million as per sources whereas he is earning a yearly salary of $7.6 Million. He is satisfied with his earnings and he is living a luxurious lifestyle from his earnings. He is enjoying his life a lot.