Ricky Gervais Biography
An English comedian, actor, writer, producer, and director, Ricky Gervais is well recognized for co-creating, co-writing, and acting in the British television mock-documentary sitcom "The Office" (2001-2003). Ricky began his stand-up career in the late 1990s. He has performed five multi-national stand-up comedy tours, and he wrote the "Flanimals" (March 2005) book series. Gervais, Merchant, and Karl Pilkington created the podcast "The Ricky Gervais Show" (2010-2012), which has spawned various spin-offs starring Pilkington and produced by Gervais and Merchant. He served as the controversial host of the Golden Globe Awards in 2010, 2011, and 2012, and he began playing the title character in the TV series Derek in 2012. He also plays Dr. McPhee in the "Night at the Museum: Battle of the Smithsonian" (2009) films. He won his second Emmy and his seventh BAFTA in 2007 for his role on Extras. Scroll down to read Ricky's Full Biography, Wiki, Age, Family, Facts, Net Worth, Personal Life, Untold Story, & more.
Famous For

Being an English comedian, actor, writer, producer, and director.
For co-creating, co-writing, and acting in the British television mock-documentary sitcom "The Office" (2001-2003).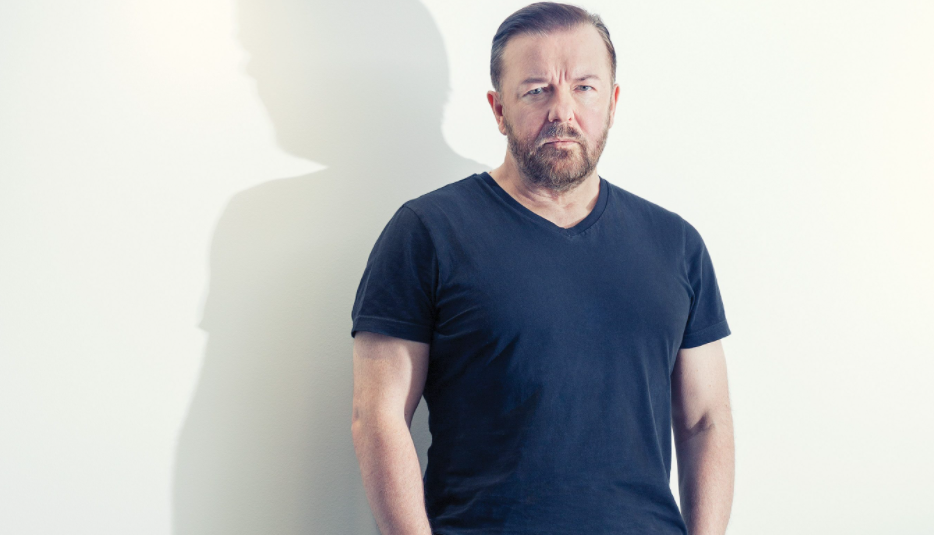 Source: @deadline
Ricky Gervais Early Life
Ricky Gervais took birth on 25th June 1961 with the real name or full name of Ricky Dene Gervais in Reading, Berkshire, England as his current hometown or residence is between Hampstead, London, and Marlow, Buckinghamshire. He holds British nationality and British-white ethnicity. Similarly, he is an atheist and his race is white. He happily celebrates his birthday on the 25th June of every year and he has celebrated his 59th birthday as of 2020. As his birthdate, his zodiac sign is Cancer. His father, Lawrence Raymond "Jerry" Gervais (1919-2002) a French-Canadian from Pain Court, Ontario, emigrated to the UK whilst on foreign duty during the Second World War and worked as a laborer and hod carrier whereas his mother Eva Sophia Gervais is a housewife. His siblings are Larry Gervais (Older Brother), Marsha Gervais (Older Sister), Robert Gervais (Older Brother). Additionally, Gervais attended Whitley Park Infants and Junior Schools and received his secondary education at Ashmead Comprehensive School; after a gap year which he spent working as a gardener at the University of Reading, he moved on to University College London (UCL) in 1980. He intended to study biology but changed to philosophy after two weeks and was awarded an upper second-class honors degree in the subject from the University of London in 1983. He met Jane Fallon with whom he has been in a relationship since 1982 during his time at UCL.
Ricky Gervais Career

Music Career
Ricky Gervais commenced his music career forming the new wave pop duo Seona Dancing with his best friend Bill Macrae as they were signed by London Records, which released two of their singles "More to Lose" and "Bitter Heart" but the songs failed to make the UK Singles Chart and he worked as the manager for Suede before they became successful in the 1990s.
In the year 2013, he along with his band Foregone Conclusion performed a live tour as David Brent.

He then published the "David Brent Songbook" containing 15 songs in 2016 which were also recorded for the album "Life on the Road".
Radio

Ricky Gervais also worked as an assistant events manager for the University of London Union (ULU), whereas he moved from ULU to a job as head of speech at the alternative radio station Xfm and was also a regular contributor to Mary Anne Hobbs's Radio 1 show.
Later, Gervais and Merchant returned to Xfm in November 2001 for a Saturday radio show as conquering heroes after the first series of "The Office" however Gervais began hosting the weekly radio show "Ricky Gervais Is Deadly Sirius" on Sirius XM in October 2017.
Podcast
"Guardian Unlimited" started offering free weekly podcasts on 5th December 2005, including "The Ricky Gervais Show" featuring Gervais, Merchant, and Karl Pilkington as three more free podcasts were released in late 2006.
Then, another free full-length podcast was released through iTunes in October 2007 however Gervais, Merchant, and Pilkington launched another free full-length podcast, which lasted just over an hour on 25th November of the following year. They also recorded their fifth season of audiobooks, totaling 4 chapters, which were released on 16th September 2008.
Television Career

Ricky Gervais's mainstream-TV on-screen debut came as part of Channel 4's Comedy Lab series of pilots in September 1998 however, he later went on to present his own comedy chat show for Channel 4 called "Meet Ricky Gervais" as well as he wrote for the BBC sketch show Bruiser and "The Jim Tavare Show" during that time.
Then, he began the British TV mockumentary sitcom "The Office" on 9th July 2001 as "Extras" had its debut on the BBC on 21st July 2005.
"The Ricky Gervais Show", which is an animated TV show debuted on US cable network HBO on 19th February 2012, and "Life's Too Short" began airing on BBC Two on 10th November 2011.
As well, Gervais and Merchant produced a travel documentary, "An Idiot Abroad" whereas Gervais filmed in London a 35-minute pilot episode for a potential comedy-drama series called "Derek" in November 2011.
It was announced on 9th May 2018 that Netflix had given a production order for the first season of the comedy-drama "After Life".
Stand-up Comedy
Ricky Gervais kicks off his stand-up career in the late 1990s from the show titled "Rubbernecker" and he later toured the UK in 2003 with his stand-up show "Animals" whereas the third part of the themed live trilogy, "Fame", took place in 2007 and his fourth show was entitled "Science".
After that, he announced in 2013 that his next stand-up show would be called "Humanity" as his next tour and Netflix special SuperNature was announced in late 2018. The SuperNature shows continued through 2019 and 2020.
Animation

Gervais voiced was the character of Penguin in Robbie the Reindeer's "Legend of the Lost Tribe" as well as he had a starring role in Disney's "Valiant" and has starred in several shows like "The Simpsons", "Family Guy", "Sesame Street", "Galavant", and many others.
Also, he has a cameo role in Simon Pegg's and Jessica Hynes's sitcom "Spaced" and also made a cameo appearance on "Saturday Night" Live in a Digital Short.
Talk shows

Gervais interviewed Larry David in a one-off special, "Ricky Gervais Meets... Larry David" in January 2006 whereas he has also interviewed Christopher Guest and Garry Shandling which aired on Channel 4 on 25th and 26th December 2006.
Video games
Ricky Gervais is also one of two featured comedians in the video game "Grand Theft Auto IV".
Books

Ricky has launched a children's book "Flanimals" in 2004, he released its sequel "More Flanimals" in 2005, with "Flanimals of the Deep" coming the next year. A new Flanimals book, "Flanimals: The Day of the Bletchlin"g, was released in October 2007. "Flanimals: Pop Up" was also published in 2009. "The Office" scripts have also been released in book form, with Series 1 issued in 2002.
Film Career

Ricky's film career has included small roles in 2005's "Valiant" as the voice of a pigeon Bugsy however, he also appeared as a dentist who sees spirits in "Ghost Town" (2008).
Also, he and co-writer Stephen Merchant made a film called "Cemetery Junction", which was launched in April 2010.
He then directed and starred in, "Special Correspondents", which began filming in May 2015 and was released on Netflix.
Gervais also directed and starred in the 2016 film "David Brent: Life on the Road".
He also signed up to play Ika Chu, a villainous cat, in an animated film "Blazing Samurai" on 5th November 2015.
Boxing

Ricky also took part in a charity boxing match against Grant Bovey, for the UK charity telethon Comic Relief in 2002 as he was trained for the three-round contest by boxing trainer brothers Frank and Eugene Maloney, at their Fight Factory gymnasium.
It was the second televised charity boxing match, the first being Bob Mortimer against Les Dennis. The fight was televised by the BBC, and Gervais came out on top with a split decision verdict.
He donated his 5,000-pound prize money to the training of a Macmillan nurse who specialized in cancer support.
Ricky Gervais Awards and Achievements

Primetime Emmy Awards for Outstanding Comedy Series
Golden Globe Awards for Best Television Series - Musical or Comedy
BAFTA Awards for Best Situation Comedy for Television: Comedy Series
British Comedy Awards for Best Comedy Actor
Broadcasting Press Guild Awards for Writers Award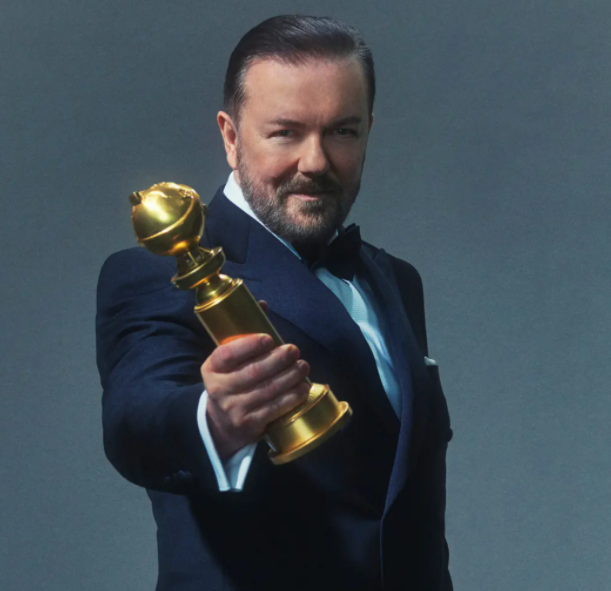 Source: @theguardian
Ricky Gervais Personal Life

Reflecting on Ricky Gervais's personal life, he is an unmarried guy. But, regarding his relationship status, he has been in a romantic relationship with producer and author Jane Fallon since 1982, and says they chose not to marry because "there's no point in us having an actual ceremony before the eyes of God because there is no God" or have children because they "didn't fancy dedicating 16 years of their lives and there are too many children, of course". The pair are living a blissful life sharing a lot of love with one another. Furthermore, talking about his sexual orientation, he is straight.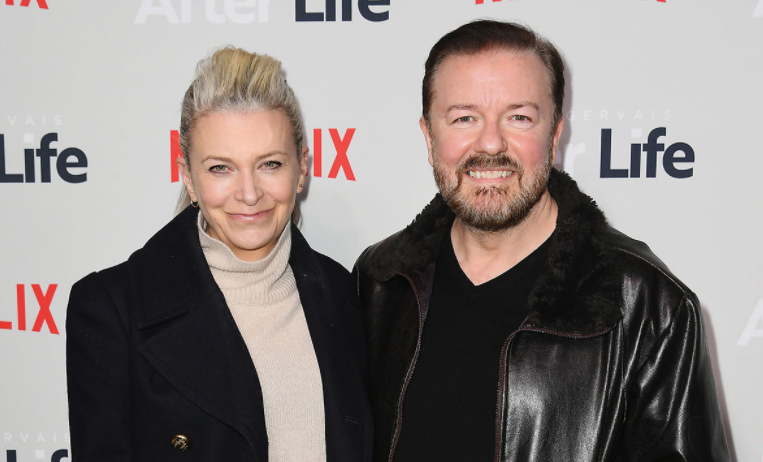 Source: @hellomagazine
Ricky Gervais Net Worth

Moving towards Ricky Gervais's net worth, he has a worth of around $140 million as of 2021 whereas he has also a fine amount of salary too which is also around $40 million per year. Gervais endorsed Labour Party leader Jeremy Corbyn in the 2017 general election. He tweeted, "OK. I'm not telling you how to vote, but this is a fact. The only vote that will keep Theresa May out is a vote for Jeremy Corbyn. Cheers." He has earned a handsome amount of money from his career as his major source of income is from his acting, producing, and directing career.
Ricky Gervais Body Measurement

The height of handsome and versatile actor, writer, producer and director, Ricky Gervais is 5 ft 8 in or 173 cm whereas his body weight is around 78 kg or 172 lbs. His mildly stocky frame, short-cropped hair, sports a rugged beard, cheerful smile, dark sense of humor, and high-pitched laugh has attracted a lot of people towards him. Ricky has dark brown hair and eyes color as his body build type is average.