About Sandro Tonali
Sandro Tonali, an Italian footballer, currently represents AC Milan and the Italy national team as a defensive midfielder, wearing the number 8 jersey for his club. He began his football journey in the Piacenza Academy during his youth career, honing his skills and passion for the game. From 2009 to 2012, he played for Piacenza, showcasing his talent and potential during his formative years. Tonali made his professional debut for Brescia Calcio on 26 August 2017, aged 17, coming on as a substitute in the Serie B away match lost 2–1 against Avellino. He continued his progression and joined Brescia, where he remained from 2012 to 2017, further solidifying his skills and making valuable contributions to the club. On 8 July 2021, Milan officially purchased Tonali's rights from Brescia and he signed a five-year contract with the club.
Sandro Tonali Early Life & Family
Sandro Tonali, a talented footballer, was born on May 8, 2000, in Lodi, Italy. He proudly holds Italian nationality and belongs to the Italian-white ethnicity. Sandro follows the Christian faith and identifies as white in terms of his race. Recently, he celebrated his 23rd birthday on May 8, 2023, making his zodiac sign Taurus. Sandro is the son of Mariarosa Tonali and Giandomenico Tonali, and he also has two siblings namely Matilde and Enrico, completing his family circle.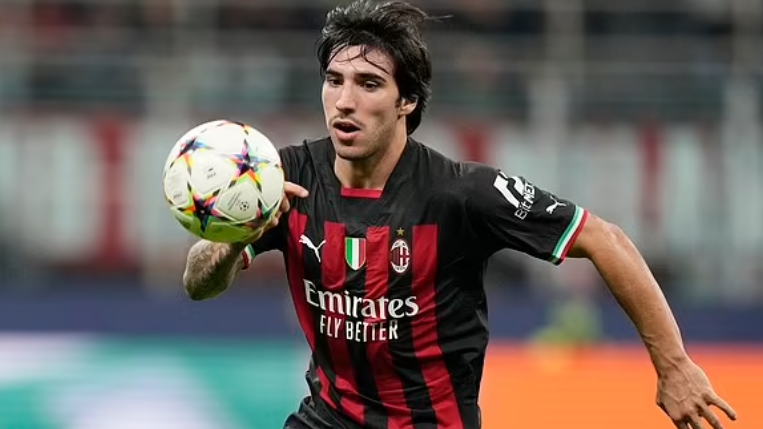 Sandro Tonali Football Career
Brescia
Sandro Tonali, a talented midfielder, marked his professional debut for Brescia Calcio on August 26, 2017, at the age of 17.
He entered the field as a substitute during their away match in Serie B against Avellino, which unfortunately ended in a 2-1 loss.
It was on April 28, 2018, that Tonali netted his first goal in his professional career, despite Brescia's 4-2 defeat against Salernitana in Serie B.
Throughout the 2017-18 Serie B season, he showcased his abilities by contributing two goals and two assists in a total of 19 league appearances.
In the subsequent season, Tonali played a significant role in Brescia's triumph as they clinched the Serie B title, securing promotion to Serie A.
He consistently started for the club during the entirety of the 2018-19 season, establishing himself as a crucial member of the team.
At the age of 19, he made his Serie A debut on August 25, 2019, in an impressive 1-0 victory over Cagliari.
He showcased his playmaking abilities on September 29 when he provided the assist for Mario Balotelli's goal from a corner kick during a 2-1 loss to Napoli.
Tonali displayed his own scoring prowess in that match with a powerful shot from outside the area, although it was disallowed by VAR due to a foul committed by Brescia's Dimitri Bisoli on Napoli's Nikola Maksimović.
Nevertheless, Tonali would not be denied for long, as he scored his first Serie A goal on October 26.
Executing a remarkable long-range free kick from the left flank, he found the top corner and opened the scoring in what would ultimately be a 3-1 defeat to Genoa.
Loan to AC Milan
After a successful loan move, Sandro officially joined AC Milan on September 9, 2020, in a season-long agreement for €10 million, with the option to purchase him for €15 million, along with additional bonuses worth €10 million.
The talented midfielder would earn a yearly wage of €2 million over the course of five years.
Just three days later, Tonali had his non-competitive debut in a friendly match against his former club, Brescia, held at Milanello.
He then made his competitive debut for Milan on September 17, 2020, entering as a substitute in the 83rd minute during a 2-0 triumph over Shamrock Rovers FC in the Europa League qualifying round.
Tonali subsequently made his Serie A debut on September 21, 2020, coming off the bench in the 77th minute during a 2-0 victory over Bologna F.C. 1909 at the iconic San Siro stadium.
Throughout the season, Tonali amassed 37 appearances, with 23 of them being in the starting lineup, showcasing his growing importance to the team.
AC Milan
On July 8, 2021, AC Milan made Sandro Tonali's move permanent, purchasing his rights from Brescia and securing his services for a five-year contract.
Despite taking a pay cut, he fulfilled his childhood dream of joining Milan, earning praise from fans on social media for his commitment to the club.
He made an impactful start to the season, scoring his first goal for Milan on August 29, 2021, with a stunning free-kick against Cagliari, contributing to their 4-1 victory.
Tonali continued to impress on October 3, dispossessing the ball from Freuler and netting the second goal in Milan's thrilling 3-2 win over Atalanta.
Demonstrating his versatility, on February 25, 2022, he provided an assist for Leao's goal against Udinese, becoming the youngest midfielder that season to score multiple goals (two) and deliver multiple assists (two) in Serie A.
Tonali's heroics continued as he scored a last-minute winner against Lazio on April 24, securing a vital victory for Milan in their Serie A campaign.
On his 22nd birthday, May 8, 2022, Tonali showcased his brilliance by scoring an equalizer and a winning goal in a 3-1 away triumph over Hellas Verona, with both goals assisted by Rafael Leão.
His contributions played a significant role in Milan's comeback victory, propelling them back to the top of the Serie A standings.
Tonali's outstanding performances throughout the season garnered recognition from esteemed Italian football pundits, including Di Canio, Donadoni, and Capello, with Capello even suggesting that Tonali would have found a place in the greatest Milan generations of the past.
Milan's triumph against Sassuolo on May 22 secured their first Scudetto in 11 years, with Tonali making 36 appearances, scoring five goals, and providing three assists during the campaign.
Sandro Tonali International Career
Representing Italy at the U19 level, Tonali participated in the 2018 European Under-19 Championship, showcasing his skills as his team reached the tournament's final.
However, Italy faced a heartbreaking 4-3 defeat against Portugal in extra time. Tonali then made his debut for the Italy U21 team on March 21, 2019, in a friendly match against Austria, which ended in a 0-0 draw in Trieste.
He also had the opportunity to take part in the 2019 European Under-21 Championship, further demonstrating his talent on the international stage.
In November 2018, Tonali received his first call-up to the senior national team under the guidance of manager Roberto Mancini.
After featuring for the Italy U21 side in a 0-0 draw against Ireland in a European qualifier on October 10, 2019, Tonali was once again summoned to the Italy senior squad the following day for the team's Euro 2020 qualifiers against Greece and Liechtenstein.
Making his senior international debut on October 15, 2019, Tonali entered the field as a substitute in a resounding 5-0 victory over Liechtenstein in Vaduz.
He earned his first start for Italy in his subsequent appearance on November 15, contributing to a convincing 3-0 away triumph against Bosnia and Herzegovina.
Sandro Tonali Transfer News
Milan signed Sandro Tonali on 08/07/2021 for a transfer fee of 6.9 million euros
Brescia received Sandro Tonali back on 30/06/2021 at the end of his loan spell
Milan initially acquired Sandro Tonali on 09/09/2020 on loan for a fee of 10 million euros
Brescia had previously signed Sandro Tonali on 01/01/2018
Sandro Tonali was not affiliated with any team on 01/07/2012 and joined Piacenza Youth for free during that time
Sandro Tonali Awards and Achievements
Brescia
AC Milan
Italy U19
UEFA European Under-19 Championship runner-up: 2018
Individual
UEFA European Under-19 Championship Team of the Tournament: 2018
Serie B Footballer of the Year: 2018
Serie B Best Young Player: 2019
Italian Golden Boy Award: 2020
IFFHS Men's World Youth (U20) Team: 2020
Serie A Player of the Month: May 2022
Premio Bulgarelli Number 8: 2022
Sandro Tonali Net Worth
Sandro Tonali, the talented and accomplished footballer playing for AC Milan, has already made a significant impact in the world of football. With a net worth estimated to be around $4.3 million as of 2023, Sandro is undoubtedly enjoying the fruits of his success. His annual income reflects his stature, earning €4,630,000 in each season from 2022 to 2026. Despite his achievements, Sandro remains incredibly ambitious and continues to push himself even further to achieve his goals. As of June 15, 2023, his market value stands at an impressive €50.00 million. It's worth noting that his primary source of income comes from his illustrious football career. With his financial stability, Sandro Tonali is currently living a comfortable and desirable lifestyle.
Sandro Tonali Dating & Girlfriend
Sandro Tonali is currently in a happy relationship with his lovely girlfriend, Juliette Pastore. Despite his popularity, he has maintained a loyal and dedicated persona, with no rumors, affairs, or controversies surrounding his personal life. With his happiness evident in his relationship, there is a strong likelihood of a future marriage for him. As for his sexual orientation, Sandro Tonali identifies as straight.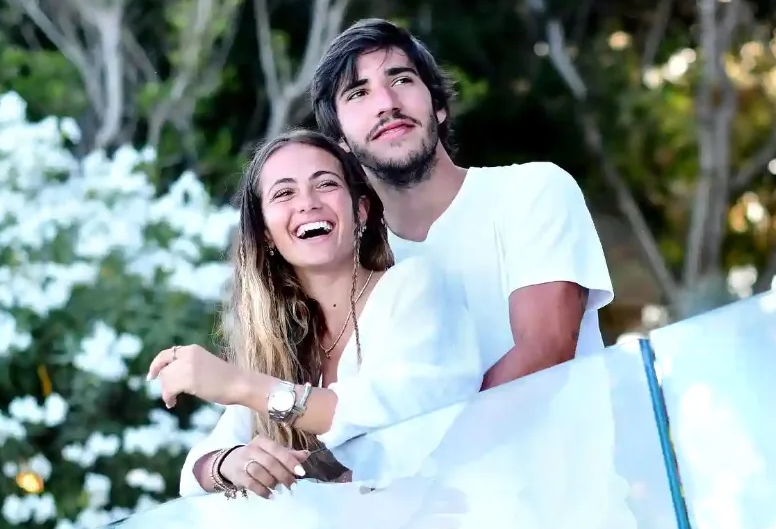 Sandro Tonali Height & Weight
Sandro Tonali is not only a talented footballer but also possesses a striking appearance. Standing at a height of 1.82 m (6 ft 0 in) and weighing approximately 79 kg, he has a well-proportioned athletic physique. With his long dark brown hair and captivating eyes, Sandro exudes a handsome charm. Adding to his allure, he has adorned his body with attractive tattoos. It is worth noting that in October 2020, Sandro tested positive for COVID-19, but he has since recovered and currently enjoys a healthy state of well-being.