Trisha Paytas Biography
An American media personality, YouTuber, model, as well as a singer, is named Trisha Paytas. Initially, she began her career by becoming a stripper and began acting on the side, primarily as an extra. She then went on to appear in a number of music videos for artists including Eminem, Amy Winehouse, and The All-American Rejects. Later, she created a YouTube channel, 'blndsundoll4mj' which is a lifestyle-oriented vlog channel. She also created a companion' channel, TrishasLife, later Trisha Paytas in the year 2014 which featured personal vlog videos. Through her main channel, she accumulated roughly 4.88 million subscribers and roughly 1.7 billion lifetime views as of May 2020. Besides her YouTube channel, she has also appeared on the television shows The Greg Behrendt Show (2006-2007) and Who Wants to Be a Superhero? (2007). In the year 2017, she appeared on the 20th series of the British reality television show Celebrity Big Brother. She has also hosted podcasts, including The Dish with Trish (2015-2016; 2019-2020), Let's Talk About Sex (2017-present), and Frenemies (2020-present) with Ethan Klein of h3h3Productions. As a recording artist, she has released one cover album, 9 extended plays, and 35 singles. In the year 2019, she embarked on her own headlining tour, "The Heartbreak Tour", to promote her music. As an author, she has published the books entitled, Trisha's 31 Nights of Fright (with Jeff Rendell), How to Get Internet Famous, 101 Poems About My Ex Boyfriend. In the year 2014, she launched her exclusive range of skincare products under the label of Feel Like Trish. In the year 2013, she released her new fragrance titled Trish. She is reported to be the fastest talker in the world and has managed to speak 710 words in the space of 54 seconds. Scroll more to know about her full biography, untold story, wiki, age, birthday, personal life, and more.
Trisha Paytas called out Jeffree Star for allegedly telling her not to eat and criticized her friend Shane Dawson for supporting the makeup mogul. Paytas tearfully said Star attacked her weight, appearance, and substance abuse during a trip the pair took to Las Vegas with Jay on Valentine's Day in 2019. Paytas also addressed Star's friendship with Shane Dawson, who is one of Paytas' oldest friends on YouTube. Paytas criticized Dawson's "constant promoting" of Star.
Everything You Need To Know About Jeffree Star
Trisha Paytas is famous for appearing in a number of popular TV shows such as "The Ellen DeGeneres Show", "Dr. Phil" and "America's Got Talent". She is well recognized and popular for her YouTube page, "blndsundoll4mj" which consists of more than 4.85 million subscribers and more than 1 Billion views.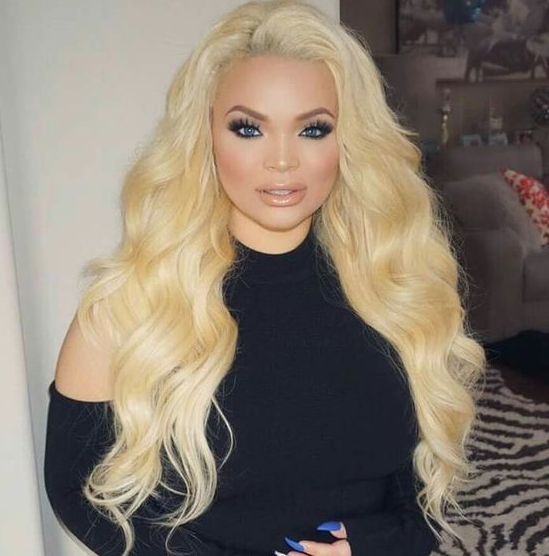 Source: @pinterest
On 8th May 1988, Trisha Paytas was born with the birth name/real name of Trisha Kay Paytas. Her place of birth is in Riverside, California, the USA. Her hometown is in Rockford, Illinois. She holds an American nationality and her ethnic background is American-White. She has Hungarian ancestry. Her race is White. Taurus is her Zodiac sign. She is a Roman Catholic and has claimed that her strong religious faith has helped her get through tough times. About her family members, she was born to her parents; Frank Paytas (father) and Lenna Paytas (mother). She also has two siblings; Nick Paytas (Brother), Kalli Metz (Half-sister) (YouTube Personality). Concerning her education, she got enrolled in a Catholic online school program after moving to Los Angeles. Later, she returned to Illinois in order to live with her mother and got admission to a high school in the village of Pecatonica. As of 2020, she celebrated her 32nd birthday and she will next celebrate her 33rd birthday as of 8th May 2021.
Beautiful Trisha Paytas's body build is large. She stands tall at the height of 5 ft 4 in or 162.5 cm. Her balanced weight consists of 82 Kg or 181 lbs. Her body measurement is 34-26-35 in and her bra size is 33B. Her shoe size is 8 US. She has a pair of blue eye color and she prefers to dye her hair blonde. she has a curvaceous figure, fuller lips with tan skin, and blonde locks. Overall, she has got a healthy body as she works out regularly to keep her curvy figure in perfect shape. She mostly relies on cardio activities for her workout regime. She is a big fan of martial arts and has managed to earn a second-degree black belt in taekwondo. In an interview with H3 Podcast, she admitted she used to have substance abuse problems and was once hospitalized after a methamphetamine overdose. She said her main issues were from ages 19 until 22, followed by five years of sobriety, and several minor relapses. Paytas has stated that her main addiction was to prescription pills.
Trisha Paytas Career
After moving to LA, she started lingerie modeling as well as began working as a stripper.
She then attempted to break the world's fastest-talker record on 'Guinness World Records Unleashed'.
She then made her TV debut by appearing as a correspondent to Greg Behrendt on "The Greg Behrendt Show" where she appeared on the show for its full thirteen-episode run before it was canceled after only airing one season.
She then appeared on the second season of "Who Wants to Be a Superhero?" in 2007.
After that, she started her YouTube channel "blndsundoll4mj" on 3rd January 2007. The channel specialized in fashion, beauty, and relationship advice videos.
What's more, she has also appeared on TV shows such as The Price Is Right (2008), The Ellen DeGeneres Show (2011), Jane by Design (2011), Huge (2011), and Modern Family (2011), among others.
She portrayed Jessica Simpson in the 2009 Eminem video "We Made You" and then appeared as a background dancer for rapper M.I.A. at the Scream Awards in 2010. Similarly, she appeared in the videos for "Playing the Part" by Jamey Johnson, "A Girl's Got to Do What a Girl's Got to Do" by Barbwire and "Tears Dry on Their Own" in the year 2010.
She played a stripper in The All-American Rejects' music video for "Beekeeper's Daughter" in the year 2012.
In addition to this, she also appeare3d in 2010 on an episode of "My Strange Addiction" as a self-admitted tanning addict.
She then started making "trolling" videos which she told Business Insider were a way to "dumb myself down" in order to get more attention and views.
She also created a companion' channel, "TrishasLife" in June 201, later changed the channel's name to "Trisha Paytas", which featured personal vlog videos.
She then posted more stylized or music-related videos on her main channel, blndsundoll4mJ, and also began posting mukbang sessions and eating-challenge videos.
She attained more than one billion views as of July 2017. The video for her song "Fat Chicks" was also featured on websites such as Cosmopolitan, The Huffington Post, and Business Insider.
On 29th June 2015, she released her EP "Superficial Bitch" and its music video was released on 23rd July.
Her second music video from the EP titled "Leonardo DiCaprio: was released on 7th August.
She then released her fourth EP, "Daddy Issues" in June 2016 which became her first EP to appear on the Billboard charts debuting at number 25.
She also became a housemate on Celebrity Big Brother 20 but left the show after eleven days on 11th August 2017.
She then released a cover of "Shallow" by Lady Gaga and Bradley Cooper in February 2019 which achieved more than a million views in the time span of four days.
She revived her podcast, "The Dish with Trish" in October 2019. But she announced that the podcast was canceled in August 2020.
She has been a co-host of the Youtube podcast "Frenemies" since September 2020 along with the YouTuber Ethan Klein of H3h3Productions.
Trisha Paytas Podcasts
The Dish with Trish (2015-2016; 2019-2020)
Let's Talk About Sex (2017-present)
Frenemies (2020-present)
Trisha Paytas Books
2013: The History of My Insanity
2013: The Stripper Diaries
2014: Tease
2014: Curvy and Loving It
2014: Trisha's 31 Nights of Fright (with Jeff Rendell)
2015: How to Get Internet Famous
2019: 101 Poems About My Ex Boyfriend
Trisha Paytas Personal Life & Affairs
Trisha Paytas is not married yet and she is still to get married. But she has been in numerous relationships in her life. At present, she is in a love relationship with her boyfriend, Moses Hacmon. In March 2020, she started dating YouTuber Hila Klein's brother, Moses Hacmon; the couple got engaged in December 2020. The duo is enjoying their present life without any disturbances. Her sexual orientation is straight.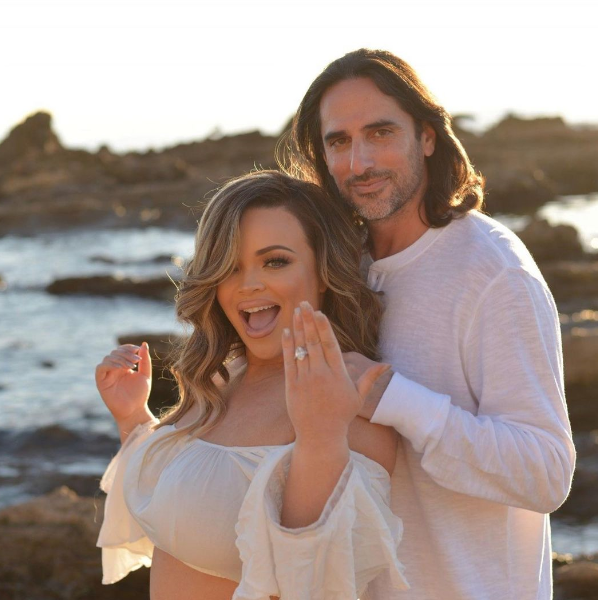 Source: @instagram.com/trishapaytasbackup/
Initially, Trisha started dating David Lipper in 2006. After a year, they split. Then, she has a fling with Phil Varone who is a famous drummer as well as a songwriter. Then, she began her relationship with Anthony Michael Hall in 2008. The duo dated for five years and they separated as she accused him of cheating on her and going out with another woman while he was with her. After that, she was seen with Dale DaBone, who is a movie star. For a couple of years, she dated singer, Roger Bart since year 2013. She also had a fling with recording artist, Crispin Glover since December 2013. She then dated choreographer Sean van der Wilt from the year 2015 until 2016. She also spent a night with singer, Aaron Carter. She also had an on-off relationship with comedian Jason Nash beginning in 2017.
Trisha Paytas Net Worth & Salary
An American media personality, YouTuber, model, and singer, Trisha Paytas has an estimated net worth of $5 Million as of 2021. She also has a fragrance line named "Trish". She has appeared in the TV commercials for the following brands such as La Senza Bikini, Mercedes-Benz, Movember Prostate Cancer PSA. In October 2015, she was hired by the mobile game Line Play to create an original song and music video to promote the app. She has not revealed anything about her salary and career earnings to the public but there is no doubt in the mind of her followers that she is making a good amount of money from her career. She is living a cool lifestyle and she is satisfied with her earnings. Her major source of earning comes from a YouTube career whereas she is also earning from a modeling and singing career which boosts up her income.