About Sharon Stone
Sharon Stone is an American actress and producer. She is a former fashion model too. She is best known for her electric and sultry performance in the erotic thriller movie, "Basic Instinct", which established her as an enduring s*x symbol. Previously, she quit school to become a fashion model in New York City. She has received a Golden Globe Award for her work in Casino. She starred in her first comedy-drama movie, " Stardust Memories" in 1980. She made her first TV show appearance in "A Little Magic" episode of the NBC sitcom, "Silver Spoons" in 1982. She has won the Primetime Emmy Award, Golden Globe Award, and many more. Recently, she has shared her sister's experience with Covid-19 on Instagram, and she said people who don't wear masks are to blame. The 62-year-old actress revealed that both her grandmother and godmother have died of the coronavirus. Now, her sister and brother-in-law are in the hospital battling COVID-19.
Famous For

Being an American actress, producer, and a former fashion model.
For her electric and sultry performance in the erotic thriller movie, "Basic Instinct".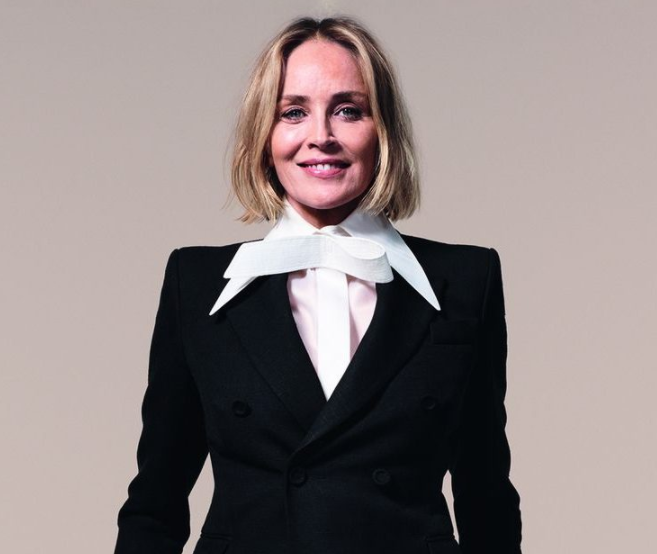 Source: @myheraldmagazine
Early Life of Sharon Stone
Sharon Stone took birth on 10th March 1958 in Meadville, Pennsylvania, the U.S. Her full name or birth name is "Sharon Vonne Stone". She belongs to American nationality and American-White ethnicity. Regarding her religion, she identifies herself as a Buddhist. Her star sign is Pisces and race is white. She celebrates her birthday on 10th March of every year and she had celebrated her 62nd birthday as of 2020. She was born to Dorothy Marie (mother), who is an accountant and Joseph William Stone II (father) who was a tool and die, manufacturer, and factory worker. Sadly, her father passed away in 2009. She has three siblings; an older brother named Michael, a younger sister, Kelly, and a younger brother, Patrick. She is graduated in 1975 from Saegertown High School in Saegertown, Pennsylvania. She left Meadville and moved in with an aunt in New Jersey and was signed by the "Ford Modeling Agency" in New York City. But she was inspired by Hillary Clinton, and in 2016 she went back to Edinboro University to complete her degree.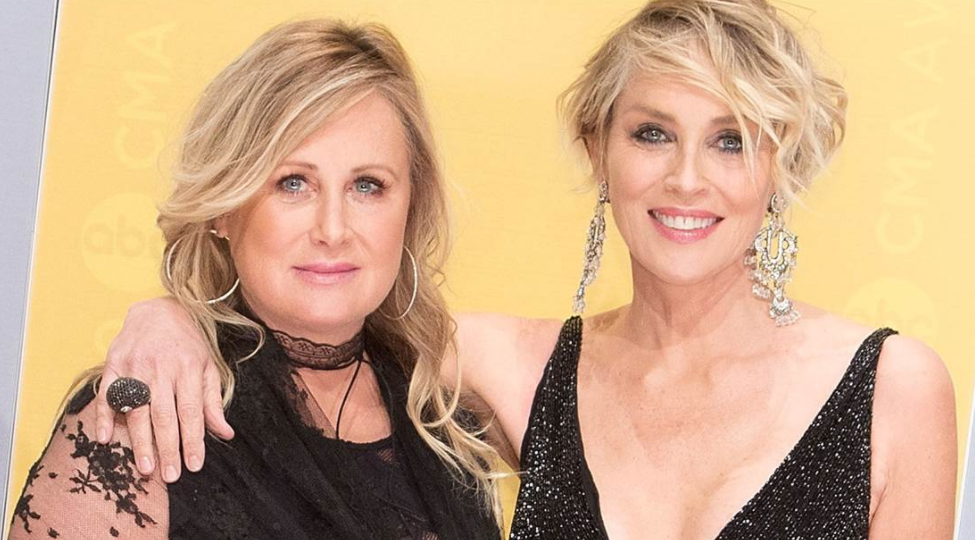 Source: @exbulletin
Career of Sharon Stone

Sharon Stone kicks off her career by casting for a brief role in Allen's "Stardust Memories" (1980) and then had a speaking part a year later in the horror film "Deadly Blessing" (1981).
Similarly, she cast in a film, "Les Uns et Les Autres" (1982), starring James Caan.
She played a ditsy bimbo meter maid in the first season of the television series "Silver Spoons" on 4th December 1982 and in television series "Bay City Blues", as Cathy St. Marie in 1983 and also starred in the Remington Steele episode "Steele Crazy After All These Years" on the following year.
She starred in an episode of T. J. Hooker ("Hollywood Starr") opposite William Shatner in 1985.
Likewise, her next film role was in "Irreconcilable Differences" (1984).
She starred in "Echoes of the Mind", a two-part episode of "Magnum, P.I." in 1984.
She had roles in such films as King Solomon's Mines (1985) and Allan Quatermain and the Lost City of Gold (1986), and played Steven Seagal's wife in Above the Law (1988), through the remainder of the 1980s.
She played Janice Henry for the filming of the miniseries "War and Remembrance" in 1988.
Similarly, in the year of 1990s, she played the role of Lori Quaid in an action film "Total Recall" which received favorable reviews and made $261.2 million worldwide.
She starred in the romantic comedy "He Said, She Said", and starred in the psychological thriller "Scissors" as a sexually repressed woman.
She appeared opposite Forest Whitaker in the dramatic thriller "Diary of a Hitman", which was screened at the Deauville American Film Festival in September.
She next played a sexually provocative young photojournalist in the little-seen "Year of the Gun" (1991), and in the thriller movie, "Where Sleeping Dogs Lie" (1991), she obtained the role of a literary agent and former lover of a mystery writer.
She took on the role that made her a star as Catherine Tramell, a brilliant bisexual and alleged serial killer in the erotic thriller Basic Instinct (1992).
She headlined the 1993 erotic thriller "Sliver", based on Ira Levin's eponymous novel, which grossed US$116.3 million at the international box office.
She made a cameo appearance in the action film "Last Action Hero" (1993) and in the drama "Intersection".
She appeared in the action thriller The Specialist (1994), the film made US$170.3 million worldwide and appeared in the crime drama "Casino" (1995).
She starred in the psychological thriller "Diabolique" in 1996, and in the following year she starred in the little-seen drama "Last Dance".
She starred in the science fiction psychological thriller "Sphere" which was launched on 13th February 1988, and her last film release in the year was the drama "The Mighty".
In the film "Gloria", she obtained the titular role of a street-wise, middle-aged moll, but it was flopped at the box office, grossing US$4.1 million at the North American box office despite its US$30 million budget.
Similarly, in the 2000s, she appeared in the television film "If These Walls Could Talk 2" and played an exotic dancer alongside Billy Connolly in the little-seen comedy "Beautiful Jo" in the following year.
She attempted a return to the mainstream with roles in the films Cold Creek Manor (2003) in the early 2000s.
In 2005, her next film, "Broken Flowers" was launched and was named "Officer of the Order of Arts and Letters in France" in the same year.
On 31st March 2006, her "Basic Instinct 2" was released, which was subsequently declared a flop.
In 2006, she appeared in Nick Cassavetes's crime drama "Alpha Dog" which was launched at the 2006 "Sundance Film Festival" and was an arthouse success.
And in the following year, she made part of an ensemble cast in Emilio Estevez's drama "Bobby".
She appeared in the last episode of the Turkish TV series "Kurtlar Vadisi" (Valley of the Wolves) in 2006.
In the independent drama "When a Man Falls in the Forest" (2007), she took on the role of a clinically depressed woman.
Including the late 2000s films If I Had Known I Was a Genius (2007), The Year of Getting to Know Us (2008), Five Dollars a Day (2009) and Streets of Blood (2009), her next film roles have been in independent productions, all of which were direct-to-DVD releases in North America.
She took on the leading female role in the French action sequel, "Largo Winch II".
Since 2007, her first theatrical-released production, the film premiered on 16th February 2011 in France and next starred in the thriller Border Run (2012).
She obtained the role of the mother of porn actress Linda Lovelace (played by Amanda Seyfried) in the biographical drama "Lovelace" (2013) and played a dermatologist seeking a menage a trois in the Woody Allen-John Turturro comedy "Fading Gigolo".
She starred as an actress-turned-publisher opposite Riccardo Scamarcio in the Italian dramedy "A Golden Boy".
She headlined the action-drama series "Agent X", which aired only for one season on the TNT channel in 2014.
She appeared in the independent drama "Mothers and Daughters", and in the action film "Life on the Line", "Running Wild" (2017) and was a part of the ensemble cast of the biographical comedy "The Disaster Artist" (2017).
"The Room" (2003), cast her as Iris Burton, the agent of line producer and actor Greg Sestero.
In Steven Soderbergh's HBO murder mystery "Mosaic", she returned to television the following year.
And it was announced that she will star in the upcoming Netflix drama series "Ratched" in January 2019.
In addition, she has appeared in the covers and photo session of over 300 celebrity and fashion magazines throughout her four-decade acting career.
She graced the June-July cover of French Vogue, and to coincide with the release of "Total Recall" in 1986, she posed nude for the July 1990 issue of "Playboy", showing off the muscles she developed in preparation for the film.
She was ranked among the "top 100 film stars of all time" by the magazine "Empire" in October 1997.
Regarding her criticism, she helped solicit pledges for $1 million in five minutes for mosquito nets in Tanzania, turning a panel on African poverty into an impromptu fund-raiser at the World Economic Forum in Davos, Switzerland on 28th January 2005.
She was removed from the 2008 "Shanghai International Film Festival" guest list, and the event's organizers considered banning the actress permanently.
She began an impromptu auction on stage in front of a crowd of CEOs from the construction industry and other dignitaries and gained enough pledges to build 28 schools in Africa.
And as a piece of fresh news, she shared her sister's experience with Covid-19 on Instagram, and she said people who don't wear masks are to blame. "One of you Non-Mask wearers did this," she said in a post-Sunday.
Her post comes as more than 5.4 million people have been infected and 170,052 have died from the coronavirus.
Her sister, Kelly, had lupus before being diagnosed with Covid-19, according to the post. Stone shared a picture she said was of her sister's hospital room.
Awards and Achievements of Sharon Stone
Regarding Sharon's awards, she had more than hundreds of acting credits in films and on television. She was nominated for 41 awards but she has won a total of 10 awards including one Golden Globe Award (for Casino), one Primetime Emmy Award (for The Practice), and two MTV Movie Awards (for Basic Instinct).
Source: @outlookindia
Personal Life of Sharon Stone

Reflecting on her personal life, she is a married woman. She is married in 1984 with television producer Michael Greenburg. But the couple separated after three years of relationship and their divorce was finalized in 1990. Then she met William J. MacDonald in 1993. William left his wife Naomi Baca for Sharon and became engaged to her, but they separated one year later in 1994. When they separated, she returned the engagement ring. Then she engaged with Bob Wagner (a first assistant director). She married Phil Bronstein, executive editor of The San Francisco Examiner, and later the San Francisco Chronicle on 14th February 1998. She suffered several miscarriages because of autoimmune disease and thus was unable to have biological children, so the couple adopted a baby son, Roan Joseph Bronstein, in 2000. But in 2003, Bronstein filed for divorce citing irreconcilable differences which became final in 2004. In 2005, she adopted her second son, Laird Vonne, and her third son, Quinn Kelly Stone, in 2006.
On 29th September 2001, she was hospitalized for a subarachnoid hemorrhage, which was diagnosed as a vertebral artery dissection rather than the more common ruptured aneurysm, and treated with endovascular coil embolization.
Net Worth of Sharon Stone

Moving towards her net worth, Sharon is a successful American actress, producer, and former model. Her net worth is around $60 million dollars as of 2020. She has also a fine amount of salary, which is in millions of dollars yearly. Her main source of income is from the actress, producer, and former model career. Stone has appeared in the TV commercials for the following, Seagrams 7 Golden Wine Cooler, Ford models, Freixenet (Spanish), El Corte Ingles (Spanish), AOL, American Stroke Association, William Lawson, Banca 121 (Banca Del Salento), Pirelli, and many others from where she can earn a handsome amount of money.
Body Measurement of Sharon Stone

Regarding her body measurement, she has a slim body with a perfect figure. Beautiful actress, model, and former fashion model Sharon stands at a height of 5 ft 8½ in or 174 cm and her body weight is around 58 kg or 128 lbs. She has dark brown hair which is natural but she has been best known for her blonde dyed locks. Her eyes color are blue. She has a deep sultry voice with a short hairdo. Her body measurement is 36-25-35 inches. She loves yoga for its ability to elongate her muscles and dance for the fun cardio it provides. She is maintaining her body as a TV personality.