About Stacey Abrams
Stacey Yvonne Abrams renowned as Stacey Abrams is an American politician, lawyer, voting rights activist as well as an author. She served in the Georgia House of Representatives from 2007 to 2017, and also served as minority leader from the year 2011 to the year 2017. She is a member of the Democratic party who has founded Fair Fight Action, an organization to address voter suppression, in the year 2018. Furthermore, she was the Democratic party's nominee in the 2018 Georgia gubernatorial election, becoming the first African-American female major-party gubernatorial nominee in the United States. She was endorsed by Oprah Winfrey in the 2018 gubernatorial election. In February 2019, she became the first African-American woman to deliver a response to the State of the Union address. As Selena Montgomery, she has creatively written many books such as Lead From The Outside, Our Time is Now, and more. She received the John F. Kennedy New Frontier Award from the Kennedy Library and Harvard University's Institute of Politics. She also serves on the boards of directors for the Democratic Legislative Campaign Committee, the Center for American Progress, Atlanta Metropolitan State College Foundation, Gateway Center for the Homeless, and the Georgia Partnership for Excellence in Education; and on the advisory boards for Literacy Action and Health Students Taking Action Together (HSTAT). She has completed seven international fellowships and traveled to "more than a dozen foreign countries" for policy work. In 2019, she contributed an essay to Foreign Affairs magazine on how identity politics strengthen liberal democracy. She was featured in "All In: The Fight For Democracy", a documentary about voter suppression in the United States. In it, she talks about her family's voting struggles in Mississippi and voter suppression during her 2018 Georgia gubernatorial campaign. She is active in social media with more than 996K followers on her Twitter account, more than 623K followers on her Instagram account, and more than 320K followers on her Facebook page.
Stacey Abrams became a rising star when she ran for governor of her home state in 2018, but she also lost that election to Brian Kemp under a cloud of what appeared to be racially motivated voter suppression. According to an Associated Press investigation on the eve of the election, Kemp, then Georgia's secretary of state, mass-canceled more than a million voter registrations between 2012 and 2018, and in the run-up to the tight gubernatorial race, froze an estimated 53,000 registrations, a majority of them belonging to African American voters. During the 2020 election between, Joe Biden and Donald Trump, she is Joe Biden's secret weapon to win Georgia. After a 2018 loss in the state gubernatorial race, she dusted herself off, got to work, and pushed the country towards real democracy. Democratic candidate Joe Biden significantly increased, bringing Biden to within 15,000 votes of overtaking Donald Trump. With a win of the state, Biden would be placed at the doorstep of the presidency. "We've come close time and time again," Abrams said during a rally in Atlanta on Tuesday. "Every time is a building block, and we're building toward a blue wall in Georgia".
Everything You Need To Know About Joe Biden
Stacey Abrams is famous for being a politician, lawyer, voting rights activist, and author. She is best known for being the Democratic party's nominee in the 2018 Georgia gubernatorial election, becoming the first African-American female major-party gubernatorial nominee in the United States. She is also better known for being the author of many award-winning books under the pen name of Selena Montgomery.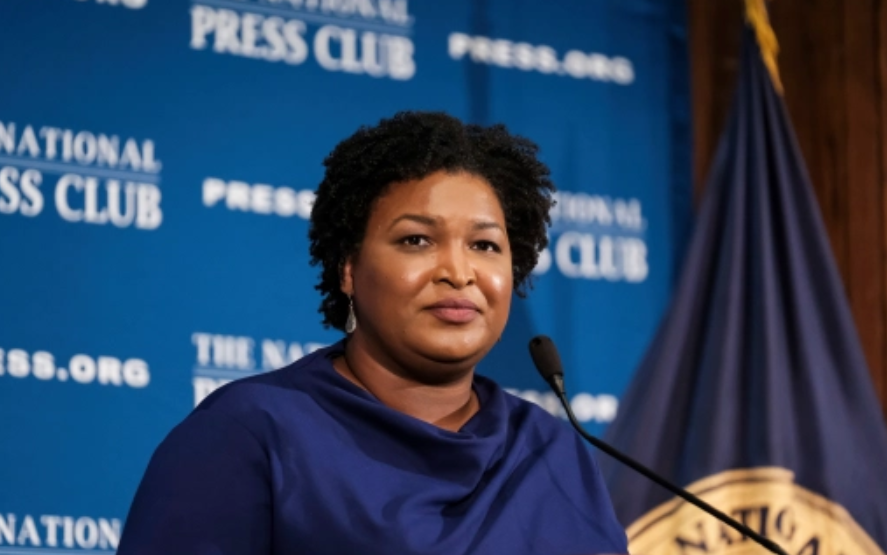 Source: @bostonherald
Stacey Abrams was born with the birth name/full name of Stacey Yvonne Abrams on 9th December 1973 in Madison, Wisconsin, the USA. She holds an American nationality and her ethnic background is African-American. Her race is black. She was born to her parents; Robert Abrams (father) and Carolyn Abrams (mother). She has five siblings. Her siblings are Andrea Abrams, U.S. District Judge Leslie Abrams Gardner, Richard Abrams, Walter Abrams, and Dr. Jeanine Abrams McLean. She was raised in Gulfport, Mississippi. She along with her family moved to Atlanta, Georgia (hometown), where her parents pursued graduate degrees and later became Methodist ministers. Her Zodiac sign is Sagittarius and her religion is United Methodist. As of 2019, she celebrated her 46th birthday.
As per her education, Stacey attended Avondale High School, where she was selected for a Telluride Association Summer Program. She was hired as a typist for a congressional campaign when she was in high school and he was hired as a speechwriter based on the edits she made while typing at the age of seventeen. She achieved a Bachelor of Arts in interdisciplinary studies (political science, economics, and sociology) from Spelman College in the year 1995. She worked in the youth services department in the office of Atlanta mayor Maynard Jackson during her college time. She also interned at the U.S. Environmental Protection Agency and took part in a protest on the steps of the Georgia Capitol, during which she joined in burning the state flag in 1992 as a freshman. As a Harry S. Truman Scholar, she studied public policy and acquired a Master of Public Affairs degree from the University of Texas at Austin's LBJ School of Public Affairs in 1998. In the year 1999, she earned a Juris Doctor from Yale Law School.
Stacey Abrams is a very beautiful lady with a charming and attractive personality who has won the heart of many people through her glowing face. She stands at a height of 160 cm or 1.60 m or 5 ft 3 in. Her balanced weight consists of 83 kg. She has defined her body as sturdy. She has black hair and black eyes. Her body build is average. Details regarding her body measurement, shoe size, and dress size have not been revealed yet. She maintains her body a lot and she is very conscious about her food intake.
Stacey Abrams's Legal, Business, Political career
After her graduation, Stacey started working as a tax attorney at the Sutherland Asbill & Brennan law firm in Atlanta, with a focus on tax-exempt organizations, health care, and public finance. Additionally, she also co-founded and served as the senior vice president of NOW Corp. (formerly NOWaccount Network Corporation), a financial services firm in the year 2010.
After that, she co-founded Nourish, Inc., a beverage company with a focus on infants and toddlers. She is also the CEO of Sage Works, a legal consulting firm that has represented clients including the Atlanta Dream of the Women's National Basketball Association.
At the age of twenty-nine, in the year 2002, she was appointed the deputy city attorney for the City of Atlanta. She ran for the 89th district for the Georgia House of Representatives in the year 2006.
she then ran in the Democratic Party primary election against former state legislator George Maddox and political operative Dexter Porter where she outraised her two opponents and won the primary election with 51% of the vote, avoiding a runoff election. She also represented House District 89.
In November 2010, she became the minority leader and her first major action as a minority leader was to cooperate with Republican Governor Nathan Deal's administration to reform the HOPE Scholarship program.
She co-sponsored the 2011 legislation that preserved the HOPE program by decreasing the scholarship amount paid to Georgia students and funded a 1% low-interest loan program for students.
On 25th August 2017, she resigned from the General Assembly to focus on her gubernatorial campaign.
On 22nd May 2018, she won the Democratic nomination, becoming the first black woman in the U.S. to be a major party's nominee for governor. After winning the primary, she secured a number of high-profile endorsements, including one from former President Barack Obama. But Abrams lost the election by 50,000 votes and she has repeatedly claimed that the election was not fairly conducted.
On 29th January 2019, Senate minority leader Chuck Schumer (D-NY) announced that Abrams would deliver the response to the State of the Union address on February 5. She became the first African-American woman to give the rebuttal to the address, as well as the first and only non-office-holding person to do so since the SOTU responses began in the year 1966.
On 30th April 2019, she announced that she would not run for the U.S. Senate in 2020. On 17th August 2019, she announced the founding of Fair Fight 2020, an organization that will assist Democrats financially and technically to build voter protection teams in 20 states. She is Fair Fight Action 2020's chair.
During the 2020 Democratic presidential primary election, she actively promoted herself for consideration as former Vice President Joe Biden's running mate. Biden later shortlisted Abrams for the position. Kamala Harris was officially announced as Biden's running mate on 11th August 2020.
She was selected as one of seventeen speakers to jointly deliver the keynote address at the 2020 Democratic National Convention.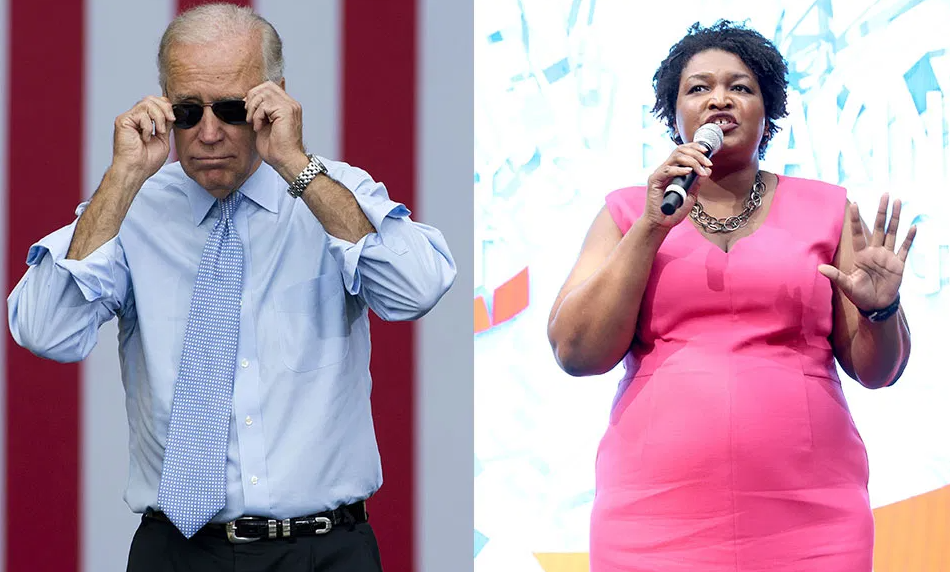 Source: @observer
Everything You Need to Know About Kamala Harris
Moreover,
Stacey Abrams is pro-choice, advocates for expanded gun control, and opposes proposals for stricter voter ID laws.
She is a strong supporter of Israel and rejects "the demonization and delegitimization of Israel represented" by the Boycott, Divestment and Sanctions campaign," which she has called "anti-Semitic."
Stacey Abrams' Writing career
Aside from a political career, Stacey Abrams is also an award-winning author with the pen name Selena Montgomery who has published many articles regarding public policy, taxation, and non-profit organizations. According to Abrams, she has sold more than 100,000 copies of her novels. According to Abrams, she has sold more than 100,000 copies of her novels. She wrote her first novel during her third year at Yale Law School and published her most recent book in 2009. Montgomery won both the Reviewer's Choice Award and the Reader's Favourite Award from Romance In Color for Best New Author and was also featured as a Rising Star. She is the author of "Minority Leader: How to Lead from the Outside and Make Real Change", published by Henry Holt & Co. in April 2018. She is also the author of the upcoming book "Our Time Is Now: Power, Purpose, and the Fight for a Fair America", to be published by Henry Holt & Co. in June 2020.
Awards, Achievements, and Honors of Stacey Abrams
Stacey Abrams has been honored with many awards and has achieved many achievements throughout her career. In the year 2001, she was named as one of "30 Leaders of the Future" by Ebony. In the year 2004, she was named to Georgia Trend's "40 Under 40" list, and the Atlanta Business Chronicle named Abrams to its Top 50 Under 40 list. In the year 2006, she was named a "Georgia Rising Star" by Atlanta Magazine and Law & Politics Magazine. In the year 2012, she received the John F. Kennedy New Frontier Award from the Kennedy Library and Harvard University's Institute of Politics, which honors an elected official under 40 whose work demonstrates the impact of elective public service as a way to address public challenges. In the year 2014, Governing Magazine named her a "Public Official of the Year", which is an award that recognizes state and local officials for outstanding accomplishments. Not only this but also she was recognized as one of "12 Rising Legislators to Watch" by the Governing Magazine in 2012 and one of the "100 Most Influential Georgians" by Georgia Trend for 2012, 2013, 2014, 2015, 2016, and 2017. In the year 2014, EMILY's List recognized her as the inaugural recipient of the Gabrielle Giffords Rising Star Award. She was selected as an Aspen Rodel Fellow and a Hunt-Kean Fellow. She was also named as "11 on The Root 100 by The Root". She was named "Legislator of the Year" by the Georgia Alliance of Community Hospitals, "Public Servant of the Year" by the Georgia Hispanic Chamber of Commerce, "Outstanding Public Service" by the Latin American Association, "Champion for Georgia Cities" by the Georgia Municipal Association, and "Legislator of the Year" by the DeKalb County Chamber of Commerce. She received the "Georgia Legislative Service Award" from the Association County Commissioners Georgia, the "Democratic Legislator of the Year" from the Young Democrats of Georgia and Red Clay Democrats, and an "Environmental Leader Award" from the Georgia Conservation Voters. She is a lifetime member of the Council on Foreign Relations, a Next Generation Fellow of the American Assembly, an American Marshall Memorial Fellow, a Salzburg Seminar-Freeman Fellow on U.S.-East Asian Relations, and a Yukos Fellow for U.S.-Russian Relations. She also received the "Stevens Award for Outstanding Legal Contributions" and the "Elmer Staats Award for Public Service", both national honors presented by the Harry S. Truman Foundation.
Source: @emilyslist.org
Stacey Abrams's Books
Montgomery, Selena (April 24, 2001). Rules Of Engagement. Harlequin Kimani Arabesque.
Montgomery, Selena (December 25, 2001). The Art of Desire. Harlequin Kimani Arabesque.
Montgomery, Selena (October 25, 2002). Power of Persuasion. Harlequin Kimani Arabesque.
Montgomery, Selena (June 14, 2004). Never Tell. St. Martin's Paperbacks.
Montgomery, Selena (April 25, 2006). Hidden Sins. HarperTorch.
Montgomery, Selena (December 26, 2006). Secrets and Lies. Avon.
Montgomery, Selena (June 24, 2008). Reckless. Avon.
Montgomery, Selena (March 31, 2009). Deception. Avon.
Abrams, Stacey (April 24, 2018). Minority Leader: How to Build Your Future and Make Real Change. New York: Henry Holt and Co.
Abrams, Stacey (June 9, 2020). Our Time Is Now: Power, Purpose, and the Fight for a Fair America. New York: Henry Holt and Co.
Stacey Abrams's Personal Life
Stacey Abrams is not married yet and she is still to get married. She detailed a broken relationship with a boy named Chad in her book "Minority Leader". After the relationship ended, she was heartbroken and used the pain to map out her course in life. She didn't achieve all the goals she set out to achieve, but she is happy with where she is now. In August 2019, Stacey talked to Bustle and stated that questions about her marital status also came from her own campaign team. She told the publication that her campaign team suggested that she get a boyfriend so that she would appear more appealing to voters. Abrams refused to adhere to her team's suggestions: "I was not going to fake a boyfriend. If I find him, great, but I wasn't going to pretend that he existed or create some notion of relationship". In a July 2017 tweet, she stated that an ex-boyfriend inspired one of the characters in her book "Rules of Engagement". She noted in the tweet that she put her ex-boyfriend in jail. Stacey tweeted: "I wrote my ex-boyfriend in as a character and put him in prison, where he languishes to this day". It's unclear whether the boyfriend referred to in the tweet was Chad. She is living a single life now and she is not dating or in a relationship with anyone. Her sexual orientation is straight.
Stacey Abrams's Net Worth 2020
Stacey Abrams is a politician, lawyer, voting rights activist, and author. She has made a moderate amount of net worth throughout her career. In April 2018, she wrote an op-ed for Fortune and revealed that she owed $54,000 in federal back taxes and held $174,000 in credit card and student loan debt. She was repaying the IRS incrementally on a payment plan after deferring her 2015 and 2016 taxes, which she stated was necessary to help with her family's medical bills. During the 2018 Georgia gubernatorial election, Abrams donated $50,000 to her own campaign. Later in 2019, she completed payment of her back taxes to the IRS in addition to other outstanding credit card and student loan debt reported during the gubernatorial campaign. As of 2020, Stacey Abrams possesses an estimated net worth of $500,000. She has made this amount of money from her services in a different position in governmental and administrative offices. Her profession as a lawyer and an author has also contributed to her net worth. Her income comes from the money she made as a state senator, the money she makes from her consulting firm, and earnings from her published books. Stacey has published nine books so far, among which eight of them are romance-suspense novels under the pseudonym 'Selena Montgomery.' Since 2007, Stacey makes a mere part-time salary of $17,342 per year. In addition, she also earns an extra $173 per diem for when the legislature is in session. The publishing company Henry Holt & Co. pays her $150,000 for a book deal, which we believe the company has not paid her yet. In the bank, she has an extra $108,885.84, according to an article by Yahoo Finance. In terms of money, she only had about $11,000 in cash and bank accounts. But she is making a good amount of salary and income from her career. She is living a cool lifestyle as of now.