A Greek professional tennis player, Stefanos Tsitsipas is the youngest player ranked in the top 10 by the ATP (Association of Tennis Professionals). He has already reached the career-high ranking of No. 5 in the world. The young promising talent is the highest-ranked Greek tennis player in history. Tsitsipas turned professional in 2016 and has already won five singles titles out of ten finals he reached on ATP Tour. He is the youngest winner of the year-end championships in 18 years.
What is Stefanos Tsitsipas famous for?
The reigning champion at ATP finals.

Youngest winner of the year-end championships in eighteen years.
Highest-ranked Greek tennis player.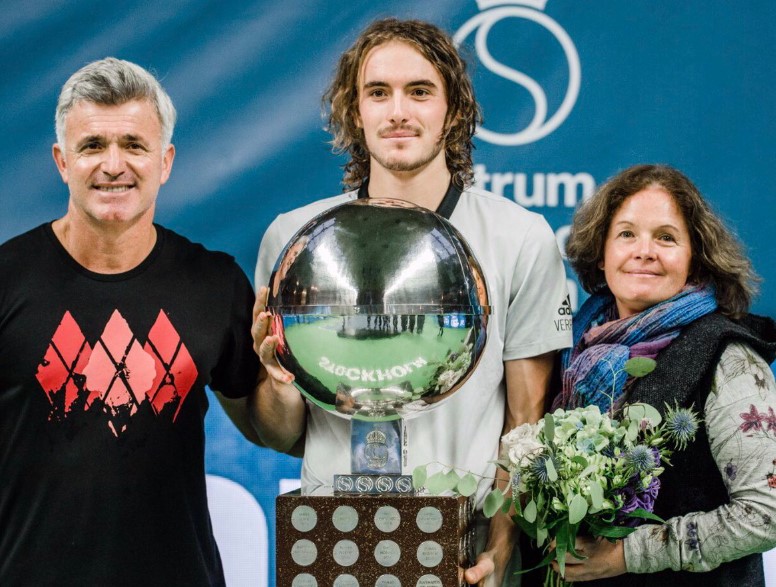 Source: @Twitter
Where is Stefanos Tsitsipas From?
Stefanos Tsitsipas was born on 12 August 1998 (age 21) in Athens, Greece. He belongs to a Greek nationality. He was born into a tennis family. His father's name is Apostolos Tsitsipas who is from Greece and was trained as a tennis coach. His mother's name is Julia Apostoli who is a former soviet born tennis player from Greece and was world No.1 junior who had a career-high professional ranking inside the top 200 and represented the Soviet Union in Fed Cup. At the time of Stefanos Tsitsipas's birth, they both were working as tennis instructors at the Astir Palace resort hotel in Vouliagmeni.
Stefanos Tsitsipas has three younger siblings: two brothers (Petros Tsitsipas and Pavlos "Paul" Tsitsipas) and one sister Elisavet Tsitsipas who is the youngest daughter of his family. They are engaged in tennis.
He is Leo by the Zodiac Sign and no information is available about his religion. He must be a Christian. He belongs to white ethnicity.
As his family has a strong background in Tennis, they start giving training to his oldest son Stefanos Tsitsipas at a very young age. He played football and swimming as a kid.
According to his father, Stefanos Tsitsipas decided to become a tennis player after a tournament in France at the age of nine.
He starts taking lessons at Tennis Club Glyfada near Athens at the time of six and continued for a long time. He was trained very properly as his father was served as his primary coach and formally studied tennis coach at the University of Athens to help training his children.
Tsitsipas studied at an English-language school as a kid.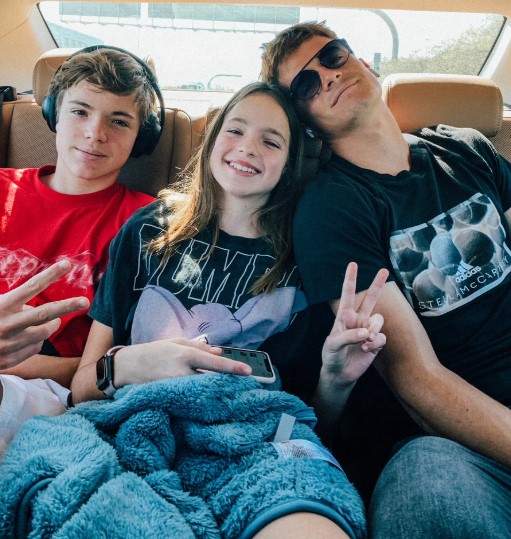 Source: @Twitter
Social Media Presence
He has a big fan following on Twitter, Instagram, and Facebook.

Twitter: @steftsitsipas and over 170k followers.

Instagram: @stefanostsitsipas98 and has 878k followers

Facebook: Stefanos Tsitsipas and has 118K followers

Junior Career
Since he started playing tennis at the age of six reaching the World No. 1 ranking at the junior level. He didn't play in any high-level Grade A tournament until the Abierto Juvenil Mexicano in 2014. He played for ITF junior circuit in 2013 at the age of 14. After a month of playing Abierto Juvenil, he was able to make a way to final in second-grade career Grade A event at the Orange Bowl. He also played the Junior Grand Slam tournaments in 2015. His Australian open became his best for his junior career, he finished the season as the No.14 ranked junior in the world.
He has won the European Junior Championships later in the year and he won the biggest title of the season Junior Grand Slam event at Wimbledon in doubles with Estonian player Kenneth Raisma. He made the semifinals in both Wimbledon and the US Open in singles in 2016 and ended the year No. 2 ranked junior in the world.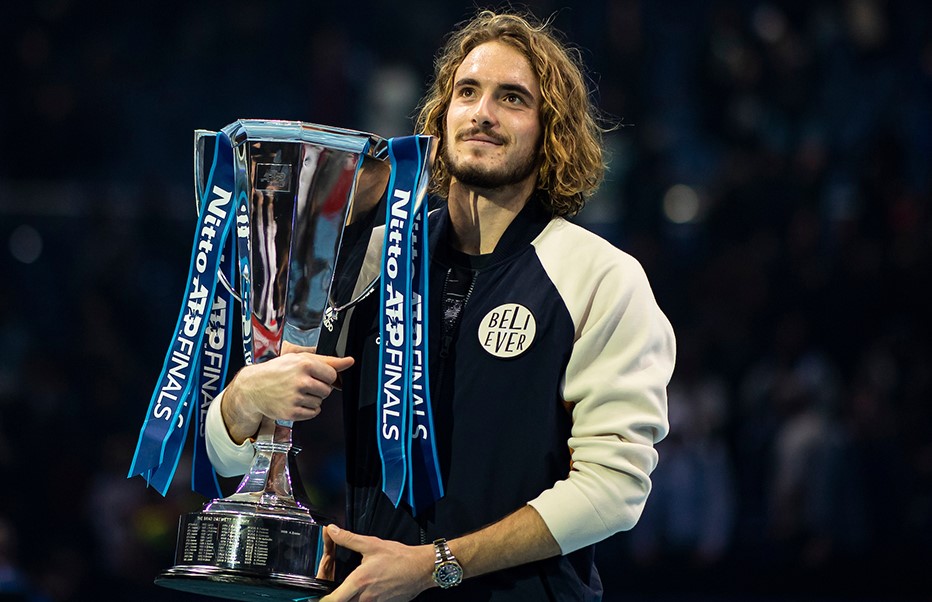 Source: @tennishead
Professional Career
He has qualified himself for his first event on the ATP Challenger Tour at the Burnie International early 2015 when he was only 16 years old. He has played several matches and had top 10 victory and defeated in ATP Semifinal and ranked himself in Top 100. He also won his first Challenger match near the end of 2015 in Mohammedia in Morocco. This success in Africa helped him crack the top 200 later that October. Towards the end of that month, Tsitsipas was granted a qualifying wild card into the Swiss Indoors in Basel, his first ATP Tour appearance. In ATP Tour he starts wining Rajeev Ram in the opening round but lost the match with Robin Haase.

He lost his debut match with Jo Wilfried Tsonga at the 2017 Rotterdam Open in 2017. He made his Grand Slam debut at the French Open in 2017. He has also qualified for a tour best eight events including Wimbledon and the Shanghai Masters, along with that French Open, US open, and Grand Slam. He didn't win that tour event but had a great experience with great players. Stefanos Tsitsipas became the first Greek player to be ranked in the top 100 of the ATP ranking. He reached in the semifinal in Australian Open in 2019, qualifying round in 2018 and 1R (round-robin stage) and knockout in the third round in 2020 in Australian Open.

He won his 5th ATP Title, recording in the process 4 wins in a row without dropping a set and defeat Felix Auger Aliassime in the final. He also went to Dubai to participate in Dubai Tennis Championship and he was defeated by Novak Djokovic who is the world No.1 tennis player of that time.

Awards
He was named Greece's Best Male Athlete of 2019 on Monday night at the Panhellenic Sports Press Association Award.

Who is Stefanos Tsitsipas dating?
Stefanos Tsitsipas is unmarried but young enough to date. He is rumored to be dating fellow Greek tennis player Maria Sakkari. The two were seen together on numerous occasions. However, neither of them confirmed their relationship. It won't be a surprise if they date each other as they come from the same country and both play tennis. Stefanos's mother stated that he needs to find personal happiness" says Tsitsipas' mum. All the single ladies, Stefanos' mum has confirmed the Greek tennis star is definitely single and according to his mother, "he needs to find personal happiness.

As he is a young talent, he is more focused on his professional tennis career.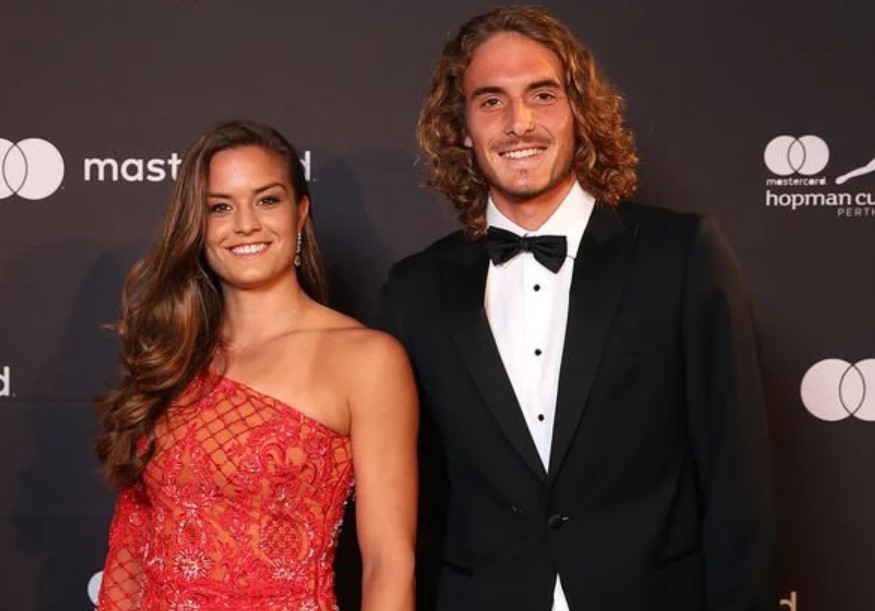 Source: @express.co.uk
How Tall is Stefanos Tsitsipas?
As being a professional player, Stefanos Tsitsipas has an athletic body build. He stands at a height of 1.93 m (6 ft 4 inch) tall and has a body weight of 85kg. His hair color is brown and got dark brown as his eye color. His other body measurements will be updated soon.

What is Stefanos Tsitsipass Net Worth?
Stefanos Tsitsipas is a young Greek professional tennis player, who has ranked as junior number 1 in the world. He turned pro in 2016 and has already earned $11,236,215 in prize money to date. His other income comes from endorsement deals. He has endorsement deals with Adidas, Wilson, and Rolex among others. He has an estimated net worth of $2 million. He is a young promising tennis player and will surely earn millions in prize money in the coming future. He has a long way to add fortune to his wealth.