Stephanie Lynn Nicks renowned as Stevie Nicks is a famous American singer and a songwriter who is best known for her work as a songwriter and vocalist with Fleetwood Mac, and also for her chart-topping solo career. She is also a pianist and tambourine player best known for her song "Landslide." She is often regarded as the Queen of Rock n' Roll. She broke the record for female rock artist Grammy Award nominations with nine competitive nominations. She is known for her distinctive voice, mystical stage persona, and poetic, symbolic lyrics and has been named one of the 100 Greatest Songwriters of All Time. As a member of Fleetwood Mac, she was inducted into the Rock and Roll Hall of Fame in 1998, and will be inducted as a solo artist in 2019; she will become the first woman to ever be inducted twice into the Hall of Fame. She has released a total of eight solo studio albums to date, with her most recent, titled 24 Karat Gold: Songs from the Vault, released in 2014.

Stevie Nicks, Janet Jackson headline 2019 Rock and Roll Hall of Fame inductees
Stevie Nicks, who became the first woman inducted twice into the Rock and Roll Hall of Fame, and Janet Jackson both accepted their honors on Friday (29th April 2019) by calling for other women to join them. "Rock and Roll Hall of Fame," Jackson said. "In 2020, induct more women." They joined a quintet of British bands in the hall. Two of Radiohead's five members picked up trophies, Bryan Ferry of Roxy Music thanked multiple bass players and album cover designers and The Cure's Robert Smith's proudly wore his mascara and red lipstick a month shy of his 60th birthday. Def Leppard and The Zombies were also inducted. Nicks was the night's first induction. She is already a member of the hall as a member of Fleetwood Mac, but only the first woman to join 22 men-including all four Beatles members-to have been honored twice by the rock hall for the different stages of their career.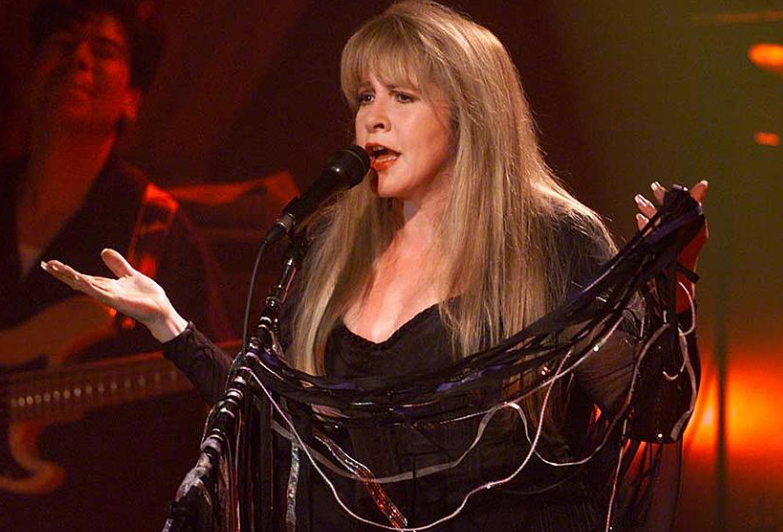 SourcE: @ultimateclassicrock.com
Early Life, Place of Birth, Parents, Education, Ethnicity And More
On 26th May 1948, Stevie Nicks was born with the birth name of Stephanie Lynn Nicks in Phoenix, Arizona, USA. She was born at Good Samaritan Hospital. She is an American by nationality her ethnicity is mixed of German, English, Irish. She was born to her parents; Jess Nicks (Father) and Barbara Nicks (Mother). Her father was a former president of Greyhound's Armour-Dial. Her grandfather was a country music singer who taught Nicks to sing duets with him by the time she was four years old. She wrote her first song, "I've Loved and I've Lost, and I'm Sad But Not Blue" on her 16th birthday. Her horoscope sign is Gemini and her religion is Christian. At present, her age is 70 but her age will be 71 on her upcoming birthday in May as of 2019. She also has a brother named Chris Nicks. Her family moved to San Francisco when she was a child and attended Menlo-Atherton High School, where she began songwriting and performing. After high school graduation, she attended San Jose State University in Northern California and majoring in speech communication. She later dropped out of college the semester before graduation to begin her singing career.
Body Measurements (Height, Weight, And More)
Stevie Nicks is a very beautiful singer with a white face. She has a height of 5 feet 1.5 inches. Her body weighs 61 kg. She maintained her body a lot. She has blonde hair and her eye color is light brown. Her body measurements are 36-25-35 inches. Moreover, her bra size is 34B, shoe size is 6 US, and dress size is 4 US. She has got a charming smile attracting a lot of people towards her.
Career (Beginning-Present) of Stevie Nicks
Nick stepped into the field of a singing career with the psychedelic rock band named Fritz during her college days.
She performed with the band for three years and left the club in 1971 to perform at her own studio album.
Then, she began working for her first studio album, "Buckingham Nicks" in 1972.
She released the album in mid-1972.
The album was not a commercial success.
Nick's "Rhiannon" which appeared on the album, Fleetwood Mac was eventually voted one of The 500 Greatest Songs of All Time by Rolling Stone.
Later, she released her second album titled Bella Donna which became a hit that year.
She won Album of the Year for "Rumours" in 1978.
Her contributions to Rumours was "Dreams", which became the band's only Billboard Hot 100 number-one hit single.
Fleetwood Mac began recording their third album with Buckingham and Nicks, Tusk, in the spring of 1978.
Fleetwood Mac's Tusk was released on October 19, 1979.
Her first solo album, Bella Donna, was released on 27th July 1981, to critical and commercial acclaim, reaching number one on the Billboard 200 chart, with four singles making the Billboard Hot 100, and Rolling Stone.
She then released her second solo album, The Wild Heart, on 10th June 1983.
She also appeared on Saturday Night Live in December 1983, performing "Stand Back" and "Nightbird".
After that, she started working on her third solo album "Mirror Mirror" which was released on 18th November 1985.
She toured for Rock A Little in 1986.
She began working on a fourth solo album "The Other Side of the Mirror" which was released on 11th May 1989.
She then released Timespace: The Best of Stevie Nicks on September 3, 1991.
She has been nominated for nine competitive Grammy Awards and won the 1978 Grammy Award for Album of the Year for Rumours.
She also received the 2003 Grammy Hall of Fame Award.
Say You Will was released in April 2003 and met with commercial success.
Reprise Records released Crystal Visions-The Very Best of Stevie Nicks in the US in 2007.
She released the album, The Soundstage Sessions in 2009.
She made a guest appearance as herself on the NBC sitcom Up All Night in 2012.
She released the In your Dreams documentary film on DVD in 2013.
She released her eighth studio album, 24 Karat Gold: Songs from the Vault in 2014.
She reissued Crystal Visions -The Very Best of Stevie Nicks on "crystal clear" transparent double vinyl in 2015.
Throughout 2016 and 2017, she toured with The Pretenders on the 24 Karat Gold Tour.
She performed at the British Summer Time festival in Hyde Park in London in 2017.
Net Worth, Salary And Source of Earning
Stevie Nicks is a very talented and successful singer. She has a net worth of $75 million as of 2019. Her major source of earning is from her singing career but her salary has not revealed in the media. She is earning a considerable amount of salary from her career. She is satisfied with her earning.
Is Stevie Married or Unmarried or In a relationship or Single? Know about her children, dating history and more:
Stevie Nicks is a married woman but at present her marital status is single. As of today, she is single and living a happy life without any disturbance. Her sexual orientation is straight. Previously, she was married to Kim Anderson. They got married in January 1983 and the couple divorced in 1984. Then, she dated the American singer-songwriter Joe Walsh from 1983 and separated in 1986. She also dated the English musician Rupert Hine for a year in between 1986 and 1987. She said that she was once pregnant but she aborted the child.