About Lenny Kravitz
An American singer-songwriter, multi-instrumentalist, Lenny Kravitz is a funk and rock artist who won every Grammy Award for Best Male Rock Vocal Performance from 1999 to 2002 and gained fame for his cover of "The Guess Who's" song "American Woman." He plays Cinna in "The Hunger Games" film series. He is also a record producer and actor too. He began playing makeshift drums when he was three and became inspired to be an artist after seeing "The Jackson 5" perform. He has sold over 40 million albums worldwide. In 2011, he was made an Officer of the Ordre des Arts et des Lettres. He has over 3 million followers on Instagram, more than 5 million followers on Twitter, and over 6 million followers on Facebook. Additionally, he has gained several awards in his careers such as Best Male Rock Vocal Performance, Brit Awards, VH1/Vogue Fashion Awards, Billboard Music Video Awards, Radio Music Awards, and many others.
Famous For

Being an American singer-songwriter, multi-instrumentalist, record producer, and actor too.
For his cover of "The Guess Who's," song "American Woman."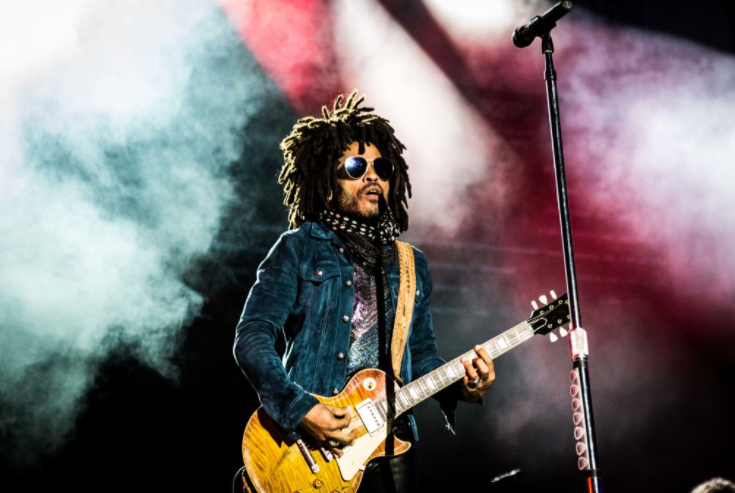 Source: @wbur.org
Early Life of Lenny Kravitz

On 26th May 1964, Lenny took birth with the real name or full name of Leonard Albert Kravitz in Manhattan, New York City. He belongs to American nationality, though he is from mixed ethnicity. Whereas, his mother came from a Christian family of African-American and Bahamian descent, though his father descended from Russian Jews and Ukrainian Jews. Analogously, he is from Christianity religion. Gemini is his star sign, and black is his race. He celebrates his birthday on 26th May of every year and he had celebrated his 56th birthday as of 2020. He is the only child of actress Roxie Roker (1929-1995) (mother) and NBC television news producer Sy Kravitz (1924-2005) (father). His parents divorced in 1985, which had a profound impact on him. His relationship with his father became very strained, and he focused on his music to help him get through this period. Furthermore, Lenny attended The Lillie Devereaux Blake Elementary School in Manhattan. He graduated from Beverly Hills High School in 1982 and studied alongside celebrities like Nicolas Cage and Slash.
Career of Lenny Kravitz

Lenny Kravitz kicks off his singing career from Virgin Records in January 1989, which was signed by Virgin A&R executive Nancy Jeffries as well as released his debut album "Let Love Rule" in the following year. Whereas, a 20th Anniversary Deluxe Edition of "Let Love Rule" was released worldwide by Virgin in May 2009.
Then, he produced the song "Justify My Love" for Madonna in 1990 which appeared on her greatest hits album "The Immaculate Collection".
After that, he produced the self-titled album "Vanessa Paradis" in 1991 as well as released his second album, "Mama Said", which was his first album to reach the Top 40. Though his biggest single yet, "It Ain't Over 'til It's Over," went to number 2 on the "Billboard" Hot 100.
He starred on Mick Jagger's solo album, "Wandering Spirit" as well as playing guitar on the title track of David Bowie's "The Buddha of Suburbia".
In 1993, "Are You Gonna Go My Way" was launched reaching number 12 on the "Billboard" 200 and also released the EP "Spinning Around Over You" in the following year.
In addition, a feature documentary about his 1994 tour entitled "Alive from Planet Earth" was directed by Doug Nichol and released. Similarly, he also launched the album "Circus" in 1995, which went to number 10 on the "Billboard" chart.
He embraced digital technology such as Pro Tools and samplers for the first time with "5" in 1998, and his cover version of The Guess Who's hit "American Woman" won him a Grammy at the Grammy Awards of 2000. Though, his version of the song originally came from the soundtrack of "Austin Powers: The Spy Who Shagged Me" and was added to "5" as a bonus track in 1999.
Likewise, he has worked on two songs for Michael Jackson's "Invincible" album, which was released in 2001; a snippet of "Another Day" was leaked, and the full version was officially released on the album "Michael" in 2010.
Then, he began his 2000 from the album, "Greatest Hits" which proved to be the most successful album, reaching #2 on the Billboard 200 and selling nearly 11 million copies worldwide and ultimately becoming one of the most commercially successful albums of the decade.
As well, he has participated in a benefit auction for the Red Hot Organization, in conjunction with Amazon.com to increase public AIDS awareness, which ran from 28th February until 11th April 2001. The event featured rare RHO memorabilia and the work of "Rolling Stone" photographer Mark Seliger.
In October 2001, he launched his sixth album "Lenny" which was recorded in Miami as well as wrote the song "Bank Robber Man" after the Miami Police Department.
He was also the subject of a photo book by the former chief photographer for "Rolling Stone", Mark Seliger, which was published in November 2001 and was also seen in the episode "How I Spent My Strummer Vacation" of "The Simpsons".
After then, in May 2004, he launched his seventh album "Baptism" as well as appeared on N.E.R.D's album "Fly or Die" in the same year.
He dedicated "Let Love Rule" to his father, who passed away on 29th October 2005.
Furthermore, he has also founded a design firm named Kravitz Design, stating if he hadn't been a musician he would have been a designer which focused on interior and furniture design, has designed residential spaces, as well as a chandelier for the crystal company Swarovski, named "Casino Royale".
He has also released a version of "Cold Turkey" by John Lennon on the charity "CD Instant Karma: The Amnesty International Campaign to Save Darfur" in 2007 as well as launched his latest album, "It Is Time for a Love Revolution" on 28th February 2008.
Additionally, he made his feature film acting debut in "Precious" which premiered at the Sundance Film Festival in January 2009 whereas his next album, tentatively titled "Funk", was tentatively re-titled "Negrophilia" and was due out sometime in 2010. And again the album was later named "Black and White America" which was launched on 22nd August 2011 in Europe and 30th August 2011 in the U.S.
Then, his first single "Come on Get It" was released on 20th February 2011, and the second single "Stand" was released on 6th June of the following year.
It was also announced that he would be supporting U2 on their 360 Tour on the second North American leg in 2010.
As well, it was announced in June 2010 that he would guest star on an episode of the upcoming season of "Entourage". He has also joined other American recipients such as Martin Scorsese, George Clooney, and Bob Dylan.
Moreover, he has played the part of Katniss' creative stylist, Cinna, in the first two "Hunger Games films", "The Hunger Games" released on 23rd March 2012 whereas "The Hunger Games: Catching Fire" launched on 22nd November 2013. Then he launched his tenth studio album "Strut" in 2014.
Kravitz has launched a furniture collection in partnership with CB2 in 2015 as a designer and became a furniture designer for the first time, launching a collection of furniture products marketed under the label cb2 x kravitz design through retailer CB2 in 2015.
He has guest-starred as the part of Mel Trueblood on the FX TV show "Better Things" in 2016 as well as earned a spot on the Fox Television series "Star" playing the part of Roland Crane in his first recurring television role in 2017.
He signed with BMG Rights Management for a new worldwide publishing music deal to go with his new album "Raise Vibration" in April 2018, which was launched in September 2018.
And in the following year, "Rolling Stone" interview it was confirmed that he had already begun work on a follow-up to "Raise Vibration", as a possible soundtrack to a future film project.
Awards and Achievements of Lenny Kravitz

MTV Video Music Awards
Brit Awards
VH1/Vogue Fashion Awards
Billboard Music Video Awards
Radio Music Awards
Blockbuster Entertainment Awards
My VH1 Awards
American Music Awards
Microsoft Windows Media Innovation Awards
ASCAP Pop Awards
Black Reel Awards
Personal Life of Lenny Kravitz

Reflecting on Lenny Kravitz's personal life, he is a married guy. He tied a knot with an American "Cosby Show" actress Lisa Bonet on 16th November 1987. The couple met each other backstage at a New Edition concert in California. The couple has also a daughter, Zoe Isabella Kravitz who was born on 1st December 1988 and became an actress, singer, and model. But the couple's relationship was not long-lasting, they separated in 1991 and divorced amicably in 1993. Then, Lenny dated French singer and model Vanessa Paradis from 1992 to 1996 as well as started dating Brazilian model Adriana Lima in 2001, and the couple together before becoming engaged in 2002. He then briefly dated and was engaged to Australian actress Nicole Kidman from 2003 to 2004. Additionally, he stated as late as 2011 that his 2005 religious commitment to remain celibate until remarriage was unchanged; however, in a 2014 interview with "Men's Health", he reconsidered his previous stance. He has also left his home in the 16th arrondissement of Paris when the COVID-19 pandemic hit and stayed at his place in Eleuthera much longer than he had expected. Furthermore, talking about his sexual orientation, he is straight.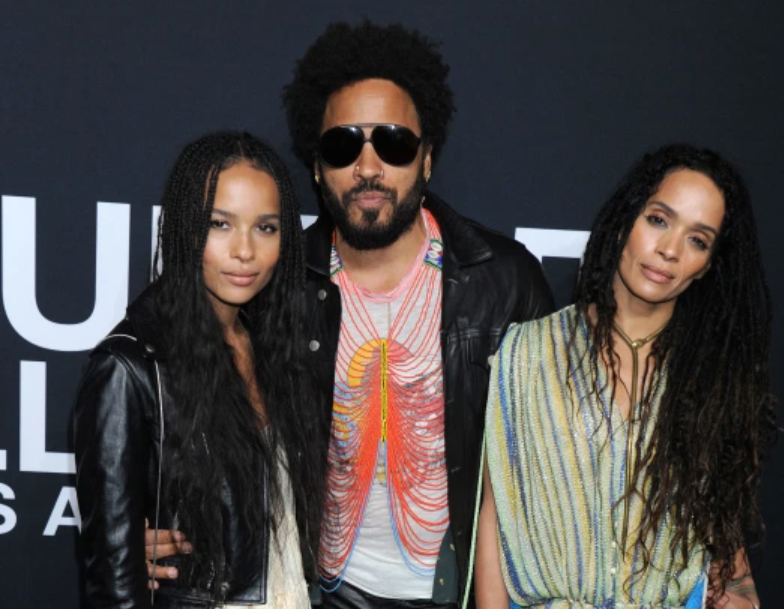 Source: @wonderwall
As recent news, Kravitz says he will be 'very open and honest' about his secret engagement to Nicole Kidman - as he releases his first memoir "Let Love Rule". In an interview with "The Sunday Telegraph's Stellar" magazine, he said: 'Ha! I've always been very open and honest, so anything that happened in my life will be in there.' 'But it'll be a while before the next book,' he added.
Net Worth of Lenny Kravitz

Lenny Kravitz is among those few individuals that have such a wide range of experience and remains true to whatever he embarks on to. He has reached great heights in his career already, and he still has a lot more to do. He has a long road ahead of his, and he definitely holds all the potential to make it big in the industry. Moving towards his net worth, his worth is around $80 Million as of 2020 though he also earns a handsome amount of salary too which is also around millions of dollars per year. Kravitz's revenue is $33.6K in 2020. He is sincere in his work. But he is doing all the hard works in order to build a secure financial status for himself and his family. In addition, his main source of income is from the music industry. He has also done endorsement work for Marx Toys (1972), Absolut Vodka (2006) (Print Ads), Dom Perignon (2018), The Islands of the Bahamas 'Fly Away' (2019), and many others.
Body Measurement of Lenny Kravitz

The very graceful Lenny has a great personality. He's got a standard height of 5 ft 8½ in or 174 cm and a convincing appearance. He had the perfect body combined with good looks. He could carry off any look with great simplicity. His sensible thoughts with a good sense of humor greatly attract his spectators to their TV screen. Whereas, his body weight is around 68 kg or 150 lbs and his body build type is average. His usual exercise schedule has guided him to be in a marvelous body posture with appropriate body measurements. Handsome guy Lenny has black hair and dark brown eye color. In addition, he was admitted to Miami Hospital suffering from severe bronchitis on 11th February 2008. Lenny Kravitz has a Japanese style dragon tattoo on his chest, shoulder, and upper left arm that connects to the rest of the artwork on his left arm. ... It's done mostly in black and gray with just a touch of red ink to make the tattoo pop. Lots of wind water, waves, clouds, and smoke really compliment the piece.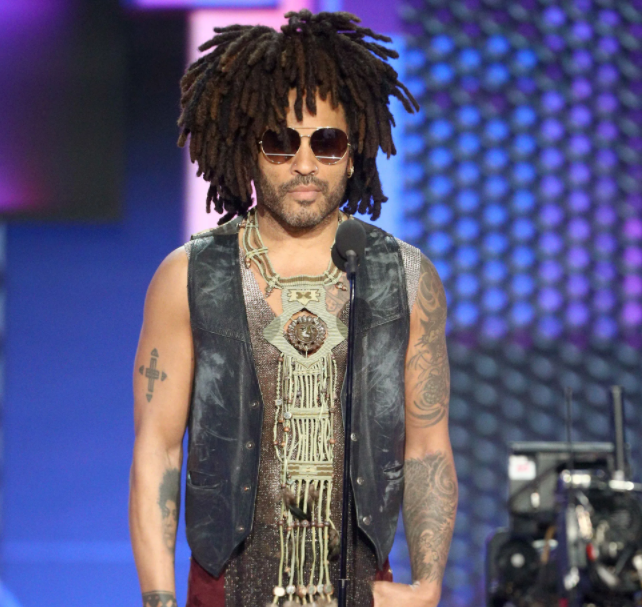 Source: @vogue