Tate McRae is a Canadian singer, songwriter, dancer, and actress. Her rise to prominence began at the age of thirteen when she became the first Canadian finalist on the American reality TV show "So You Think You Can Dance". In 2019, she piqued the interest of RCA Records, following the viral success of her 2017 track "One Day" on YouTube and TikTok. Her debut EP, "All the Things I Never Said," was released in 2020, setting the stage for her breakthrough with the international hit "You Broke Me First" in 2020, which reached number 17 on the Billboard Hot 100. Her 2023 single, "Greedy," achieved similar success, leading up to her second studio album, "Think Later." Recently, Singer McRae announced a 53-date 2024 world tour starting April 17, with North American tickets available from Nov. 7 for Amex members and Nov. 10 for the general public on her website.
Family and Ethnicity
Tate McRae, born on July 1, 2003, in Calgary, Alberta, Canada, carries the full name Tate Rosner McRae. About her family, she is the daughter of her father, Todd Rosner, a lawyer, and her mother, Tanja Rosner, a dance instructor. She also has an older brother named Tucker McRae, who is a hockey player. Canadian by nationality, Tate's ethnic background is mixed, with her father of Scottish descent and her mother of German descent. Her early years involved a move to Oman at the age of four, where she resided for three years due to her father's work, while her mother taught dance lessons. Tate celebrated her 20th birthday in 2023.
During her stay in Oman, she attended The American International School Muscat (TAISM). Tate's dance journey commenced at the age of six, becoming more intensive at eight when she began training with Drewitz Dance Productions upon returning to Calgary. At the age of 11, she delved into comprehensive dance training at YYC Dance Project, her mother's dance company, and pursued ballet training at the School of Alberta Ballet, the training school for the Alberta Ballet Company. Tate McRae completed her education at Western Canada High School, graduating online in 2022.
Music Career
Tate McRae initially started her career as a voice actress for the "Lalaloopsy franchise".
She then began dancing competitively, she was awarded Mini Best Female Dancer at the 2013 Dance Awards and later, a two-week scholarship at the Berlin State Ballet company.
Her dancing prowess also led her to perform alongside Justin Bieber, on "The Ellen DeGeneres Show", and excel as a finalist on "So You Think You Can Dance", marking a historic achievement for a Canadian.
McRae's dance career was complemented by her music venture, as she garnered millions of views on YouTube for her original songs, ultimately signing with RCA Records in 2019.
Her debut EP, "All the Things I Never Said," was a success, and she gained recognition with singles like "Tear Myself Apart" and "Stupid," both certified gold in Canada, while her track "That Way" found renewed popularity on TikTok, charting in the UK and Ireland.
As of September 2022, her EP had garnered over 500 million streams on Spotify.
In 2020, McRae made significant strides in her music career with the release of the hit single "You Broke Me First" from her second EP, "Too Young to Be Sad," which achieved international success and marked her debut on the Billboard Hot 100.
She followed up with singles like "Vicious" and "Don't Be Sad" and was nominated for the MTV Video Music Award for Push Best New Artist, performing at the VMAs pre-show.
Her growing recognition continued as she appeared on the cover of Dork Magazine and made her late-night TV debut on Jimmy Kimmel Live!.
In 2021, she released more singles, including "Slower" and "Rubberband," and signed an endorsement deal with Essentia water.
Her EP gained massive popularity on Spotify, and she received Juno Award nominations.
Throughout the year, McRae collaborated with various artists, including Regard, Troye Sivan, Blackbear, Ali Gatie, and Khalid.
Tate McRae's career continued to soar in 2021 with the release of her debut studio album, "I Used to Think I Could Fly," featuring the lead single "Feel Like Shit," released on November 11, 2021.
In January 2022, she garnered three iHeart Radio Award nominations, and her second single from the album, "She's All I Wanna Be," achieved chart success in various countries, including a high debut on the US Billboard Hot 100.
Throughout the year, McRae expanded her horizons, becoming a brand ambassador for Maybelline.
In 2022, she released additional singles from the album, including "Chaotic" and "What Would You Do?" and created captivating music videos, such as "don't come back."
In September 2022, her single "uh oh" further showcased her musical prowess, and she achieved international recognition with DJ Tiësto's "10:35."
In 2023, McRae's star continued to rise, as she earned five Juno Award nominations and collaborated with MCM Worldwide.
Her release of "Greedy" in September 2023 marked a new chapter in her career, achieving her first worldwide number one single and top chart positions in numerous countries.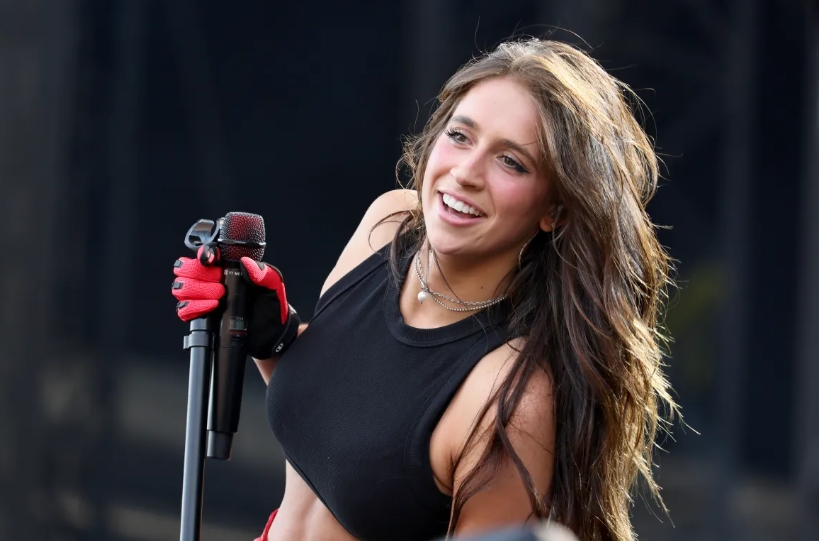 Awards & Achievements
BMI Film & TV Awards - Pop Music Award for "You" and "You Broke Me First."
Dance Awards 2013 - Female Best Dancer (Mini) for "Swallow."
Dance Awards 2015 - Female Best Dancer (Junior) for "Isolated."
Dance Awards 2018 - Female Best Dancer (Teen) for "Woman."
Electronic Dance Music Awards 2022 - Best Vocalist.
SOCAN Awards - SOCAN Pop Music Award.
SOCAN Awards - SOCAN Breakout Songwriter Award.
Youth America Grand Prix 2017 - Women – Contemporary – Junior Age Division (regionals) for "Porcelain" and "Stillness."
Net Worth and Salary
Tate McRae is a multi-talented artist, excelling in singing, songwriting, dancing, and acting. As of 2023, her estimated net worth stands at $4 million, with an impressive annual salary exceeding $500,000. Her primary source of income is attributed to her career in the music and entertainment industry, bolstered by lucrative endorsement deals with brands like Schatzi, Capezio, Miss Behave Girls, TWear, Triple Flip, Daniel Wellington, and Cheerios. With her substantial career earnings, Tate McRae enjoys a lavish lifestyle befitting her success.
Dating & Boyfriend
Tate McRae is currently single and not in a relationship with anyone at the moment. In 2022, she briefly dated ice hockey player Cole Sillinger, who is her ex-boyfriend now. In a September 2023 interview with SiriusXM, she confirmed her single status.
Height & Weight
Tate McRae is a beautiful singer and dancer. Standing tall at the height of 5 feet 7 inches and weighing 59 kg, she has a slim body build. Her natural blonde hair often gets a dark brown makeover, complementing her dark brown eyes. Tate's triangular face shape, heart-shaped lips, and thick eyebrows add to her unique allure. Her active lifestyle, which includes dance classes for at least 8 hours daily, helps maintain her fit and healthy physique, and her dedication to both her singing and dancing careers shines through her talent and commitment. As of now, she has a healthy body with an attractive appearance.