About Theo Walcott
An English professional footballer, Theo Walcott plays as a forward for Southampton, on loan from fellow Premier League club Everton, and the English national team. He is well recognized for playing for English Premier League club Arsenal FC and also for his speed and direct style of play. He was named BBC Young Sports Personality of the Year in 2006 as a member of Southampton; joined both Arsenal and England's national team in 2006. He began his youth career with Newbury in 1999 when he was just 10 years old and was the 2012-2013 Football League Cup Top Goalscorer with 5 goals for England. In December, he received the BBC Young Sports Personality of the Year award and made his first competitive start in a World Cup qualifier against Andorra on 6th September 2008 as well as became the youngest player in history to score a hat-trick for England. Recently, Walcott opened the scoring for the in-form Saints on his return to his former club with a delightful dink over onrushing goalkeeper Bernd Leno. Besides, Theo also appeared as himself in the sports film "Arsenal Robin Van Persie 100 Goals" in 2011.
Famous For

Being an English professional footballer.
For playing for English Premier League club Arsenal FC.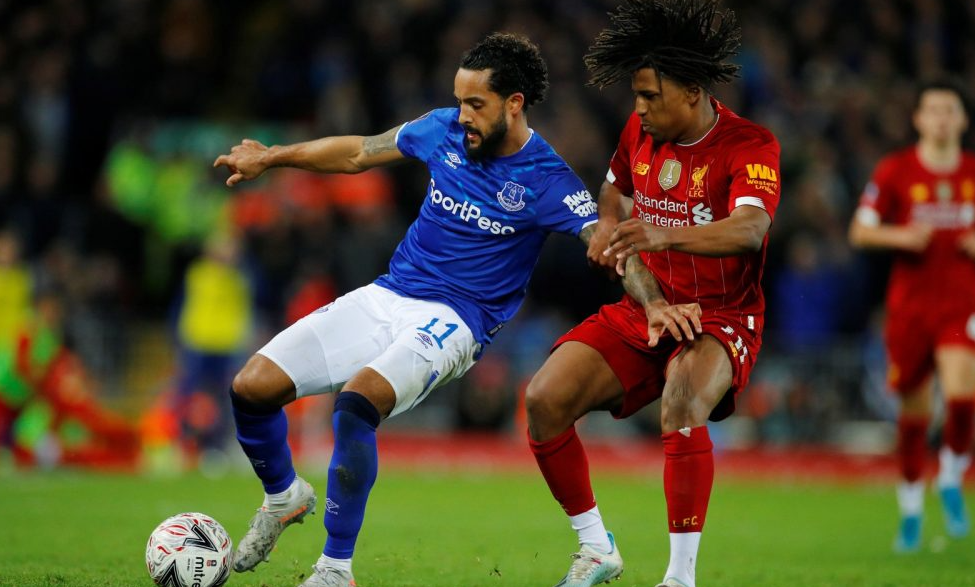 Source: @footballtransfertavern
Early Life of Theo Walcott

Theo Walcott opened his eyes for the first time on 16th March 1989 with the real name or full name of Theo James Walcott in Stanmore, England. However, he grew up in Compton, Berkshire (hometown). He holds a British nationality and mixed ethnicity as his father is of Jamaican descent, whereas his mother has white English ancestry. Analogously, he is from Christianity religion and his race is white. He happily celebrates his birthday on 16th March of every year and he has celebrated his 31st birthday as of 2020 though as his birthdate, his star sign is Pisces. He is the son of Donald Walcott (father) and Lynne Walcott (mother) whereas his siblings are Hollie Walcott (Older Sister) who is a female bodybuilder and fitness model, Ashley Walcott (Older Brother) who is a chef. He grew up as a Liverpool fan due to his father's support of Liverpool. Walcott attended Compton Church of England Primary School in Newbury. He then moved to the state-run secondary school, The Downs School in Compton Village.
Career of Theo Walcott

Theo Walcott commenced his career by playing football for the local village team and later for Newbury as he scored more than 100 goals in his one and only season for Newbury, before leaving there for Swindon Town though he spent only six months there before leaving for Southampton after he rejected a chance to join Chelsea and Nike agreed to a sponsorship deal with Walcott when he was fourteen years old.
Southampton

Walcott started in the Southampton youth team in 2004-2005 season that reached the final of the FA Youth Cup against Ipswich Town and became the youngest person to play in the Southampton reserve team, at 15 years and 175 days, when he came off the bench against Watford in September 2004, but he did not play in the Premier League, and Southampton were relegated to the Championship at the end of the 2004-2005 season.
He then linked up with the first team's tour of Scotland, just two weeks after leaving school before the start of the 2005-2006 season as he became the youngest-ever player with the Southampton first team, at 16 years and 143 days, after coming on as a substitute in Southampton's 0-0 draw at home to Wolverhampton Wanderers in the Championship.
He made his full first-team debut away to Leeds United on 18th October 2005 and became Southampton's youngest senior goalscorer after 25 minutes of the 2-1 defeat.
Additionally, he has rejoined Southampton on loan on 5th October 2020.
Arsenal

Theo transferred to Arsenal on 20th January 2006, for a fee of 5 million pounds, rising to 12 million pounds depending on appearances for club and country as he initially joined as a scholar, having agreed to sign a professional contract on his 17th birthday on 16th March 2006 and made his Premier League debut on 19th August 2006 as well as he became the youngest ever Arsenal player to appear in European competition, a record since beaten by Jack Wilshere.
He received his first yellow card in Arsenal colors for taking a shot several seconds after the referee had already blown for offside within minutes of coming on although his cross beat the Dinamo defense and Mathieu Flamini scored, giving Arsenal a 2-1 win.
Then, his first start came in a home league match against Watford on 14th October 2006 as his first goal for Arsenal came in the 2007 League Cup Final against Chelsea at the Millennium Stadium, Cardiff, on 25th February 2007.
His first home goals of the 2007-2008 season were scored in a Champions League match against Slavia Prague, which Arsenal won 7-0; he also set up a goal for Cesc Fabregas and scored his first two Premier League goals in a 2-2 draw with Birmingham City at St Andrew's on 23rd February 2008.
Walcott changed his shirt number from 32 to 14, as previously worn by his idol, Thierry Henry for the 2008-2009 season though he scored his first Premier League goal of the season, Arsenal's third as they came back from 1-0 down to beat Everton 3-1 as well as scored Arsenal's second in a 5-2 win away to Fenerbahce in the 2008-2009 Champions League.
Walcott put Arsenal ahead in the first half, although they eventually lost 2-1 in the next match, an FA Cup semi-final against Chelsea, and signed a new long-term contract with Arsenal in May 2009.
He scored his second goal of the season against Burnley in a 3-1 victory to give Arsenal a decisive lead on 6th March 2010.
He scored the first hat-trick of his club career as Arsenal beat newly-promoted Blackpool 6-0 in the second match of the new Premier League season and scored a goal and made an assist to help beat Chelsea 3-1 in what Arsene Wenger dubbed a "must-win" match on 27th December 2010.
On 16th August, he scored his first goal of the season in the first leg of a Champions League qualifying match against Udinese and scored Arsenal's first goal in the 2011-2012 Premier League campaign against Manchester United though this was a mere consolation as Arsenal lost 8-2 as he netted his fourth goal on 29th October in a 5-3 win at Chelsea where he picked up the ball on the wing.
He scored his first goal of 2012 in the 3-2 defeat at Swansea City though he came on as a substitute for Gervinho and scored his first goal of the season in a 6-1 win over his former club Southampton on 15th September 2012.
Arsenal won 7-5 in extra time against, in which Walcott completed his hat-trick and backed up his argument that he should be played as a striker though Walcott opened the scoring in the 2-2 draw at Schalke 04 in the Champions League on 6th November.
He was deployed as a lone striker and scored his first Premier League hat-trick of the season and provided two assists in an emphatic 7-3 win over Newcastle United on 29th December as he ended speculation about his future when he signed a new three-and-a-half-year contract with Arsenal on 18th January 2013.
He started the 2013-2014 campaign in good form, registering assists against Fenerbahce in the Champions League play-off round as well as against Fulham and Tottenham Hotspur in the Premier League, and scoring against Olympique de Marseille in the Champions League group stage.
He appeared as a substitute in Arsenal's next four fixtures, assisting goals against Cardiff City and Everton, and started his first match since returning from injury, against Manchester City on 14th December as he scored twice against City, but could not prevent Arsenal from losing the match 6-3.
Walcott injured a knee late in the FA Cup third-round tie against Tottenham Hotspur at the Emirates Stadium in January 2014 which would mean he was ruled out for at least six months, so would miss the rest of the season and the 2014 FIFA World Cup.
He made his first start of the season against Hull City in the third round of the FA Cup on 4th January 2015 and scored his first goal of 2014-2015 campaign in the second minute of Arsenal's 3-2 FA Cup fourth-round win at Brighton & Hove Albion on 25th January.
He scored in successive home league victories in February 2015 as he netted in a 5-0 defeat of Aston Villa on 1st February 2015, before scoring what proved to be the winner in a 2-1 win against Leicester City nine days later.
Walcott's deflected shot, which was registered as a Tyler Blackett own goal, rescued a point in a 1-1 draw at Manchester United on 17th May 2015 and was selected to start at center forward for Arsenal in the 2015 FA Cup Final, scoring the opening goal in the team's 4-0 victory against Aston Villa on 30th May.
Ahead of the new season, it was announced that Walcott had extended his contract with Arsenal after prolonged negotiations as he began the 2015-2016 season starting at center-forward and assisting Alex Oxlade-Chamberlain's winning goal in the 1-0 defeat of Chelsea in the 2015 FA Community Shield on 2nd August 2015.
He scored his first goal of the season in a 2-0 home victory against Stoke City in the 2015-2016 Premier League on12th September though he scored a brace in a 4-0 away victory over Hull City in a FA Cup replay on 8th March.
He then netted his first Champions League goals of the season with a brace in a 2-0 win over Basel on 30th September and returned on 28th January 2017, scoring a hat-trick against former club Southampton in the fourth round of the FA Cup at St. Mary's Stadium.
He scored his 100th goal for Arsenal on 20th February in the next round of the FA Cup in a 2-0 victory over Sutton United though he was an unused substitute as Arsenal beat Chelsea 2-1 in the 2017 FA Cup Final as he only made 6 substitute appearances in the Premier League.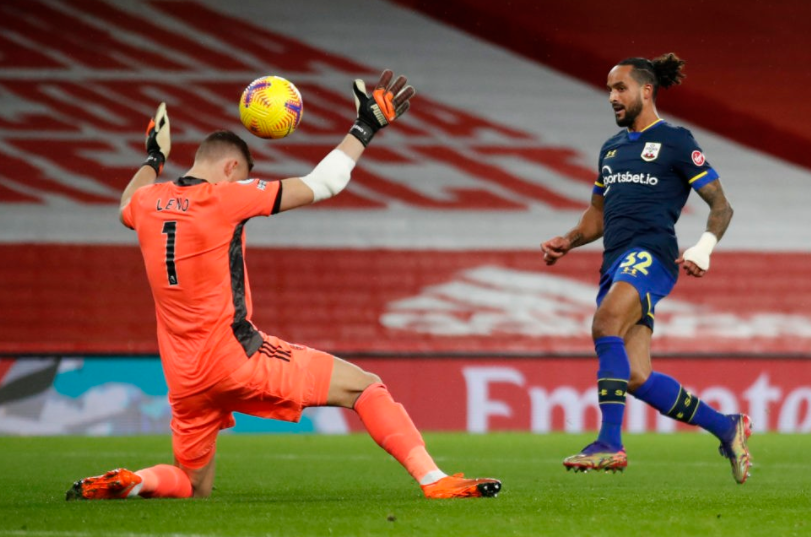 Source: @dailycannon
Everton

Theo signed a three-and-a-half-year contract with Everton in what the BBC reported as "a deal worth more than 20 million pounds" on 17th January 2018 as he made his debut for the club three days later, providing the assist for Oumar Niasse's equalizer in a 1-1 draw at home to West Bromwich Albion in the Premier League. He then recorded a brace in his next match, a 2-1 win over Leicester.
Furthermore, as a piece of fresh news, Theo Walcott felt 'a lot of fear' in Arsenal in a damning verdict on the former club as he defends goal celebration. Walcott, who opened the scoring, and Southampton boss Ralph Hasenhuttl felt the fear in Mikel Arteta's team. Reflecting on his goal celebration which risked angering fans who once chanted his name, Walcott added: "Scoring a goal, no matter who you play, is one of the best feelings and I scored many goals here. "But playing for Southampton is a massive thing for me so to score a goal, why not? Why wouldn't I celebrate?".
International Career

Theo was named in Sven-Goran Eriksson's squad for the 2006 FIFA World Cup on 8th May 2006 though he came on as a second-half substitute for the England B team against Belarus in the 25th May following year and became England's youngest ever senior player by appearing in a 3-1 friendly win over Hungary at Old Trafford aged 17 years and 75 days on 30th May 2006.
As well, he became the youngest player ever to score for the England under-21 team when he scored the opener after three minutes in England's 2-2 draw with Moldova at Ipswich Town's ground Portman Road on 15th August 2006. The match against Moldova was his first cap for the England under-21s.
He scored two goals against Germany to seal qualification for England to the Under-21 European Championship, in the playoff second leg in October 2006 and also participated in England under-21 team's 2009 UEFA European Under-21 Championship campaign despite protestations from his club manager, Arsene Wenger over the summer of 2009.
England reached the final of the U21 Euros, where they lost 4-0 to Germany, with Walcott thus earning a silver medal as a runner-up.
Walcott made his first competitive start in a World Cup qualifier against Andorra on 6th September 2008, and in the following match against Croatia on 10 September he opened his senior international goals tally and became the youngest player in history to score a hat-trick for England.
He then returned to the international fold on 3rd March 2010 in a friendly against Egypt which was his first international start for nine months.
Walcott started England's friendly victories against Mexico and Japan in May 2010 though it was announced on 1st June 2010 that Walcott had been left out of England's 23-man World Cup squad by Fabio Capello. In January 2011, Capello admitted that he had made a mistake in not selecting Walcott for the 2010 World Cup.
Euro 2012

Walcott was stretchered off after he was clipped in the build-up to Wayne Rooney's opener for England after 10 minutes putting him out of action for several weeks in the Euro 2012 qualifying match against Switzerland on 7th September 2010 as he appeared for England as a second-half substitute in the group match against Sweden at UEFA Euro 2012. Less than 15 minutes later, he provided the cross for Danny Welbeck's 74th-minute winner in England's 3-2 victory and also played in the final group match against Ukraine which England won 1-0.
2014 World Cup Qualifying
Theo started in England's 5-0 win against San Marino but was injured in an early clash with the goalkeeper Aldo Simoncini.
He was later ruled out of England's next match against Poland, he did not start a match in the qualifiers until almost a year later on 6th September, when he played the full 90 minutes in the 4-0 win against Moldova, he also played 87 minutes in the following match against Ukraine, which ended in a 0-0 draw, but he was injured before England's match against Montenegro and he was still out against Poland, which England won 2-0 to qualify for the 2014 FIFA World Cup, in Brazil.
Euro 2016 omission and World Cup 2018 qualifying

Walcott was not selected by Roy Hodgson for the 26-man provisional Euro 2016 squad announced in May 2016 because of having missed out on the 2014 World Cup through injury.
Walcott was informed by England manager Gareth Southgate on 16 March 2017, his 28th birthday, that he was being dropped from the squad to play a friendly against Germany and a 2018 FIFA World Cup qualifier against Lithuania, despite scoring 17 goals in 29 appearances in all club competitions during the 2016-17 season.
Books of Theo Walcott
Theo currently has four published books - "T.J. and the Hat-Trick", "T.J. and the Penalty", "T.J. and the Winning Goal" and "T.J. and the Cup Run". The first two were published in April 2010, with the latter two being published in August 2010. All four were published by Corgi Children's.
As well, his autobiography "Theo: Growing Up Fast" was published by Bantam Press in August 2011.
Awards and Achievements of Theo Walcott
Southampton
FA Youth Cup runner-up: 2004-2005
Arsenal

FA Cup: 2014-2015, 2016-2017
FA Community Shield: 2015, 2017
Football League Cup runner-up: 2006-2007
England U21
UEFA European Under-21 Championship runner-up: 2009
Individual

BBC Young Sports Personality of the Year: 2006
BBC London Young Footballer of the Year: 2008
BBC Goal of the Month: November 2012
Personal Life of Theo Walcott

Reflecting on Theo Walcott's personal life, he is a married guy. He tied a knot with Melanie Slade with whom Walcott has been in a long-term relationship after meeting in 2004 at the WestQuay shopping center in Southampton. The couple married at the Castello di Vincigliata in Tuscany, Italy, in June 2013. Their first son Finley James Walcott was born on 10th April 2014, with their second son, Arlo, being born on 26th November 2016. Theo's and Slade's relationship is expectational till now and hopes it will remain as same as in the future too. Furthermore, talking about his sexual orientation, he is straight. Walcott was a torchbearer for the Olympic Flame for Beijing 2008 as it was paraded around London on 6th April 2007. He was the penultimate torchbearer just before Dame Kelly Holmes.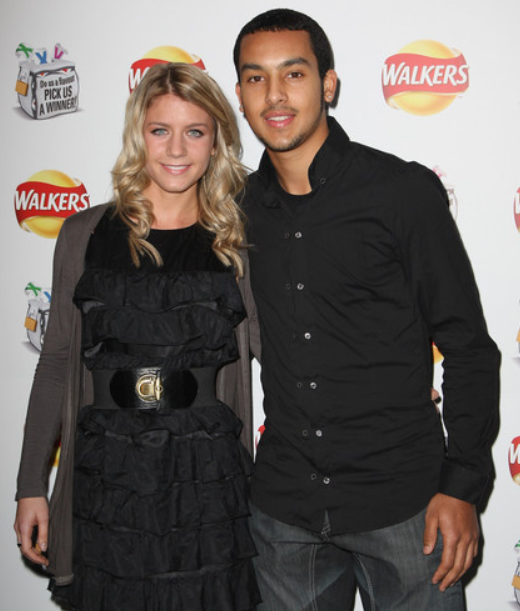 Source: @zimbio
Net Worth of Theo Walcott

Theo Walcott, who is an outstanding footballer with annual earnings, inclusive of prize money and sponsorships, is estimated to have a current net worth of $30 million as of 2020 and an annual estimated salary of 3.64 million GBP. He has earned a handsome amount of salary from his career as his major source of income is from his football career. In his short professional time also, he has established himself an identity already. Additionally, When Walcott was 14 years old, he signed an endorsement deal with American sportswear and equipment supplier, Nike. In November 2012 he appeared in an advert for the new Nike Green Speed II alongside Eden Hazard and Raheem Sterling. Walcott announced a new sponsorship deal with Adidas in February 2015 as he appeared in an advert for Adidas in August 2016. As well, he features in EA Sports' "FIFA" video game series. One of his goal celebrations - 'pat-a-cake' dance with Mesut Ozil -appears in "FIFA 14".
Body Measurement of Theo Walcott
Theo Walcott is a handsome and versatile footballer who stands at a perfect height of 5 ft 9¼ in or 176 cm with a balanced weight of 68 kg or 150 lbs. Due to Walcott's training commitments with Arsenal, Simmons gets him to work out with him once a week. Theo's personal trainer is Bradley Simmons, who used to play for QPR before a knee injury ended his soccer career at a very young age. Walcott has also suffered from injury several times while playing the game. He has dark brown eyes and hair color as his body build type is athletic and body measurement is 40-15-33 inches.