About Tiffany Trump - Donald Trump's daughter
Tiffany Trump is an American socialite, singer, fashion model, and real estate developer who is well recognized to be the fourth child of the former US President, Donald Trump, and the only child with his second wife, Marla Maples. She has been consistently playing a prominent role in high society since 2016. In May 2020, Trump got graduated earning a law degree from the Georgetown Law School in Washington, D.C.
She is on the headlines recently following her wedding with her Lebanese-Nigerian billionaire boyfriend, Michael Boulos on November 12, 2022, at Mar-a-Lago in Palm Beach, Florida after dating for over 4 years. With her up growing popularity, Tiffany is quite active on social media sites with over 1.1 million followers on her Instagram: @tiffanytrump.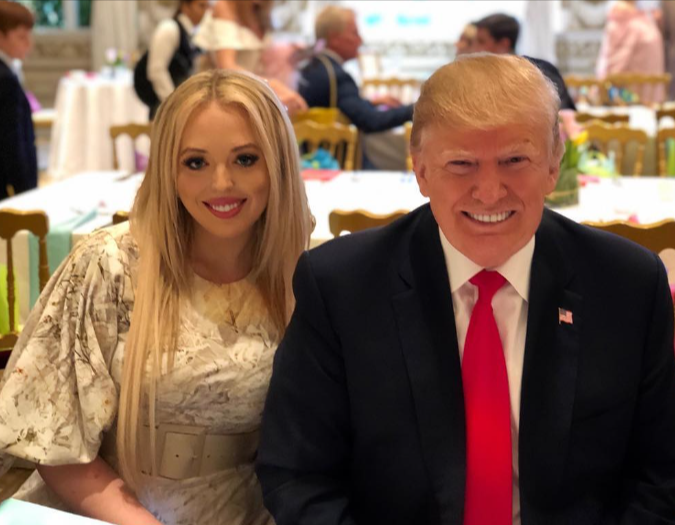 Early Life, Parents, and Education
Tiffany Trump was born on October 13, 1993, at St. Mary's Medical Center in West Palm Beach, Florida, United States. Her birth name is Tiffany Ariana Trump. Her nationality is American. Trump belongs to the White ethnicity while Libra is her zodiac sign.
Tiffany was born in a well-to-do renowned family as the only child of Donald John Trump(father) and his second wife, Marla Maples(mother). Her father, Donald, was the 45th president of the United States and a businessman and television personality while her mother, Marla is a popular actress and television personality.
She was named after a luxury jewelry store called "Tiffany & Company" which her father purchased the air rights above the Fifth Avenue jewelry store in the 1980s to build Trump Tower.
Her parents, however, got separated after 4 years of their marriage and got divorced in 1999. Tiffany was raised by her mother in California where she attended Viewpoint School. She then got graduated earning a Bachelor of Arts degree in sociology from the University of Pennsylvania in 2016. She was also a member of the Kappa Alpha Theta sorority.
In 2017, she began attending Georgetown Law School in Washington, D.C and finally got graduated earning a law degree in May 2020.
Besides, Tiffany has 4 half-siblings from her father's side, three older half-siblings, Donald John Trump Jr., Ivanka Trump, and Eric Frederick Trump, from her father's first wife, Ivana Marie Trump, and a younger half-brother, Barron, from Trump's third wife, Melania Trump. She shares great relations with her half-siblings as she is often seen together on outings with her whole family.
Tiffany Trump Career
During her father Donald Trump's 2016 presidential campaign, she joined her father and other members of the Trump family at campaign appearances. She spoke at the 2016 Republican National Convention on the second night of the convention as well. She voted in New York as a member of the Republican Party at the 58th quadrennial presidential election.
Trump began her singing career by releasing her music single called "Like a Bird" in 2011. Her song received little media attention after its appearance on The Oprah Winfrey Show. The song, however, was criticized for its use of Auto-Tune-based pitch correction. In 2015, Trump worked as an intern at Vogue and even modeled for a 2016 Andrew Warren fashion show during New York Fashion Week.
Also, following her graduation in 2020, she has remained with Georgetown Law and is currently a research assistant for professor Shon Hopwood.
Is Tiffany Trump Married - Boyfriend and Husband
Tiffany Trump isn't single anymore as she got married to her long-term boyfriend, Michael Boulos. Boulos is a Lebanese-Nigerian billionaire who is the son of Lebanese billionaire business tycoon, Massad Boulos, and Sarah Boulos, who runs the Society for the Performing Arts in Nigeria, SPAN.
Michael is also an heir to a billion worth company, Boulos Enterprises. The couple got married on November 12, 2022, at Mar-a-Lago in Palm Beach, Florida after dating for over 4 years.
Trump and Boulos met at a party hosted by Dubai resident and actress, Lindsay Lohan, in Mykonos, Greece in 2018. Boulos also had met Trump's parents and had visited the White House as well.
On a prestigious day Trump getting graduated, Boulos posted a beautiful story including the line: "love you honey and congrats again" in May 2020.
Besides, she was previously in a relationship with Ross Mechanic. Ross and Tiffany met during undergraduate studies at the University of Pennsylvania and dated since October 2015. However, after 3 years of dating, they broke up.
Tiffany Trump's Net Worth
Tiffany Trump, one of the daughters of the former president of the US and a billionaire businessman, Donald Trump, has quite a good net worth in millions. Tiffany, however, is the black sheep in the family and has a lower net worth than her other half-siblings.
Her net worth is estimated to be around $10 million which is hugely supported by the income of her father.
Tiffany Trump Measurements
Tiffany Trump is a gorgeous white lady in her late-20s. With her elegant beauty, she has managed to win several hearts all around the world. Trump has a well-maintained body physique of measurement 34-26-34 inches with 34 A as her bra size.
She stands tall with a height of 5ft. 9inch.(1.73m) while her body weighs around 53kg(117 lbs). She has a fair complexion with blonde hair and blue eyes.