Thomas Bryant Cotton famed as Tom Cotton is a famous American attorney, military veteran and politician serving as the junior United States Senator from Arkansas since 2015. He is a member of the Republican Party. Previously, he served in the U.S. House of Representatives from 2013 to 2015. His military career includes service in Afghanistan and deployment to Iraq during Operation Iraqi Freedom. Moreover, he was awarded the Bronze Star Medal. After finishing law school in 2002, Cotton served for a year as a clerk for Judge Jerry Edwin Smith at the United States Court of Appeals for the Fifth Circuit. He entered the practice of law, working at Gibson, Dunn & Crutcher for a few months to start paying off his student loans, and then at the law firm of Charles J. Cooper & Kirk from 2003 to 2004. He was elected as the U.S. Representative for Arkansas's 4th congressional district in 2012 and to the U.S. Senate at age 37 in 2014, defeating two-term Democratic incumbent Mark Pryor. The New York Times' decision to run an op-ed from the Republican senator Tom Cotton titled "Send in the troops" is drawing widespread criticism, including from Times staff. In the piece, Cotton called for the use of US military troops to quell civil unrest, and indicated the president would be justified in doing so under the Insurrection Act of 1807. Scroll down to get more information about Tom Cotton's biography, wife, sexual orientation, birthday, wiki, facts, family details, education, career background, and more.
Famous For
Being an American, attorney, military veteran, and politician.
For serving as the junior United States Senator from Arkansas since 2015.
For serving in the U.S. House of Representatives from 2013 to 2015.
For receiving the Bronze Star medal.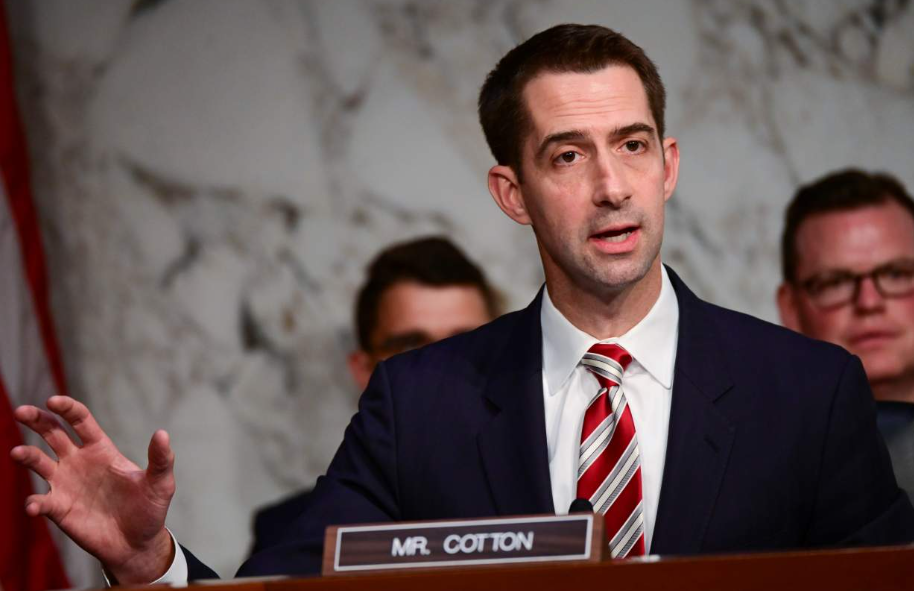 Source: @nationalinternet.org
Early Life of Tom Cotton (Childhood, Education, Family Details)
Tom Cotton was born on 13th May 1977 with the birth name/real name of Thomas Bryant Cotton. His birthplace/hometown is in Dardanelle, Arkansas, the USA. As of 2020, he celebrated his 43rd birthday. He holds an American nationality and his ethnicity is American-White. His race is White. He was born to his parents; father, Thomas Leonard "Len" Cotton, was a district supervisor in the Arkansas Health Department, and his mother, Avis (nee Bryant) Cotton, was a schoolteacher who later became principal of their district's middle school. His family had lived in rural Arkansas for seven generations, and he grew up on his family's cattle farm. As per his education, he attended Dardanelle High School where he played on the local and regional basketball teams. In high school, he developed an intense desire to attend Harvard College and worked intently on his studies toward that goal. Later, he was accepted to Harvard after graduating from high school in 1995 and majored in government. He was a member of the editorial board of The Harvard Crimson, often dissenting from the liberal majority at Harvard. After graduating from Harvard, he was accepted into a master's degree program at Claremont Graduate University. He left in 1999, saying that he found academic life "too sedentary", and instead enrolled at Harvard Law School. He graduated from Harvard Law School with a J.D. degree in the year 2002. He served for a year as a clerk for Judge Jerry Edwin Smith at the United States Court of Appeals for the Fifth Circuit after his law school in 2002. His zodiac sign is Taurus and his religion is Christian.
Career of Tom Cotton (Military and Politician-Present)
Military Service
Tom Cotton entered active duty service in the U.S. Army on 11th January 2005. Later, he declined offers to serve in the Army J.A.G. Corps and instead volunteered for the infantry.
In March 2005, he entered Officer Candidate School, and in June 2005 was commissioned in the infantry as a second lieutenant.
He was deployed to Baghdad as part of Operation Iraqi Freedom as a platoon leader with the 101st Airborne Division in May 2006.
In December 2006, Cotton was promoted to the first lieutenant.
His 11-month deployment ended on 20th July 2009 and he returned from Afghanistan.
His military record shows his final discharge from the U.S. Army Reserve was in May 2013.
He gained international public attention in June 2006 after he wrote an open letter to the editor of "The New York Times", accusing three journalists of violating "espionage laws" by publishing an article detailing a classified government program monitoring terrorists' finances.
Political Career

His former boss at the Claremont Institute introduced Cotton to Chris Chocola, a former congressman and the president of Club for Growth, an influential Republican political action committee.
An attempt was made to draft him for the 2010 United States Senate election in Arkansas to run against incumbent Democratic U.S. senator Blanche Lincoln but he declined.
In the primary on 22nd May 2012, Cotton won the Republican nomination, with 57.6% of the vote; in second place was Beth Ann Rankin who received 37.1% of the vote.
He was also endorsed by Senator John McCain as he was supported by both the Tea Party movement and the Republican establishment.
In the general election on November 6, he defeated state senator Gene Jeffress, 59.5% to 36.7%.
He was the second Republican since Reconstruction Era of the United States to represent the 4th district.
He was sworn in to the U.S. House of Representatives by Speaker John Boehner on 3rd January 2013.
He was considered a rising star in the Republican Party. Politico named him "most likely to succeed" as a freshman and he quickly became a vocal opponent of the Obama administration's foreign and domestic policies.
He voted for An Act to eliminate the 2013 statutory pay adjustment for Federal employees, which prevented a 0.5% pay increase for all federal workers from taking effect in February 2013.
He voted against the 2013 Farm Bill over concerns about waste and fraud in Supplemental Nutrition Assistance Program voting later that month to strip funding from food stamps.
He officially announced he would challenge Democratic incumbent Mark Pryor for his seat in the United States Senate on 6th August 2013.
He was endorsed by the conservative Club for Growth PAC, Senator Marco Rubio, the National Federation of Independent Business, and former presidential candidate Mitt Romney, who campaigned for Cotton.
He was sworn into office on 6th January 2015.
He was mentioned as a possible candidate for United States Secretary of Defense in the Trump Administration but general James Mattis was chosen.
He frequently met with Trump's staff during the transition period, and according to Steve Bannon, Cotton suggested John F. Kelly for the role of U.S. Secretary of Homeland Security.
In December 2018, Politico reported that he was a potential choice to replace Jim Mattis as United States Secretary of Defense after Mattis announced his resignation for 1st January 2019.
Ultimately, Mark Esper was chosen to succeed Mattis on 18th June 2019.
Moreover,
He has an A rating from the National Rifle Association (NRA), which endorsed him during the 2014 election.
In January 2019, he was one of the thirty-one Republican senators to cosponsor the Constitutional Concealed Carry Reciprocity Act, a bill introduced by John Cornyn and Ted Cruz that would grant individuals with concealed carry privileges in their home state the right to exercise this right in any other state with concealed carry laws while concurrently abiding by that state's laws.
He was part of the group of 13 Republican Senators that drafted the Senate version of the American Health Care Act of 2017 (AHCA).
He supported President Trump's 2017 Executive Order 13769 that prohibited immigration from seven predominantly Muslim countries.
In February 2019, he was one of sixteen senators to vote against legislation preventing a partial government shutdown.
In February 2019, he was one of eleven senators to sign a letter to Energy Secretary Rick Perry and Homeland Security Secretary Kirstjen Nielsen urging them "to work with all federal, state and local regulators, as well as the hundreds of independent power producers and electricity distributors nation-wide to ensure our systems are protected" and affirming that they were "ready and willing to provide any assistance you need to secure our critical electricity infrastructure."
In June 2013, he voted in favor of the Pain-Capable Unborn Child Protection Act, a bill to ban abortions occurring 20 or more weeks after fertilization.
In April 2019, he described the Southern Poverty Law Center as being a "political hate group" and asked the IRS to check if the SPLC should retain its tax-exempt status.
In June 2020, amid protests over the death of George Floyd, he advocated that the military be used to support the police and to give "... No quarter for insurrectionists, anarchists, rioters, and looters."
In April 2020, he said that Chinese students in the United States should be restricted to studying the Humanities and not allowed to obtain science-related degrees.
He was the first member of Congress to warn the Trump administration about the Corona virus.
Tom Cotton's Awards and Achievements
While he was in military service, he was awarded the Bronze Star Medal and earned a Ranger Tab, Combat Infantryman Badge, Parachutist Badge, Air Assault Badge, Afghanistan Campaign Medal, and Iraq Campaign Medal.
Tom Cotton's Wife; Anna Peckham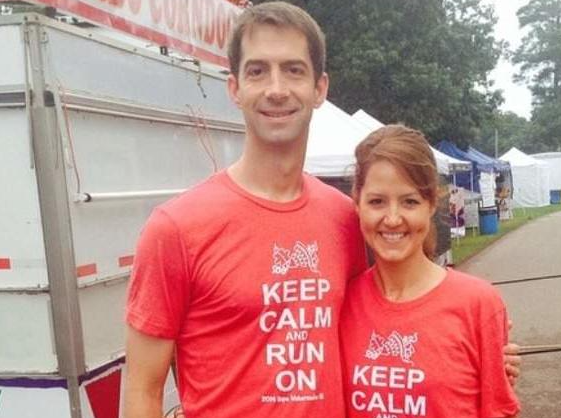 Source: @newsbreak.com
Tom Cotton is a married man. He married attorney Anna Peckham in 2014. The couple shares two children together who are both young men named Gabriel and Daniel. Their first child, a boy, was born on 27th April 2015. Being that he is hitched to a lady, Congressperson Tom is absolutely not gay. However, his name started making the rounds with the gay world after he gave an extensive reaction on CNN to inquiries by Wolf Blitzer about the law go in his home state which appeared to allow individuals and organizations to oppress those of the rainbow network. His sexual orientation is straight and he is not gay. As of now, the duo is enjoying their life with their children without any disturbances.
Tom Cotton's Net Worth and Source of Wealth
Tom Cotton is an American attorney, military veteran, and politician serving as the junior United States Senator from Arkansas since 2015. The net worth of Tom Cotton was estimated between $165,003 and $400,000. That averages to $282,501, which is lower than the average net worth of Republican representatives in 2012 of $7,614,097.96. Whereas his salary was $174,000 as per sources. As of 2020, his net worth, as well as salary, is unknown. His net worth and salary are to be disclosed yet. Without a doubt, he is earning a considerable amount of salary from his work. He is satisfied with his earning. There is no information about his assets; cars and house. His source of earning is from a political career.
Tom Cotton's Body Measurements (Height and Weight)
Tom Cotton, being aged 43, still looks very handsome with a glowing face attracting a lot of people towards him. He has good height with a slim body build. He also has a balanced bodyweight matching his height. While in high school, his height was 6 ft 5 in. As of now, his present height, weight, biceps size, waist size, and other body measurements are unknown. His hair color and eye color, both is black. Overall, he has got a healthy body with a charming smile.