Tyler Reks Biography
Gabbi Tuft renowned as Tyler Reks is an American retired professional wrestler. She is best known for her time with WWE under the ring name Tyler Reks. She was tag team partner and close friends with fellow wrestler Curt Hawkins. Before her retirement, she has competed in WWE's developmental territory Florida Championship Wrestling (FCW), where Tuft held the FCW Florida Heavyweight Championship once and the FCW Florida Tag Team Championship twice, once with Joe Hennig and once with Johnny Curtis. She decided to retire from professional wrestling to dedicate time to her family. Firstly, Tuft was trained by Mike Bell. She made her professional debut in February 2007 for Ultimate Pro Wrestling. She was then signed to a developmental contract with World Wrestling Entertainment in January 2008 and was assigned to the Florida Championship Wrestling territory as Tyler Reks. She made her main roster debut on ECW on Sci Fi on the 30th June 2009 episode, with a surfer in-ring persona, in a backstage promo with Zack Ryder. In April 2010, Reks joined the SmackDown roster following ECW's closure. Reks, together with Curt Hawkins, created an animated YouTube series called MidCard Mafia in 2011, which was quickly canceled and pulled from the internet after complaints from WWE management. Scroll more to know about her full biography, untold story, wiki, age, interesting facts, sexuality, gender, family, & more.
Gabbi Tuft has more than 44K followers on her Instagram account under the name @gabetuft, & more than 114K followers on her Twitter account under the name @GabeTuft.
Recent in the news, Tyler Reks comes out as transgender woman Gabbi Tuft. From Gabe to "Gabbi". Gabe Tuft, a former WWE superstar, (ring name "Tyler Reks") makes a long-awaited gender reveal exclusively on Extra TV. Retired wrestling champ Tyler Reks has provided the ultimate smackdown by revealing she is now a trans woman. She made the announcement Thursday (4th January 2021) on social media. "This is me. Unashamed, unabashedly me," wrote Reks, who now goes by the name Gabbi Tuft, on Instagram. "This is the side of me that has hidden in the shadows, afraid and fearful of what the world would think; afraid of what my family, friends, and followers would say or do." Tuft, who joined World Wrestling Entertainment in 2008, admitted that her adolescence was marked with questions regarding her identity. "When I was 10 when my parents weren't home, I would sneak into my mom's closet and try on her clothes," Tuft told "Extra" host Billy Bush. "And it just felt right but I suppressed it my whole life." During the Bush interview, Tuft admitted the dynamics of their sex life was in a transformational phase.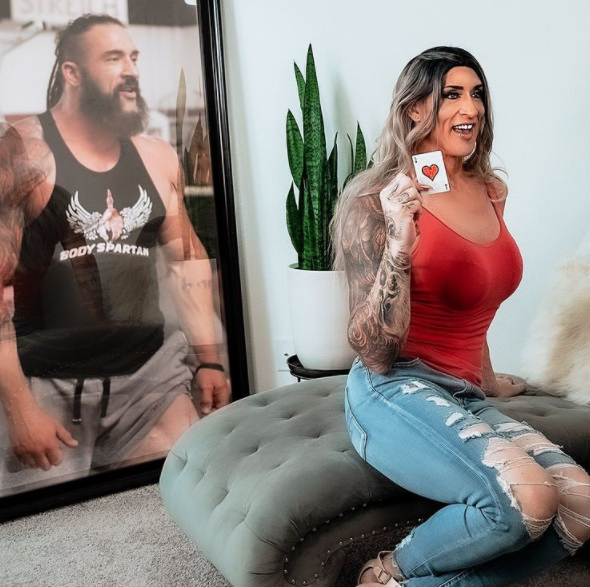 Source: @instagram.com/gabetuft
Tyler Reks is famous for being a professional wrestler. She is best known for competing in FCW, WWE, Raw, SmackDown. She came to further limelight after she publicly came out as a trans woman on 4th February 2021.
Tyler Reks was born on 1st November 1978 with the birth name/real name of Gabriel Allan Tuft in San Francisco, California, the USA. As Tuft was born in the USA, she holds the American nationality and she belongs to American-White ethnicity/ethnic background. Talking about her present age, he is 42 as she celebrated his 42nd birthday on 1st November 2020 and she will be celebrating his 43rd birthday as of 2021 on 1st November. Her race is White. Scorpio is her Zodiac sign and she is Christian by religion. Details about her parent's information, siblings have not been publicized yet.
Concerning her educational background, she attended the Santa Rosa Junior College from year 1996-1999. Then, she transferred to California Polytechnic University where she finished her coursework and achieved a degree in civil engineering with a major in hydrology and structural engineering. She then firstly took her job as an assistant engineer at PBS&J in California.
Tyler Reks stands tall at the height of 1.96 m with a balanced weight of 111.6 KG. Her body build is athletic. In the summer of 2019, she underwent open-heart surgery. Her other body measurement has not been revealed yet. Overall, she has got a healthy body with a charming smile. She has long hair and had also dreadlocks. She has a pair of light brown eyes color with a short beard. She has inked a lot of tattoos on her right arm.
Tyler Reks Career
Moving towards her career, Tuft was initially trained by Mike Bell and she made her professional debut match for Ultimate Pro Wrestling in February 2007.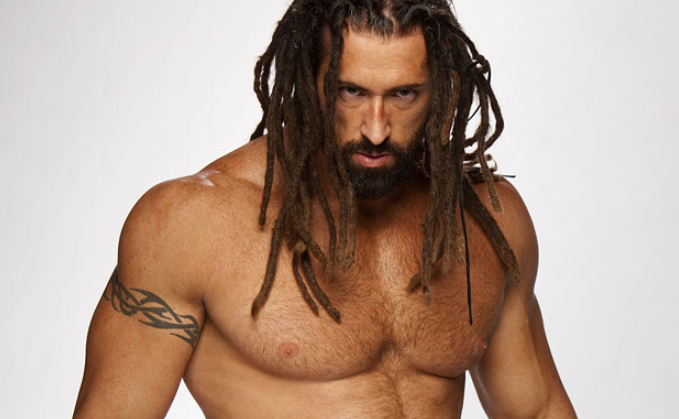 Source: @onlineworldofwrestling
Then, she signed a contract with WWE (World Wrestling Entertainment) in January 2008 and she was assigned her name as Tyler Reks. For WWE, she made her debut match on 5th February with Johnny Curtis against Eric Perez and Eddie Colon. She made her singles FCW debut on 12th February against "The South City Thriller" Hade Vansen.
After that, she took part in an FCW Florida Heavyweight Title Battle Royal which was won by Jake Hager.
Taking part in the FCW Florida Tag Team Title Tournament with Rycklon; during the tournament, she had her first victory at FCW defeating Ted DiBiase, Jr. and Afa, Jr. in the first round but lost to Eddie Colon and Eric Perez in the quarter-finals.
She participated in an FCW Florida Heavyweight Championship No. 1 Contendership Fatal Four Way along with Johnny Curtis, Tyrone Evans, and Sheamus O'Shaunessy who went to win the match on 28th August. She again went to win two FCW Florida Heavyweight Championships.
She along with Johnny Curtis defeated The New Hart Foundation (DH Smith and TJ Wilson) on 11th December 2008.
She captured the Florida Heavyweight Championship by defeating Drew McIntyre on 11th June 2009 but lost the title to Heath Slater at the FCW television tapings on August 13.
She lost to Joe Hennig in an FCW Florida Heavyweight Title No. 1 Contendership match and lost an FCW Florida Heavyweight Title No. 1 Contendership battle royal.
She then made her main roster debut on ECW on Sci Fi on 30th June 2009 where she suffered a knee injury prior to her debut match. After her recovery, she made her debut match on 2nd July 2009 on the episode of WWE Superstars where she lost to Ryder. She achieved her first win against Paul Burchill.
She also has a brief hiatus from television starting in November 2009 and began mainly working dark matches and house shows for both Smackdown and Raw and FCW matches.
Reks later joined SmackDown in the April of 2010 and made her TV debut as a heel on 15th October. She participated in a SmackDown vs. RAW 30 Man Tag Team Battle Royal, in which Smackdown was victorious.
She made her Royal Rumble debut on 230th January 2011 but was eliminated in 34 seconds by CM Punk and the New Nexus.
Later, she was drafted to the Raw brand as part of the 2011 Supplemental Draft on 26th April. She made her Raw debut with Curt Hawkins, Wade Barrett, and Alberto Del Rio.
Then, Reks began appearing with Curt Hawkins winning many matches. She made her singles return on 16th October where she lost to Yoshi Tatsu.
Reks and Hawkins were revealed to be the kidnapper of the Matt Striker and Hawkins admitted the crime. As punishment, Regal put Hawkins and Reks in a match against each other with Striker as a referee and the loser of the match would be fired. Even though Reks won to supposedly save her job at the expense of Hawkins', Regal decided to fire Reks as well, sending the two troublemakers away from NXT.
As Regal couldn't keep the duo away from NXT for long, Hawkins and Reks then continue to play the role of Laurinaitis' lackeys, confiscating anti-Laurinaitis signs at Over the Limit facing against John Cena on 21st May.
Hawkins and Reks' association with Laurinaitis ended after Laurinaitis lost her job at No Way Out.
Hawkins and Reks defeated Percy Watson and Derrick Bateman on 13th June. They later lost the singles matches to Ryback and once again lost to him on the 6th August episode of Raw.
Hawkins and Reks debuted a stripper gimmick on the August 17 episode of SmackDown. After a week, Reks asked for her release as she intended to retire from wrestling to spend more time with her family; she and WWE parted ways on August 21, thus ending the team.
With Curt Hawkins, the duo tagged together as part of Pro Wrestling Syndicate picking up a win in September against Kevin Matthews and Lance Hoyt.
Beside this,
Reks and Hawkins also made an animated YouTube series called MidCard Mafia in 2011, which was quickly canceled and pulled from the internet after complaints from WWE management.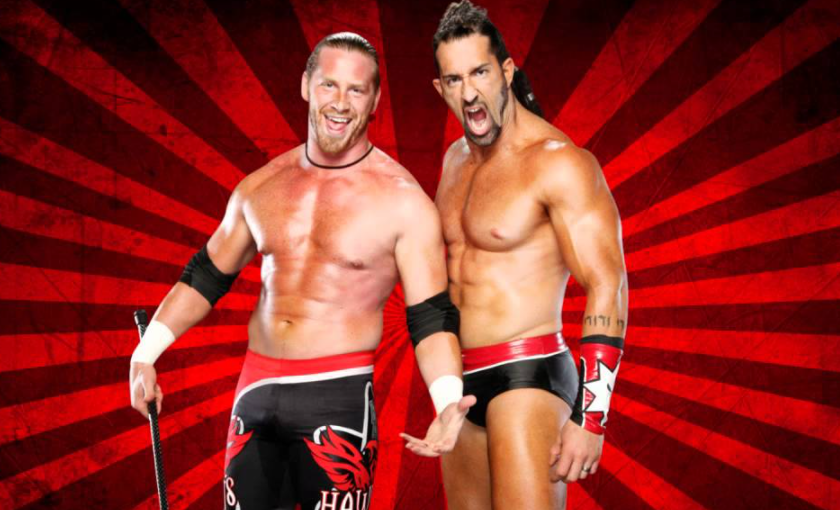 Source: @youtube
Tyler Reks Awards and Achievements
Florida Championship Wrestling
FCW Florida Heavyweight Championship (1 time)
FCW Florida Tag Team Championship (2 times) - Johnny Curtis (1) and Joe Hennig (1)
Pro Wrestling Illustrated
Ranked No. 156 of the top 500 wrestlers in the PWI 500 in 2009
World Wrestling Entertainment
Bragging Rights Trophy (2010) - with Team SmackDown (Big Show, Rey Mysterio, Jack Swagger, Alberto Del Rio, Edge, and Kofi Kingston)
Slammy Award (1 time)
Most Menacing Haircut (2010)
Tyler Reks's Personal Life, Trans Woman & Wife
Tyler Reks's marital status is married. Reks married her beautiful wife, Priscilla in July 2002. The duo is also blessed with a daughter whose name goes by Mia. Their kid, Mia was born in November 2011. Recently on 4th February 2021, Reks came out as a trans woman. Thus, she may be heterosexual, bisexual, homosexual, asexual, or identify with other terms (such as queer) by sexual orientation. As of today, Tyler Rek and her partner/spouse, Priscilla are living a happy life without any disturbances.
Source: @instagram.com/gabetuft

Together with Priscilla, they created "BODY SPARTAN", a fitness company with an app to positively transform the body, mind, and spirit of men and women through targeted video workouts, nutritional programs, and motivational sessions.

Tyler Reks Net Worth & Salary
A retired professional wrestler, Tyler Reks has accumulated a huge amount of money throughout his career. As of 2021, the net worth of Tyler is estimated to have $1 Million - $5 Million whereas her exact salary and career earnings are still to get unfold yet but there is no doubt in the mind of her followers that she is making a good amount of money from her career work. Most of her wealth comes from her wrestling career. After her retirement, she works in marketing. She has even launched a fitness website with other wrestlers. Tuft is satisfied with her earnings and she is living a luxurious lifestyle.