Walter Jermaine Harris, popularly known as Walt Harris is an American mixed martial artist. He is currently signed to the Ultimate Fighting Championship (UFC) and fights in the Heavyweight division. Harris turned professional in 2011. He was released from UFC in 2014 after compiling the 0-2 record. He went on to sign with Titan FC. He returned to UFC in November 2014. He has recorded 13 wins in 21 fights in his career. He ranked No. 9 in the UFC heavyweight rankings in December 2019.
What is Walt Harris Famous For?
Awarded two Performance of the Night bonuses.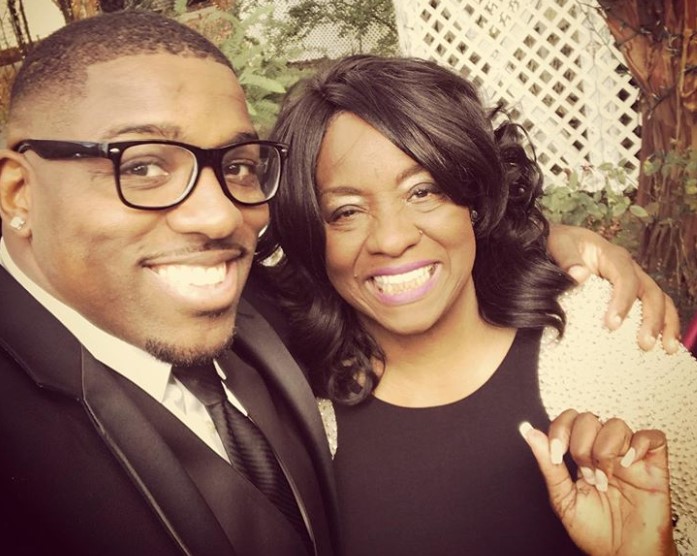 Source: Instagram@thebigticket205
Where was Walt Harris Born?
Walt Harris was born on 10 June 1983. His birth name is Walter Jermaine Harris. His birth place is in Birmingham, Alabama in the United States. He holds an American nationality. He belongs to African-American ethnicity. Information about his parents and early life are not available on any online sources. According to his Instagram @thebigticket205, he has 2 siblings, an older brother, and a younger brother. He grew up in his hometown, Birmingham. He grew up playing basketball and was considering playing basketball as his professional career.
Regarding his educational background, he attended Jacksonville State University. He was one of the excellent basketball players at Jacksonville. For his talent, he received tryouts from the NBA. However, he started training mixed martial art putting basketball career on hold. He received his associate degree in Physical Education from Jacksonville State University and Pikeville College.
He worked as a furniture mover before starting his MMA career. He also worked for United Parcel Service (UPS).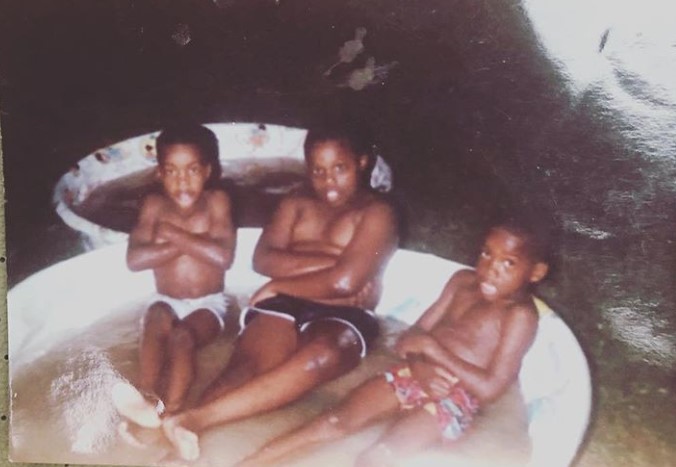 Source: Instagram@thebigticket205
Walt Harris Mixed Martial Arts Career
Walt Harris turned professional in 2011.
He made his MMA debut against Justin Thornton at HEF: Hess Extreme Fighting on 15 March 2011. He defeated Thornton via TKO in just 15 seconds into the first round.
He then went on to compile a record of 6-1 defeating UFC veteran Anthony Hamilton and others.
He signed with UFC in September 2013.
He made his UFC debut against fellow newcomer Jared Rosholt at The Ultimate Fighter 18 Finale on 30 November 2013. Harris lost to Rosholt via unanimous decision.
Harris faced loss in his second UF fight as well. He had lost to Nikita Krylov at UFC on Fox 10 on 25 January 2014 via TKO in just 25 seconds into the first round.
UFC released Harris following his 0-2 record.
Harris then signed with Florida based promotion Titan Fighting Championship.
He made his Titan FC debut against D.J. Linderman at Titan FC 28 on 16 May 2014. He won the fight via knockout in the first round.
He pulled out of his bout against Dave Herman at Titan FC 30 due to back injury.
Harris re-signed with UFC in 2014.
On his UFC return, Harris faced Soa Palelei at UFC Fight Night 55 on 7 November 2014. He had replaced Daniel Omielanczuk who had pulled out of the bout due to thumb injury. Harris once again lost his UFC bout. He lost via TKO in the second round.
Harris won his first UFC bout against promotional newcomer Cody East at UFC 197 via split decision on 23 April 2016.
He then defeated Chase Sherman at UFC Fight Night 103 and Cyril Asker at UFC Fight Night 111 in 2017.
He faced Werdum at UFC 2016 on 7 October 2017. He lost via submission.
He lost to Mark Goodbeer at UFC 2017 via disqualification on 4 November 2017.
Harris defeated Daniel Spitz at UFC Fight Night 131 via knockout and Andrei Arlovski at UFC 232 via split decision in 2018.
It was reported in January 2019 that Harris tested positive for LGD4033. He also tested positive for selective androgen receptor modulators (SARMs) like ostarine.
California State Athletic Commission (CSAC) temporarily suspended Harris. He was later fined $4,000 and suspended for four months.
His bout with Arlovski was overturned to a no contest. CSAC was convinced that Harris tested positive from a tainted supplement and he was not an intentional doper. Thus, he faced shorter suspension.
Harris faced Sergey Spivak at UFC Fight Night 151 on 4 May 2019. He defeated Spivak via TKO in the first round.
Harris also won his first Performance of the Night bonus award.
He then faced Oleinik at UFC on ESPN 4 on 20 July 2019. He earned his second Performance of the Night bonus after he defeated Oleinik via knockout in just 12 seconds into the first round.
Harris pulled out from his bout with Alistair Overeem at UFC on ESPN 7 due to a personal reason. His step-daughter had gone missing, who was later found dead.
Harris's bout with Overeem was once again postponed due to the COVID-19 pandemic.
The bout is scheduled to take place at UFC on ESPN 10 on 16 May 2020.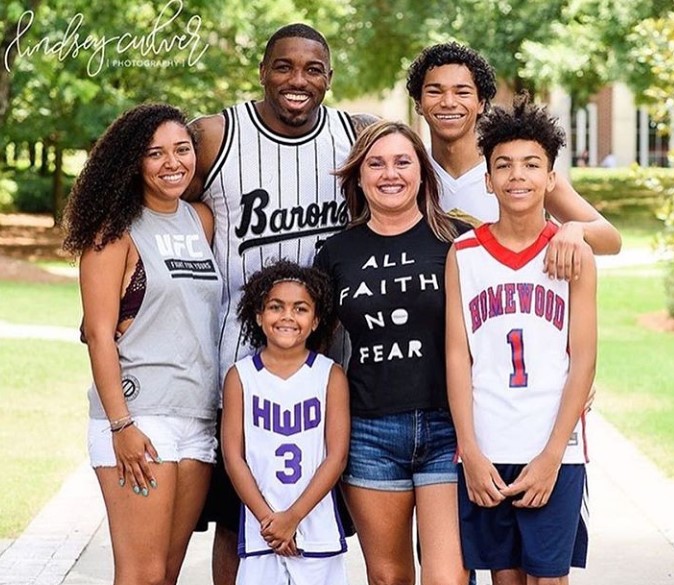 Source: Instagram@thebigticket205
Who is Walt Harris Married to?
Walt Harris is a married man. He is married to Angela Haley-Harris. The couple has 4 children together. He lives with his family in Homewood, Alabama, United States.
He had a step-daughter, Aniah Blanchard, who was murdered in October 2019.
What Happened to Walt Harris's Stepdaughter, Aniah Blanchard?
Aniah Blanchard was reported missing on 24 October 2019. The Auburn police authorities started an investigation and the Alabama Governor Kay Ivey set up a reward of $5,000 for information leading to the arrest and conviction of the perpetrator. The reward sum later exceeded $100,000 from several donors.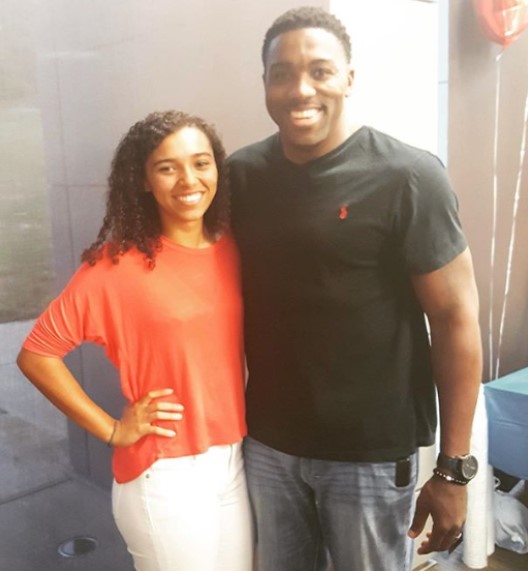 Source: @gossipgist
Following the investigation, the Auburn police arrested Ibraheem Yazeed in Escambia County on 8 November 2019. The remains of Aniah Blanchard was found and identified on 27 November 2019. The autopsy confirmed that Blanchard was killed by a gunshot wound. Two additional suspects, Antwain Fisher and David Lee Johnson Jr. were also arrested and charged. Fisher's charges were dropped with prejudice in December 2019.
The capital murder charges were filed against Yazeed.
How Tall is Walt Harris?
Walt Harris stands at a height of 1.96 m i.e. 6 feet and 5 inches tall. He has a body weight of 258 lbs i.e. 117 lbs. He has an athletic body build. He has a reach of 76 inches.
What is Walt Harris Net Worth?
Walt Harris earns from his professional career as a mixed martial artist. He is currently signed to the Ultimate Fighting Championship (UFC). His income comes from contracts, salary, endorsements, and bonuses. His net worth is estimated at $1.6 million at present.