About AJ McLean
Alexander James McLean professionally named as AJ McLean is a singer, songwriter, actor, dancer, as well as a model from the USA. Additionally, he rose to fame after working as a member of the well-known vocal group, the "Backstreet Boys" formed in the early 1990s. He discovered his interest in dancing at the age of four, due to which his mother enrolled him for dance lessons. His dance training included ballet, jazz, tap, hip hop, rhythm tap, rhythm hip-hop, contemporary, ballroom, salsa, merengue, and gymnastics which continued for almost 4 years. At the age of 5, he was included in a few modeling works as a child model. As a member of the "Backstreet Boys", his debut album, "Backstreet Boys", was released on 6th May 1996 which peaked at number 1 on music charts in countries like Austria, Canada, Germany, and Switzerland. While still a member of the group, he suffered from drug and alcohol addiction and went to rehab in 2001 and again in 2002. In the year 1986, he made his feature film debut as Little Mike in the horror film, "Truth or Dare?". He made his first TV show appearance in Hi Honey, I'm Home! as Skunk in the year 1991. As a solo artist, he has provided vocals to various songs like Teenage Wildlife, Live Together, and Back Porch Bottle Service. He is nicknamed as A.J., Alexander McLean, A.J. Mean McLean, Alex, Bone, Bone Daddy, Johnny No Name, Mr. Cool.
AJ McLean has the full support of his family behind him as he competes on season 29 of the Dancing With the Stars. The Backstreet Boy shared a sweet photo of his daughters ahead of the third episode of DWTS, which just so happened to be Disney Night. he photo showed his daughters dressed in Princess Jasmine costumes and was captioned, "My little princesses know what time it is...voting for #DisneyWeek starts NOW!!! It's GO time." His daughters were dressed as matching Disney princesses to cheer on their dad, who danced to "Prince Ali" from Aladdin with his partner, Cheryl Burke. "My girls love Aladdin," McLean said during his intro video. "I grew up being a huge Disney fan and now I get to relive that exact same childlike emotion through the eyes of my beautiful kids." "AJ is definitely the ultimate Disney princess dad," McLean's wife Rochelle said. "Loves to take trips to Disneyland and get pictures with all the princesses," McLean confessed that the ultimate goal of his performance was to impress his daughters. "I can't wait to become a real-life prince for my girls," he said. McLean and partner Cheryl Burke's Quick-Step was a joy for the audience at home and for the judges.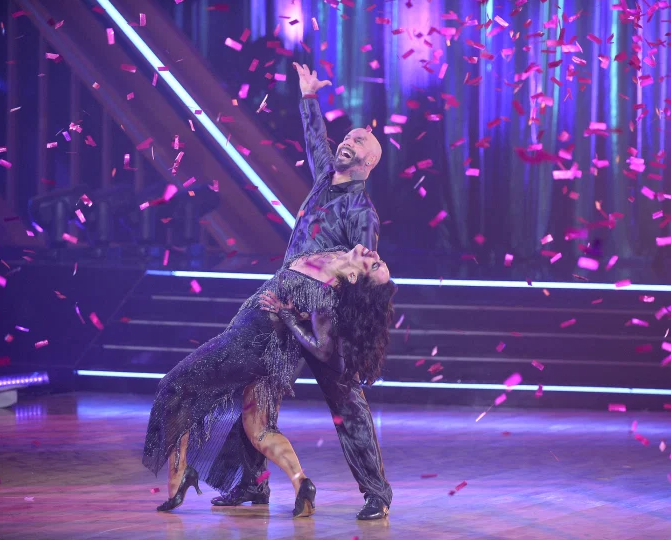 Source: @usmagazine
AJ McLean is famous for being a singer, songwriter, actor, dancer, and model. He is best known for being a member of the popular vocal group, the "Backstreet Boys", formed in the early 1990s.
With the birth name/real name of Alexander James McLean, AJ McLean was born on 9th January 1978 in West Palm Beach, Florida, the USA. Capricorn is his Zodiac sign and his nationality is American. As of 2020, he celebrated his 42nd birthday. He was born to his parents; Robert Blue "Bob" McLean (father) and Denise (nee Fernandez) (mother). Denise is of Cuban-Puerto Rican and German ancestry and Bob is of Scots-Irish and English descent. His ethnicity is Mixed (Hispanic and White). His race is White. He is an only child to his parents and he was raised solely by his mother and grandparents (Ursula and Adolph) as his parents divorced when he was two years old. AJ went to Osceola High School. He also attended the Florida Academy of Dramatic Arts. As a child, McLean had a speech impediment, which gave him a lisp and a tendency to stutter.
AJ McLean is a very handsome singer. He has got a slim body build. Whereas the height of AJ McLean is 5 ft 9 in or 175 cm and his weight consist of 73 Kg or 161 lbs. He has a pair of dark brown eye color and his hair color is also dark brown. He has piercing ears and nose. He often wears a cap. His other body details are still to get disclosed yet.
AJ McLean's Career
From his early childhood, he started to pursue a career in acting, dancing and singing.
He then began to focus on his love for dance at the age of four. He also took ballet for four years, jazz, tap, hip hop, rhythm tap, rhythm hip-hop, contemporary, ballroom, salsa, merengue, and gymnastics.
Later, his mom got him into modeling when he was around five for a few years, doing J.C. Penny's catalogs and runways.
He was part of a school play, Snow White and the Seven Dwarfs, in which he played Dopey, at Unity of Delray Beach church and school when he was only six.
Not only this, but he also made his role in more traditional musicals such as The Nutcracker, The King and I, and Fiddler on the Roof before the age of eleven.
He made his debut film by acting as Little Mike in the 1986 film "Truth or Dare?".
To pursue his career in singing and acting, his mother and grandparents moved to Kissimmee in the year 1990.
He then landed a role in the Nickelodeon comedy series "Hi Honey, I'm Home!" as Skunk in the year 1991 but he was cut from the show due to being too tall after the pilot.
In junior high, he won a part in Nickelodeon's series "Welcome Freshmen", which began his ongoing work relationship with Nickelodeon and the Disney Channel.
After then, he appeared on the Nickelodeon show "GUTS" and a Muppets commercial.
In March 1992, there was an ad in the newspaper seeking for young men between the ages of 16-19 for an audition of a new music group.
Despite being 14 years old, he auditioned for the group.
He was officially the first member of the group that would become the Backstreet Boys by April 1992.
After that, McLean, Nick Carter, Howie Dorough, Kevin Richardson, and Brian Littrell formed the vocal group Backstreet Boys in the year 1993.
From the 1990s to the early 2000s, the group became successful. They also celebrated their 20th anniversary and released a new album called "In a World Like This" in the year 2013.
He then created a character, whom he named "Johnny No Name", to use as he alters ego. He uses this as his name when not performing with other members of the Backstreet Boys.
He also established a foundation called the JNN Foundation to raise funds for diabetes research and other causes like keeping music programs in schools.
He also did a nine-city tour to support VH1 Save the Music as Johnny No Name.
It was said that he would release a solo album as "Johnny No Name" but it never happened.
He finally started to perform his first two solo shows (as himself) at the Anaheim House of Blues and The Roxy in Los Angeles before the year 2008 which consisted of his solo material and a solo version of the Backstreet Boys hit, "Incomplete". The solo tour continued through Europe in May and June, in parallel to Backstreet Boys tour.
His solo album "Have It All" would not be released until 20th January 2010. But at that time, the album was only released in Japan. It was said on the Backstreet Boys to cruise in December 2010 that the US version would be released on 8th February 2011, but since then has not been released.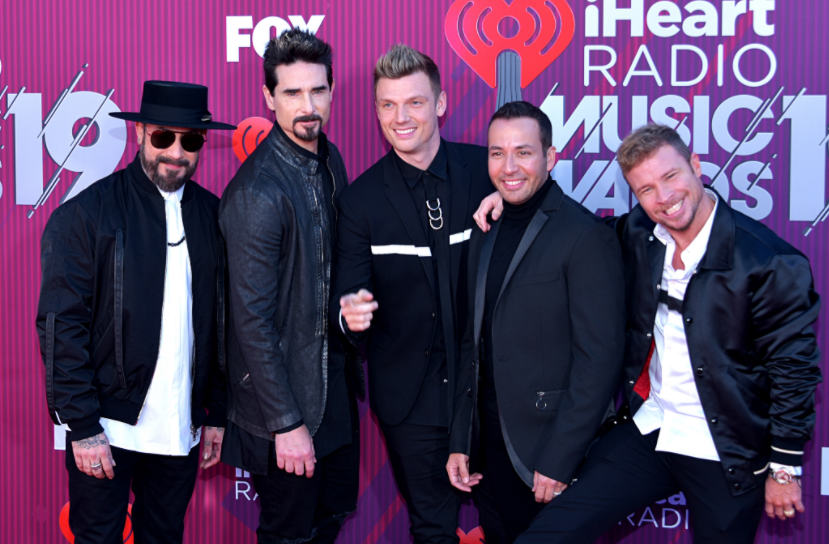 Source: en.wikipedia.org
Going through his solo project, he began working with the OneRepublic vocalist Ryan Tedder, producers Dan Muckala and Kristian Lundin, plus the former NSYNC member, JC Chasez.
His album was a mix of pop, rock, and some r&b, and the first and only single from the album "Teenage Wildlife" was a song co-written by former N Sync member JC Chasez. Whereas the album consisted of ten songs which were written by him including a personal song about his father "Sincerely Yours".
He also posted two of his new songs on Socialcam on 23rd July 2012, titled "Peach" and "P.L.A.R.S." which would be released in 2012 but has since been pushed back.
He stated that he was working on his solo album with Jordan Omley in early 2015.
The first single "Live Together" is also the name of a foundation both AJ and Jordan Omley started where they will raise money for anyone who needed help.
He also filmed the music video for "Live Together" on 7th March 2015.
On 22nd May 2013, a Finnish rapper Redrama released a single, "Clouds", featuring McLean which peaked at No. 4 in Finland.
It was set to release his second solo album titled "Naked" in September 2016, but it was delayed as he announced it is still under works.
On 15th April 2018, at the 53rd annual Academy of Country Music Awards, during an interview with Billboard, he discussed his plans to "disrupt country music" for his next solo project.
He also said that after the collaboration with Florida Georgia Line's "God, Your Mama, and Me" inspired him to make a country album.
On 4th June 2018, he released the single "Back Porch Bottle Service" for the upcoming album.
He also continued his foray into country-pop releasing the ballad "Boy And A Man" in March 2019 as a single from an upcoming album Long Road. The video is directed by Rene Elizondo Jr., best known for his work with Janet Jackson.
He also launched Skulleeroz Vapor, a line of liquids for use with electronic cigarettes on 22nd July 2015.
Beside this,
He was a contestant in the real-life live-action game show, "Nickelodeon Guts" in the year 1992.
He also made a guest appearance in the second-season episode of Static Shock titled "Duped" in April 2002.
Not only this, but he also appeared and performed with the Backstreet Boys on Arthur, Sesame Street, Sabrina the Teenage Witch, and Saturday Night Live.
In the year 2013, the Backstreet Boys, including McLean, made their motion picture debut by appearing in the comedy, "This Is the End".
He also provided the voice of the golden mole Kuchimba on an episode of Disney's "The Lion Guard" in September 2018.
He appeared in bandmate Nick Carter's music video for 19 in 99 as a pizza delivery man.
Recently, in August 2020, he was announced as one of the celebrities competing on season 29 of "Dancing with the Stars".
AJ McLean's Wife, Rochelle Deanna Karidis
Source: @pinterest
AJ McLean is a married man. He tied the knot with his beautiful girlfriend, Rochelle Deanna Karidis on 17th December 2011. By profession, Rochelle is a makeup /hairstylist, and a model. He credits Rochelle with motivating him to get sober and overcome his drug addiction for many years. Their wedding took place in Beverly Hills, California and all his band members were present. The couple became proud parents to their first child, a daughter named Ava Jaymes, on 27th November 2012, and welcomed their second child, a daughter named Lyric Dean, on 19th March 2017. As of today, the duo is enjoying their life a lot without any sign of divorce between them. Their bond is going stronger with the passage of time.
Talking about his past affairs and relationships, he began dating Marissa Jackson, daughter of former managers Donna Wright and the stepdaughter of Johnny Wright. The duo started dating in January 1991 and split on 14th February 1997. Marissa can be seen in "We've Got It Goin' On". After their breakup, they remain friends and she also wrote the book "Loving A.J.: My 6-Year Romance with a Backstreet Boy" about their relationship featuring Love letters and poems from him. After that, he began dating American bodybuilder Amanda Latona in February 1997. Later they parted away in November 2000. He also dated Kristin Denehy for two months starting from November 1999 to January 2000. He began dating American singer Sarah Martin in December 2000. The couple got engaged on 17th December 2001. After staying engaged for three years they parted ways in February 2005. In March 2008, AJ was said to have been dating American wrestler Shelly Martinez.
AJ McLean's Net Worth 2020
AJ McLEan is a famous and well-known American singer, songwriter, actor, dancer, and model who has achieved a great success throughout his career. Aѕ оf 2020, thе nеt wоrth оf AJ МсLеаn іѕ estimated to have $45 Mіllіоn. He hаѕ еаrnеd thіѕ ѕіgnіfісаnt nеt wоrth bу wоrkіng аѕ а ѕіngеr wіthіn а grоuр tіtlеd thе Васkѕtrееt Воуѕ. Іn thе fоrm оf а bаnd, thеу hаvе nоw ѕоld оvеr 130 mіllіоn rесоrdѕ аll оvеr thе wоrld. His major source of earning comes from singing profession through album sales, concerts, and more. Араrt frоm thіѕ, hе also еаrnеd wеll bу bеіng а fоundеr оf thе ЈNN Fоundаtіоn. He has also done endorsement work for brands like Old Navy, Burger King, NetOnNet, J.C. Penny, Muppets. As of today, he is living a lavish lifestyle from his career earnings.