About Alphonso Davies
Alphonso Boyle Davies, professionally known as Alphonso Davies is a rising Canadian professional football player. He mainly plays as a left-back, but can also play well as a winger due to his pace, dribbling and crossing skills. Having started his professional football career from the Canadian soccer team, Whitecaps FC in 2016, he is the first player born in the 2000s to play in MLS. He transferred to the German giants, Bayern Munich for a then-MLS record transfer fee in January 2019. Davies has already won two Bundesliga titles and two DFB-Pokals in his first two seasons at the club. Individually, he has held several records and was named Canadian Men's Player of the Year in 2018. He was named Bundesliga Rookie of the Season for 2019-20. The young footballer has also won several individual awards.
On the international level, he has represented Canada at various age levels. He made his senior international debut in 2017, becoming the youngest player to appear for the senior team.
Davies was born on 2 November 2000. His birth name is Alphonso Boyle Davies. His birth place is in a refugee camp in Buduburam in Ghana. He was born to Liberian parents. His father is Debeah Davies, and his mother is Victoria Davies. The family moved to Canada when he was 5 years old. He obtained Canadian citizenship on 6 July 2017. He was Liberian until he acquired Canadian citizenship. He holds Canadian nationality. He belongs to African-Canadian ethnicity. He has 5 siblings.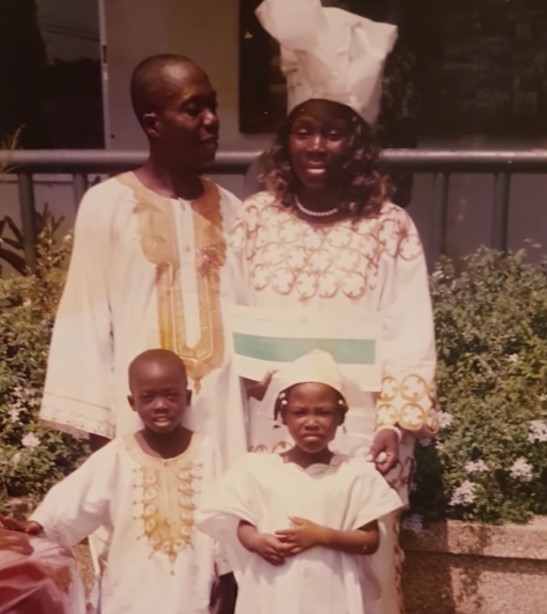 Source: @knpe397
Regarding his educational background, Davies attended St. Nicholas Catholic Junior High in the Edmonton Catholic School District. He started playing football at a very young age.
Alphonso Davies stands at a height of 1.81 m i.e. 5 feet and 11 inches tall. He has a body weight of 75 kg. He has an athletic body build. His eye color is dark brown and his hair color is black. His sexual orientation is straight.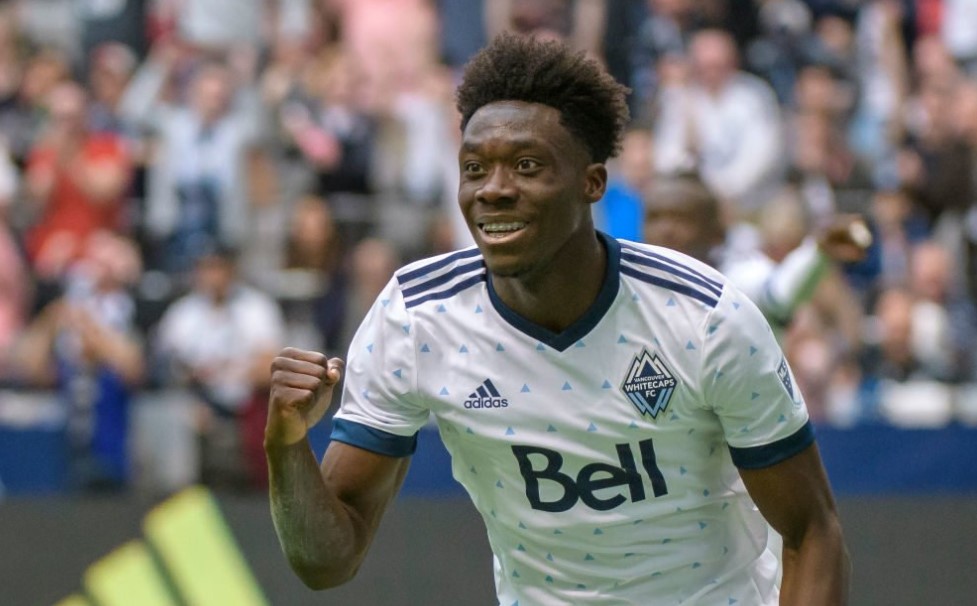 Source: @theathletic
Alphonso Davies Football Career
Alphonso Davies started playing football with Free Footie as a child. It is an after-school soccer league for inner-city elementary school students who cannot afford registration fees and equipment, or who lack transportation to games.
He then played for Edmonton Internationals and Edmonton Strikers.
He then joined the Whitecaps FC Residency in 2015. He was only 14 years old when he joined Whitecaps.
He joined the Vancouver Whitecaps FC during their 2016 MLS preseason tour.
He then signed with Whitecaps FC 2 in the USL in February 2016.
He thus became the youngest player signed to a USL contract at 15 years and 3 months.
He made his professional debut for Whitecaps FC 2 in April 2016. He was 15 years and 5 months when he made his professional debut.
Davies scored his first professional goal on 15 May 2016, becoming the youngest goalscorer in USL history at 15 years and 6 months.
During the 2016 USL season, he scored 2 goals.
He was called up to the club's first team for the 2016 Canadian Championship.
He made his first-team debut on 1 June 2016 in the first leg of the Canadian Championship against Ottawa Fury.
He signed his first-team contract with the Whitecaps through 2018 in July 2016.
He was the youngest active player in MLS and the third-youngest player to have signed an MLS contract.
He made his MLS debut on 16 July 2016, becoming the second-youngest player to ever play in MLS.
He scored his first goal for the first team in September 2016 in the 2016-17 CONCACAF Champions League against Sporting Kansas City.
He became the second-youngest starter in MLS history in the same month when he started against Colorado Rapids.
He played in 9 MLS games, 4 Canadian Championship games, and 3 games in the CONCACAF Champions League games during the 2016 season.
Following his impressive performance, he drew attention from top European clubs such as Chelsea, Liverpool, and Manchester United.
He was named one of the 60 best young soccer talents in the world in 2017.
He scored his first MLS goal against Montreal Impact in the 2018 season opener.
He was included in the MLS All-Star roster for the 2018 MLS All-Star Game against Juventus in August 2018.
He was named the Vancouver Whitecaps FC Player of the Year in October 2018. He was also awarded the Whitecaps' Goal of the Year Award.
In his three seasons for the Whitecaps first team, he scored 12 goals in all competitions.
Following the 2018 season, he moved to the German club, Bayern Munich. He had already signed a contract worth $13.5 million, with performance-related bonuses that total $22 million in July 2018. The transfer fee was a then-record for MLS.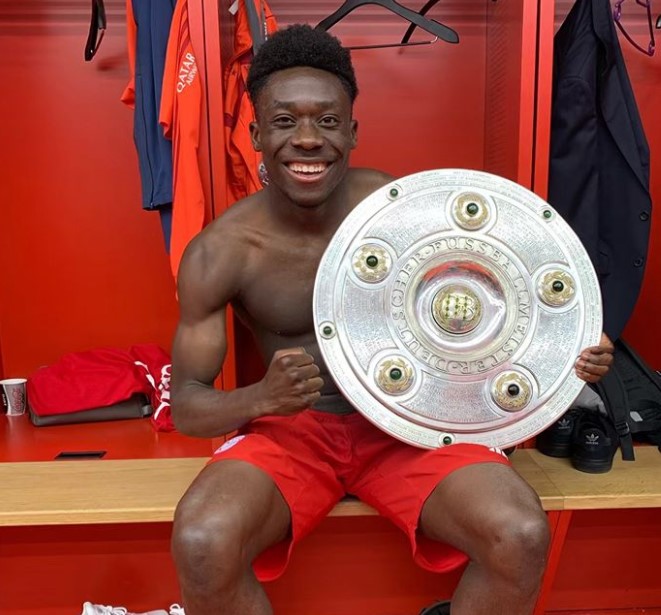 Source: @theathletic
He joined Bayern Munich in January 2019. He wears shirt number 19 at the club.
He also played for Bayern Munich reserves in his arrival.
He made his club debut on 12 January 2019 against Borussia Monchengladbach in the Telekom Cup championship finale. Bayern Munich won the title on a penalty shootout.
He made his Bundesliga debut on 27 January 2019 against VfB Stuttgart.
He scored his debut goal for Bayern Munich on 17 March 2019 against Mainz 05. At 18 years, 4 months and 15 days, he became the youngest player since Roque Santa Cruz, twenty years prior, to score for the club.
He is also the first Canadian international to score for Bayern Munich.
He won his first Bundesliga title in his debut season at the club.
He also won his first DFB-Pokal in his debut season after defeating RB Leipzig in the final.
He made his UEFA Champions League debut on 6 November 2019 against Olympiacos.
He signed a contract extension with the club until 2025 in April 2020.
He clocked 36.51 km per hour in a game against Werder Bremen on 16 June 2020. He was sent-off with double yellow on the same match.
He won his second Bundesliga title as well as DFB-Pokal in the 2019-20 season.
He was named the Bundesliga Rookie of the Year for the 2019-20 season.
He also played a key role to help the club to reach the 2019-20 Champions League final.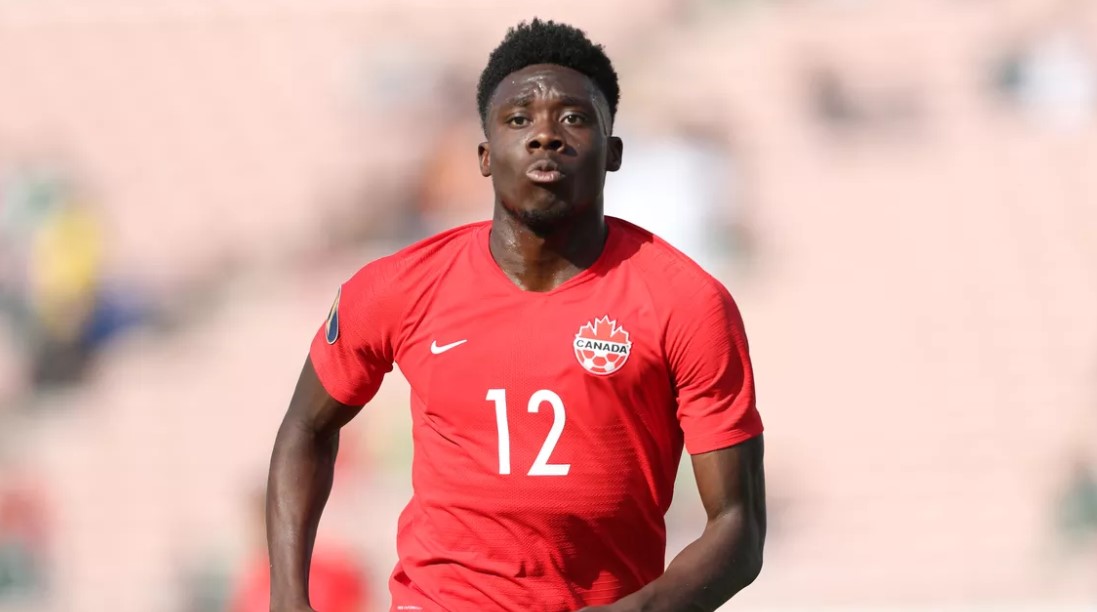 Source: @walkingthere
Alphonso Davies International Career
Alphonso Davies has represented Canadian national team at various age levels.
He has represented Canada U15, U17, U19, and U20 teams.
He was named Canada U17 Male Player of the year twice in 2016 and 2017.
He was born to Liberian parents in Ghana. He had also acquired Canadian citizenship. Thus, he was eligible to represent either, Ghana, Liberia, or Canada on the senior international level.
He chose to represent Canada.
He made his senior international debut in a friendly match against Curacao. He became the youngest player ever to play for the national team.
He scored his debut senior international goal against French Guiana in the 2017 Gold Cup. He scored two goals in the same match, becoming the youngest goalscorer in Gold Cup history.
He went on to win the tournament's Golden Boot as the top scorer. He also won the Young Player of the Tournament.
He represented in the 2019 CONCACAF Gold Cup as well as the 2019-20 CONCACAF Nations League.
He scored the first goal in a 2-0 win over the United States. It was the first time Canada has ever defeated the United States in 34 years.
Alphonso Davies Individual Honors
Canada U-17 Male Player of the Year: 2016, 2017
CONCACAF Gold Cup Bright Future Award: 2017
CONCACAF Gold Cup Golden Boot Award: 2017
CONCACAF Gold Cup Best XI: 2017
MLS All-Star: 2018
Vancouver Whitecaps FC Player of the Year: 2018
Vancouver Whitecaps FC Goal of the Year: 2018
Canadian Men's Player of the Year: 2018
Bundesliga Rookie of the Month: May 2020
Bundesliga Rookie of the Season: 2019–20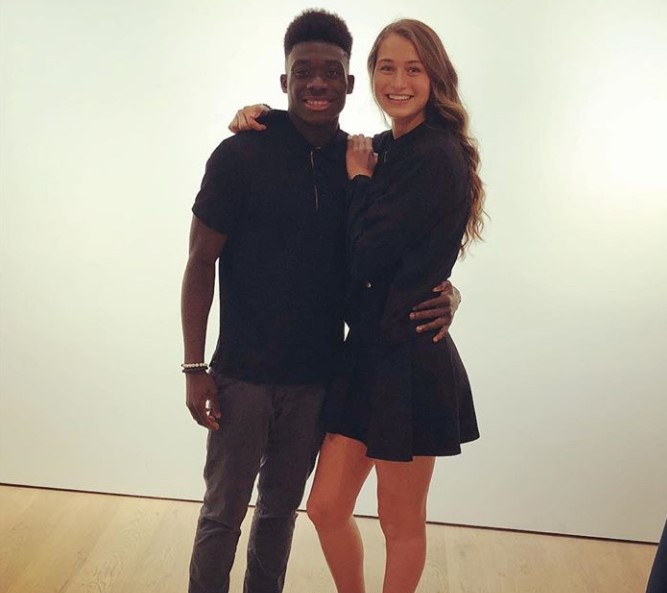 Source: @walkingthere
Who is Alphonso Davies Dating?
The young footballer, Alphonso Davies is not married. However, he is not single. He is dating Jordyn Huitema. Huitema is also a football player and plays as a striker for the French club, PSG. The couple started dating in 2017. Davies was once fined 20,000 Euros after he arrived late to a Bayern practice. He had gone to visit his girlfriend in Paris. It was reported that Davies might be persuading his girlfriend to sign for Bayern Munich's women's side.
He has over 1.8 million followers on his Instagram @alphonsodaviess.
What is Alphonso Davies Salary?
Alphonso is one of the top prospects in football. He is one of the rising talents and has already established himself in European football. He had signed with Bayern Munich from MLS club, Whitecaps for then club-record $22 million including bonus. According to his initial contract with Bayern Munich, he had an annual salary of $2,500.
After establishing himself in the club, he landed a contract extension with the club and also a huge pay rise. Following his contract extension, his annual salary is reported at around $5.5 million at present. Besides salary from his contract, he also receives bonuses. His net worth is estimated at $2 million at present. The young player will surely land a lucrative deal in the coming future that will skyrocket his fortune.