Ashley Judd Biography
Ashley Tyler Ciminella, an American actress and political activist is better known as Ashley Judd is the daughter of country music singer Naomi Judd and the half-sister of Wynonna Judd. She is well recognized for her roles in many successful films, including "High Crimes", "Divergent", and "Insurgent". Her role in "Double Jeopardy" earned her a Blockbuster Entertainment Award for Favorite Actress. She has also come out with her autobiographical book, "All That is Bitter & Sweet", chronicled from her childhood to adulthood as well as she has managed to make her mark as a powerful performer, versatile actress, and most importantly a passionate and devoted humanitarian. Scroll down and know more about Judd's Full Biography, Interesting Facts, Net Worth, Family, Wiki, Age, Family, Personal Life, Partner, Career, TV Shows, & more.
Famous For

Being an American actress and a political activist.
For her roles in many successful films, including "High Crimes", "Divergent", and "Insurgent".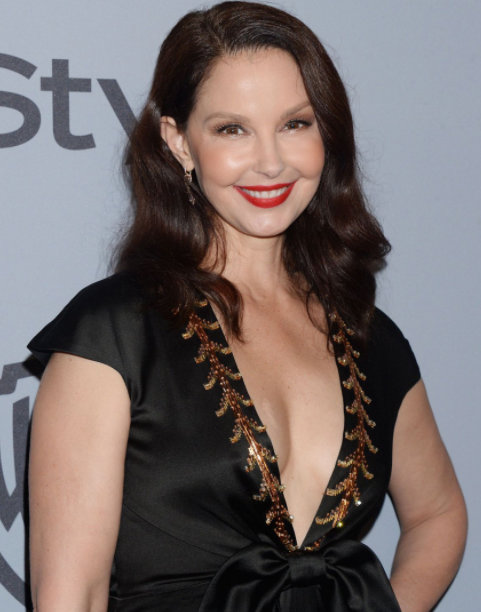 Source: @theplace2.ru
Ashley Judd Early Life

Ashley Judd was born with the real name/birth name of Ashley Tyler Ciminella on 19th April 1968 in Los Angeles, California, U.S. (hometown/birthplace). She is of American nationality and she belongs to mixed ethnicity. Her paternal grandfather was of Sicilian (Italian) descent, and her paternal grandmother was a descendant of Mayflower pilgrim William Brewster. Her religion is Christian and her race is white. Aries is her horoscope. As of 2020, she celebrated her 52nd birthday and she will be celebrating her 53rd birthday as of 2021 on 19th April. Her parents are Naomi Judd (mother), a country music singer and motivational speaker, and Michael Charles Ciminella, a marketing analyst for the horseracing industry. Ashley's elder sister, Wynonna, is also a country music singer. At the time of her birth, her mother was a homemaker; she did not become well known as a singer until the early 1980s. Judd's parents divorced in 1972. The following year, her mother took Ashley back to Naomi's native Kentucky, where Judd spent the majority of her childhood. Moving to her education, she attended 13 schools before college, including the Sayre School (Lexington, Kentucky), Paul G. Blazer High School (Ashland, Kentucky), and Franklin High School in Tennessee. She briefly tried modeling in Japan during a school break. An alumna of the sorority Kappa Kappa Gamma at the University of Kentucky, she majored in French and minored in anthropology, art history, theater, and women's studies. She spent a semester studying in France as part of her major. She graduated from the UK Honors Program and was nominated to Phi Beta Kappa but did not graduate with her class.
Ashley Judd Career

Ashley Judd kicks off her acting career starring in two episodes of "Star Trek: The Next Generation" as Ensign Robin Lefler in 1991 after which she appeared on the NBC drama "Sisters" from 1991 to 1994.
She then made her feature film debut with a small role in 1992's "Kuffs" whereas her role in dramatic winner Ruby in "Paradise" shape the rest of her career. She gained further critical acclaim for her role as Harvey Keitel's estranged daughter in Wayne Wang's "Smoke" and also as Val Kilmer's wife in Michael Mann's "Heat".
After that, she was seen in the courtroom thriller film "A Time to Kill" (1996), "Where the Heart Is" (2000), "Someone Like You" (2001), "High Crimes" (2002), "Divine Secrets of the Ya-Ya Sisterhood" (2002), and many others.
She also starred in "Twisted" which was the worst-reviewed movie of 2004, which was widely panne whereas she also appeared in the film "Flypaper" in 2011 as well as starred as Rebecca Winstone on the ABC series "Missing" in 2012.
She appeared in "Divergent" as Natalie Prior in 2014, which she reprised in the 2015 sequel "Insurgent".
Moreover, she was the narrator of the documentary film about Turkish preacher Fethullah Gulen, "Love is a Verb" in 2014 and became the first woman to narrate the opening for the telecast of the Kentucky Derby.
In 2019, she was seen as Terri in "A Dog's Way Home", as well as she appeared in the TV series, "Berlin Station".
Besides, Judd released her memoir "All That is Bitter and Sweet" in 2011, in which she talks about her trials and tribulations from adolescence to adulthood.
Sexual assault

Ashley Judd discussed being raped three times, one resulting in conception at the Women in the World summit in April 2019, while addressing Georgia's fetal heartbeat bill passed in March 2019.
She stated, "As everyone knows, and I'm very open about it, I'm a three-time rape survivor," Judd said. "One of the times that I was raped there was the conception and I'm very thankful I was able to access safe and legal abortion. Because the rapist, who is a Kentuckian, as am I, and I reside in Tennessee, has paternity rights in Kentucky and Tennessee. I would've had to co-parent with my rapist."
Political activities
Judd is active in humanitarian and political causes. She was appointed Global Ambassador for YouthAIDS, an education, and prevention program of the international NGO Population Services International (PSI), promoting AIDS prevention and treatment. Judd was honored 10th November 2009, as the recipient of the fourth annual USA Today Hollywood Hero, awarded for her work with PSI

Ashley Judd endorsed Democratic Senator Elizabeth Warren for the 2020 United States presidential election in January 2020.
Ashley Judd Awards and Achievements

Chicago Film Critics Association Award for Most Promising Actress
Independent Spirit Award for Best Lead Female
Blockbuster Entertainment Award for Favorite Actress
Ashley Judd Personal Life

Ashley Judd is a married woman as she was engaged to Scottish racing driver Dario Franchitti in December 1999, who was driving in CART. Since the demise of CART, Franchitti has raced in IndyCar and NASCAR. The couple married in December 2001 at Skibo Castle in Scotland but had no children because Judd is an antinatalist: "It's unconscionable to breed with the number of children who are starving to death in impoverished countries." They later divorced in 2013. So we can assume that she is currently living a single life. Ashley is of straight sexual orientation.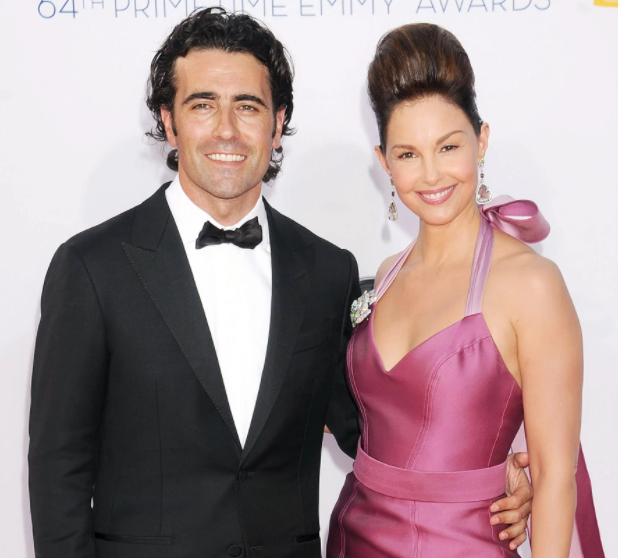 Source: @usmagazine
Additionally, she has recently shared photos from the scene of the catastrophic leg injury she sustained after tripping over a fallen tree in a remote part of the Democratic Republic of Congo. "Friends. Without my Congolese brothers and sisters, my internal bleeding would have likely killed me, and I would have lost my leg," she began in the lengthy caption. "I wake up weeping in gratitude, deeply moved by each person who contributed something life-giving and spirit salving during my grueling 55-hour odyssey." She said she was "in an ICU trauma unit in beautiful South Africa, which has taken me in from the Congo: a country I deeply love which is not, unfortunately, equipped to deal with massive catastrophic injuries like I have had. The difference between a Congolese person and me is disaster insurance that allowed me 55 hours after my accident to get to an operating table in South Africa", she said.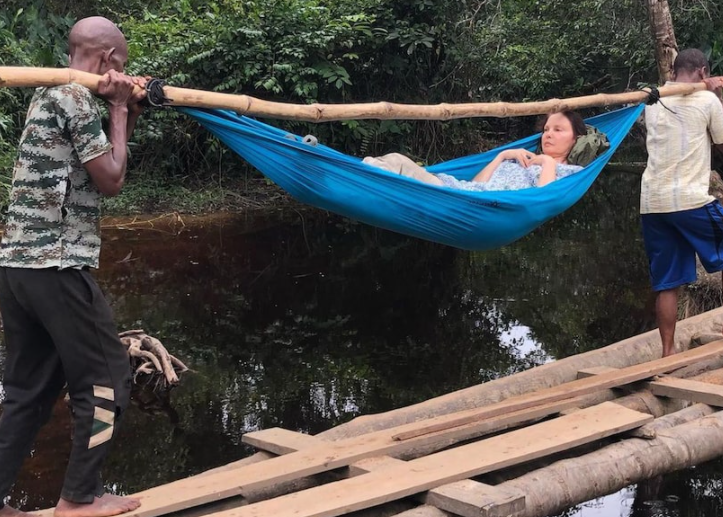 Source: @toofab
Ashley Judd Net Worth

Ashley Judd is an American television and film actress and political activist who has a net worth of $22 million dollars as of 2021, however, her exact amount of salary has not been revealed yet. Judd was the advertising "face" of American Beauty in 2004, an Estee Lauder cosmetic brand sold exclusively at Kohl's department stores, and H. Stern jewelers. In June 2007, Goody's Family Clothing launched three fashion clothing lines with Judd in the fall to be called "AJ", "Love Ashley" and "Ashley Judd". In 2008 they added an "Ashley Judd Plus" line. Ashley's major source of income is from her acting and political career.
Ashley Judd Body Measurement

The height of a beautiful and adaptable actress as well as politician, Ashley Judd is around 5 ft 7 in or 170 cm whereas her body weight is around 62 kg or 137 pounds. She has attracted a lot of people to her through her smile and natural brunette hair. Judd has dark brown hair and hazel eyes color. Ashley's body build is slim and her body measurement is body measurements of 34-24-35 in or 86-61-89 cm inches.