Avani Gregg is an American Tik Tok star and social media personality. She is the recipient of Crowned Muser in Tik Tok and holds Style guru badge. She is a winner of the Shorty Award for Tik Toker of the Year in 2020. She is also a talented makeup artist and a level 10 gymnast. Her Instagram account is avani and has 8.6m followers. Her Tik Tok account is avani and has 18.8 million followers and 1.1 billion Likes. She is an upcoming actress too. Scroll down to know more information about her full biography, boyfriend, net worth, birthday, wiki, news, career, followers, salary and many more.
Famous for
Being the Tik Tok star.
For her appearance as Gemma in an American web series "Chicken Girls"(2020).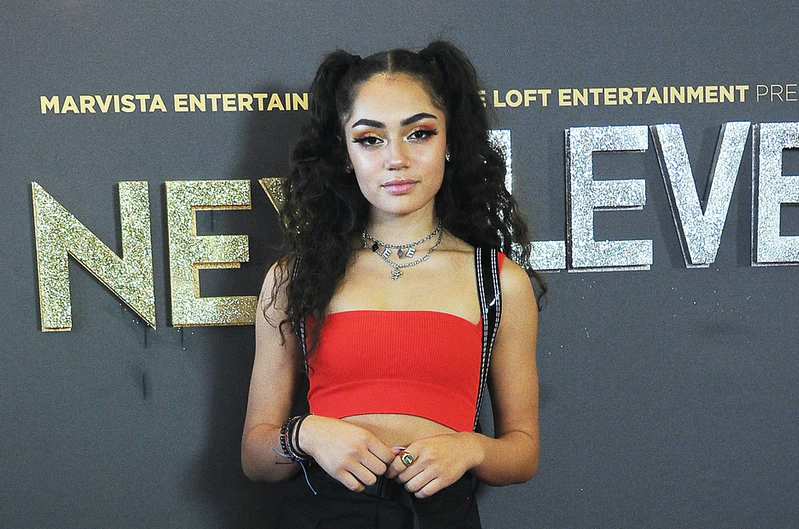 Source: @elitedaily.com
Early Life of Avani Gregg
Avani Gregg was born on November 23, 2002, in Brownsburg, Indiana, USA. She holds an American nationality and belongs to mixed ethnicity. Her birth sign is Sagittarius. She was born to an Afro-American father named Lewis Gregg who works as a Business administration and Indian mother named Anisha Gregg who works as a regional coordinator in a pharmaceutical company. She has an Elder sister named Shanti Gregg who is an Instagram star and younger sister named Priya Gregg. She grew up along with her two sisters in her home town Brownsburg in Indiana, USA, and attended the Brownsburg High School and she is expected to graduate her High school in 2021. She used to be a student of InterActive Academy Inc, a Gymnastics club in Indiana but had to give up because of a back injury. She is a follower of Interfaith: half Christian and half Hindu.
Career of Avani Gregg
Avani began her career by appearing at social media sites.
She was about 14 years old and was a school student when she began to find her audience on social media.
During her high schooling, she started making short-videos for Musical.ly from the year 2017. Musical.ly was merged with Tik Tok in August 2018.
Then she opened her Tik Tok account named avani and began posting and uploading the short videos. Her short videos consist of comedy, dance, challenge, transition, and other types of videos.
Her hit and viral videos consist of Lip syncing and dance videos to popular songs such as "Off the Wall" by XXX Tentacion, "In The Party", "Say So" and many more.
She also collaborated with famous Youtuber and makeup artist James Charles and Tik Tok star Addison Rae.
With her continuous effort and creative method of making short videos, she was able to lure many followers in her Tik Tok account.
Before Joining TikTok and social media platform, Avani had started her career as a gymnast and trained as a level 10 gymnast.
But she ended her career as a gymnast after suffering a back injury. She also perform Light gymnastic skills in her Tik Tok account.
Recently she has gain even more popularity in Tik Tok platform due to her creative and stunning style of doing makeup. On February of 2020,
Her make up as a Clown was so stunning and real that her make up style was like by many tik tok users and was able to add millions of followers in her Tik Tok account within a week.
She also gained the title "Clown Girl" from many Tik Tok users.
The beauty pro has big plans for her creative and stunning makeup skills.
In one of her interview, she revealed that she wants to do singer Billie Eilish's makeup one day.
As of May 2020, Avani has a massive follower of 18.8 million followers and 1.1 billion Likes.
Avani is also a member of "The Hype House" but she does not live full time at the Hype House.
The Hype House is the name of a collective of TikTok content creators based in Los Angeles, as well as the name of the Spanish-style mansion where the founder of these creators live.
The collective was formed in December of 2019 and includes around twenty rising or established Gen Z influencers of the social media platform.
Avani has appeared in a Television series named Chicken Girls in 2020. She starred in the series from its season 6 and portrays the role of "Gemma", an edgy and bossy captain of Attaway High's cheer squad.
Achievement and Award of Avani Gregg
Avani is the winner of Shorty Award for Tik Toker of the Year in 2020. The Shorty Awards, also known as the "Shortys", is an annual awards show recognizing the people and organizations that produce real-time short-form content across Twitter, Facebook, YouTube, Instagram, TikTok, Twitch and the rest of the social web. She is also the recipient of Crowned Muser in Tik Tok and holds Style guru badge.
"Avani Gregg official Tik Tok account Lost"
The official Tik Tok account of Avani Gregg was found lost on a Wednesday morning on April 29, 2020. Gregg spoke about the situation in a post on her second TikTok account, @lilpapiclowngirl, which has 1.6 million followers. "I don't know what's happening with my main account," she said in the video, which was posted early on Wednesday morning. "I honestly don't know what I did wrong." A representative for Gregg told Insider that the influencer first noticed the issue late on Tuesday night. The account, which previously had more than 17 million followers, remained unsearchable as of Wednesday afternoon. It was back up as of Wednesday evening.
Personal Life of Avani Gregg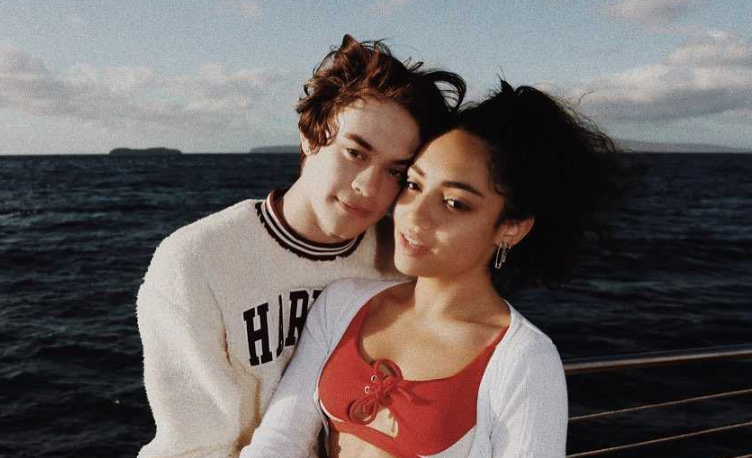 Source: @tvtrendnow.com
Avani Gregg is an unmarried girl. As of 2020, She has only reached 18 years old and too young to get married. However, the makeup artist is in a love affair with Anthony Reeves. Anthony Reeves, who is also known as "luvanthony" is also a famous American Tik Tok star and a member of "the Sway House" while Avani is a member of "the Hype House". The pair first met on November 2019 and began dating. However, Avani didn't confirm the relationship until January 3, 2020. The couple also shared a New Year's kiss and in a TikTok posted to Avani's page on January 2nd. They are seen clicking photos together on beaches, swimming pools, and ships. In fact, The two love each other so much and enjoy the quality time spending together. From late of March, Avani Gregg is in a self quarantine and maintaining social distancing from her boyfriend due to the ongoing worldwide pandemic COVID-19. During these periods, they were missing each other a lot and we can often spot them texting each other in a romantic way.
Net Worth of Avani Gregg
As of 2020, The net worth of Avani Gregg is estimated to be US $1 million and is in increasing trend in coming days. Her salary is expected to be between $100k-$1 million. Her primary income sources include Endorsement deals, Google Adsense, paid content, makeup brand sponsorships, and social sites too. She has made brand deals with certain clothing brands like Tommy Hilfiger, Sisters Apparel, and Louis Vuitton. In Addition, she makes a huge amount of money by an endorsement deals with shoe brands like Crocs Shoes and Nike. She also earns a decent amount of money from her own online clothing app store named Depop in which she sells apparel and accessories internationally.
Body Measurement of Avani Gregg
Avani Gregg is a beautiful and bold looking girl with slim and Hourglass like body physique. She stands 5 ft 1 inch tall and weighs 50 kg. Her body measurement is 29-22-29 inches. As of 2020, She has become just 17 years old so her body hasn't grown into a full adult one. Her eye color and hair color both are Dark Brown. Her shoe size is 4 (UK) and dress size is 2(US).