About Snooki
A Chilean-American reality television personality, television host, author, as well as a professional wrestler, is named for Snooki. Moreover, she is also a dancer. She is famous for being a cast member of the MTV reality show Jersey Shore and starring in Snooki & Jwoww and Jersey Shore: Family Vacation. She is best known for her leading to numerous talk show appearances, web and television series participation and hosting, and a large social media following. She has appeared in the 2012 slapstick comedy film, The Three Stooges as herself along with some of her Jersey Shore co-stars. She is active on social media with 10.7 million followers on Instagram, about 7 million followers on Twitter, and 10 million followers on Facebook to date. At Thursday's season finale of Jersey Shore: Family Vacation marked the end of an era as Nicole "Snooki" Polizzi decided to leave the show. The episode picked up at the end of bridesmaids Nicole, Jenni "JWoww" Farley and Deena Cortese's infamous speech at Angelina Pivarnick's wedding to Chris Larangeira last November. Though the girls swore they meant no harm by it, jokes like "you're the trash to our bags," the "lice to our hair," and the "dump to our island" didn't go over well with the crowd, which was full of Angelina's family and friends, largely Staten Island locals, who booed loudly throughout. On 23rd November 1987, Snooki was born with the birth name/real name of Nicole Elizabeth Polizzi. As of 2019, she celebrated her 32nd birthday. Her birthplace/hometown is in Santiago, Chile. Her nationality is Chilean-American and her ethnicity is Mixed. Her race is White. She was adopted when she was six months old and was raised by Italian-American parents, Andy & Helen Polizzi. She has taken two DNA tests to determine her genetic background. In 2014, the first DNA test stated her genetic background is: Romani, Iberian American, South Asian, East Asian, Middle Eastern, and Jewish with roots in North-Western Croatia, Macedonia, Slovakia, Russia, and Spain. She was surprised to learn that while born in Chile, she is not genetically Chilean. Five years later, in January 2019, she took another DNA test, this time with 23andMe which stated that she was 59.5% Native Chilean and 31.2% European (mostly Iberian with distant British and Ashkenazi Jewish ancestry). Her father is a volunteer firefighter and auto-salvage supervisor, and her mother is an office manager. She received her nickname, Snooki, in middle school, when her friends named her after "Snookie", a male character in Save the Last Dance because she was the first of her friends to kiss a boy. She grew up and attended school in Marlboro, New York, where she was a cheerleader. During high school, she suffered from an eating disorder, at one point weighing 80 pounds (36 kg). She then attended Brookdale Community College after graduating from Marlboro High School, where she studied to become a veterinary technician. As of now, she lives in Florham Park, New Jersey. Her religion is Roman Catholicism and her Zodiac sign is Sagittarius. Scroll down to know about Snooki's full biography, net worth, career, husband, children, birthday, wiki, age, family details, facts, and more.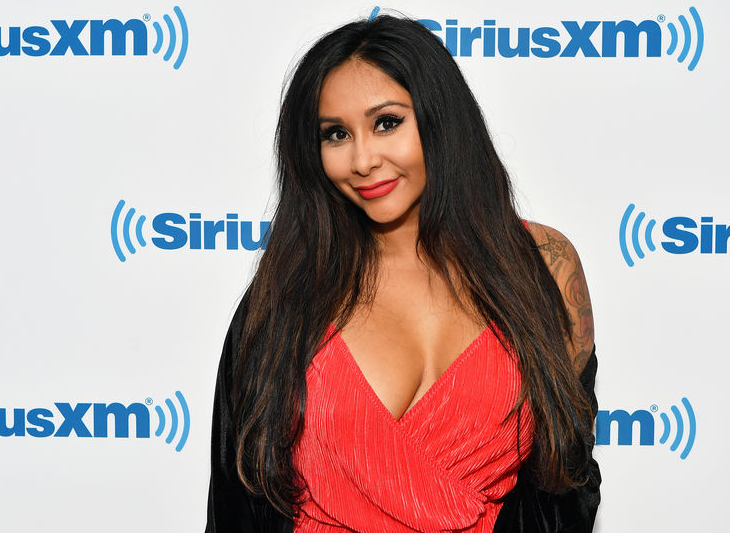 Source: @extratv.com
Career of Snooki
Reality Television Career
Snooki was first introduced in MTV "Is She Really Going Out with Him?" where Snooki and her boyfriend, Justin, appeared in episode 14, "Jerz Pud".
She then became part of the reality TV series Jersey Shore after being scouted by the casting director, Josh Allouche, an employee of Doron Ofir Casting.
The New York Times identified her as "the breakout member of the cast".
One reported measure of her appeal was that she was one of the most popular celebrity Halloween costumes of 2010.
She was reportedly earning $150,000 per episode at the show.
Snooki was punched in the face by New York City school gym teacher Brad Ferro while shooting in Seaside Heights.
Videos of the punch went viral on YouTube and were featured in many news media.
After the punch was made public, her appearance fees increased from $2,000 per event to $10,000 per event.
In the year 2011, Snooki and her "Jersey Shore" costar, Jennifer Farley, signed a contract to star in a spin-off show, "Snooki & Jwoww", which premiered on MTV in June 2012.
The first season followed Snooki and Farley moving in together, and they describe their show like a modern-day "Laverne & Shirley".
495 Productions filmed the first season over the course of six weeks, at a former two-story firehouse located near Grove and Mercer Streets in Jersey City, New Jersey.
The second season relocated to the stars' actual permanent residences and began airing on 8th January 2013 which had an expanded one-hour episode format.
The March 2012 confirmation of her pregnancy raised speculation as to how the creative direction of her spin-off would be affected, as she would be unable to engage in the "hard-partying, booze-swilling" antics that had previously garnered high ratings for MTV.
The show chronicled her days in pregnancy and early years in motherhood and ran for four seasons before concluding in February 2015.
In early 2016, she starred with her husband on the f.y.i. series "Nicole & Jionni's Shore Flip".
Since November 2015, she has starred with Farley on the web series "Snooki & Jwoww: Moms With Attitude" produced by AwesomenessTV. The show wrapped its second season in late 2017.
On 28th January 2016, it was announced that she would be a contestant on "The New Celebrity Apprentice".
Dancing With The Stars

On 4th September 2013, it was announced on "Good Morning America" that she would compete on the 17th season of "Dancing with the Stars", partnered with newcomer Sasha Farber but they were eliminated on 28th October 2013, coming in 8th place despite receiving good scores and comments from the judges.
Other television appearances

Snooki and the cast of Jersey Shore appeared at the 2010 MTV Video Music Awards on 12th September 2010.

She also appeared on TLC's Cake Boss episode "Snookie, Super Anthony & a Ship" on 8th November 2010, in which she orders a cake for her mom.
On 7th November 2010, she appeared at the MTV Europe Music Awards in Madrid, Spain.
She was parodied in the South Park episode "It's a Jersey Thing", and is frequently parodied on Saturday Night Live by actor Bobby Moynihan.
She also hosted the MTV New Year's special MTV's Club New Year's Eve 2013, with Jwoww and Jeff Dye, on 31st December 2012, from Times Square, to ring in 2013.
WWE

On 14th March 2011, she made an appearance in the episode of "WWE Monday Night Raw", where she had a segment with John Morrison, Vickie Guerrero, and Dolph Ziggler.
During the segment she slapped Vickie, starting a feud with the couple.
Later at night, she got into a brawl with LayCool, which led to the formation of a six-person Mixed Tag Team match at WrestleMania XXVII.
She also made an appearance on the 28th March 2011, episode of WWE Monday Night Raw in a segment where she introduces Trish Stratus to the Jersey Shore where they started a street fight with LayCool in a bar.
At Wrestlemania, Snooki and her partners Trish Stratus and John Morrison won the match.
On 12th December 2011, on WWE RAW, she was awarded the WWE 2011 A-Lister of the Year Slammy Award which she accepted via satellite.
Other ventures

Her book, "A Shore Thing", was released in January 2011 which described her search for love on the boardwalk.
It sold approximately 9,000 copies within its first month of release, during which it accumulated 16 one-star customer reviews on Amazon.com.
In April 2011, she was paid $32,000 to speak at Rutgers University.
On 25th October 2011, her second novel, "Confessions of a Guidette", was released with Gallery Books.
The novel was marketed as a part-memoir, part-guide of how to "rock it Jersey-style.
Her third novel, "Gorilla Beach", was released on 15th May 2012. It is a sequel to Snooki's first novel, A Shore Thing.
Snooki MARRIED to Jionni LaValle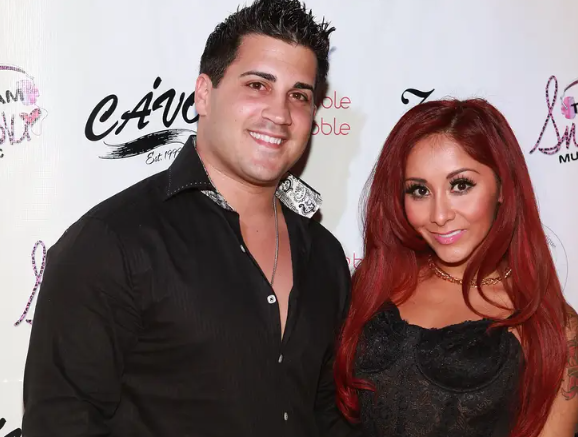 Source: @insider.com
Reflecting on the marital status of Snooki, she is a married woman. She is married to Jionni LaValle. Jionni LaValle is a famous American personality. She first met her husband in 2001 during a night out in Seaside Height's fist-pumping headquarters. The pair fell for each other and tied a knot on 29th November 2014 after living two years of an engaged life. They have three children/kids together, namely sons Lorenzo Dominic LaValle (b. August 26, 2012) and Angelo James LaValle (b. May 30, 2019), and daughter Giovanna Marie LaValle (b. September 26, 2014). Her sexual orientation is Bisexual. As of now, the duo is enjoying their life a lot.
Previously, Jeff Miranda had a relationship with Snooki in the same year, i.e. 2010. She has separated from him and even calls him "Stalker". Emilio Masella also dated Snooki for a while in 2010. They have separated now. Mike Sorrentino and Nicole had an on and off relationship from August 2009 to 2011. They had met on Jersey Shore and started dating.
Snooki's Net Worth 2020
Multi-talented Snooki is an American reality television personality, television host, author, professional wrestler, and dancer. She has accumulated a huge amount of money from her multiple careers. As of 2020, the net worth of Snooki is estimated to have $4 Million whereas her salary was $150,000 per episode from her show Jersey Shore: Family Vacation. She is charging $175,000 per episode as of 2018. Her major source of earning is from television career. She is satisfied with her earnings as of now. She is living a luxurious lifestyle from her earnings.