About Bill Hader, Actor and Comedian
An American actor, comedian, writer, producer, as well as the director, is named for Bill Hader. He is famous for being a part of the series "South Park" and "Saturday Night Live". For his eight-year stint (2005-2013) as a cast member on the long-running NBC variety series "Saturday Night Live", he received four Emmy Award nominations and a Peabody Award. Moreover, he is best known for his work in "You, Me and Dupree"," Night at the Museum: Battle of the Smithsonian", "Men in Black 3", and "Maggie's Plan". He is famous for creating, producing, writing, occasionally directing, and starring in the HBO dark comedy series "Barry" (2018-present), for which he has received two Emmy Awards for Outstanding Lead Actor in a Comedy Series and consecutive nominations for Outstanding Comedy Series, Outstanding Directing for a Comedy Series, and Outstanding Writing for a Comedy Series for both of its first two seasons. He has also voiced leading and supporting characters in animated films such as the Cloudy with a Chance of Meatballs franchise (2009-2014), Turbo (2013), Monsters University (2013), Inside Out (2015), Finding Dory (2016), The Angry Birds Movie (2016) and its sequel (2019), Sausage Party (2016), and Ralph Breaks the Internet (2018). Bill Hader was born on 7th June 1978 in Tulsa, Oklahoma, the USA with the birth name of William Thomas Hader Jr. His nationality is American whereas his ethnicity is Mixed of Irish, German, Danish, English, remote French Huguenot. His race is White. He was born to his parents; mother Sherri Renee, a dance teacher and father William Thomas Hader Sr., restaurant manager, truck driver, an air-freight company owner, and stand-up comedian. Regarding his siblings, he has two sisters Katie Hader, and Kara Hader. Further, his zodiac sign is Gemini. As of his education, he joined Patrick Henry Elementary School, Edison Junior High School, and Cascia Hall Preparatory School and then attended The Art Institute of Phoenix followed by Scottsdale Community College. Later, he dropped out of college. He spent much of his young adulthood "lonely and underemployed" and filled large amounts of his time by watching movies. His religion is Christian. As of 2020, he celebrated his 42nd birthday. Scroll down to know more about his full biography including his personal life details, affairs, wife, divorce, children, today's net worth, famous for, birthday, age, facts, career, awards, height, and more.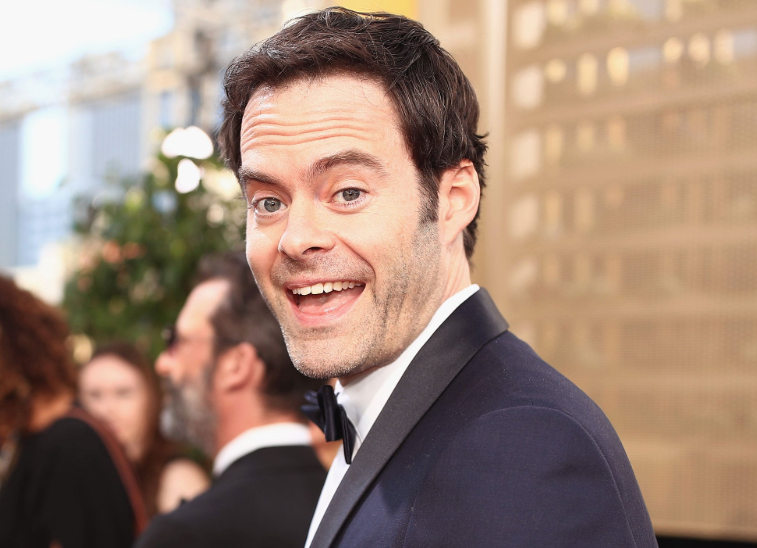 Source: @refinery29.com
Bill Hader's Career (Saturday Night Live)
While he was at school, he made short films with friends and starred in a school production of "The Glass Menagerie".
His very first job was as a Christmas tree salesman where he worked as an usher at a Tempe cinema, which allowed him to see films for free, but he was fired for spoiling the ending of Titanic (1997) for unruly viewers.
Later, he began working as a product assistant where he worked 18-hours a day as a PA.
He then worked as a PA on the documentary Empire of Dreams: The Story of the Star Wars Trilogy (2004) and the feature films James Dean (2001), Spider-Man (2002), and Collateral Damage (2002).
Additionally, he also worked as a post-production assistant on the VH1 reality show The Surreal Life (2003-2006).
He secured a job working as a night-time assistant editor at the post-production facility Triage Entertainment.
Later on, he began attending comedy classes with friends at improvisational comedy enterprise the Second City in March 2003.
After that, he started SNL, where he landed roles in movies including Forgetting Sarah Marshall, Tropic Thunder, Hot Rod, and Superbad.
He was hired as a featured player in SNL and made his debut on the show on 1st October 2005 where his first role was as a psychologist giving his views about life and death during the emergency landing of JetBlue Airways Flight 292.
His list of impressions includes Vincent Price in the Variety Vault sketches, Keith Morrison, Harvey Fierstein, Al Pacino, Rick Perry, John Malkovich, James Carville, Julian Assange, Eliot Spitzer, Alan Alda, Clint Eastwood, and Charlie Sheen.
He also received his first nomination for a Primetime Emmy Award for Outstanding Supporting Actor in a Comedy Series for his work on SNL on 19th July 2012.
He is the first male SNL cast member to receive this nomination since Eddie Murphy in 1984.
He made his film debut in "You, Me and Dupree" in 2006.
He also worked as a creative consultant and producer in the animated show "South Park".
He also appeared on the commentary recorded for the 2009 Blu-ray edition "of South Park: Bigger, Longer and Uncut", and the Comedy Central special "6 Days to Air", a documentary filmed during the production of the 2011 South Park episode "HumancentiPad".
He also appeared on the MTV prank series "Punk'd" and voiced an array of characters on the second season of the Adult Swim animated series "Xavier: Renegade Angel".
He also made many short films, including Back in the Day, Sounds Good to Me: Remastering the Sting, and The Jeannie Tate Show, with SNL writer Liz Cackowski and then-wife Maggie Carey.
He starred in, and co-wrote with Simon Rich, the web series "The Line" on Crackle in the year 2008 and also he lent his voice to the audiobook of Sarah Vowell's "The Wordy Shipmates".
He then appeared in two other "Apatow projects: Forgetting Sarah Marshall" and "Pineapple Express". Additionally, he made his role in action-comedy "Tropic Thunder" with Ben Stiller, Robert Downey, Jr., and Tom Cruise.
He re-teamed with Superbad director Greg Mottola in the comedy films "Adventureland" (2009) and "Paul" (2011).
He also lent his voice to his first video game role, the mega-hit "Grand Theft Auto IV".
He lent his voice to the critically acclaimed Sony Pictures Animation film "Cloudy with a Chance of Meatballs".
He voiced a gazelle in Ice Age: Dawn of the Dinosaurs and appeared in the fantasy film Night at the Museum: Battle of the Smithsonian as Major General George Armstrong Custer.
He took on the voice role of Professor Impossible on the fourth season of "The Venture Brothers" (2010-2013).
He voiced the Pod in the Aqua Teen Hunger Force episode "IAMAPOD", as well as Hitler in the episode "Der Inflatable Fuhrer".
He portrayed "The Voice" in the action-comedy film Scott Pilgrim vs. the World (2010) and had a small cameo as the voice of the USS Vengeance computer in the science fiction film Star Trek Into Darkness (2013).
He was the guest star in the series premiere of the comedy series "The Mindy Project".
He also voiced Dr. Malocchio in the Hulu animated comedy series "The Awesomes".
As the cast member, he shot his final episode of SNL on 18th May 2013.
After that, he starred in the 2014 film The Skeleton Twins, voiced in the Pixar film Inside Out in 2015 and The Good Dinosaur.
Furthermore, he appeared in Brooklyn Nine-Nine as the captain of the 99th Precinct in 2015.
He also appeared in Trainwreck (2015), Maggie's Plan (2015), and voiced in Alpha Rangers.
In the year 2018, he co-created (with Alec Berg) and began starring in the HBO dark comedy series "Barry".
In 2019, he starred in the supernatural horror film "It: Chapter Two" as Richie Tozier.
In the year 2019, Bill Hader voiced Leonard in "The Angry Birds Movie 2", Axel the Carnie in "Toy Story 4", The Wanderer in 4 episodes of "The Dark Crystal: Age of Resistance", and played Nick Kringle in "Noelle".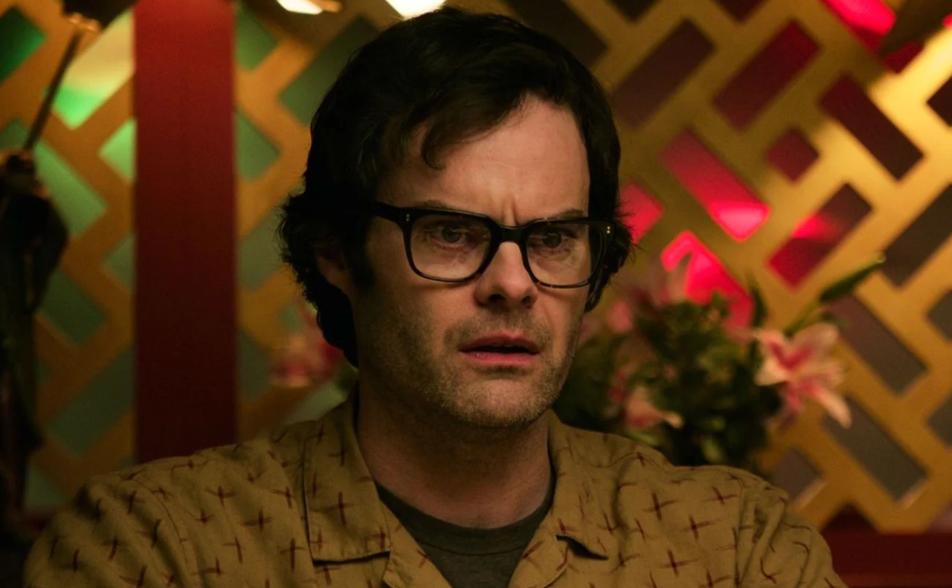 Source: @screenrant.com
Bill Hader and Maggie Carey DIVORCED
Bill Hader was a married man. After dating a year, in 2006, he married writer and director Maggie Carey. The duo met each other through Carey's friend from college in Los Angeles, California. They have 3 daughters together namely Hannah Kathryn Hader (b. October 2009), Harper Hader (b. July 2012), and Hayley Hader (b. November 2014). They announced their separation in 2017 and filed for divorce in December and on 1st March 2018, they both were declared singles.
After that, he began his relationship with Rachel Bilson. The pair publicly confirmed their relationship when they attended the Golden Globe Awards together on 4th January holding hands as they made their way down the red carpet. They were rumored to be dating when they were spotted grabbing coffee together in his hometown of Tulsa, Oklahoma, in December. In February, they were getting more serious as a couple. "They spend a lot of time together and it seems like a serious relationship," the source said at the time. "They were in L.A. over Valentine's Day weekend. On Sunday, they enjoyed a getaway at the Montage Hotel in Laguna Beach." "It seems like a fun relationship," the source said, adding that Bilson "always seems entertained," around Hader. Now, the couple has allegedly split after dating for less than a year, but what a whirlwind year it was. Bilson was previously engaged to actor Hayden Christensen, with whom she shares 5-year-old daughter Briar. Us broke the news in September 2017 that she and the Jumper star, 39, had split after nearly 10 years together.
Source: @vogue.com.au
At present, Bill seems to be single as there are nor rumors about him dating anyone. He is enjoying his present life without any disturbances. His sexual orientation is straight and he is not gay.
Bill Hader's Net worth 2020
With his career from his works in acting, voice acting, comedy, writing, and more, he has earned good fame and income/salary. He has reached a great height in his career due to his continuous hard work and passion. Also, he has performed varied recurrent characters on the show, comprising Vinny Vedecci, Stefon, Greg the Alien, and Herb Welch. He асtеd іn mоvіеѕ such as "Ѕuреrbаd," "Кnосkеd Uр," "Ріnеаррlе Ехрrеѕѕ," "Fоrgеttіng Ѕаrаh Маrѕhаll", "Меn іn Вlасk 3", "Тrоріс Тhundеr," "Тhе Dіѕарреаrаnсе оf Еlеаnоr Rіgbу", "Тhіѕ іѕ 40", and more. As of 2020, the net worth of Bill Hader is estimated to have $15 Million. He is also an inspiration for many youngsters who are looking to make a brilliant career in the field of acting and comedy. He is living a luxurious lifestyle at present. He has been a part of various commercials like; Planters (2015) (Voice Over), Pringles Superbowl (2018), T-Mobile (2013), XFINITY (2016), Apple iPhone 6s (2015).